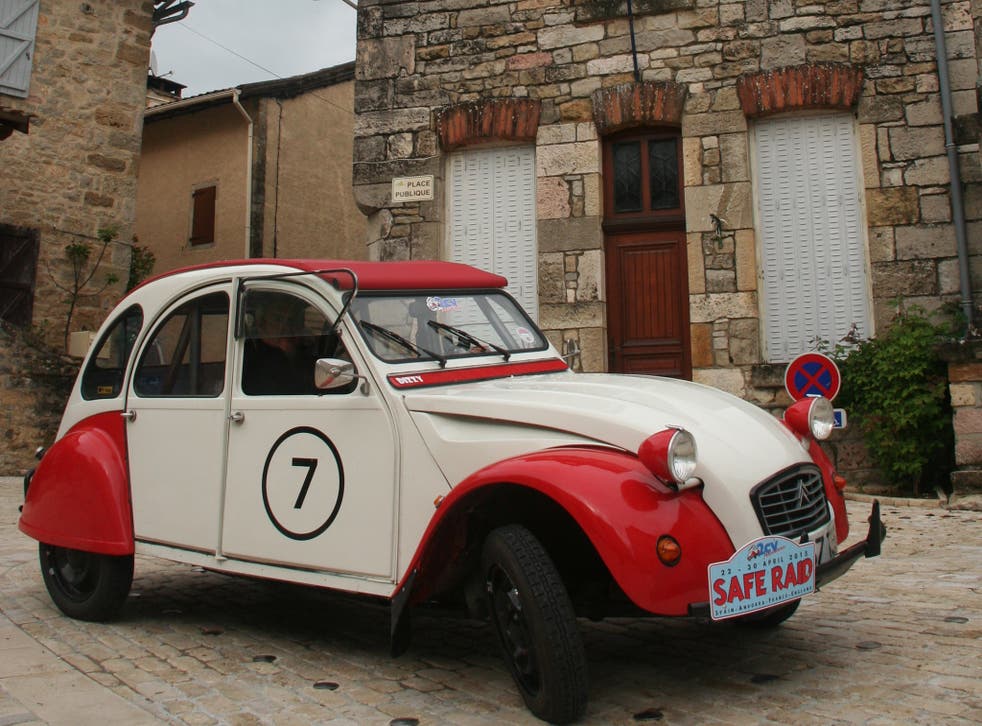 Horsepower: A Citroen 2CV rally through Spain and France
Take to the road in one of France's classic cars
Nick Redmayne
Friday 21 August 2015 15:27 Comments
I shared a victorious glance with Charlie. "117 ... 123 ... 130 ..." Downhill, on a straight, windows clipped shut and the wind behind us, Team Dizzy had clocked the legal speed limit. That Dizzy herself was a 30-year-old Citroën 2CV, and both Charlie and I were dodging 50 years of age, only added to a laddish excitement that it might reasonably have been assumed we'd outgrown.
"We've 15 2CVs in all, seven on this run, all the same model: Dolly, Daisy, Dizzy – all starting with D, but all different," explained Toby Kilner, co-owner of 2CV Adventures, during a pre-rally briefing in Malaga. "Dominique, now there's a really lovely car, named after a delightful French girlfriend," he continued before catching the eye of his wife, Finella. "Modern cars need 30 per cent of your attention, these cars aren't like that. They need 100 per cent," he cautioned. "One day they'll go very fast all day, on another they won't want to go very fast. No reason to it. It just is what it is." Despite the 2CVs' unmistakably French heritage, or perhaps because of it, the SAFE (Spain, Andorra, France, England) Raid rally carried a distinct whiff of English eccentricity. If you were thinking Paris-Dakar, think again.
The premise is simple enough. A route of 2,377km defined by a meticulously researched roadbook navigated northwards from Malaga in southern Spain to the northern French Channel port of Caen, exploring scenic byways most often ignored by satnav-obsessed traffic. Our strung-out convoy comprised seven red and white 2CVs, drivers mostly from the UK and US, tailed by a 4x4 support vehicle and a uniquely converted fire engine stuffed with 2CV parts and carrying an entire spare car. This was no competition for diehard petrol heads, or anorak-clad motorsporters; times were not important. The drivers' unifying factor was more an appreciation of the delightfully absurd.
Back on the road, giddy excitement had passed. Uphill, Dizzy became a slow-lane curiosity. Following prescriptive rally-style Tulip diagram directions, we pulled off on to a potholed gravel track and veered away from the main road. I was navigating. "'1.6 kilometres to Repsol. Stop for lunch.' Must be a village," I ventured. "No, it's Spain's biggest oil company," countered Charlie.
Away from the Andalucian coast's sandy veneer, the beauty of rural Spain had surprised me from day one. Now the sweep of an expansive glacial valley gently guided us north. At La Serra de Godall we set aside the roadbook and followed a brown sign indicating the Abrics de l'Ermita pre-historic rock shelters. We parked on a slope. Charlie pulled the handbrake, though not so firmly that the release button popped off, jamming it on.
The guide's exhaustive Catalan introduction tested our resolve. However, beyond the visitor centre's interpretive displays it was just a short walk to overhanging ledges where he delightedly pointed out clusters of pictographs. Feathered knee adornments animated lithe hunters pursuing leaping deer and antelope, dramas of life and death recalled from 9,000 years ago.
Back on the prescribed route we too felt dated. A red Ferrari pulled alongside. Charlie revved our engine ironically. Dizzy's two cylinders surged, resembling an angry office fan. The Ferrari didn't do irony and swept out of sight. Its engine note still ringing in our ears, we concluded that on a sunny day with the roof rolled back Dizzy offered better value fun than any supercar.
Approaching Tortosa, a triumphalist steel monument to Fascist civil war victory divided the flow of the Ebro river much as it split local opinion. Following signs to the town's Parador we navigated steep and narrow cobbled streets. Amid an acrid cloud of fumes from a burning clutch – Charlie never did come to terms with Dizzy's first gear – we finally breached the bastions of a Moorish castle, a fortification now thoughtfully appointed with ample parking space. Toby and mechanics David and Albi were already busy with the gentle maintenance that had kept us all on the road thus far.
Next day, I drove with Finella. Blue sky and bright sun accompanied our progress from Tortosa and initially the cars stuck loosely together, a snaking spectacle of 2CVs collectively employing fewer CCs than a pizza delivery bike. At a deserted filling station we pulled over en masse. Bob and Eileen's car had lost power, and when you don't have that much anyway … Toby decided to deploy the fire engine's back-up 2CV.
Finella and I were last to leave. Andorra lay some 200km ahead and the road, describing sweeping switchbacks, was rising fast to meet the Pyrenees. The number of 4x4s increased and building roofs became steeply pitched. The ground's pallor spoke of months covered by snow. Clouds gathered and sprinkled drops of rain. We kept the roof down in defiance, quoting lyrics from My Fair Lady.
The rain, it transpired, had stayed mainly in Andorra. Sheltering under the hotel vestibule, Toby, David and Albi studied the back-up 2CV. A falling rock had remodelled a side panel. A shocked Team Doris – aka Bob and Eileen – were inside nursing drinks at the bar. Doris herself ticked over unevenly; something was amiss. "She sounds a bit sick," said Toby and exchanged resigned glances with David and Albi. The three of them set to replacing Doris's engine. At dinner, Toby recounted a signal flown at Trafalgar by Nelson's flagship HMS Victory: "Engage the enemy more closely."
The morning saw Charlie and me reunited in Dizzy. Early sunshine departed, and while brimming the tank with petrol we battened down Dizzy's roof. Rain was joined by fog, and from the French border, by snow. Cold drips tracked along the steering column to fall on our knees, dark pools forming on the floor. As wipers squeaked on the screen Dos Caballos became Deux Chevaux. At a particularly sodden juncture, Dizzy started to make a knocking noise. We tried to ignore it but soon the sound was matched by an alarming vibration. As with most 2CVs, looking under Dizzy's bonnet revealed little. "It sounds rotary," I suggested. We counted down kilometres to the lunch stop, fearing the worst. "I've lost fourth gear," announced Charlie as we limped into a café car park. David listened to our woes, finished his frites and took a look. Ten minutes later he was back, having quietly tightened a wheel nut or two.
In Cahors, the swollen Lot struggled to squeeze beneath Pont Valentré's elegant arches, but at least the sun had returned. Charlie had flown back to work in London, and next day I was co-driving with Rod. Inclined to explore we headed into town and parked down a back street. A croissant and a café au lait satisfied our curiosity. However, in our wanderings we lost the car. A period of unspoken panic ensued before Dizzy revealed herself, exactly where we'd left her.
Blue linseed, yellow rapeseed and endless vines clothed a gentle countryside of well-to-do villages. We'd arrived in the Dordogne. The driver of an approaching local 2CV raised a finger and smiled. A pony and trap too drifted along the road – one horse traffic at last. In Cognac, Château de L'Yeuse's congenial maître d'hôtel showed us on to a terrace overlooking the Charente river. Don, a former racing driver, soon arrived in the spare 2CV. His car had caught fire. "There was smoke everywhere," he recounted, before ordering a cognac.
Among fading veils of morning mist the cars set out on the final 287km leg to Caen and the Portsmouth ferry. For once, Dizzy was a reluctant starter. Perhaps she wanted to stay on home soil. I was driving with Bob. He'd just finished setting up a rally to Monte Carlo involving all 15 2CVs. His normal car was a Porsche Cayman. "You can spend thousands and have less fun than in one of these," he said, tapping Dizzy's steering wheel.
At the ferry, Dizzy prompted a smile from the check-in clerk. "Your friend in a 4x4, he's looking for you. He says '2CV' but I don't know what he means. Deux Chevaux, yes …." Soon, we'd formed a line of seven 2CVs. Other drivers, English and French, smiled, chatted and took some photographs. Our race was run. There were no prizes for fastest or first, just the increasingly rare and pleasurable satisfaction that comes from choosing to do more with less.
Getting there
2CV Adventures (01420 478304; 2cvadventures.co.uk) has 15 restored Citroen 2CVs and operates rallies and driving events in England, France, Spain and Morocco. Its eight-day French Connection rally, from Monte Carlo to Caen, departs 16 September and costs £1,295pp, including half board, ferry crossing and rally support.
Register for free to continue reading
Registration is a free and easy way to support our truly independent journalism
By registering, you will also enjoy limited access to Premium articles, exclusive newsletters, commenting, and virtual events with our leading journalists
Already have an account? sign in
Join our new commenting forum
Join thought-provoking conversations, follow other Independent readers and see their replies