The Independent's journalism is supported by our readers. When you purchase through links on our site, we may earn commission.
Szeged city guide: Where to eat, drink, shop and stay in Hungary's most inviting city
How to spend the ultimate weekend break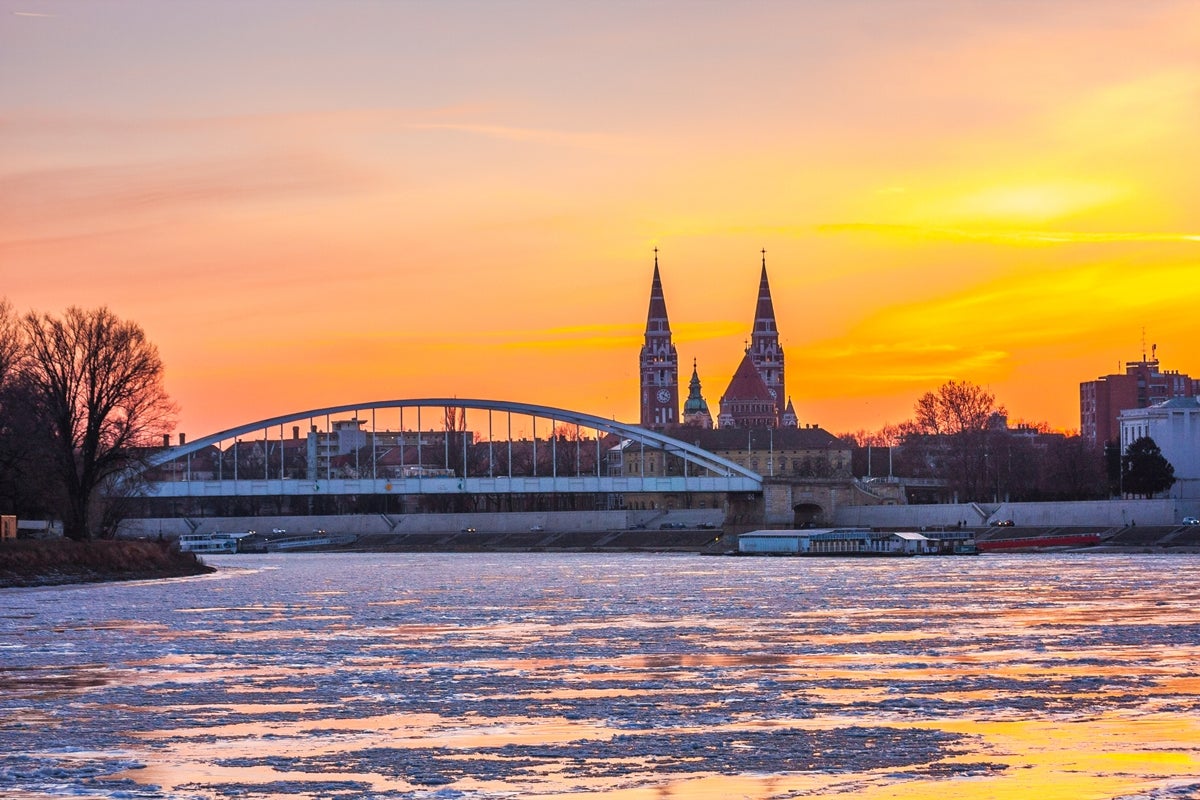 Between the smattering of stunning Secessionist-style architecture in the Old Town and its uplifting, easygoing vibe cultivated by students who attend the top-rated university, Szeged is one of Hungary's most inviting cities. Located in the southeast part of the country, close to the border with Serbia, Szeged is known for its tranquil squares, open-air theatre festival in the summer and the peaceful Tisza river.
When visiting Budapest, consider adding on a few days in this City of Sunshine, where there's plenty to be charmed by.
What to do
Immerse yourself in Art Nouveau
After the Great Flood of 1879 destroyed Szeged, the city was reimagined as an Art Nouveau haven. Take a self-guided tour of some of the eye-popping palaces that shape Szeged's alluring architectural personality. The New Synagogue and its impressive stained-glass works, the unusual three-sided Grof Palace, and Moricz House, graced with Zsolnay ceramics, are all worth a look.
Szeged city guide
Show all 7
Tell the time
On Dom ter, a striking musical clock dating from 1936 features hand-carved basswood figures. In a nod to medieval universities, twice a day, at 12.15am and 5.45pm, it depicts students graduating at the end of the year. It's found across from the main entrance to the twin-spired Votive Church, melding Roman, Gothic and Byzantine styles and starring a massive organ with more than 9,000 pipes.
Unwind in hot springs
Thermal baths play a significant role in Hungarian culture. Relax for a few hours amid the curative waters of Anna, which was built in 1896 with subtle Asian architectural references. Its soothing tiled pools remain open at night for post-dinner dips. Open 6am-12am Monday to Friday and 6am-8pm on Saturday and Sunday.
Where to stay
An 1860s house is the setting for Tiszavirág, where each of the 12 rooms are designed with materials like marble, velvet and linen. Guests can also detox in the Finnish sauna, steam cabin and salt and sea-climate rooms found on the lower level. Doubles from £98, room only.
Tiled showers, red nightstands and striped rugs are among the thoughtful elements that bring the small, cheerful Matrix Hotel's 11 rooms to life. Doubles from £47, room only.
Where to eat
Even if you don't spend the night at Tiszavirág, indulge in a plush banquette at its upscale but chilled-out eponymous restaurant. Locals flock to the whitewashed dining room for dishes like beef tartare heightened by crispy buckwheat followed by free-range guinea fowl with Jerusalem artichoke. Open Tuesday to Saturday 12-3pm and 6-10pm.
Homey Vendeglo a Regi Hidhoz with its tchotchkes, brick accents and dangling paprika, offers classic, hearty Hungarian dishes, including pork medallions and Szeged's fiery river-fish soup, halaszle. Open 11.30am-11pm daily.
From-scratch breakfasts and lunches are the draw at Keleszto, a cosy café with doily topped tables. The menu is ever-changing, from fried eggs paired with bratwurst, pomegranate and watercress oil to bacon-studded broccoli cream soup and smoked trout with celery mousse. Open 7am-5pm Monday to Friday and 8am-5pm on Saturday and Sunday.
It's hard to get a table, especially the pillow-festooned window seat, at the petite Suti nem suti because customers don't want to leave its enchanting confines. Conversation flows freely over the likes of homemade chocolate-passionfruit cake and apple pie bread pudding. Open 8am-8pm Monday to Friday and 10am-8pm on Saturday and Sunday.
Where to drink
Come summer, Malata's shady, lively courtyard is one of the city's most clamoured-for destinations. The laidback pub is sought out for its vast selection of craft beers, including those from Budapest favourites Monyo Brewing Co and First Craft Beer & BBQ. The burgers (try the pulled beef spiked with jalapeno) are a fitting accompaniment. Opens at 4pm Monday to Thursday; 2pm Friday; 12pm at weekends.
A socialist-era time capsule, Zapor Jozsef Kavezoja is a sprawling, subterranean bar kitted out with a portrait of Lenin, vinyl records and vintage radios. Settle into one of the mismatched sofas with a beer poured by one of the friendly barkeeps. Open Monday to Saturday from 5pm.
Kek Elefant, which means blue elephant, takes the craft of coffee seriously. Invigorate with a well-wrought cortado or AeroPress and set off for a day of sightseeing. The tiny space, hidden away in a courtyard, is aptly awash in touches of blue. Open 9am-6.30pm daily.
Where to shop
Quality tailoring is the mission behind Emmaroz, an airy, modern salon that serves gratis macarons to its guests. Here, custom dresses, skirts, trousers and blazers are dreamed up at affordable prices, while the welcoming shop provides a platform for Hungarian designers like Dora Abodi, Judit Takacs and Dori Tomcsanyi. Open 9am-5pm Monday to Friday and Saturday by appointment.
Architectural highlight
Reok Palace is the handiwork of architect Ede Magyar, whose standout structures such as the Ungar-Mayer House also enliven Szeged. Completed in 1907, this Art Nouveau beauty flaunts sculptural balconies and its white facade is adorned with pastel green stripes and lilac-hued water lilies. The former home of hydraulics engineer Ivan Reok, it now showcases a number of arts exhibitions. Explore them after an almond croissant or raspberry-laden tart in the elegant ground-floor café. Open Tuesday to Sunday 10am-6pm.
Szeged nuts and bolts
What currency do I need?
Hungarian forints, roughly 360 to the pound.
What language do they speak?
Hungarian.
Should I tip?
It is customary to tip about 10 per cent at restaurants and bars.
What's the time difference?
Szeged is one hour ahead of the UK and flight times to Budapest, the closest international airport, average two-and-a-half hours.
Public transport
Szeged's city centre is compact enough to navigate by foot, but an extensive network of trams, buses and trolley-buses allows for further exploring.
Best view
Atop Viztorony, the water tower fashioned from reinforced concrete in Szent Istvan ter, visitors are treated to panoramic views of Szeged. This historic structure is only open to the public between 1 April and 31 October on the first Saturday of the month.
Insider tip
Although there are multiple trains that depart daily for Szeged from Budapest's Nyugati railway station, an alternative is travelling via Oszkár. This app offers shared ride services from Budapest's Nepliget station straight to Szeged's city centre in under two hours for about £6.
Join our commenting forum
Join thought-provoking conversations, follow other Independent readers and see their replies