The Independent's journalism is supported by our readers. When you purchase through links on our site, we may earn commission.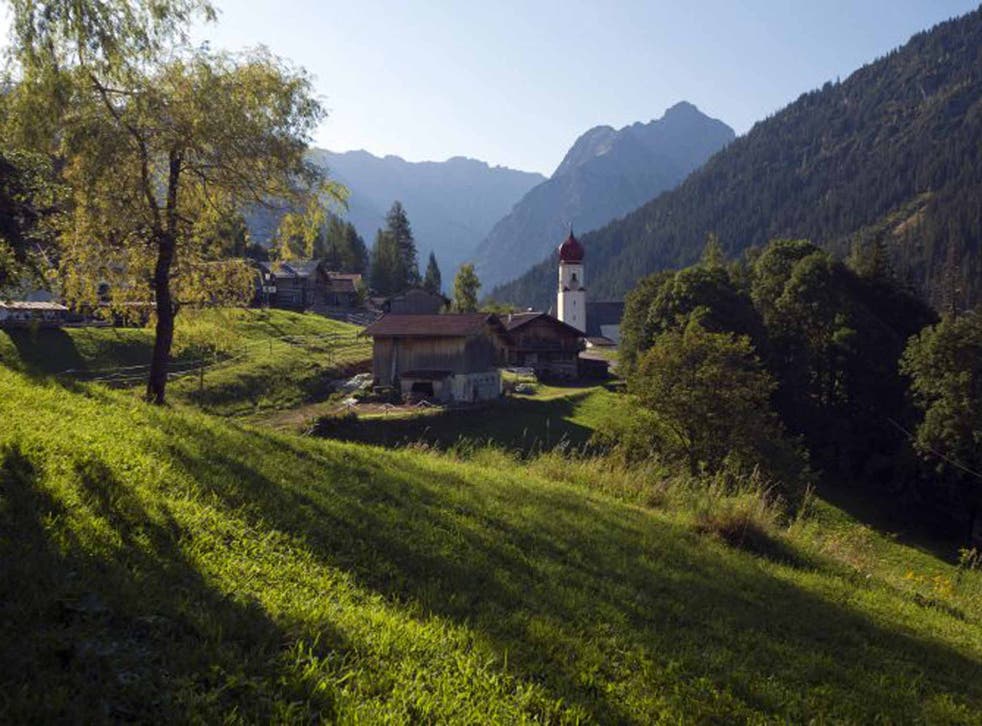 Hut-hop through the Tyrol along the Eagle's Way
For hikers at high altitude, hundreds of simple mountain refuges offer the chance to rest and refuel on a long-distance walk. Andrew Eames sets off
About six hours hard hiking up from the valley floor and three hours from the nearest road, I found myself wondering whether the thinner air at 2,100m above sea level had somehow started to take its toll. I had come to rest in a remote, helicopter-serviced, 100-year-old former hunting "hut", whose wood-panelled walls were studded with antlers and portraits of bewhiskered German huntsmen. In front of me was a plateful of Nepali noodles with extra chilli powder and above me the ceiling was lined with Buddhist prayer flags. Across the way, three smiley twentysomething Nepalese girls were sitting with a Tyrolean shepherd who was getting pie-eyed on a succession of beers.
All in all, it was a slightly surreal scene, and one which I hadn't been prepared for in my limited previous experience of hut-to-hut hiking in the Alps. To make sense of it called for generous quantities of hop-based refreshment of my own.
High-level huts such as this one – Anhalter Hütte in the Lechtaler Alps of western Austria – are an alien concept to most British hikers, and yet there are more than a thousand of them in Austria and Germany alone. And while these "huts" are only reached by mountain paths, and only open from June until October, they are by no means the small or primitive affairs that their name suggests. Some have more than a dozen staff, Wi-Fi, double rooms as well as dormitories and are big enough to sleep up to 300. They are a whole tourism industry in themselves.
The Tyrol: Along the Eagle's Way

Show all 5
They also constitute an appealing, cost-effective and companionable way of walking through the high Alps which doesn't involve carrying a tent, a stove or even a thick sleeping bag. For me, the likes of the Anhalter Hütte meant I could stay right up above the tree line, and it gave me the possibility – the certainty – of enjoying a beer in the company of Tyroleans and Tibetans after a day among the peaks.
I was doing my hiking along the Eagle's Way in Austria. So-called because of its shape on the map, rather than the chance to see eagles (which are present, but rare), the Eagle's Way crosses the Austrian Tyrol from west to east, with Innsbruck at its centre. In total, it offers more than 1,400km of waymarked hiking, with overnighting in high-level huts like the Anhalter Hütte at the end of practically every day. However, the intention behind the Eagle's Way is not for travellers to route-march across the roof of Europe, as some hiking trails do, but to meander a bit, to take in lakes, waterfalls, ancient villages and Alpine meadows. Showcasing the mountain experience at its best.
And so it turned out for me. Starting from the tiny Tyrolean village of Boden, all wooden houses and geranium windowboxes, I climbed up a forested valley towards the etched ridges and clenched fists of the limestone Alps, passing meadowing cattle, cooling off in waterfalls and clambering through scree runs en route.
Around that night's stop, Hanauer Hütte (1,992m) I found a couple of limpid, translucent lakes, a shepherd's hut, plenty of marmots, a couple of mountain goats and a staggering view across repeating, rolling, receding peaks towards St Anton.
That was followed, in the dining room of the capacious hut, by a hearty and hard-earned dinner of wurst, dumplings and sauerkraut, combined with a lot of poring over maps and making plans, in the company of around 50 other people like me, who were also staying there. Plenty of beer (on tap, at €3 for 500cl) was consumed during the process. As one of my fellow walkers put it: "Up here, you have to learn to drink as well as walk."
That overnight stay in Hanauer Hütte cost me €22, because I'd chosen a bunk-bedded room with sheets and duvet, but I could have stayed for as little as €5 if I'd been a member and gone for the dormitory ("lager") option, with my own sleeping bag.
A lot of my fellow hutters were members. Bizarrely, most of the Alpine huts in Austria are actually run by the German Alpine organisation, the DAV. German members of that organisation are definitely in the majority as customers. It is something of a man's world, the world of the Alpine hut, and I didn't envy the lady hikers (there were some) who braved the Hanauer dormitories, with all their associated sound effects and all the aromas of the unwashed male. For while there are hot showers in the huts, a lot of walkers don't bother, so there's very little room for the magic and mystery of the human body.
That night, however, there was a mini-drama involving one particular lady hiker who had chosen, like me, to avoid the dormitories. While asleep in her room, she rolled out of the top bunk and fell, badly injuring her back as she hit the floor. With all the commotion, it turned out that there were both experienced mountain guides and doctors among the night's clientele, so she had plenty of expert attention, and a helicopter came for her as soon as daylight arrived.
Hers wasn't to be the only hiccup in my short stay in the mountains, however. The unpredictability of late summer weather was about to mess things up, too. That morning, over breakfast, talk about the unfortunate faller-out-of-bed was quickly overtaken by more general concern about the latest forecast, which the hut-keeper's internet link confirmed. There were to be thunderstorms, followed by snow, in 24 hours' time. Both could mean a prolonged stay incarcerated in a hut and served as a reminder of how wary you need to be about walking in the mountains, even in summer.
But I still had a bit of time before the new front arrived, so that day's route took me back down to around 1,200m, past a via ferrata, through a couple of ancient summer-only villages and up again to new territory where I planned to overnight with the Nepalese. It was estimated at around seven hours of walking and there were regular Eagle's Way signs that counted down the distance as the day progressed.
After three hours on the trail, I crossed a mountain pass whose road was particularly popular with young motorbikers and I learned that five had already been killed on it since the spring. Then, further up the valley flank, towards a high-level ridge, there was a well-timed warning in the form of a small shrine to a local man who'd been killed by lightning while trying to bring his horses down from the high tops.
If ever I'd been contemplating trying to brave out the forthcoming change in the weather by sitting tight in the Anhalter Hütte with the (very welcoming) Nepalese, that shrine was enough to convince me otherwise. So the very next morning, still fuelled by Nepali noodles, I plunged downhill under gathering clouds, to be welcomed into fields of gentian and forests of pine. Above me, it looked as if the knuckleduster mountains were starting to smoke. By the time I reached the village of Bschlabs, the rain was hammering down.
But that wasn't the end of my walk. I'm happy to say that, in this particular section of the Eagle's Way, the path divides into a high and a low route. While it would have been my preference to stay up in the peaks, I was able to complete my time in the Lech Valley, in far more comfortable setting, on a smooth and carefully tended path, staying in hotels and sleeping in sheets, while the predicted snow fell high on the hills around me.
Travel essentials
Getting there
The nearest airport is Innsbruck to where easyJet (0843 104 5000; easyjet.com) flies from Gatwick twice a week. From Innsbruck, trains to Imst connect with a bus service (vvt.at) over the pass to Boden. Alternatively, Ryanair (0871 246 0000; ryanair.com) serves Memmingen ("Munich West") in Germany from Stansted and Edinburgh. From Memmingen, there are trains to Fussen, where you can take a taxi for the short ride across the border to Reutte, then connect with the bus to Elmen and Boden (vvt.at). Munich's main airport is also a possible gateway, with a wide range of links from the UK.
Staying there
Huts have a shelter policy, so don't turn away any walkers. However, if you want a room of your own, you need to reserve in advance. There's a comprehensive listing of all Alpine huts at: dav-huettensuche.de. For the individual huts mentioned in this article, see Hanauer Hütte (00 43 5413 87593; hanauer-huette.de) and Anhalter Hütte (00 43 6644 6189 93; anhalterhuette.at).
All huts offer half-board and meal menus, most have individual rooms as well as dormitories. It's best to carry your own sheet sleeping bag. Accommodation is half price to members. Join via the Austrian Alpine club in the UK (01929 556 870; aacuk.org.uk).
More information
The Adlerweg (Eagle's Way) by Mike Wells, Cicerone Publishing £14.95.
Register for free to continue reading
Registration is a free and easy way to support our truly independent journalism
By registering, you will also enjoy limited access to Premium articles, exclusive newsletters, commenting, and virtual events with our leading journalists
Already have an account? sign in
Register for free to continue reading
Registration is a free and easy way to support our truly independent journalism
By registering, you will also enjoy limited access to Premium articles, exclusive newsletters, commenting, and virtual events with our leading journalists
Already have an account? sign in
Join our new commenting forum
Join thought-provoking conversations, follow other Independent readers and see their replies