The Independent's journalism is supported by our readers. When you purchase through links on our site, we may earn commission.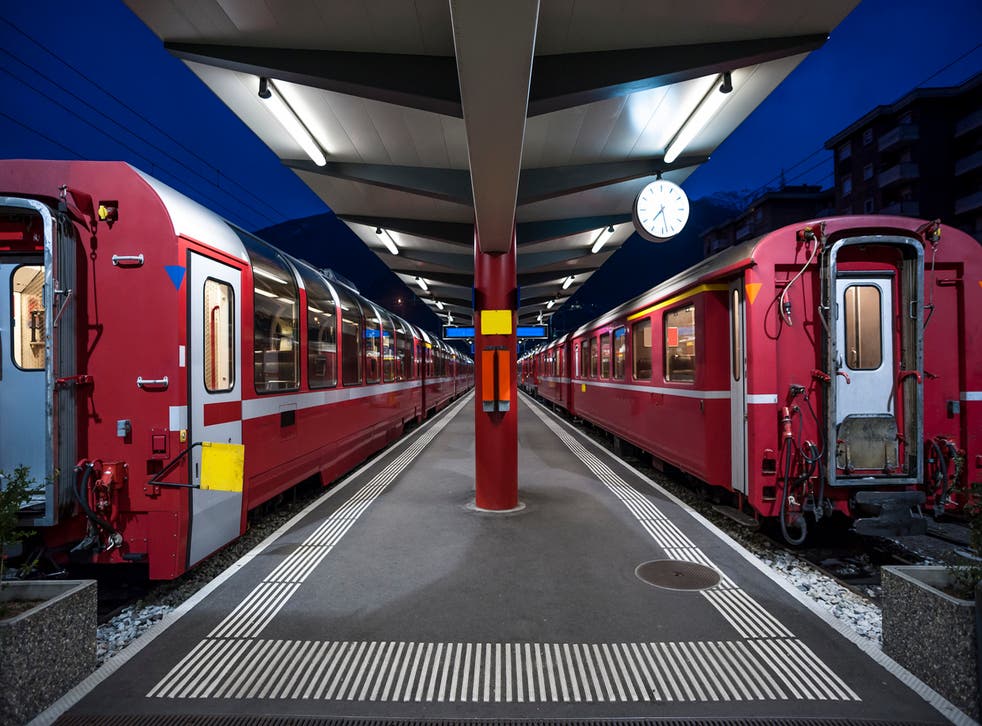 Why interrailing as an adult is the best way to explore Europe
Interrailing is no longer the preserve of students and gap year-takers – here's how grown-ups can catch the train travel bug without sacrificing creature comforts
Chris Beanland
Tuesday 15 August 2017 12:23 Comments
Interrailing should be a compulsory teenage rite of passage – no wonder the EU recently floated the idea of giving out free passes to all 18-year-olds. What better way to protect this beautiful, fragile union than by showing the next generation what they have in common with each other and how many hi-jinks they can get up to in neighbouring European countries?
It was my first taste of independent travel too – 17 summers ago, though it seems like yesterday. Back then it was a Karrimor loaded with band T shirts, Lonely Planet Europe On A Shoestring and bank robber sacks of change for telephone boxes. This time, instead of sleeping cars, hostels and that tangy scent of socks, there were nice hotels and the scent of understated luxury. Three's Feel At Home free roaming contract and my iPhone brought the whole experience into the 21st century, and meant home was only the touch of a button away.
It was a cultural whip round the first time, but it was also a piss up – getting out of your tree being the sine qua non of teenage travelling – that resulted in lost cash cards, nearly getting into fights on night trains and passing out on deck chairs on Positano Beach. And I met so many people – this was social networking avant la lettre, coming across fellow flaneurs from Australia, Canada, Finland, and making firm friends, if not for life then at least for a night.
Interrailing as an adult was much more relaxed and even more cultured, with less boozing and earlier mornings. I sped through Rotterdam's Docklands on a watertaxi, climbed all over Tomas Saraceno's incredible spiderweb netting art installation five floors above the ground of Dusseldorf's Modern Art Gallery, had a sneak preview of some of the exhibits at Kassel's famous art festival, Documenta (documenta.com), saw Eileen Gray furniture at Munich's Design Museum, drank at Wes Anderson's Bar Luce in Milan's Fondazione Prada, and explored Novi Belgrade's mind-blowing brutalist architecture.
The food was better this time around too. Back in 2000 I had inadvertently explored the premise "how can a human function on pizza alone for three weeks?" shortly after enduring the very worst meal of my entire life (do not ever accidentally order the minced heart and lung soup at Worgl station buffet). This time I ate mushroom arancini with a vegetable mayonnaise in an old swimming pool in Rotterdam (alohabar.nl) and fresh white asparagus at the BMW Welt's restaurant. Even the train food was good – on Deutsche Bahn's ICE I chowed down on lamb kofte with yoghurt and mashed carrots in the Bordrestaurant.
Full disclosure: I'm a bit of a trainspotter, but you don't need to be to enjoy Interrailing. It lets you see and experience a million things, and meet countless people along the way (even without the social lubricant of a bottle of Ouzo). Interrailing is like an all-you-can-eat buffet of travel. With a ticket allowing 15 days of train journeys in a month, you can indulge like mad, stop anywhere, see anything. It's also about the random encounters: this time there was Natalie, the tipsy Teutonic hausfrau who handed out biscuits on the Kassel-Munich express, and Tomi, the shifty journeyman who translated for me, winked his way around several conductors (I don't think he had a ticket) and helped us both not get stranded in the backwoods of Slovenia after a delay threatened a missed connection. He then promptly got dragged off the train by police when we entered Croatia; I wonder what became of him? Tomi, if you're reading this – tweet me.
The best thing about Interrail is the flexibility. You can travel across Europe from Bodo to Badajoz, from Irun to Istanbul. My route traced a vaguely southbound arc from Holland to Serbia. At Belgrade I was having so much fun I decided to keep on going, looping back via Le Corbusier's Notre Dame chapel at Ronchamp to Paris where my reward was a chance to unwind at Le Roch Hotel & Spa near to the Tuileries, with gorgeous interiors by Sarah Lavoine. The next day I caught the Eurostar home, full of stories to tell. Staying on your train when you're supposed to get off is a small revolutionary act and from these seeds grows a belief that you can do anything and go anywhere.
It's also incredibly scenic. With a First class pass you can sit in Swiss Railways' panorama coaches that snake through the Alps. From the windows of Serbian trains you can watch storks gliding over Balkan fields. On some German ICEs you can perch at the front and watch the driver and the rails flash by while bingeing on Apple Music's Nineties Emo Playlist because the wifi is free. It's childish fun. And this is really the nub of Interrailing – whether you're 20, 40 or 60 you'll feel young and excited. Riding the rails is a timeless treat, a special sort of escapism on an increasingly crazy continent.
Travel essentials
Getting there
A one month first class pass allowing travel on any 15 days costs £420. Eurostar is included (reservation fee £23/£29 first class). Some other international and high speed trains require advanced reservation for an additional charge.
Staying there
Christopher stayed at:
Innside by Melia Dusseldorf (melia.com; doubles from £85).
Ruby Lilly Munich (ruby-hotels.com; doubles from £70).
25 Hours Zurich Langstrasse (25hours-hotels.com; doubles from £155).
Crowne Plaza Belgrade (ihg.com; doubles from £58).
Le Roche Hotel & Spa Paris (leroch-hotel.com; doubles from £210).
More information
Interrail is a marketing programme of all the European state railways. Book at eurailgroup.org/interrail.
Register for free to continue reading
Registration is a free and easy way to support our truly independent journalism
By registering, you will also enjoy limited access to Premium articles, exclusive newsletters, commenting, and virtual events with our leading journalists
Already have an account? sign in
Join our new commenting forum
Join thought-provoking conversations, follow other Independent readers and see their replies