The Independent's journalism is supported by our readers. When you purchase through links on our site, we may earn commission.
Istanbul: From local delicacies on its Asian shore to arty hangouts across the Bosphorus in Europe
Istanbul offers plenty to keep Chloë Hamilton busy during a weekend break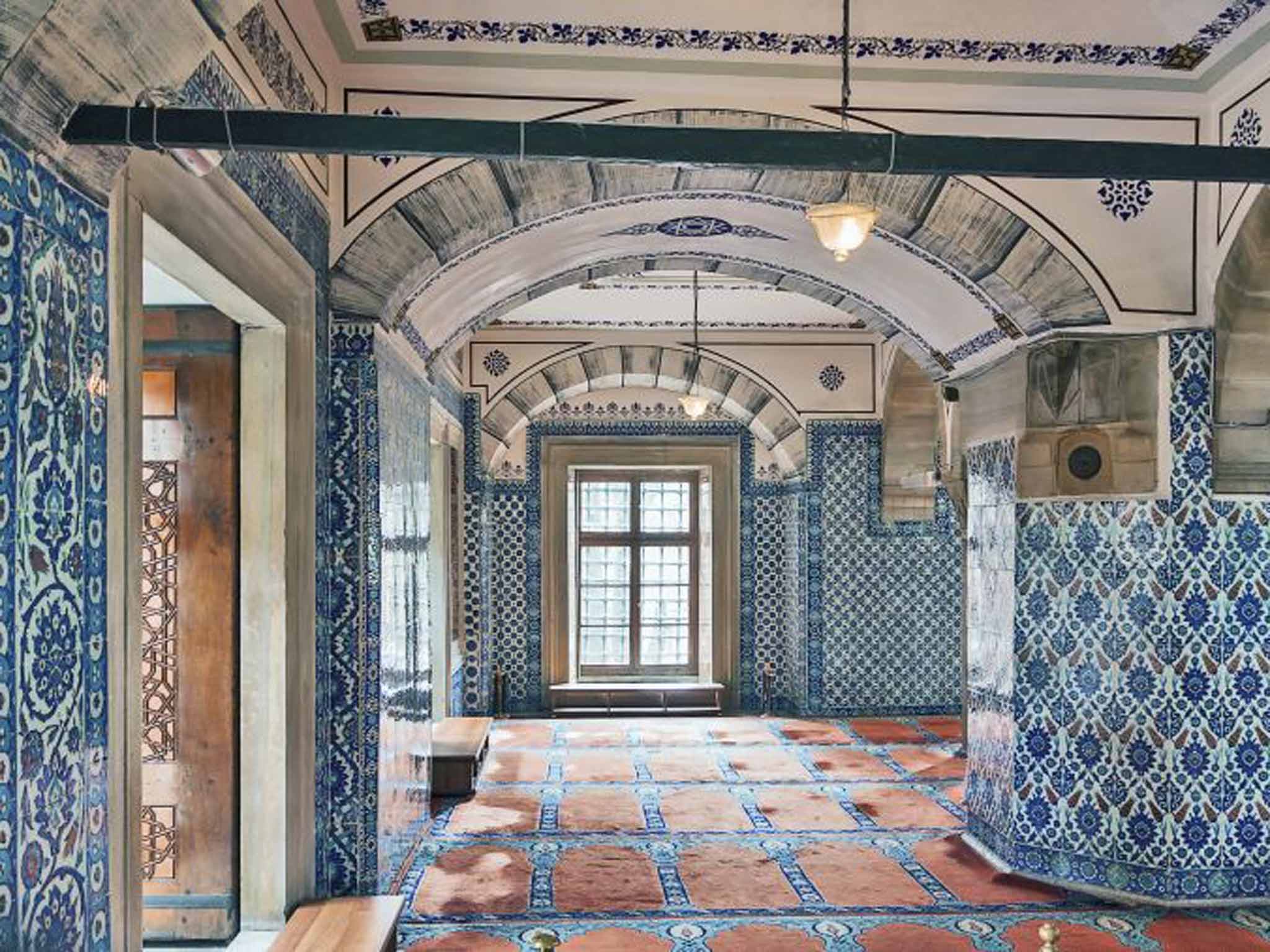 'The shortest book in the world is the book on British cuisine," says Petek as she piles my plate high with rice-stuffed vine leaves, artichokes with green onion, cured veal, aubergine salad, and beef-stuffed plums. The book on Turkish cuisine is, apparently, extensive.
Petek runs Kuzine 34 from her home in Kuzguncuk, a residential neighbourhood on the Asian side of Istanbul. She serves traditional, homemade grub to greedy tourists and I'm only too happy to oblige. Her house, like others around it, is built the old-fashioned way: out of wood. It's located on a steep, cobbled street and has blossoming plants creeping up its flanks.
As we eat, Petek explains that buildings in Istanbul are no longer made like this. That might be a result of aubergine fires (caused by roasting the vegetables on a spit), she says, or simply the fact that Turks like to smoke.
House fires or not, Istanbul has been sent rocketing to the top of many a "must visit" list, thanks in part to an influx of trendy new hotels. And Pegasus Airlines has made it easier to get there, launching new flights from Gatwick in June, in addition to its existing Stansted service.
Turkey's second city straddles Europe and Asia, and as a taxi takes me over the First Bosphorus Bridge, the domes and minarets of mosques bloom in the distance. Most of the historic sites are crammed into the European side of the city, the majority in the Sultanahmet district, the heart of old Istanbul. Here you can visit the Blue Mosque (00 90 212 458 4983; bluemosque.co), the symbol of the city, which was built between 1609 and 1616. Named so because of the blue tiles decorating its interior, it's still in use and closes to non-worshippers for half an hour five times a day for prayers.
The Church of the Holy Wisdom, also known as Hagia Sophia (hagiasophia.com), is opposite the Blue Mosque – evidence of Istanbul's contrasting and changing cultures. The building, which has been rebuilt twice since it was established in AD 532, was initially a Christian cathedral before it became an imperial mosque. It's now a museum with exhibits from both religions.
A 15-minute walk from Hagia Sophia brings you to the Spice Market (00 90 212 513 65 97; misircarsisi.org) which sells everything from Turkish Delight to olives and, of course, spices. It's heaving with tourists and locals, so be prepared to fight your way through the crowds.
Unpack
Arty types might fancy the new Soho House (00 90 212 377 7100; sohohouseistanbul.com), a members' club with rooms. You don't have to be a member to book a bedroom, although the hotel does prefer guests who work in a "creative" industry. The bedrooms are a combination of vintage luxury and traditional Turkish. Doubles from €195 (£139), room only.
For something a little more traditionally luxurious, head to the St Regis (00 90 212 368 0000; stregis.com/istanbul), located in the swanky Nisantasi neighbourhood – Istanbul's equivalent of Chelsea. Doubles from €400 (£284), room only.
Think local
Istanbulite (00 90 537 346 6020; istanbulite.com) specialises in tailor-made tours for travellers who want to get off the beaten track. Eda, who runs the company, warned me away from the Blue Mosque, telling me: "I'd rather show you something more intimate." She took me instead to Rustem Pasha Mosque, a charmingly small place of worship built in the 1560s and located next door to the Spice Market. Like the Blue Mosque, it is closed to tourists during daily prayers. A note for women: wear a long skirt or trousers, cover your shoulders, and bring a scarf to hide your hair. Shoes will also need to be removed before entry so socks are recommended.
Eat
If you like your supper served with a side of stunning views, head up to the Mandolin Terrace at Soho House, which boasts one of the best panoramas of the city. The open-air restaurant, which looks out across the Bosphorus serves a menu that combines Turkish and Greek: lots of meze and refreshing salads.
You can only eat at the restaurant if you're a member of the club or a guest at the hotel, so for something a little more accessible, head to the narrow, cobbled streets of the Beyoglu district, which is seperated from the old city by the Golden Horn, and pick up a shish kebab. Find a street vendor and tuck in.
Alternatively, do as I did and enjoy a meal in the home of an Istanbul local. Take a boat across the strait and have lunch at Kuzine 34 (00 90 0532 576 22 30; kuzine34.com). This gastronomic experience was set up by former businesswoman Petek three years ago, and sharing her table is like dining with an old friend. A three-course meal costs €75 (£53), including wine.
Drink
You can't leave Istanbul without trying a cup of Turkish coffee. During the Ottoman era, it was Turkey that introduced coffee to the rest of Europe, and the nation has since become famous for its thick, aromatic concoction. Eda led me to a café on a side street just off Istiklal Avenue – the longest pedestrian thoroughfare in the city. The café's name, Mandabatmaz (0090 532 507 7296; mandabatmaz.com.tr), means "buffalo doesn't sink", which gives you a rough idea as to how thick the drink is. As I reached the end of the cup, Eda showed me how to read my fortune in the gloopy sediment at the bottom.
Spend
If the clutter and dust of a junk shop sets your pulse racing, the Cukurcuma district is the best place to spend your lira. The quirky neighbourhood is made up of steep, winding streets and has antique stores on every corner, each with various bits of jumble spilling out on to the pavements.
The nearby Museum of Innocence (00 90 212 252 97 38; en.masumiyetmuzesi.org), set up by Turkish Nobel Laureate Orhan Pamuk to coincide with his eponymous novel, is full of objects collected from the shops in this district. Tickets cost 25 lira (£5.90).
Don't miss
At nine storeys – 66.9 metres – high, the Galata Tower was Istanbul's tallest structure when it was built in the 14th century by the Genoese, and it still dominates the city's skyline. It opened to the public in 1967 and today has an observatory deck which gives visitors a 360-degree view of the city. That is if you're patient enough to bear the queues, which can be long. If you turn up with a guide you can jump the line and head straight for the view.
Getting there
Chloë Hamilton flew with Pegasus Airlines (0845 0848 980; flypgs.com) from Stansted to Istanbul Sabiha Gokcen, located 22 miles south-east of the city. Single fares start at £79.99. British Airways (ba.com) and Turkish Airlines (turkishairlines.com) also fly to Istanbul from various airports in Britain.
Visiting there
Istanbulite (0090 537 346 60 20; istanbulite.com) offers customised city tours. Its two-day "I have a Weekend in Istanbul" tour for up to four people costs from €1,300 (£922) including a driver. Lunches and museum admission not included.
More information
Join our commenting forum
Join thought-provoking conversations, follow other Independent readers and see their replies