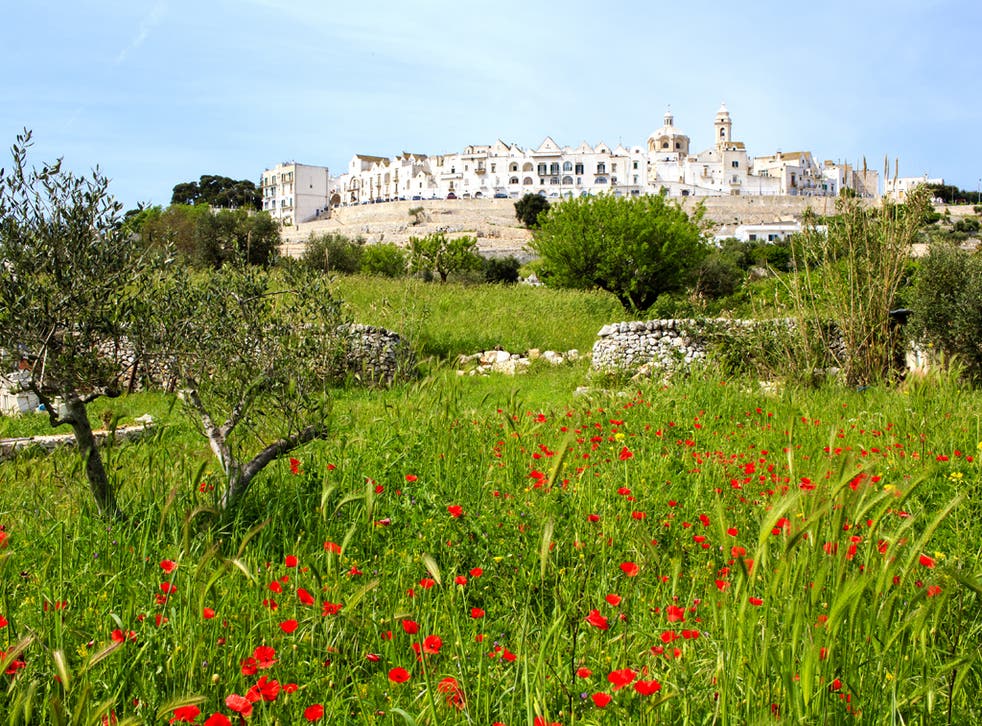 Trulli delicious: a taste of southern Italy in Puglia
Down in the heel of Italy's boot, Mark C O'Flaherty tucks into some of the country's best and least-pretentious cooking
"So, is the slow-cooked donkey off tonight? No d'asino al vino rosso?" The waiter, who speaks as little English as I speak Italian, disappears to consult with the kitchen. Back he comes, and all's well. The donkey's on. Everyone at the table breathes a sigh of relief and tucks into the salumi and cheese and the first of what will be many €12 bottles of house red.
We are here in Martina Franca to eat whatever Puglia has to throw at us, and to eat it in abundance. Which is just as well, because magnitude is core to Pugliese dining. It's not that portions are necessarily excessive, more that the amount of plates that hit the table – from crudités, to bread with olive oil and tomato, to pureed fava beans – is extraordinary. Puglia is largely about comfort food, in large amounts.
We've come – a group of six close friends incorporating a Londoner, a Scotsman, an Irishman and two Greek Cypriot sisters – to stay in whitewashed conical-roofed Hobbit-like trulli and ancient masseria, to cook up a storm in their kitchens, between culinary safaris to local markets, osterie and trattorie. Our backgrounds are culturally diverse, but southern Italian food is our common denominator. If we see some of the area's Baroque splendour in between bites, all the better.
On our first night in residence at Trullo Rosmarino we decide that we'll start to take turns with the cooking – tomorrow, at least. It's been a long day of swimming, drinking too much Campari and soda, and eating lobster with spaghetti and absurdly beautiful plates of raw fish whilst being surrounded by absurdly beautiful people at the Coccaro Beach Club. Tonight we have Anna and Anna, our neighbours and housekeepers, taking charge of the kitchen.
We sit at a concrete banquet table in the herb garden, and dig into panzerotti Pugliese (miniature cheesy pastries), little sandwiches stuffed with onion jam, and huge bowls of pasta with seafood. We stop the Annas from putting trays of white fish and olives into the oven because we can't manage another mouthful. Instead, we stay up until the early hours, drinking wine and watching the stars from the edge of the pool.
The next day, we shop – we head to Cisternino for the Monday market, buy smoked scarmoza for a barbecue, and return laden with meats, fruit and veg. We stop for lunch on the way back – gorging on parcels of pasta stuffed with burrata and scallop ragu at Bell'Italia, one of the most consistently excellent restaurants any of us have ever visited in Italy. The prices are a fraction of what they would be in Tuscany. "I'd just like to point out that the wine list is per bottle, not per glass," I announce, leather binder aloft, gearing up to brandish a few suggestions to accompany a saffron and vegetable dish.
Trullo Rosmarino is a dream project for its owner, who brought it back from the brink of decrepitude to create a beautiful holiday home, with plenty of shady, loungey spots in the gardens, and an ultra-modern kitchen. We arrived to our pre-ordered and ample €100 hamper of groceries and a wine cellar full of primitivo for €17 a bottle (for emergencies). It's a whitewashed heaven, albeit with an occasionally leaky roof in the oldest part of the trullo, and the odd power cut. Oh, and virtually non existent wi-fi. It takes two days before we realise that we aren't doomed by this state of affairs – we are free.
We make huge salads with fragrant, giant tomatoes and braciole (rolls of meat stuffed with cheese, onion and herbs), and repeatedly fail to recreate an orecchiete dish with ham and figs that we had all loved so much at Coccaro. We spend days swimming and going for long walks around the local farmland. It's an ugly, harsh, impoverished landscape compared to the soft, verdant north, but it's got a character actor's charm: olive trees abound, twisted and convulsed in pairs, like squat, rampantly horny tango dancers. Puglia is the embodiment of rustic.
We sip classic negronis, far heavier in vermouth than they'd be in London, in a variety of pretty town squares before various dinners. The donkey dish at Taverna del Duca in Locorotondo turns out to be most adventurous thing we encounter over 10 days. The tiramisu that we eat after Winnie the Pooh's gloomy chum is the best ever: light on coffee, but rich with egg and cream. Another night we order horsemeat involtini at Cibus, where the restaurant's own-brand olive oil comes in a fancy bottle that Chanel might get litigious over. There's piglet with onion and a pudding of walnut ice cream – a first for all of us. On another night we have lush sourdough pizza at Doppio Zero, with spicy salumi – straightforward and excellent. As is the Italian way, almost every restaurant is overlit to provide all the ambience of a traffic accident, or the toothpaste aisle of a Duane Reade.
The area around Martina Franca – between Bari and Brindisi airports – is full of restored pieces of rural architecture that you can self-cater in. We move for a few days to Lo Iazzu, another rental property further west, attached to an old masseria. It doesn't have the kitchen of Rosmarino, but it has an infinity pool that would be impressive for a resort with 20 rooms. It's vast, makes you want to get married beside it and it's all ours. Much peach nectar and prosecco is imbibed in the sunshine, and in the evening we go to Taranto – a fantastically industrial counterpoint to the rest of Puglia, and apparently one of the most polluted places in Europe. It has the buzz of a real city, and we love it. Gatto Rosso is the reason we go: a landmark trattoria renowned for seafood risotto, mixed fish skewers, various other things freshly plucked from the Ionian Sea, and one of my favourite things in the whole world: raw shrimp – like super sweet slivers of butter, flecked with sea salt.
We round off our trip with a night at Masseria Torre Coccaro, the hotel sibling to the beach club of the same name, for a Puglian cookery class. Torre Coccaro is another crumbling masseria that has been turned into something luxe. Several Puglia regulars that we meet hail it as their favourite hotel in the country. It's five-star, but with bags of character. This is Puglia distilled, and a great spot for food lovers. The breakfast buffet alone has about 20 different full-sized cakes on it, while the cookery class offers a dummies' guide to handmaking spaghetti (as well as orecchiete – shaped with a smudge of a knife and the dent of a thumb). We knead bread and bake fish as well as panzerotti with mozzarella and tomatoes, and a ricotta cheese tart. It's hands-on and educational, but doesn't do enough to build up the appetite to actually eat all of it a couple of hours later in the dining room.
On our last morning in Puglia, we set off early from Torre Coccaro to go on a cycling tour of the local countryside, stopping at a cheesemaker to see him making stracciatella, mozarella and burrata. Locals pop in every couple of minutes to make a purchase, while the cheesemaker works the burrata by hand, filling it with the creamy stracciatella into perfect, shiny, tight white balls. It's as pleasing to watch the process as it is to eat the result. "He gets to do this every morning," I say, transfixed. "I want this to be my life."
Predictably, even though we're all full of cake from the buffet, we all get stuck in as if we haven't eaten a thing in days.
Travel essentials
Getting there
The writer travelled with easyJet (0843 104 5000; easyjet.com), which flies direct, twice a week between Gatwick and Brindisi from 28 May to 29 October, from £36 each way. Ryanair flies from Stansted and Manchester.
Staying there
Trullo Rosmarino sleeps up to 10 and rates start from €4,010 per week (for up to six people).
Lo Iazzu sleeps up to 10 and rates start at €3,530 (for up to six people).
Both are available through Think Puglia (020-7377 8518; thethinkingtraveller.com/thinkpuglia).
Masseria Torre Coccaro, Savelletri di Fasano, Brindisi (00 39 080 482 9310; masseriatorrecoccaro.com) has doubles from £180 per night.
Eating & drinking there
Coccaro Beach Club, Savelletri (00 39 080 412 3467; coccarobeachclub.it).
Doppio Zero, Piazza Pellegrino Rossi (00 39 080 444 4151).
Osteria Bell'Italia, Cisternino (00 39 080 444 9036).
Ristorante La Taverna Del Duca Scatigna Antonella, Locorontodo (00 39 080 431 3007; tavernadelducascatigna.it).
Trattoria Gatto Rosso di Bartoli Alfieri, Taranto (00 39 099 452 9875; ristorantegattorosso.com).
More information
Join our new commenting forum
Join thought-provoking conversations, follow other Independent readers and see their replies