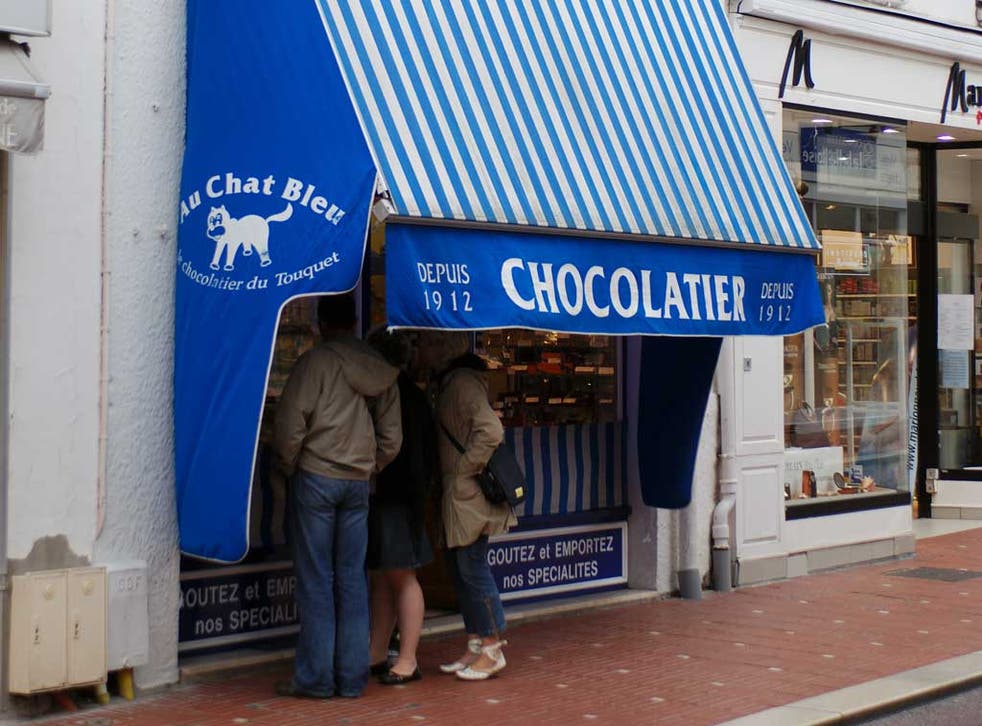 Le Touquet: I do like to be beside le seaside
With a century of glamour behind it, Le Touquet is a French coastal resort like no other. But does it still offer the chic appeal of its heyday?
Juliet Rix
Tuesday 22 May 2012 19:21 Comments
Driving along the coast of northern France, not far from Calais, everything is very grey... and then I arrive in Le Touquet. Celebrating its centenary of gaining "commune" (official town) status in 1912, this colourful seaside town is a strange mélange of French and English and a place not quite like any other.
Le Touquet has always been a playground; a light-hearted folly in a region of industrial seriousness. In its heyday between the wars it attracted not only rich Parisians – its full name is Le Touquet Paris-Plage – but British nobility of the aristocratic, political and showbiz kind. HG Wells eloped here; Edward and Mrs Simpson holidayed discreetly here; PG Wodehouse, Noël Coward and Winston Churchill all frequented the place. It was said that, on occasion, there were more MPs in Le Touquet than in the House of Commons.
According to a booklet published for the centenary, all these tourists "were seduced by our exceptional environment and taste for elegance and refinement". Quite possibly, but another kind of seduction played a part too. Some visitors were said to keep two sets of rooms, one for the wife, the other for the mistress.
Le Touquet's reputation for scandal has faded, but what of the elegance? As I arrive along the seafront, "chic" is not the first word to come to mind. The beach is broad and long, seven kilometres of soft, golden sand dotted with collections of rainbow-coloured beach huts. It would be glorious on a hot, sunny day. The handful of charming art deco seaview villas are, however, dulled by flat-faced concrete blocks, and the 1930s lido with its iconic high diving board (seen on early posters for the resort) is wrapped in a modern water park close to a funfair.
Perhaps the town itself is more elegant. I set off to explore. Just behind the seafront the mix of flavourful vintage and modern vin ordinaire continues. Attractive villas sit side by side with fast-food joints and "English" pubs. I wander down the more residential rue Jean Monnet to the semicircular art deco covered market, bustling on market days (Thursday and Saturday). The market spans the road and I pass through its central clock-topped arch to find a scene that is typical Le Touquet.
A pavement chequered in dark red and yellow runs in front of a fairytale turreted villa. You almost expect the Queen of Hearts to wander out. Walking on, I find a cornucopia of art deco delights, many now listed. This is a place of fancies, of holiday architecture. Even the recently restored lighthouse looks like a vast Ionic column. The names can be enjoyable too. One orangey-pink confection is boldly labelled "Tata Ice", named, I am told, after the children of the family's mis-speaking of "Tante [Aunt] Alice".
A small wooded area in the middle of town is a remnant of the forest of pines planted here in the mid-19th century. Parisians came to walk and ride in the sea air – as many visitors still do in the forest on the fringes of town – and began Le Touquet's reputation for leisure. It was, however, two British entrepreneurs who acquired Le Touquet in 1903 and developed it into the town that became the resort of choice for the British upper classes. Many built or bought villas, while others stayed in the imposing Hôtel Westminster (no wonder the MPs felt at home), which remains the best hostelry in town.
The foyer of the Westminster still has a touch of Roaring Twenties elegance, with polished wood panels, red carpeting, and art deco ironwork. The lounges are less distinguished but comfortable, and the restaurant has a Michelin star. On the one occasion I ate here, not all the food was outstanding, but the potatoes (using a local variety, the ratte du Touquet) deserved the star all by themselves.
The British owners of Le Touquet, keen to retain the resort's reputation for healthy pleasures, appointed Baron Pierre de Coubertin, the father of the modern Olympic Games, to create a "sporting paradise". His legacy lives on. The town is dotted with exceptional sports facilities – particularly for riding, athletics, tennis, sailing, sand yachting, cycling and golf – all of which are open to visitors. Several are now being used by teams preparing for this summer's London Olympics; they also host regular international competitions.
Wandering back into the commercial centre of town I find that a few blocks inland is rather different from near the seafront. Here are chic French boutiques, specialist food shops and classy eateries serving the wealthy Parisians who now own most of the villas and come here for le weekend.
Back on the seafront, the beach is empty. Not for long. Le Touquet offers a programme of nearly 400 events, from the massive winter Enduro beach motorbike race to classical-music and themed festivals. In summer, the town swells from 5,500 residents to around 100,000. This July and August, visitors will be treated to the Centenary Festival, including on Bastille Day weekend (13-15 July) a dramatic firework and laser light show over the beach.
The chic of Paris will rub shoulders with the short-break Brits, elegance will mix with fun. Le Touquet is a charming eccentric cocktail of a place: the classiest bits of Frinton with a sprinkle of beach-front Clacton and a dose of French élégance.
Travel Essentials
Getting there
By air: LyddAir (01797 322207; lyddair.com) flies an aircraft at weekends until 14 October from Lydd in Kent for £150 return.
By car: ferry (08716 642121 poferries.com; 08715 747235; dfdsseaways.co.uk) Dover to Calais (90 minutes) or Le Shuttle (08443 353535; eurotunnel.com) from Folkestone to Calais (35 mins) and then a 60-minute drive.
By train: Eurostar (08432 186186; eurostar.com) from London St Pancras to Calais (55 mins), then train to Etaples (around 50 minutes) and a five- to 10-minute taxi ride.
Staying there
Hôtel Westminster & Spa (00 33 3 21 06 70 48; westminster.fr). Doubles from €160, room only.
Further information
Le Touquet tourist office (00 33 3 21 06 72 00; letouquet.com).
Register for free to continue reading
Registration is a free and easy way to support our truly independent journalism
By registering, you will also enjoy limited access to Premium articles, exclusive newsletters, commenting, and virtual events with our leading journalists
Already have an account? sign in
Join our new commenting forum
Join thought-provoking conversations, follow other Independent readers and see their replies