Why Leipzig is Europe's coolest city for design
This German city is an intriguing mix of grand and grit, says Cathy Adams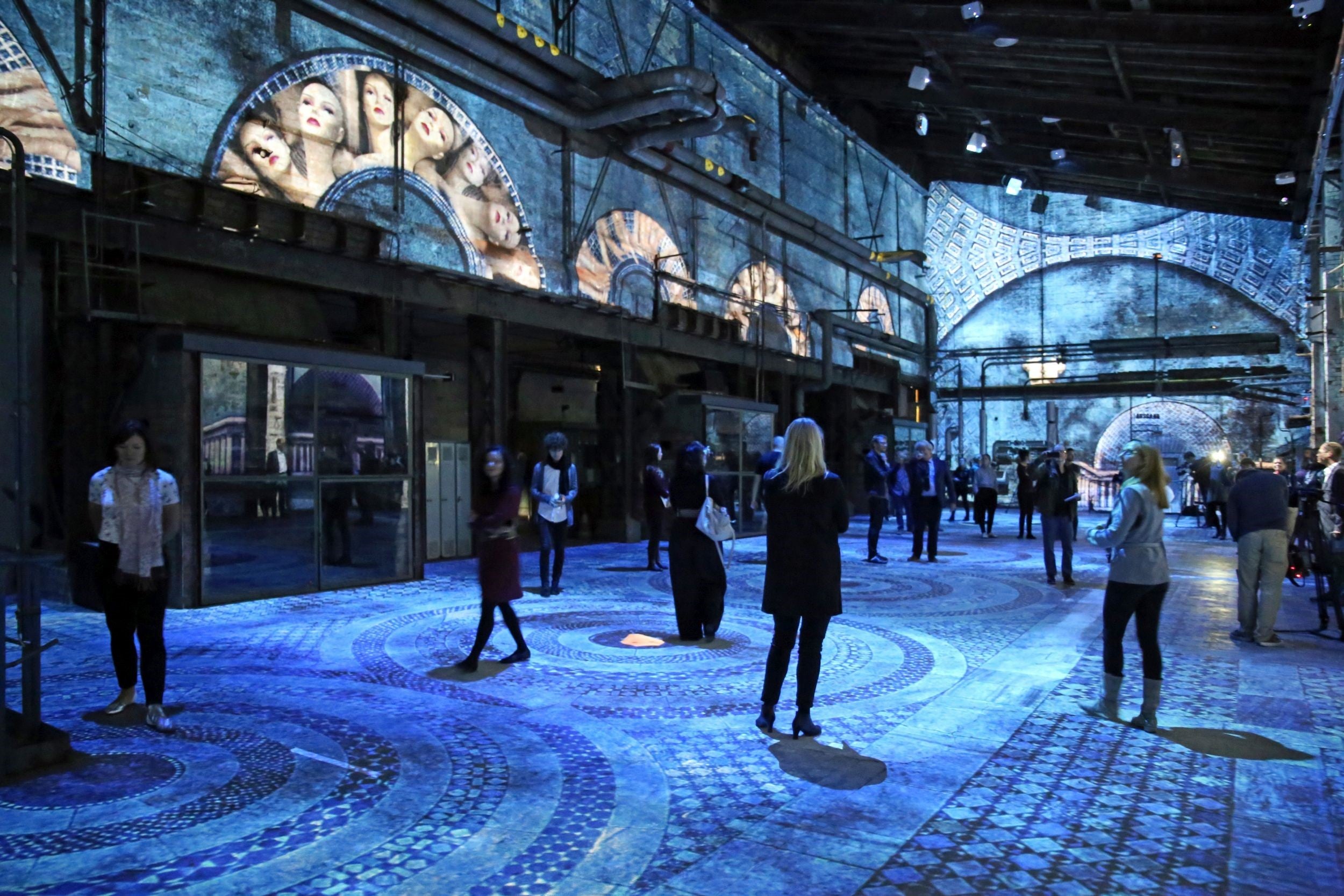 Five women, dressed in white leotards and tight swimming hats, are dancing on stage at the Kongresshalle. Well, perhaps dancing is the wrong verb. Rather, they're staring emptily into the middle distance, gyrating their legs and arms together in what is probably best described as synchronised pilates moves.
An hour later at a fashion show, lithe young Germans prance down a runway, some with their eyes covered by a band of colour – black, white, red – to a utilitarian tune peppered with screams that sound like they're stolen from the Bodyguard opening music. One model looks like she's wearing a mangled shower curtain, another is sporting peacock feathers on her head, and another is holding what looks like a huge chocolate digestive biscuit at a 45 degree angle.
It's weird, but that's the appeal. I'm in Leipzig, eastern Germany, for the Designers' Open weekend, an annual exhibition that attracts creatives from across Germany to show off their work: the more cutting-edge it is, the better. I've already sat in a 'moon chair', shaped like a womb and deep enough to snuggle into the corners; admired a lamp made from algae; and picked up a wooden dildo thinking it was a pestle.
This German city, in the state of Saxony, isn't particularly well-known to British travellers – yet. There's one Ryanair link from Stansted, and a fast train from Berlin. The tourism board is positioning Leipzig tentatively as a day trip from Berlin, or a viable alternative if you've exhausted the capital's (many) charms.
If you want to visit, Leipzig will welcome you. The long-running Leipzig Trade Fair, which continues to provide a meeting point for consumer goods from all across Europe, cemented its open-minded spirit. Different nationalities are always passing through (usually via the cities gargantuan train station, the largest in Europe) and the refrain "welcome to Leipzig" is repeated in English, French and Russian atop the Brühl shopping centre in town.
All of this makes the city a nice place to spend time in. Its liveability factors rank highly: it's a 15-minute train journey from the city centre to the airport, which costs €4.70, and a three-course lunch menu on the 29th floor Panorama Tower restaurant will set you back a decidedly unstarry €11.50. Everybody cycles everywhere, which isn't really necessary: most sights are within walking distance. Oh, and there's a network of parks that thread through the entire city.
You can't talk about Leipzig without mentioning its musical history: composer Johann Sebastian Bach worked here; Richard Wagner of The Ring of the Nibelung was born here. Robert Schumann and Felix Mendelssohn worked here for many years – today you can see the Gewandhaus Orchestra, one of the world's oldest, perform in the Mendelssohn Hall. The city's rich seam of talent has led to Leipzig's boom as a trance, techno and house music hub too: clubs like Distillery and Institute für Zukunft will keep you up way past your bedtime.
But it's in architecture and design that Leipzig seems to have found its niche, as the Designers Open proves.
For starters, there's the grande dame train station – a 300m-long, 23-platform heifer, once split into Saxony and Prussian state rails. The Starbucks inside the former Saxony waiting room must rank as the best looking outpost of the coffee chain anywhere in the world, while inside the former Prussian waiting room is Ludwig bookstore, with a café by the window to admire the trams going past. Then there's the gorgeous city hall in the market square, currently being renovated, with a beautiful clocktower. That's the grand.
Then there's the grit. Leipzig at the start of the 20th century was a zippy hub for all kinds of industry: wool production, publishing, car-making. It left behind plenty of factory buildings ripe for reinvigoration – not unusual in former post-industrial cities. But what is really interesting about Leipzig is the mash of ornate (if a bit tired) baroque buildings in the city centre, with these vast industrial buildings on the outskirts. I'm told it's because East Germany didn't have enough money to demolish the former and replace it with modern architecture, as cities in West Germany were doing at the time. What its parsimony left instead, was a delicious mix of grand and industrial.
The formal art scene is best viewed at the Grassi Gallery, a pink courtyard complex that houses three museums including the Applied Art Museum, and the Museum der Bildenden Künste (MdBK), a concrete cube full of everything from Monet's impressionism to some high-concept photography. A morning wandering around MdBK's four floors is well spent, as is relaxing on a sun lounger at Cafe Idee on the ground floor, looking up at the ceiling: there's a blissed-out baby blue sky scene, which is instantly relaxing.
On the fringes of Leipzig is where it gets really interesting. Karl-Liebknecht Strasse, a studenty street near the university, is covered in oversized street art: a pastel mural of a girl surrounded by animals adorns one wall, while the animalistic bug eyes of Michael Fischer, a local street artist, peer out from above a bar. At the corner of Shakespearestrasse, there's Feinkost, a former canned food factory-turned-super-trendy art space, with quirky boutiques, a bookstore with coffee and, naturally for Leipzig, a nightclub.
Or head west to the leafy Karl Heine Strasse in the Lindenau neighbourhood. Here, there's a laid back feel that reminds me of a boulevard in Paris' bobo Belleville district. An afternoon whizzes by nosing its vintage clothing stores, grabbing takeaway coffees, watching a show at the arts centre and picturehouse Schaubühne Lindenfels, and exploring former factories hosting eclectic exhibitions. Currently, at a former electricity power station-turned-arts-behemoth Kunstkraftwerk, is a projector show beaming images of the Italian Renaissance, as part of a project organised with Florence's Uffizi Museum.
Further down the prettily autumnal Karl Heine Kanal is Plagwitz's Tapetenwerk, home to a curated selection of architect studios, a cute café and graffiti in the yard. Not far is Westwerk, where former factory buildings are booming out Nineties r'n'b and offering "cash for trash". It's reassuringly creative: there's a giant rat painted outside.
Leipzig's location, close to three influential design schools, has bolstered its reputation as an international design city, says Lilly Bozzo-Costa, curator of the Original Old upcycling exhibition currently taking place at Kunstkraftwerk.
She adds: "The Kunstkraftwerk was founded in 2015 in Leipzig as a new experimental cultural space for art and design, addressing the special topic of upcycling. Leipzig is a city with a good and affordable quality of life, many public parks (compared to Berlin, Munich or Hamburg), a wide variety of cultural programmes and events, many industrial buildings for workshops, co-working spaces and international exchanges. Every corner of the city is accessible by bike. Leipzig is a smart city."
My last stop is Auberbachs Keller. The dim-lit restaurant is below Mädler Passage, a gorgeous shopping corridor modelled after Milan's Galleria Vittorio Emanuele II, and was once the stomping ground of the poet Goethe. It's dark, heavily designed and very German, and about as far from cutting-edge as you can get. Perhaps that's the true appeal of Leipzig, though: It's progressive in art, design and music, and comfortingly traditional in everything else.
Travel essentials
Flying there
Ryanair flies to Leipzig from London Stansted from £9.99 one-way.
Staying there
Rates at Vienna House, a quirkily decorated crash-pad right opposite the Hauptbahnhof (main train station), start from £105.05 based on two sharing. If you like your hotels to look like a Made catalogue with added hanging baskets, this is the property for you.
More information
Join our commenting forum
Join thought-provoking conversations, follow other Independent readers and see their replies