The Independent's journalism is supported by our readers. When you purchase through links on our site, we may earn commission.
Les Prés d'Eugénie: A French cookery lesson with a culinary legend
Andy Lynes dons his apron and gets chopping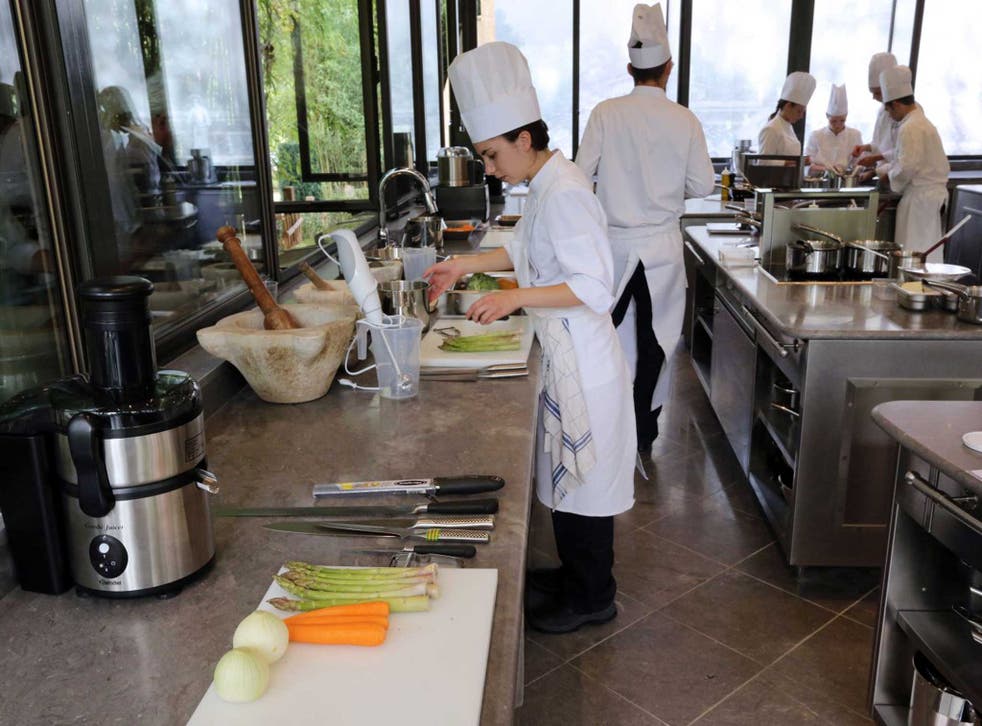 Until 1972, the tiny commune of Eugénie-les-Bains in the Landes department of Aquitaine, south-western France, was best known for its spa waters. Eugénie, wife of Napoleon III and empress of France, gave her patronage in 1861 to the sulphurous thermal spring that had been known as Las Aygos de Saint Loubouer since Henry IV of France's reign in the 16th century.
But that was before chef Michel Guérard came to town. Now, the first thing you see as you arrive in Eugénie-les-Bains (a 90-minute drive from Bordeaux airport) is Guérard's name on the metres-high sign at the entrance to Les Prés d'Eugénie, the grand 19th-century colonial-style hotel, restaurant and health spa that he owns and runs with wife Christine and daughters Adeline and Éléonore.
Guérard was one of the architects of Nouvelle Cuisine, the 20th-century movement that lightened traditional French cooking and replaced food served from silver salvers with dishes artfully plated by the chef, thereby providing the template for all modern haute cuisine. It's no exaggeration to say that the 81-year-old is a living legend of gastronomy; he has held three Michelin stars at the hotel for a jaw-dropping 37 years.
So I was a little nervous when the great chef appeared in the hotel's new state-of-the-art cookery school. I'd been taking part in a taster morning of the first English-language lessons ever to be offered in the 42 years Guérard has been here.
Dressed in the provided aprons and toques (hats), four of us had spent the morning in the conservatory-style building that looks out over the manicured grounds, attempting to replicate dishes from the hotel's menus under the watchful eye of Lieven Van Aken (the only English-speaking chef in the hotel's brigade) and his assistant.
Van Aken first demonstrated a dish, then monitored our every move as we worked at our individual stations. It's serious stuff: shallots and ginger finely chopped; carrots sliced into thin julienne sticks. (Anything that didn't meet the chef's high standards was rejected and the chopping and slicing began again.) Then it was all added to a curry-scented orange-blossom sauce served with seared scallops which the chef ensured we cooked to perfection. We'd de-boned a whole maize-fed Landes chicken (the region is renowned for its poultry), removing the legs but taking care to keep the breasts and the skin intact so we could stuff them with cream cheese, fresh herbs and a log of foie gras.
Then Guérard arrived. Standing no taller than my shoulder, wearing pristine chef's whites, he peered at the chicken supreme on my chopping board. It was a tense moment – after all, this is the man who has trained countless world-famous chefs, including Alain Ducasse, who currently holds a total of 21 Michelin stars.
"Très bien!" he said with an impish smile. I mumbled an awed "Merci" and held back a fist pump.
Our lesson ended with a demonstration of how to make apple and lime soufflé, a dish from Guérard's repertoire of low-calorie cuisine minceur spa dishes that he first created back in the 1970s. It's a simple yet ingenious recipe; instead of the usual soufflé base made with a heavy butter and flour roux, Van Aken deftly mixed apple purée, flavoured with lime juice and zest and sweetened with fructose, first with egg yolks and then whipped egg whites. Baked for eight minutes, the result is packed with flavour but light as a feather.
This is a good thing, as during our three-night stay we gave the hotel's food and beverage offering a thorough going over. We started with a relatively modest selection of tartine (open-topped sandwiches) and champagne at the newly opened Mère Poule et Cie Café Culinaire, a cosy and informal place that's attached to the cookery school. Our first-night dinner was held in the opulent three-Michelin-star restaurant, with views over the front courtyard, planted with banana plants and the spa in its meadow-like grounds to the rear. It was a run-through of some of Guérard's signature dishes, including "Tsarina Egg" – an eggshell filled with a jellied mackerel and white-wine consommé topped with potato, celeriac and cauliflower mousse and a generous layer of caviar. Two three-course lunches from the minceur menu both weighed in at less than 650 calories each (assuming you skip the alcohol and irresistible sourdough bread and superb creamy butter) and included a bright and refreshing dish of spiced crab on pink grapefruit jelly.
I tried a number of dishes cooked over an open fire (another signature of the hotel) including local pigeon and lamb from the nearby Pyrenees. But perhaps the most memorable meal was served at La Ferme aux Grives, a rustic stone- and pebble-walled auberge a short walk from the main house. Here diners sit in front of a well-worn kitchen table where a chef works behind a display piled high with cabbages, peppers, leeks and courgettes. Behind him, a whole suckling pig is roasted slowly on a spit. It was impossible not to order a portion, which came with spoon-ably tender meat beneath a shiny carapace of crispy skin and a sausagemeat, apple and ginger stuffing. The side dish of smooth and buttery mash was almost worth making the trip to Landes for by itself.
Les Prés d'Eugénie is undeniably grand and luxurious; my large suite, complete with working open fireplace, marble bath and antique furniture, was in the L'Impératrice wing where Empress Eugénie stayed when she was in town. Yet there is also a genuine family feel to the place. Various members of the Guérard clan are always in and around the hotel.
During an after-dinner tour of the kitchens, I stumbled on proof-positive that the octogenarian chef is still a hands-on presence. As the chefs assiduously cleaned around me, I spotted a handwritten menu clipped above the pass. Neatly formed block letters were punctuated with looping Fs and long tailed Ps. "Who wrote this?" I asked a passing waiter. "That is M Guérard's own handwriting," he told me. I waited until no one was looking then quietly removed the document: my own small piece of French culinary history.
Travel essentials
The Les Prés d'Eugénie (00 33 5 58 05 06 07; michelguerard.com). The English cookery course runs from 23-27 June and costs £720pp. Double rooms start at €250 per night. easyjet (0843 104 5000; easyjet.com) flies from Gatwick to Bordeaux from £82 return.
Register for free to continue reading
Registration is a free and easy way to support our truly independent journalism
By registering, you will also enjoy limited access to Premium articles, exclusive newsletters, commenting, and virtual events with our leading journalists
Already have an account? sign in
Register for free to continue reading
Registration is a free and easy way to support our truly independent journalism
By registering, you will also enjoy limited access to Premium articles, exclusive newsletters, commenting, and virtual events with our leading journalists
Already have an account? sign in
Join our new commenting forum
Join thought-provoking conversations, follow other Independent readers and see their replies