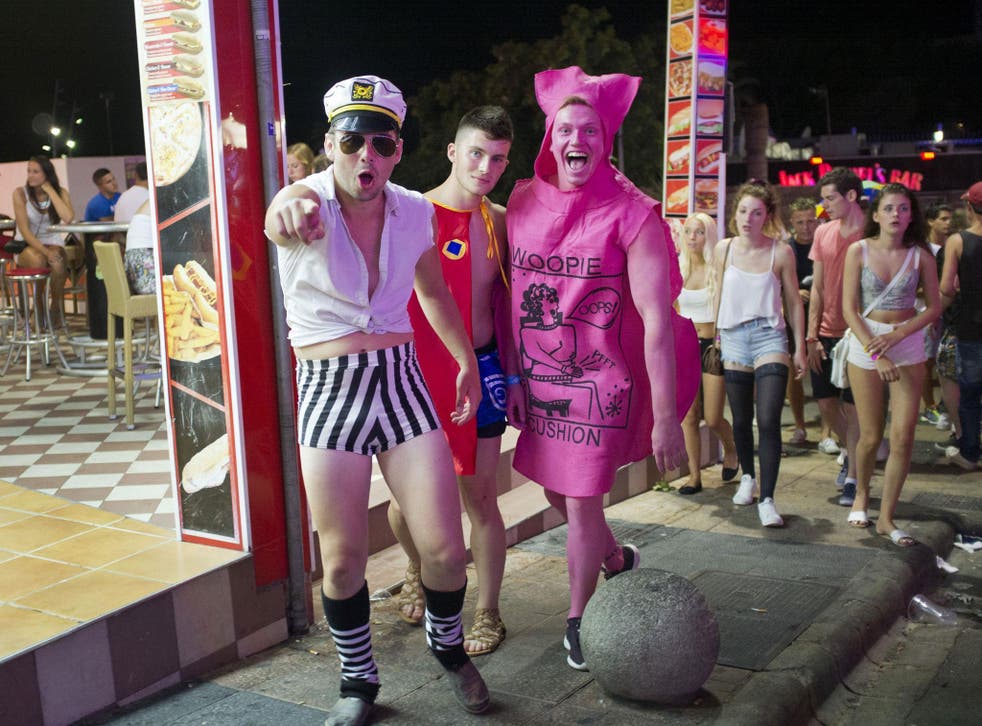 What it's really like to spend a summer working in Magaluf, the ultimate Brits-behaving-badly resort
Women working in bars over summer surf challenges posed by a culture of men, drink and drugs
"Drinking was encouraged on the job," says Paige Hall, recalling her summer as a "hostess" on the notorious Magaluf strip. "I guess it made us more confident and flirtatious with tourists."
Hall was 19 when she and her friend Alex Serruys, both from Norwich, flew to the controversial Spanish resort for a season working in its Brit-packed bars. Synonymous with binge-drinking, package holidays and sex, they found Magaluf more than lived up to its reputation.
"There's just so much going on," says Serruys, now 23. "Drugs, alcohol, the atmosphere. Hundreds of girls with their boobs and bums out."
Brits abroad - Magaluf

Show all 10
Drugs, mainly cocaine and ecstasy, were "passed around like sweets", says Hall, stressing that she and Serruys never took any themselves. The vodka tasted so cheap, says Serruys, it was "like glass in your throat".
Their "uniforms" were as basic as you'd expect: crop tops and hot pants for girls working inside bars, and bikinis for those working at the outdoor bars. Guys wore shorts.
Hall worked briefly as a "PR" ferrying punters from the streets into venues before getting fired for failing to attract enough people. She was expected to get dozens of potential customers through the doors, something she admits she was terrible at and absolutely hated. She then joined Serruys as a hostess, which involved making sure drinkers who entered their club went straight to the bar.
The job of hostess also meant getting up on the bar to dance in front of everyone – something Serruys did not enjoy.
"I got fed up. I told my employers, 'I'm not into the whole getting up on stage thing and I don't appreciate that sort of sleazy, unnecessary attention.' Guys would take photos of you and think they could 'have you'. There were mostly young lads and groups on stag dos, but some of the guys were old enough to be my dad."
Tabloid stories about sex acts in Magaluf clubs are not sensationalised either, both Hall and Surruys confirm.
"The most shocking – yet entertaining – thing I saw was a 'competition' where four girls were performing a sex act on four boys," says Surruys, adding this was part of an organised bar crawl. "The host of the bar crawl announced the competition and called up contestants. Whoever 'won' first got free shots or a fish bowl."
It was cringeworthy to watch, she says. But this sort of thing wasn't rare.
"I remember once seeing a completely naked guy on the bar playing a drinking game where he had to get into sexual positions," says Hall. Customers would get shots for the best contortions.
But the lifestyle was exhausting, says Hall. They would wake up around lunchtime, head to the beach to sunbathe, shower, then head to work for 10pm before returning at around 6am. Then do it all again.
They would make around €40 to €50 per night, giving them enough to pay the rent in their "tiny, albeit cute" flat above a bar, buy clothes and save a little. Four of them shared two beds and two pull-out sofas. "There is no luxury when you work a summer in Magaluf," Serruys says.
But, she adds, they made incredible memories and friends for life. After getting to know gig promoters, they met big acts from Calvin Harris to David Guetta, and Serruys says she now counts Tinie Tempah as a friend.
Hall says that, all things considered, she had a blast. "I absolutely loved the bar work, despite being told we had to wear bikinis even on the night shifts," she says.
"Don't get me wrong, there is a real dark side to working a season.
"It's very tiring work and you can get sacked at the drop of a hat. Maybe they don't think you're right for the bar, either because of your looks or your personality, or that you're too drunk on the job, or not drunk enough. I was also surprised by the amount of drugs, but they weren't shoved in my face and I wasn't pressured to do them.
"I think it all boils down to the type of person you are and how you're influenced."
Still, at the end of that summer, she was happy to leave. "By the end, I was homesick," says Hall. "I just wanted to wear a jumper and walk on carpet again."
Join our new commenting forum
Join thought-provoking conversations, follow other Independent readers and see their replies