The Independent's journalism is supported by our readers. When you purchase through links on our site, we may earn commission.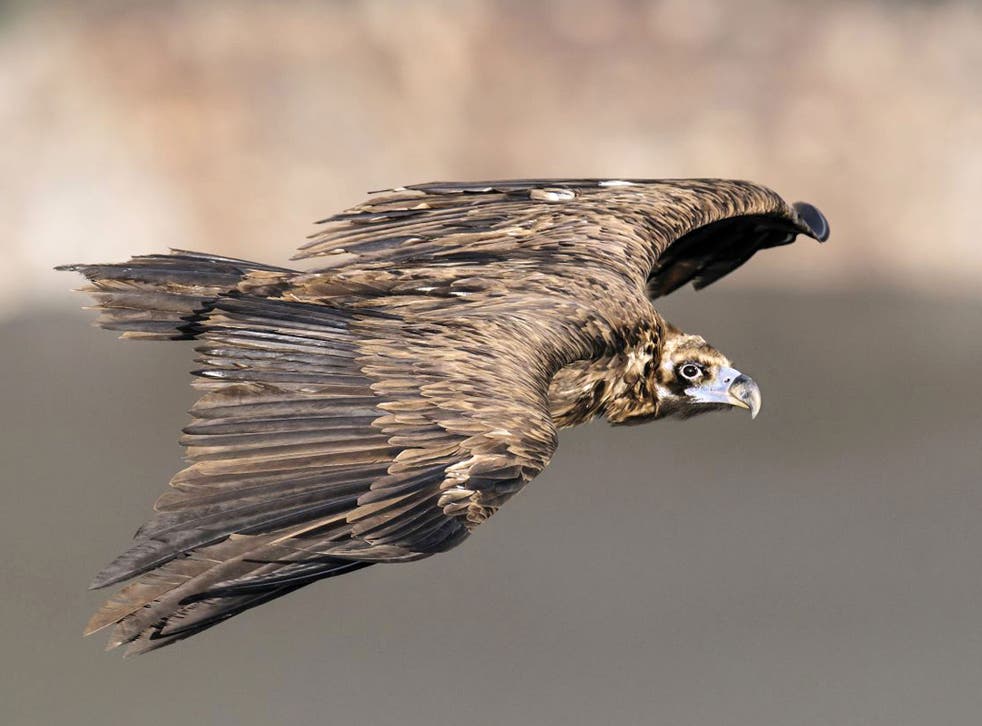 Mallorca: Conservation meets tourism
James Litston spies a raptors' feast
At first it was just a speck, something powerful and lofty, high above the mountains in a cloudless sky. Drifting closer on the breeze, the speck took avian form. Through binoculars I could see a huge, hooked beak and ebony feathers, the wingtips splayed like open palms. No doubt about it, this was a black vulture: Europe's largest raptor, its wings spread wider than a man is tall. As it disappeared over the ridge, Juan José, my guide, turned to me and smiled. "Don't worry," he said, "it will be back. There's going to be a feast!"
Even if you're not remotely interested in birds, it's hard to ignore a soaring black vulture. They are truly massive, with a commanding, primeval silhouette that seems irresistibly to drag the eyes skyward. Though highly endangered throughout their range, that rareness is only relative here in the Serra de Tramuntana of northern Mallorca. Thanks to the efforts of Juan José and his Black Vulture Conservation Foundation, the vultures here are doing well, and encounters like this are increasingly commonplace.
But although numbers now top 130 (up from 20 in the 1980s), Juan José's work is not yet done. He explained the birds' peril as we hiked to our viewpoint, the way marked by wildflowers bathed in glorious, spring sunshine. Mallorca's mountains show best in the spring, before summer temperatures desiccate the verdant landscape.
Pausing to admire the limestone peaks and terraced groves of twisted olive trees, Juan José described how a decline in sheep-herding had greatly reduced the vultures' food supply, though the use of poison baits presented a more insidious threat. Hunters set the baits to target feral cats and dogs, but vultures, kites and other scavengers can easily fall victim to one of these fatal last suppers.
To tackle these issues, Juan José operates "vulture restaurants" scattered throughout the mountains and tirelessly lobbies landowners to be more wildlife-friendly. He also wants people to come and experience the birds in their environment and as a result he has striven to unite local enterprises in order to develop rural tourism. The fruit of those efforts – a programme of specialist activity holidays sold under the name ProNature Travel – launched last year, and I'd come to the Serra de Tramuntana to see what they're about.
Over dinner the night before, Juan José had filled me in on the project's history. We were dining at Monnaber Nou, a beautifully restored, 17th-century manor-house hotel surrounded by the orchards, fields and forested hills of its own organic farm. This was Mallorca's first rural hotel. Bathed in evening sunlight, the view from the terrace was picture perfect. Frogs chorused noisily from the fountains while we ate, joined by a dove gently purring from the rooftop.
As we tucked into the farm's own-reared roast lamb, Juan José explained that after decades of neglect, Mallorca's rural economy had all but died out. The arrival of package tourism in the 1950s saw farmers desert the countryside for new opportunities on the coast. But through rural tourism, Juan José hoped to reverse this decline, make the countryside pay and get locals to back his conservation initiatives.
"Tourism is revitalising the interior," he told me, "and the vultures are catalysts for that. Seeing iconic species in the wild is a huge motivator for travel, so by making the landscape more vulture-friendly, we can attract more visitors while raising funds for conservation. It's a win-win strategy for communities and wildlife."
Monnaber Nou is one of six hotels and farmstays in ProNature Travel's programme, which guests can combine with painting and photography classes, or any number of guided hikes into scenic, wildlife-rich habitats. Juan José suggested that the remote Ariant estate, in the mountains above Monnaber Nou, was my most likely bet for a vulture encounter. So we set off the next day in the cool of the morning after an almighty breakfast on the hotel terrace.
Being privately owned, Ariant is off-limits to the public, so ProNature Travel's guided hikes are the only way to get here. Nightingales serenaded us from the scrub as we puffed our way up the steep access track, the air thickly scented with cistus and pine. At the top, perched right on the edge of a ridge, stood a centuries-old stone watchtower. Here we stopped in the shade, our chatter silenced by the incredible vista.
Beneath us, stretching out like a promised land, was an immaculate patchwork of meadows and fields flanked by limestone bluffs and the sea far beyond. Someone was repairing a dry-stone wall and the flat notes of sheep's bells rang down from the hillside. The whole thing had a dream-like quality, more like a painting than real life, as if being screened off from the world by encircling mountains had somehow kept it frozen in time.
Juan José quickly spotted the speck that would become my vulture. As it disappeared from view, he trained his telescope on the furthest field, where a sheep's carcass had been placed the night before. This was one of his vulture restaurants and the birds would soon be gathering for the feast.
We didn't have long to wait. First came a raven, then a couple of kites, then, finally, the vultures crashed into the party, scattering the others before them. Their naked heads – a sensible adaptation when you feed on rotting carcases – rather lacked beauty, but the ruff of feathers around their necks bestowed a certain charm. The scene as they scuffled over the meal seemed better suited to the African plains; a world apart from the beach resorts a few miles away.
With the birds busily feeding, Juan José glanced up from his telescope, a satisfied look in his eyes. "Black vultures have always been part of this countryside," he observed. "If we can make our project a success, they'll be part of its future, too."
Travel essentials
Getting there
The writer travelled as a guest of easyJet (0843 104 5000; easyJet.com) which flies to Mallorca from 10 UK airports .
Staying there
Monnaber Nou (00 34 971 877 176; monnaber.com) has doubles with breakfast from €133 in April.
More information
ProNature Travel (00 34 971 575 880; pronaturetravel.com) offers single and multi-day guided hikes in rural Mallorca. A half-day Under Vultures hike (with a visit to the conservation centre) costs €40pp.
Register for free to continue reading
Registration is a free and easy way to support our truly independent journalism
By registering, you will also enjoy limited access to Premium articles, exclusive newsletters, commenting, and virtual events with our leading journalists
Already have an account? sign in
Register for free to continue reading
Registration is a free and easy way to support our truly independent journalism
By registering, you will also enjoy limited access to Premium articles, exclusive newsletters, commenting, and virtual events with our leading journalists
Already have an account? sign in
Join our new commenting forum
Join thought-provoking conversations, follow other Independent readers and see their replies