The Independent's journalism is supported by our readers. When you purchase through links on our site, we may earn commission.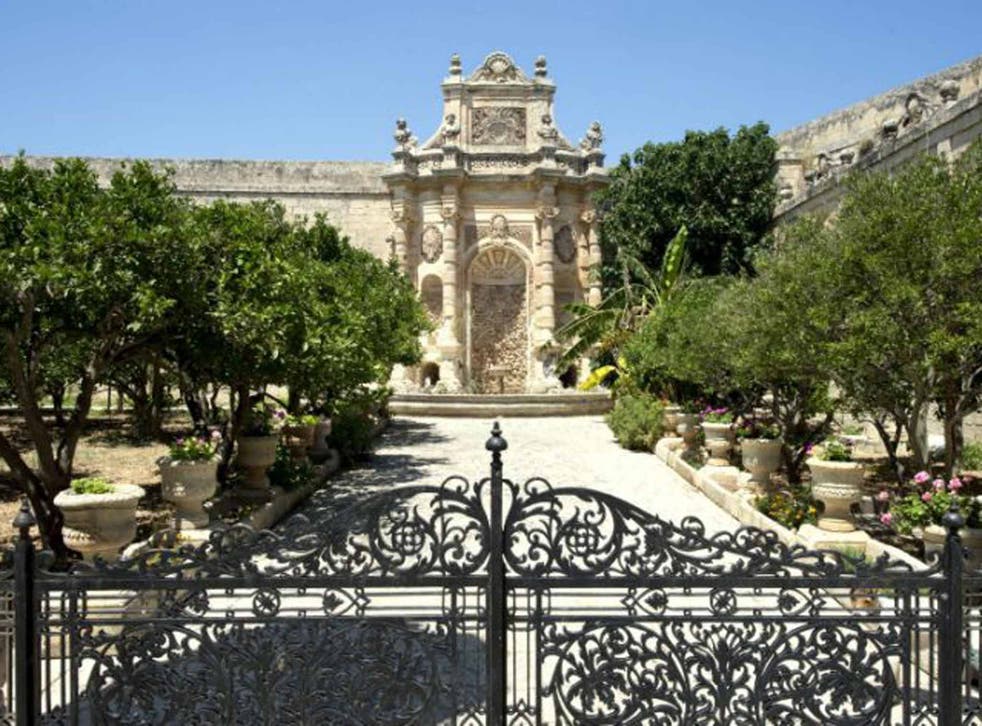 Malta's noble residences open up to private tours
Grand residences and gardens are allowing privileged access behind closed doors
Andrew Eames
Friday 17 July 2015 12:59 Comments
Malta is a pretty rotten place to be a rabbit. Sunday lunch is dominated by rabbit stew, the national dish, so any wild rabbit that dares poke its head out of a hedgerow is effectively committing the bunny equivalent of hara-kiri. Of course, there aren't nearly enough free-range ones to go round on a small island like this, so small-scale breeding for a fenkata – a family get-together for rabbit stew – is a widespread cottage industry.
This is one of several Maltese morsels I pick up at my first experience of a fenkata, which is taking place in the sumptuous dining room of a 300-year-old "palazino" on the southern shore of Valletta's magnificent Grand Harbour. I'm here for the launch of something special.
The dinner's host, British expatriate Jim Dunn, is also the owner of this glorious old house. It feels like a dressed-up version of a Marrakech riad, rising through several floors around an inner courtyard. The interiors are decorated by local artisans and chock full of the treasures of a widely travelled collector's life, and after dinner we go up on the roof to look out over the towers and domes of the Three Cities and up to Valletta. With such a spectacular view of Benjamin Disraeli's "city of palaces built by gentlemen for gentlemen" etched against the stars, it would be only too easy to forget what your feet are doing, and step fully-clothed right into Jim's rooftop infinity pool.
Jim is the co-creator of a new concept called Private Malta, which is why we are here, in his house, for dinner. The idea is that customers get privileged access to private properties like his, access that can sometimes include meals or even concert performances. And given the colourful past of this island republic, access to historic buildings should be pretty interesting.
Malta's most fertile era for construction was the 250-year rule of the Order of the Knights of St John, a hugely powerful and wealthy organisation originally set up under the auspices of the Church to provide an escort for Christian pilgrims heading for Jerusalem, and later acting as a bulwark against the forces of Islam, particularly the Ottoman Empire.
In the era when the order ruled Malta, to become a Knight of St John was a matter of prestige among wealthy European dynasties. Once the Ottoman threat receded, the order turned its attention to charitable works. Along the way, it created some of the finest architecture in the Mediterranean.
The result is two Baroque cathedrals, several fortresses, dozens of palaces and scores of merchant houses all made out of Malta's golden-glowing limestone and decorated, often gorgeously, inside by (mainly Italian) artisans.
Until now, most visitors intrigued by the Baroque façades of Malta's noble houses have had to be content with admiring them as scenery. But Private Malta is intent on changing that, letting a lucky few have privileged access behind closed doors.
The programme has been developed in partnership with one of the island's longest established five-star hotels, the Corinthia Palace, which sits opposite the Presidential Palace, in the village of Attard. This is one of few Maltese hotels to occupy a historic building; they were previously perceived as too small, and too far removed from the water's edge, for the demands of modern-day holiday-makers.
Between the Corinthia and the Presidential Palace is the walled garden of San Anton, a shaded oasis of orange groves, peacocks, aviaries, and fountains with tortoises.
Private Malta doesn't give me access to the Presidential Palace – the President herself is very much in residence – but it does get me into the Villa Bologna nearby. The Villa turns out to be a rambling mansion built by a merchant in 1745, and latterly lived in by one of Malta's British prime ministers, Gerald Strickland, during the island's colonial period (1813-1964). It too has the most fabulous gardens; an orange grove fragranced with blossom, pillars adorned with moonflowers and an Art Deco fountain with slumbering stone fish on its crossbeams.
It's a different story at nearby Palazzo Parisio, built by a Knight of St John, and still owned and lived in by Maltese nobility. The Palazzo's formal rooms upstairs are a showcase of late 19th-century Italian artistry; the gardens host an elegant canopied restaurant.
My final visit is to the residence of the great grandson of the same prime minister who had lived in Villa Bologna. Robert Strickland's rambling Villa Parisio in the village of Lija has seven walled gardens and a collection of many decades of personal Christmas cards sent by Queen Elizabeth II to his aunt.
The Queen, who lived on the island as a young newlywed in the late 1940s, will be here this November for the Commonwealth Heads of Government Meeting. Robert says that she may well visit Villa Parisio. But I can happily say that I was there first.
Getting there
Andrew Eames travelled with Air Malta (0906 103 0012; airmalta.com), which flies to Malta from Heathrow, Gatwick, Birmingham, Glasgow, Manchester, Newcastle, Cardiff and Bristol.
Staying and visiting there
Corinthia Palace Hotel and Beyond3sixty can offer a four-day, tailormade Private Malta break for €2,290pp excluding flights (00 356 2144 0301; bit.ly/PrivateMalta). Full-board accommodation, visits to at least five private residences, and guided tours included.
More information
Register for free to continue reading
Registration is a free and easy way to support our truly independent journalism
By registering, you will also enjoy limited access to Premium articles, exclusive newsletters, commenting, and virtual events with our leading journalists
Already have an account? sign in
Join our new commenting forum
Join thought-provoking conversations, follow other Independent readers and see their replies