The Independent's journalism is supported by our readers. When you purchase through links on our site, we may earn commission.
Malta: On location by the sea with Angelina Jolie
​Beloved by film-makers for the dramatic scenery, these islands have star quality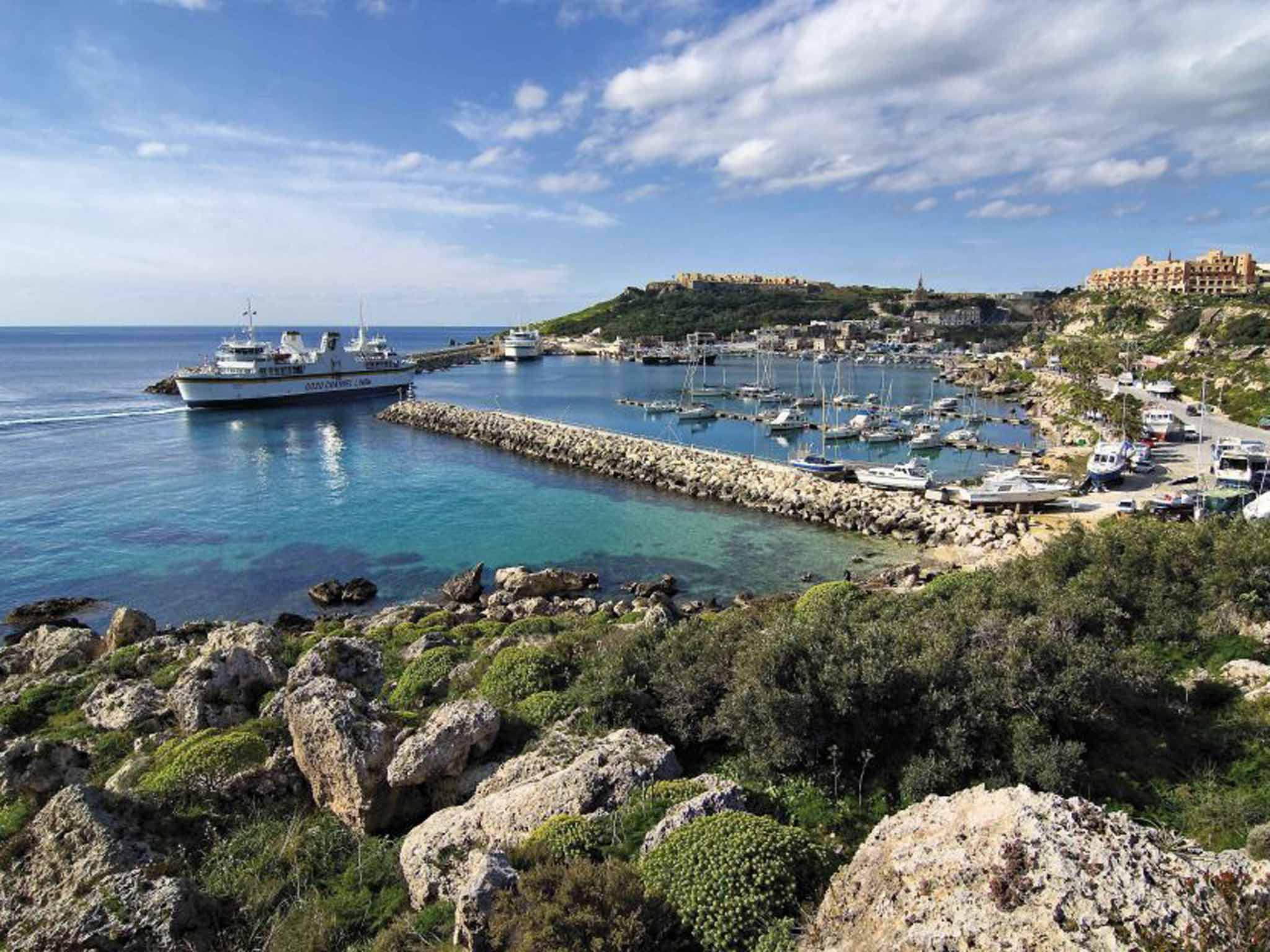 There's been much sniggering about By The Sea, Angelina Jolie-Pitt's tale of marital breakdown. Written and directed by the star, nothing can save the film from its dour storyline and hollow premise, despite the presence of husband Brad. "The Pitts!" spluttered one unflinching review. One thing everybody agrees on though, is that it does look jolly nice. Lingering shots are sweetened by Seventies styling; inventive camera work (and Serge Gainsbourg on the stereo) nods towards mid-period Antonioni; and the whole thing is played out in glorious, sun-dappled France. Except it's not France at all, but Gozo in Malta. Who needs Marseille when you can commandeer an island and use it as a body double?
I watch the film in Valletta, Malta's prosperous capital, among an audience visibly irked by this odd transition. "Why not just call it what it is?" grumbles a well-coiffed dowager, filing out of the cinema.
The following morning, I take a speedboat over to Gozo in search of its photogenic charm. The skipper is George, a tanned local diver who location-scouts for Hollywood. He tells me that Brangelina sat in this very boat, while he steered them towards secret coves. At the helm is Lucky, his Maltese hunting dog, something of a star himself. George recalls Colin Firth falling for the hound on a recent sail, while Rob Lowe, here for You, Me and the Apocalypse, photographed the canine sailor and achieved 7,000 likes on Instagram. Both actors were equally in thrall to the beauty of the area, where pirates' caves and lagoons the colour of Aztec turquoise veer close to perfection.
We moor on Comino (population: four), Malta's third and smallest island. There's one hotel, closed from October to April, and limited camping. A quarter of the populace, 64-year-old Salvu Veila, rolls up on a quad bike. What's the best thing about living here, I ask. "The sea," he says, gesturing to the smooth expanse of water before us, as clean and clear as polished crystal. George steers us into Mgarr ix Xini Fjord, the idyllic bay used in By the Sea. It's disconcerting to discover the shabby chic hotel, the seaside bar and local shop were sets, now fully dismantled; but even stripped back, this horseshoe inlet with its tiny fort and glinting shore is undoubtedly special.
Pitt's character, a booze-hungry writer in search of inspiration, drinks daily at the local bar, built on the site of an existing café. Owner Noel divulges he was paid generously to close his shack for the summer. It's now restored to its original low-key spec and he's equally pleased to serve you the local flaky pasty – pastizzi – filled with peas or cheese, along with orange juice the colour of sunshine.
The light is everything. Even in winter the sky is painterly soft. Driving through the Gozan countryside in their Citroen DS, Brad and Angelina, admittedly handsome, are no match for such natural features. I retrace the filmic route down zig-zag roads flanked by carob trees to Ta' Frenc, a pretty restaurant in an old farmhouse. This is the spot the couple dine at, attempting to rekindle their fading marriage. Theirs is not a happy experience, but I defy anyone not to bond with the outstanding food.As the sun runs out of steam, I head west to Marsalforn and park by a swathe of geometric saltpans. Further down the coast, jutting out to sea at Dwejra, is a mammoth limestone frame known as the Azure Window – thrilling for fans of Game of Thrones, and a true sight to behold. Even if that saga leaves you cold, it's difficult not to warm to such a wide-screen treat.
Getting there
Air Malta (0906 103 0012; airmalta.com) flies from Heathrow, Gatwick, Birmingham and Manchester to Malta's airport, Luqa.
Staying there
The Gozo Movie Tour package at Corinthia St George's Bay (00 356 2137 4114; corinthia.com) starts at £167 a night, with accommodation, Gozo day-trip, breakfast and access to the spa. Standard room rates start at £140.
Visiting there
Ta' Frenc restaurant (00 356 2155 3888; tafrencrestaurant.com).
More information
Click here to view Malta tours and holidays, with Independent Holidays.
Join our commenting forum
Join thought-provoking conversations, follow other Independent readers and see their replies