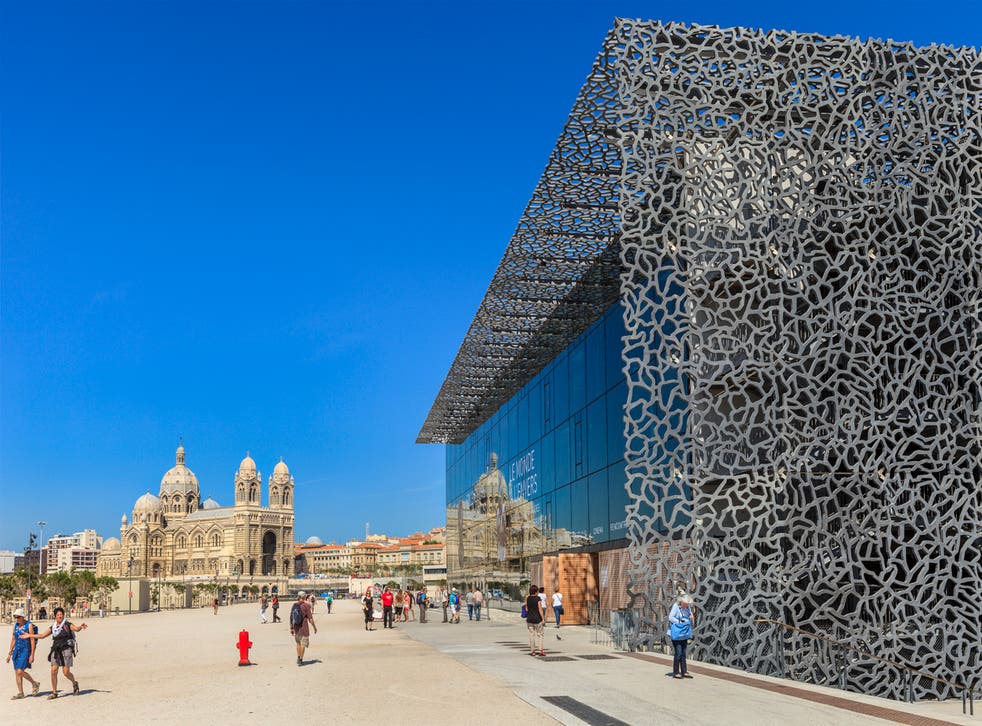 Why you should trade Cannes' polish for Marseille's gritty glamour
While the whole of Hollywood descends for the film festival, cool kids should migrate to the South of France's edgier outpost, says Helen Coffey
Helen Coffey
Tuesday 21 May 2019 12:34 Comments
Marseille is a city of contradictions. Gruff yet polite. Hot yet cool. Gritty yet glam.
Everywhere you look in France's second city – a title it wears lightly, and one which few people seem to know applies to it anyway – there are jarring juxtapositions.
Around the corner from Loustic, a coffee bar that's as cool as the cascara-infused lemonade I order, sits a seedy looking strip joint.
We plunge from the airy, cave-like expanse of 19th-century Maison Empereur – France's oldest pharmacy, now a purveyor of every kind of upscale homeware you could possibly need – straight into the crowded, souk-like streets of the Noailles district, assaulted by the clamour and the colour and the pungent smell of spices.
And seconds down the road from where tense locals watch as armed police gather grimly with purpose, our guide stops to point out a derelict building that will soon open as a bougie four-star hotel.
The 10 best under-the-radar European cities, from Malmö to Tallinn

Show all 10
"That's Marseille," she shrugs.
The city's elegant sprawl is a couple of hours west along the coast from Cannes, which is currently welcoming the great and the good of the movie industry for its annual film festival – but Marseille is a world away from the latter's celeb-burnished glitz.
For a start, the place wears its inequality on its sleeve. Head up to the 19th-century Basilica Notre Dame de la Garde, set on the city's highest natural point at 149m, and the 360-degree views tell a story backed up by our guide.
"There's a big north/south divide in terms of wealth," she says.
"You can see the poverty to the north – there are lots of high-rise apartments – and to the south there's a lot more space. Bigger houses, swimming pools, room to breathe."
No apologies, no excuses – locals are refreshingly candid about Marseille's issues. But though many of the city's districts are undergoing a "bo-bo" revolution (bourgeois-boheme, the French equivalent of gentrification), the new trendy outposts seem to sit comfortably beside their less Insta-friendly counterparts. There isn't the sense that anyone wants to trade in Marseille's diversity for a cookie-cutter hipster town; after all, the city's soul is in its messy melange.
Nowhere is the diversity clearer than in Marseille's food. The city is celebrating its eats extra hard in 2019, a designated year of gastronomy, and the offering reflects residents' eclectic cultural heritage. North African snacks, pastries and flatbreads jostle with fat olives and whole fish in Marche des Capucins, the chaotic daily market. Traditional French bouillabaisse abounds, with one of the best served at Chez Fonfon, where plates groaning with fish are dunked into bowls of rich stew alongside croutons smeared with the region's famed rouille (thick, saffron-infused mayonnaise). Michelin-starred fodder can be found on the same old harbour square as Burger King: unfazed by its less "bo-bo" neighbour, Une Table, au Sud dishes out the chef's signature garlicky aioli scooped atop black focaccia and scattered with a rainbow of summer vegetables.
Panisse – chunky chickpea chips that are Marseille's answer to street food – make the perfect apero accompaniment to pastis – the love-it-or-hate-it liquorice and aniseed flavoured liqueur. We duck into a shop selling artisanal bottles of the stuff to be met with another beautiful contradiction: the owner informs us in brisk French that she's far too busy to talk, and moments later is compulsively pushing samples into our hands and explaining the concoction's history in spite of herself.
The contradictions continue in the Panier district, where money from Marseille's stint as European Capital of Culture in 2013 has transformed the seafront by the Breton-striped Cathedrale La Major. The real stunner is the Museum of European and Mediterranean Civilisations (MuCem), designed by local architect Rudy Ricciotti to be a knockout public hangout as well as an exhibition space. We wander up the gently sloped ramp that follows the outer limits of the glass cube, the sun dappling our footsteps through an intricate concrete-iron latticework that encases the building. The random interlocking shapes evoke the waves of the sea that surrounds us – MuCem is smack bang on the water. Look down and you can see that zingy Mediterranean blue sparkling back at you.
Slowly, effortlessly, modern is replaced by something else entirely as the path disappears off a shaded roof terrace and becomes a winding walled trail with glimpses of an old courtyard below. The scents of fennel and curry plant hit me as we pass a herb garden, comfy looking public loungers hidden among the green. It's a veritable Eden – yet turn your head and there's an ugly dual carriageway. In fact, Marseille might just be the ultimate example of jolie-laide: beautiful-ugly.
The epitome of this can be found in Cite Radieuse, the Unesco-listed brutalist icon designed by Le Corbusier in the 1940s. Pops of colour around the windows sing against the structure's industrial grey concrete; rickety old lifts with the sharp tang of urine rumble up to the top floor where a startlingly futuristic roof terrace offers up panoramic views of city and sea that leave me dizzy.
If it were anywhere else, they'd have monetised this place to the hilt, I think – shipping out influencers to snap themselves against the distinctive architecture and charging through the nose for a stay in the three-star hotel that now takes up much of the building. Instead, it's marked by a French nonchalance, that sees rooms cost a reasonable £152 a night, and that doesn't seem to care if you come or not. Take a selfie, don't. C'est bof.
Part of Marseille's appeal lies in how easy it is to swap its distinctive brand of grit-glam for just plain glam, too. Hop on a bus from the main station and in 30 minutes you're in Aix-en-Provence, an almost fanciful version of French prettiness combining cobbled streets, pastel shutters, curling French balconies and a surprising number of lively bars thanks to its large student population.
This is wine country, and there are vineyards aplenty in which to swill the region's famous pale-salmon roses under the hot spring sun. We plump for Chateau La Coste, where our tasting is preceded by a wander around the grounds to spot some of the property's 26 contemporary artworks by the likes of Frank Gehry, Tracey Emin and Renzo Piano. Art, nature, booze, food – it blends everything I love about French holidaying.
But it's back in Marseille where I find myself swooning the hardest. In this city defined by its proximity to water, I'm determined to take the plunge. On Plage du Prado, a manmade beach to the south of the city centre, I ignore the mistral winds whipping around me and head straight into the otherworldly blue. It's bracing but warm enough for a Brit, and I people-watch happily as I drift, seeing families, dog walkers, young people meeting after work, all of them rubbing along in this shared space. A chic, middle-aged French woman is wrapped in thick layers and scarves against the wind; a group of girls are stripped down to itsy bitsy bikinis to soak up the sun.
More contradictions. More juxtapositions. More reasons to fall in love with France's unsung second city.
Travel essentials
Getting there
Eurostar runs a regular summer service from London St Pancras to Marseille in under six and a half hours from £49 one way.
Staying there
Les Bords de Mer, a member of Small Luxury Hotels of the World, reopened this year right on the seafront. Every room has an ocean view, stripped-back, beach-chic design and access to a rooftop plunge pool and terrace. Doubles from £165, room only. slh.com
Register for free to continue reading
Registration is a free and easy way to support our truly independent journalism
By registering, you will also enjoy limited access to Premium articles, exclusive newsletters, commenting, and virtual events with our leading journalists
Already have an account? sign in
Join our new commenting forum
Join thought-provoking conversations, follow other Independent readers and see their replies