Mas de la Rivoire: French Farmhouse living in the Languedoc
Having once hosted farmhouse workers, this B&B has had a stylish makeover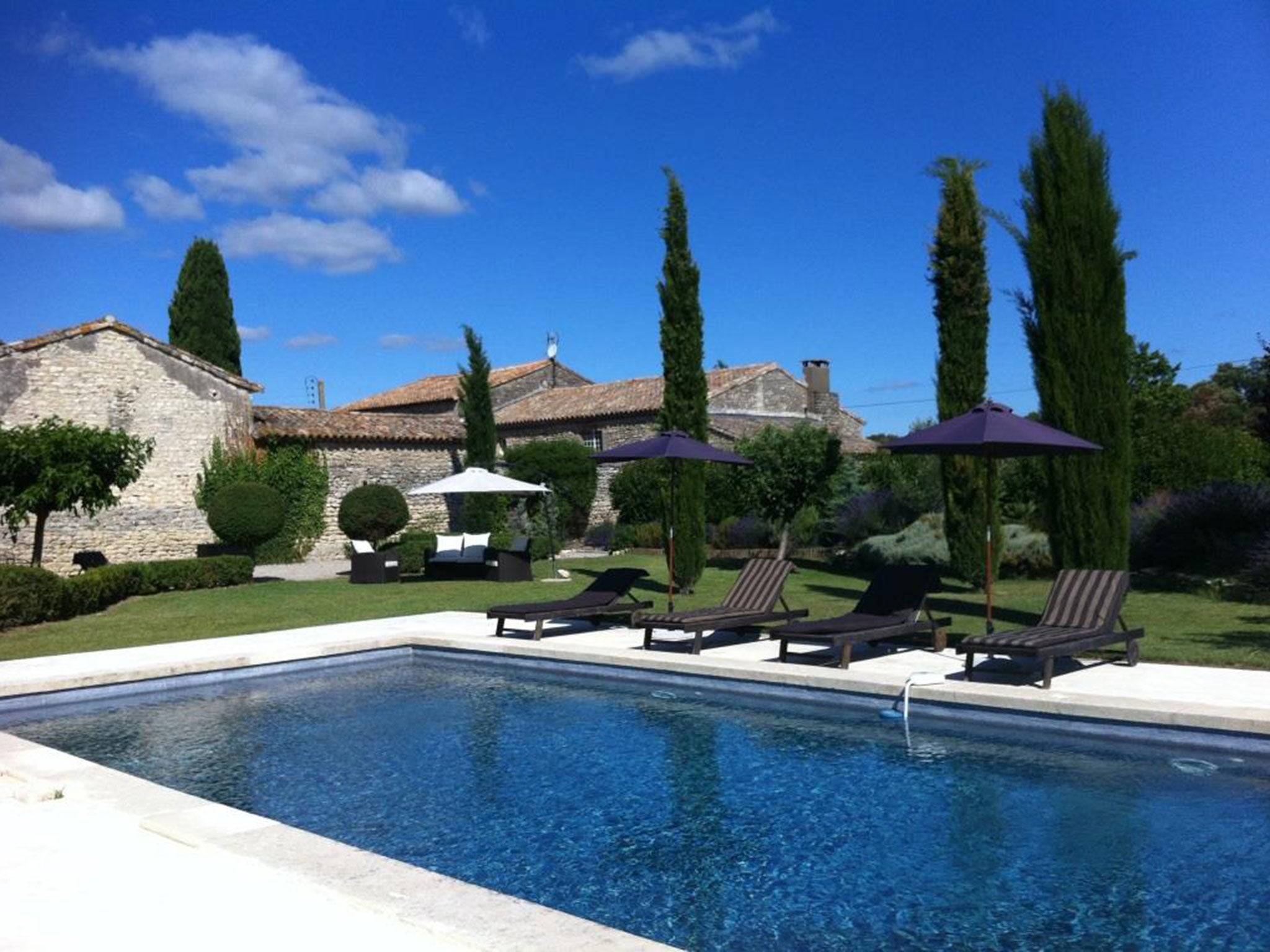 Long before guests were paying to stay at Mas de la Rivoire, close to the village of Villevieille in southern France, the ivy-clad stone building at the heart of this secluded property provided accommodation for farm workers. It was constructed as a manor house in the 14th century and survived the vicious cycle of post-Reformation religious wars that tore apart numerous communities and buildings in Languedoc- Roussillon. Like many local farmhouses, the manor was once a winery, and organic wines are now produced on the neighbouring estate.
A gravel courtyard separates Mas de la Rivoire's two smartly furnished wings. One houses the five rustic-chic rooms of the B&B arm of the business, while on other side, four spacious apartments with modern interiors are available to rent.
The bed
All five of the B&B's rooms are individually furnished doubles. They overlook surrounding farmland and two have private balconies. Tile flooring and walls half a metre thick ensure the rooms remain cool even on warm summer afternoons. Exposed stonework, dark wooden beams and open fireplaces convey the property's heritage. One room, in the former chapel, has a vaulted arch ceiling. Yet the fittings are modern and the wi-fi connection is, in contrast to the pace of life in this region, quick.
It's easy to while away the time reading in one of the wicker chairs within the courtyard, or on one of the sunloungers by the swimming pool. There's a fitness room, and bicycles are available for hire from the office.
The breakfast
Breakfasts at Mas de la Rivoire make use of the region's culinary produce and Mediterranean climate; freshly pressed orange juice and locally grown fruit are served in the courtyard. Fresh baguettes, pains au chocolat, and croissants are reminders that you're in France - they accompany homemade jams and lavender honey from the nearby Camargue. There are also dried sausages made from the meat of wild boars and Camargue bulls, a selection of cheeses, including Pelardon, produced up in the Cévennes mountains using goat's milk, plus eggs and cereals.
The hosts
An engaging, multilingual Swiss couple, Fabienne and René Stutz, own and run Mas de la Rivoire. This is their fourth summer at the property, where they live with their two young children. Prior to moving into the hospitality business Fabienne worked as a business economist and René was an estate agent.
The weekend
Nimes, Montpellier and a handful of Mediterranean beaches are within a 30-minute drive, while the medieval core of Sommières, a town with 5,000 inhabitants, is a couple of minutes away by car.
Villevieille, the nearest village, is popular with cyclists and within reach of the 21km (13 mile) Voie Verte, the "Green Way", which runs the route of the former railway line between Sommières and Caveirac, near Nimes. The way passes close to an ancient quarry that in summer hosts an annual jazz festival. The best known landmark in Villevieille is its castle (00 33 6 70 61 81 49; chateau-de-villevieille.fr), which has 11th-century origins and is open on afternoons throughout July and August.
Sommières also has a castle (00 33 4 66 53 78 32; facebook.com/ ChateauDeSommieres) and the spiral staircase of its 25m tower is worth climbing for views over the terracotta-tiled roofs of the town where author Lawrence Durrell lived his last years. The Saturday morning market draws up to 20,000 weekly visitors and sells fresh food, clothes, and plants. It's held close to the Roman bridge that spans the River Vidourle.
The pit-stops
Dine on Provençal-style cuisine within sight of Sommières's ancient bridge by reserving a terrace table at La Table Du Quai (00 33 4 66 88 62 38). The seating is arranged under trees across the road from the restaurant. Sticking to the regularly changing lunchtime menu costs a reasonable €13 (£9.25) for two courses or €18 (£12.80) for three, with tea or coffee.
Villa Heloise (00 33 4 66 53 95 08; villa-heloise.com), on the other side of the river, showcases regional dishes including lamb shank cooked with thyme and honey in its seasonal, three course "terroir" menu (€26/£18.45) and also offers a decent selection of locally produced wines.
The essentials
Mas de la Rivoire, Chemin de la Font Ronde 820, Villevieille, near Sommières, France (00 33 4 66 88 04 75; masdelarivoire.com). Rooms start at €100 (£70) in low season, rising to €145 (£102) in high season (July and August), including breakfast.
Join our commenting forum
Join thought-provoking conversations, follow other Independent readers and see their replies