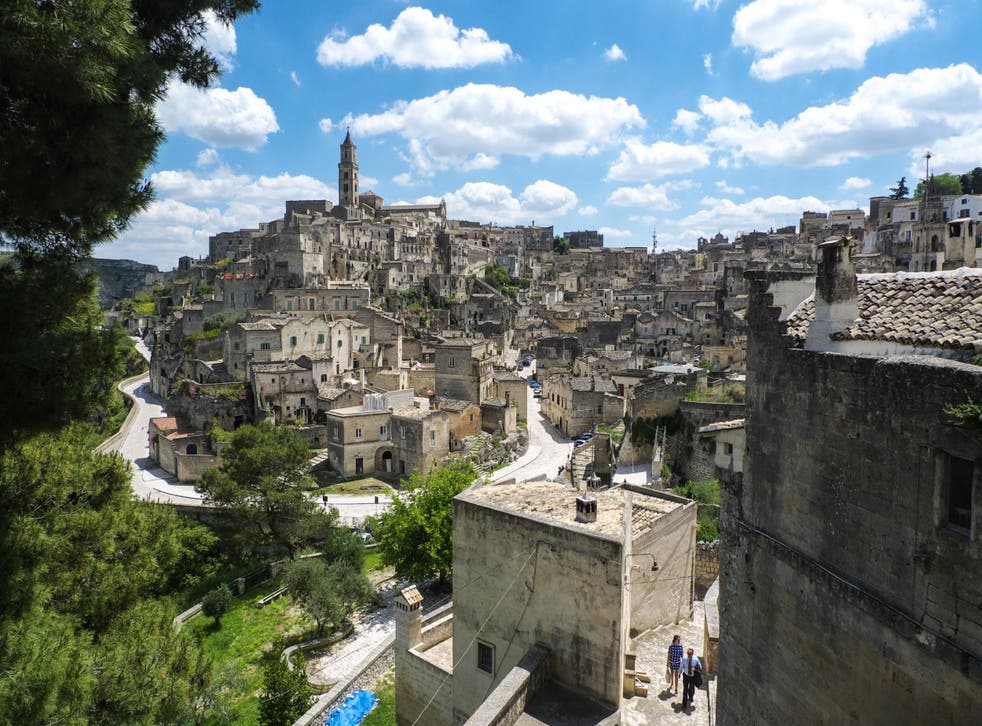 Why e-bike is the best way to explore Matera, this year's capital of culture
Gerard Gilbert explores one of this year's European Capitals of Culture in the least taxing way possible
One midsummer morning (to quote Laurie Lee), my younger self took the ferry to France and cycled from Cherbourg to La Rochelle – about 500km as the crow flies, on a basic 1980s Raleigh racer overloaded with camping gear.
Unfortunately, these days I neither have the stamina nor the opportunity for such a freewheeling adventure, but I still yearn to do something similar but more deluxe, which is why my attention turned to a new offering from the company Inntravel. This one was a tour of the neighbouring southern Italian regions of Puglia and Basilicata, but from the saddle of an e-bike.
I know that electric bikes are scorned by the middle-aged men in Lycra currently pedalling down our country lanes in emulation of their heroes in the Tour de France, but considering that the proposed route included the hill towns of Matera and Noci, my ageing knees gave anticipatory thanks.
UNESCO World Heritage Site nominations 2019

Show all 35
The trip begins in Matera, famous for its cave houses and churches, and notorious in the 1960s for having some of the worst poverty in western Europe as its inhabitants continued their millennia-old troglodytic existence, sharing their cave houses with chickens, pigs and mules. Matera was the setting for Carlo Levi's novel about his Mussolini-era internal exile, Christ Stopped at Eboli, while the film of the book was shot here; as were Pier Paolo Pasolini's The Gospel According to St Matthew and Mel Gibson's The Passion of the Christ​, to give some idea of the town's quasi-Biblical aspect. It's now gentrified, however, and being one of this year's two European Capitals of Culture (along with Plovdiv in Bulgaria), it's also firmly on the tourist map.
Day one's itinerary was a choice between cycling out to visit the nearby "rock church park" and its ancient excavations, or staying put to explore Matera itself, a decision taken out of my hands by some mighty, cycling-unfriendly thunderstorms. Day two began with my first experience of e-biking, starting with a tough challenge: the cripplingly steep and winding cobbled street out of Matera. With the bike set to "turbo" (the most powerful and battery-draining of its five settings), I pedalled up the forbidding slope as if on a magic carpet.
"Eco" is the lowest setting and suffices for downhill and the flat, and you can turn it off altogether if you like. The route was nearly 60km to the town of Noci, where that part of my luggage that hadn't been mislaid by easyJet was transported for me – hotel to hotel – the landscape gradually changing from uninspiring agri-prairie to bucolic olive groves, tiny vineyards... and dogs.
The day's most memorable encounter was with a stray canine. Inntravel's literature warns you what to do if chased by a dog – dismount, put the cycle between you and the animal, and arm yourself if necessary – which is what I did after my path was suddenly blocked by an unkempt Alsatian-type beast who began padding straight for me.
I grabbed a rock from a dry-stone wall, only for the beast to give a cursory sniff of my bike and then fall in beside me, limping slightly (I now noticed) as it kept me company for the next three kilometres. Stray or not, it wouldn't have been fair to lead him on any further, especially as my map said we were soon approaching a busy main road, so I remounted and pedalled off at speed, hoping he wouldn't give chase. He didn't, but just gave me a forlorn look that said: "But, but… I thought we were friends."
Having recharged the battery overnight (this one detached simply and could be plugged into the socket in the hotel room), the next day was a 40km round trip to Alberobello, with its streets full of Puglia's trademark trulli houses, hobbit-like circular whitewashed buildings topped with conical dry-stone roofs. The houses here are almost more impressive from afar, away from the other tourists, while the scenic route mapped out for me afforded glimpses of trulli of all sizes dotted around the countryside.
I got lost trying to retrace my cycle-tracks back to Noci, and it's probably a good idea anyway to take your phone to access Google Maps when needed, even if the app did guide me back along a busy trunk road. Nevertheless, the long ascents being passed by trucks and buses could have been spirit-sapping without "turbo" helping me to climb with ridiculous ease. I've now glimpsed my future, and it probably includes an e-bike at some point. "They make you lazy," my sister (a cross-country runner) texted me to say. Only if cycling is primarily a means of physical exercise and endorphin release, but not if you just want to get up close and personal with your holiday destination – and the odd stray dog.
Travel essentials
Getting there
British Airways, easyJet and Ryanair all fly direct to Bari from the UK.
Staying there
Locanda di San Martino lies in the heart of Matera's historical Sassi district, the community hewn from the living rock, as is the family-run Palazzo degli Abati.
Visiting there
Inntravel offers a four-night self-guided hotel-to-hotel e-cycling break in Sassi and Trulli from £745 per person.
Join our new commenting forum
Join thought-provoking conversations, follow other Independent readers and see their replies