The Independent's journalism is supported by our readers. When you purchase through links on our site, we may earn commission.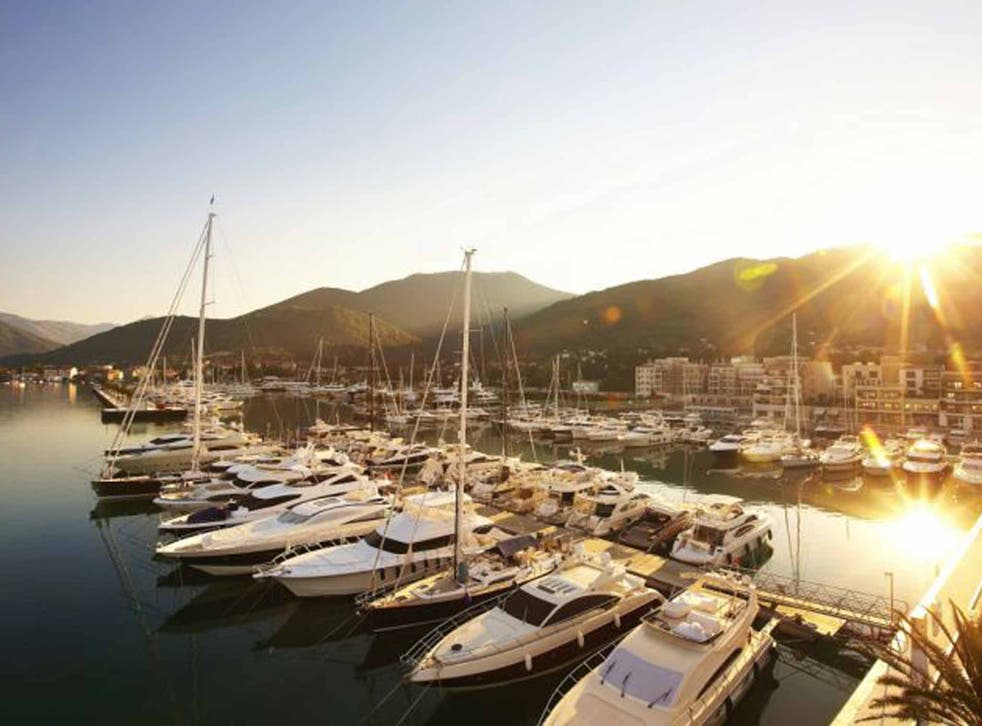 Montenegro: A deep-water destination for deep pockets
Former military bases in this tiny Adriatic nation are being transformed into swish marinas and five-star resorts. Mark Jones visits three of the latest developments
There are a lot of people trying to sell you Montenegro. Kotor Bay, an inlet on its short Adriatic coast, is possibly the most heavily marketed corner of Europe at the moment. But the one person who really sold me on the place wasn't a hotelier, a developer, a billionaire investor, or a real-estate mogul, but a marine biologist.
I bumped into Dr Deborah Brosnan from Virginia Tech University in the unlikely setting of an art gallery party at Porto Montenegro, a swish marina development near the town of Tivat. Among the beautiful people with pitch-perfect tans and Prada blazers, it was a pleasant surprise to meet someone ready and eager to talk about molluscs and jellyfish. But then all good marine biologists dream of visiting Montenegro, it turns out.
"It's a hotspot of biodiversity," Deborah explained. "There are 42,000 fish species here and completely different eco-systems from one cove to the next."
You hear a lot of big figures here, mainly the sort with dollar signs in front of them. But eye-popping varieties of marine life you don't expect in this easterly channel of the poor, denuded Mediterranean.
Yet what drew the Deborah Brosnans is the same thing that enticed Canadian billionaire Peter Munk, financier Nat Rothschild, hotelier Sol Kerzner and others to Kotor Bay: topography – or what Lord Byron described as "the most beautiful encounter of land and sea".
We saw it first when we stopped the car on a bucolic winding hill road just over the border from Bosnia. We looked over Boka Bay, the geological bulge that ends in the town of Kotor. The Boka – derived from the Italian for mouth – itself is a narrow inlet that flows into Europe's most southerly fjord. From above, it looks like the worlds's most sublime jigsaw puzzle.
Even if it's not technically a fjord (the deep gash in the earth was created by an ancient river – glaciers didn't make it this far) Kotor Bay is quite fjordish enough for most tastes. Vertiginous rock faces plunge straight into deep, still waters in that Byronic encounter. You really would think you'd taken a Hurtigruten to Storfjorden or somewhere.
But these are Balkan hills, so instead of thick pines, you get pale limestone with patches of cypress and oak. The sun beats down on red-tiled roofs and grave Venetian villas. You don't see many monasteries in the middle of a Norwegian fjord. Here there are two: Saint George (for boys) and Our Lady of the Rocks monastery (for girls) that sit like cloistered Alcatrazes protected by their sentinel cypresses.
Cruise ships and day-trippers pour in, but there are super-yachts, too. More and more of them. "We had a 137m come in and have a little snoop around the other day," said John Stephens, who manages the marina at Porto Montenegro. That length is definitely in super-yacht territory and Montenegro is now assuredly on their charts. Super-yacht building has actually outpaced the growth of deep-water berths able to accommodate them. So Kotor Bay's fjord-like depths are ideal for skippers looking to entice their clients away from the overcrowded harbours of the Riviera and Italian Adriatic.
However, you need more than deep water. There's the R and R side to think about and Kotor Bay is thinking about it to the extent of €287m. Porto Montenegro is the most complete of three luxury developments designed for the seafarer and swish mini-break crowds – and their thirsty yacht crews. It's been constructed on the crumbling remains of a Yugoslavian naval base. And in a hedonistic spot where Russians and Europeans compete to be top touristic dog, reminders of a bleaker contest have been preserved. Cold War munitions are on show in the Naval Heritage Museum. Alongside it, they have preserved the P-821 Hero submarine. Visitors in their flip flops and espadrilles peer into its pokey depths, then emerge blinking to stroll over to the lido with its infinity pools and exquisitely-lit rooftop restaurant. That's Porto Montenegro: from Cold War to chillout zone in three not-always-easy decades.
The development is almost finished. The marina is full. John Stephens says the economics work like a hotel's: a couple of presidential suites for glamour and prestige – the super-yacht mooring points – and the real revenue-generators: 245 standard and junior-suite berths for sensible boats. There is a real hotel too. The Taipei-based Regent Hotel is about to open its second European property in Porto Montenegro: an elegant, pale yellow palace of terraces, walkways and formal gardens. For the moment, you can stay in one of the residences overlooking the marina designed for, bought and rented out by the multi-property owning classes. They are functional and blandly luxurious.
Sitting having breakfast at Al Posto Giusto on the quayside at Porto Montenegro, I had a little glimpse of the effect the outbreak of luxury developments is having here. A couple of local ladies in jeans tottered along the quay bearing bouquets and arrangements. There would be a procession of such ladies over the course of the day. It's a great time to be a florist in Montenegro; the arriving yachts all like a few fresh blooms in their cabin after their voyages. The hotels and restaurants need flowers; so do the apartment owners.
I'd have stayed to count the florists; but as it enters its final phase of construction, Porto Montenegro is not a peaceful spot during the day, what with sanders and drills finishing off the Regent and a huge piledriver booming like a ceremonial gun out in the bay as they complete the marina. So I took a small boat and skimmed across the bay to the Unesco-protected town of Kotor.
If you had to design a town for a short cruise stopover, you'd probably end up with Kotor. It has a dramatic location beneath the nearly overhanging limestone cliffs of Orjen and Lovcen mountains and you can exercise those sea legs by trekking up to yet another monastery at the summit of the Napoleon-era fortifications. Less energetic cruise people simply wander for an hour around the medieval streets, gawp at a palace and the Cathedral of Saint Tryphon, eat pizza, wander around the small museum – then back on board. Done.
If it seems all a bit CGI, all fresh paint and newly quarried stone, that's because much of it is. An earthquake in 1979 wrecked half the medieval town and much of the fine Venetian heritage. But the small church of Sant Lucas was untouched. And beyond here, in the quieter northern part of the small town, you find upscale little shops selling rocks, candles and original art and a really excellent boutique hotel, the Hippocampus.
A short drive along the coast through pretty Perast – a town that's like the concentrated essence of Montenegro – you come to another disused naval base which will shortly become known to the five-star world as Portonovi. This is where Sol Kerzner's One and Only resort, funded by $500m of Azerbaijani money, is scheduled to open in 2016. As well as 550 "luxury residences" and the inevitable marina, shops and swish restaurants, there'll be a tennis academy, "eco-park", congress centre, a Henri Chenot spa – in short, everything a holidaying plutocrat would expect and some things they may not.
Over the bay beyond Tivat, on the more rugged, beachy side, is the final member of our triumvirate, Lustica Bay. This development around a golf course and another marina, is pitched as a sustainable replica of a real Montenegran village. Great architectural pains are being taken to preserve the character of the area and that means Venetian towers, red-roofed villas, cypresses and village squares. And yes, it's another former military base.
After two separate trips to the Bay of Kotor, I'm still not entirely sure where I've been. It's part Norwegian grandeur, part Swiss wellness retreat, part Monaco honeypot. It's the product of a peace dividend to end them all. Only 20 years ago, the area was a sideshow in the nastiest war to afflict Europe in modern times. If the military legacy is now being erased by the designer's airbrush – well, you can only call that progress.
Getting there
Podgorica is served by Ryanair (0871 246 0000; ryanair.com) from Stansted. Alternatively, you can fly to Dubrovnik, over the border in Croatia, which is served by a wide range of airlines from the UK including British Airways (0844 493 0787; ba.com), Jet2 (0800 408 1350 ; jet2.com), Flybe (0871 700 2000; flybe.com), easyJet (0843 104 5000; easyJet.com), Monarch (0871 940 5040; flymonarch.com) and Norwegian (0843 3780 888; norwegian.com/uk).
Staying there
The Regent Hotel in Porto Montenegro (00 382 32 660 660; regenthotels.com) offers double rooms from €250 (£198), excluding breakfast.
Register for free to continue reading
Registration is a free and easy way to support our truly independent journalism
By registering, you will also enjoy limited access to Premium articles, exclusive newsletters, commenting, and virtual events with our leading journalists
Already have an account? sign in
Register for free to continue reading
Registration is a free and easy way to support our truly independent journalism
By registering, you will also enjoy limited access to Premium articles, exclusive newsletters, commenting, and virtual events with our leading journalists
Already have an account? sign in
Join our new commenting forum
Join thought-provoking conversations, follow other Independent readers and see their replies