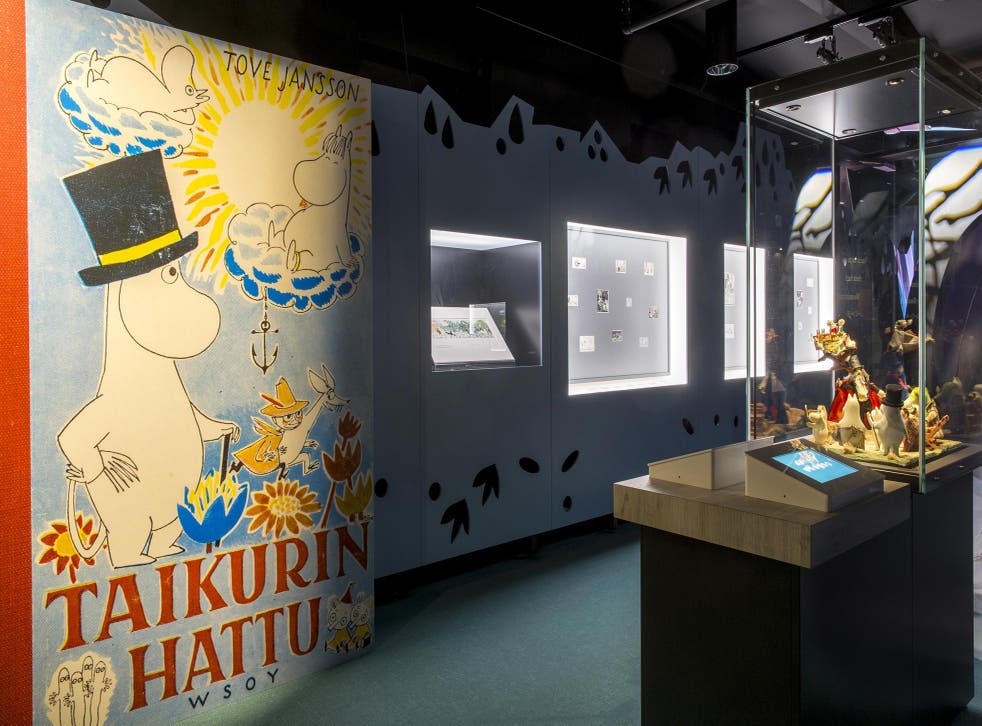 Moomintrolls: Inside the world's first Moomin museum
Love the Moomins? You need to get yourself to Tampere immediately, says Susie Mesure
Susie Mesure
Wednesday 19 July 2017 12:17 Comments
I'm standing in a giant Hobgoblin's hat, watching horns shoot from the side of my silhouetted head. Seconds earlier, a heart-shaped flower spiralled up from my crown. Ardent Moomin fans will recognise the scene from Finn Family Moomintroll, the third of Tove Jansson's books about the Moomin family – and the first to be published in English.
Outside the hat, it sounds as though bombs are whistling past. I have entered the mysterious world of Moominvalley, home to the Moomintrolls and their gaggle of fantastical friends. It's been recreated in the world's first Moomin Museum, which opened last month in the bowels of a congress centre in Tampere, Finland's third largest city.
The noise is a comet, which threatens to destroy Moominvalley in the second of Jansson's 12 Moomin books, published just after the atomic bombing of Hiroshima and Nagasaki, when people in Helsinki were worried about world events.
Inside Tampere's Moomin Museum

Show all 9
I visit three days after the museum opened – a large two-floor space at the newly renovated Tampere Hall; an upgrade from the long-standing Moominvalley exhibition at Tampere Art Museum – but already some fans are back for a second time. Mari Välimaa, 21, has brought her goddaughter and her goddaughter's sister, aged four and seven. She lives 20 minutes walk away but says the opening attracted plenty of foreign fans from countries including Japan, Sweden and Russia.
"I like the Moomins because I like their attitude towards life," Välimaa told me. "I think they can charm people of all ages. Children enjoy their fun, round shapes and their adventures. Adults appreciate the hidden wisdom in the stories and the visuals of the illustrations."
Jansson was an artist, illustrator and novelist who dreamt up the Moomins during the Second World War when she was too depressed to paint, spawning one of Finland's best loved brands. Annual global sales of "Moomingoods" are around €700m (£600m) and the new museum expects to attract millions of visitors.
Taina Myllyharju, the museum's director, says Jansson – who donated all 1009 original Moomin artworks plus 38 3D tableaux to Tampere Art Museum before her death in 2001 – "wanted the new museum to help visitors forget they lived in the real world."
And it works. Two magical hours fly by faster than the breeze that whips Moominpappa's boat to Lonely Island, where the mysterious Hattifatteners gather each summer for their annual pilgrimage. I lose myself in the dim lighting (turned low to protect the illustrations), listening to the soft jabber of different languages rise from the installations, recounting excerpts from the Moomins' adventures.
Various animations are beamed around the museum, floating around the dark walls. I watch as children strike a gaggle of cartoon Hattifattners, each slap electrocuting the strange, mute creatures with a bolt of lightning – then try it myself. I peer at Jansson's intricate ink drawings and swipe iPads to find out more about the scenes frozen in the glass boxes – the models created by Jansson's partner, Tuulikki Pietila, who was also an artist. I sink onto a pile of giant rock cushions to read up on Moominvalley's inhabitants in the special exhibition book.
Each of the 12 Moomin stories – eight of which are currently being republished in the UK in special collectors' editions by Sort Of Books – is brought to life in the museum.
I discover a new character, Susanna – not just my namesake but also star of The Dangerous Journey, when she finds a pair of spectacles that make the world seem magical and strange. I resolve to channel her every time I wear my sunglasses – the Moomins make you want to find your Jansson alter-ego. My other favourite? Strident Little My, whose high-pitched giggles pierce the dark of the museum's first floor, and the anti-materialist, philosophical Snufkin, who would get on well with Marie Kondo. If you're undecided about your own alter-ego, there's a "Moomin character personality" test you can take on moomin.com.
17 years of Moominworld

Show all 7
For troll obsessives, the highlight is a six-storey model of the Moominhouse, sliced through to show the family in action. It was made by Pietila and Jansson with help from their friend Pentti Eistola. It is much larger than the house in the stories and angular, not spherical, but has plenty of space for the myriad creatures that Moominmamma invites to share their home.
These include Too-Ticky, who Jansson based on Tuulikki Pietila. The pair met and fell in love in 1956, staying together although same-sex partnerships were illegal in Finland until 1974. Too-Ticky first appears in Moonminland Midwinter, the first of the books to turn darker and more philosophical. (Ironically, despite the success of the Moomin franchise, Jansson found her creations stifling, writing in her notes: "Those damn Moomins. I don't want to hear about them any more. I could vomit on the Moomintrolls.")
Jansson wrote the Moomin books in her top-floor studio in Helsinki, which I also visit. It's not open to the public but Sophia Jansson, Tove's niece who runs the Moomin brand, shows me around. There is art, yes, and troll memorabilia aplenty, but it's the walls lined with books that strike me. All the greats are there, Hemingway, Joyce, Parker, Scott Fitzgerald and many more. Plus, of course, shelves and shelves of Tove's own work in numerous translations. It's almost as magical as Moominvalley itself.
Travel essentials
Getting there
Finnair flies daily to Helsinki from London, Manchester and Edinburgh from £117. From there, Tampere is about 90 minutes by train.
Staying there
Scandic Tampere City has doubles from €120, B&B.
More information
The Moomin Museum is inside Tampere Hall. It's open Tuesdays to Fridays, 9am to 7pm; Saturdays to Sundays, 11am to 6pm. Adults 12€, children 6€.
Register for free to continue reading
Registration is a free and easy way to support our truly independent journalism
By registering, you will also enjoy limited access to Premium articles, exclusive newsletters, commenting, and virtual events with our leading journalists
Already have an account? sign in
Join our new commenting forum
Join thought-provoking conversations, follow other Independent readers and see their replies