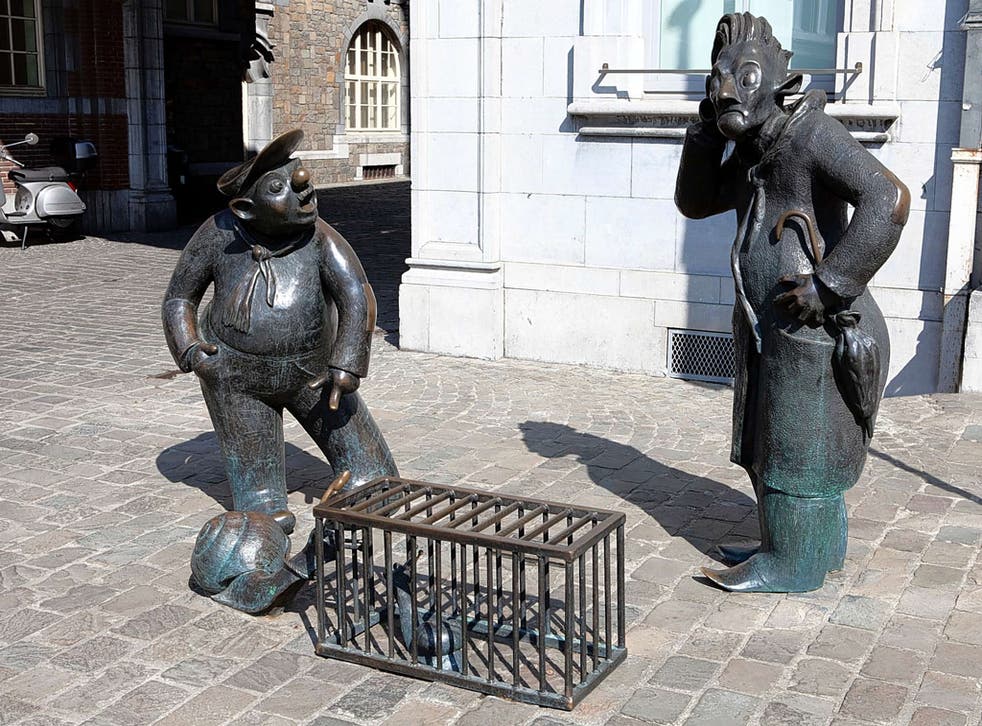 Namur: A taste for the slow life
The city's easy-going pace and experimental cuisine make it a delectable choice, Mary Pembleton discovers
Mary Pembleton
Wednesday 29 October 2014 10:41 Comments
Enlightened, ecclesiastical and elegant: Liège has a proud history as a medieval city, and for a time was one of the richest and most powerful places in Europe. So the striking concrete and glass railway station comes as a surprise. Intended to look like a woman lying on her side, to many it resembles a baseball cap – rounded at the southern end and with a peak to the north. Liège-Guillemins (named after the square that the station dominates) provides an excellent overture for the modern changes that are being brought to this ancient city.
The statues in Namur's central Place d'Armes are unusual ones. There is no monarch or general on horseback, so often found in main squares. The two bronze characters depicted here are clearly cartoon figures. The smaller, chubbier one has a bulbous nose; the taller man beside him has a Tintin-style quiff and large ears. Below them are two snails, one apparently on a lead, the other caged.
This is a reference to the pace of life in Namur. Some residents of other parts of the country mock the tempo here – even slower than that of a snail, they say. Hence the need to restrain the gastropods: they might otherwise race away. But while snails may want to set the pace for the country, the people of Namur are just enjoying life, and it is the relaxed feel of the place that is a powerful attraction for visitors.
Every Saturday, for example, a fruit and vegetable market takes place on the Place d'Armes. Farmers come in from the surrounding countryside to sell their produce. Sometimes there is a special attraction, too: heritage vegetables, perhaps, or food from a different region. In December, Christmas takes root with one of Belgium's most enjoyable Yuletide markets. A Saturday morning grazing at the market is ideal, followed by a pre-lunch drink in a café close to the nearby theatre; outside, if possible, while the weather is still warm enough, so you can contemplate this fine city.
Namur's rich history and culture are largely a result of its geographical location. It was first settled by the Romans who picked a spot at the confluence of the Meuse and Sambre rivers. In medieval times, a feudal castle was built and a town developed, but with the territory on the far bank of the Meuse in the hands of the German empire, it became an important strategic position which needed defending. A moat and fortifications were constructed around what is now the town centre, and they remained in place until the mid-19th century, when Belgium became a united country.The citadel lost its defensive role in the early 20th century, but it is still a dominant feature of the town, and is a popular place for an outing on a sunny day. And the banks of the Meuse are now lined with houseboats.
The citadel lost its defensive role in the early 20th century, but it is still a dominant feature of the town, and is a popular place for an outing on a sunny day. And the banks of the Meuse are now lined with houseboats.
Namur is also on one of the key pilgrims' routes to Santiago de Compostela. Bronze scallop shells, the symbol of St James, can be spotted along the cobbled streets, pointing the way through the town. They make a surprising detour, though, into the Museum of Ancient Arts on the Rue de Fer. Follow the direction of the shell into the main reception and on the right-hand side is a room containing a collection of reliquaries, carved by a 13th-century goldsmith from the nearby village of Oignies. Among these treasures is an exquisite silver foot, decorated with tiny jewels and ornate carving, which – it is believed – contains a piece of bone from St James' own foot.
This find is typical of Namur. Its treasures are not always obvious, but available to any visitor with the curiosity to look for them. Take the Jesuit church of Saint-Loup, for example. Its austere, rather forbidding, façade seems out of place within the narrow streets that make up the town's historic centre. But go inside and discover a breathtaking interior. With its red and black marble pillars, ornate ceiling and carved wooden confessionals, it is a gem.
Just around the corner, in Rue Fumal, is a museum dedicated to Félicien Rops, a 19th-century painter, engraver and writer whose work lampooned the customs and people of the time: the upper-middle classes and the clergy in particular. Even to foreign visitors, it is obvious that his drawings must have had a powerful impact at the time.
Rops was also – though he kept it quiet – something of a gastronome. He was part of a secret society, Agathopède, whose aim was to champion culinary innovation and experimentation. But his secret is out now, and has been emulated in the latest addition to Namur's restaurant scene, the aptly named Agathopède.
Like the society formed by Rops and his friends, the aim of this new restaurant is to break the traditional boundaries of taste and flavour. A typical meal consists of a number of small courses, each designed around a main ingredient such as sea bass or foie gras, whose flavour is enhanced by small amounts of purée, foam or seasoning to transform it into something completely unexpected. The restaurant is part of a chic new boutique hotel on the banks of the river Meuse, the Royal Snail.
And so it appears that the snails have finally made it to the outskirts of town. They may try to stray further. But they may decide that this is a perfect place to stay, a place to enjoy some imaginative food and from which to venture back into the city and discover some more of its hidden treasures.
Travel Essentials
Visiting there
Citadel (00 32 81 65 45 00; citadelle.namur.be). Provincial Museum of Ancient Arts (The Treasure of Oignies), Rue de Fer 24 (00 32 81 77 67 54; museedesartsanciens.be). Saint-Loup church, Rue du Collège (00 32 81 22 80 85). Félicien Rops Museum, Rue Fumal 12 (00 32 81 77 67 55; museerops.be).
Staying there
Royal Snail Hotel and Agathopède restaurant (below), Avenue de la Plante 23 (00 32 81 57 00 23; theroyalsnail.com). Les Tanneurs Hotel and Grill restaurant, Rue des Tanneries 13 (00 32 81 24 00 24; tanneurs.com).
More information whybelgium.co.uk; 020 7531 0390
Register for free to continue reading
Registration is a free and easy way to support our truly independent journalism
By registering, you will also enjoy limited access to Premium articles, exclusive newsletters, commenting, and virtual events with our leading journalists
Already have an account? sign in
Join our new commenting forum
Join thought-provoking conversations, follow other Independent readers and see their replies