The Independent's journalism is supported by our readers. When you purchase through links on our site, we may earn commission.
How to spend a day in Elena Ferrante's Naples
With the release of a TV adaption of 'My Brilliant Friend', there's never been a better time to explore the Italian city in which it's set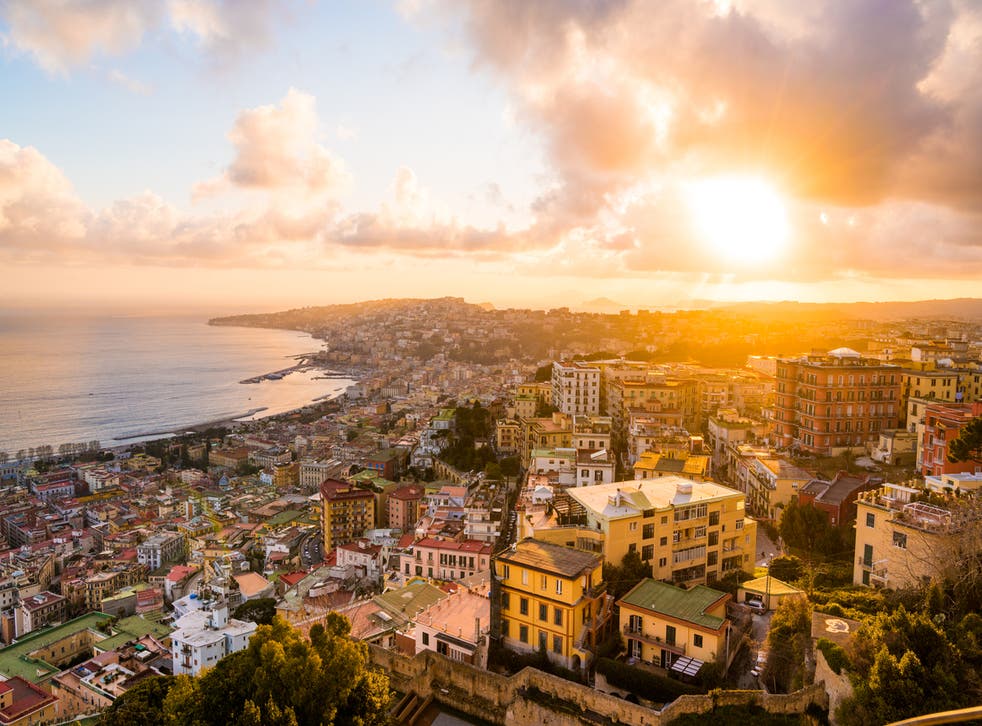 When My Brilliant Friend hits TV screens, it's not just main characters Elena (Lenu) Greco and Lila Cerullo that will be on display. The setting of Naples, one of the world's most ancient cities, looms large. But the Italian coastal city is an entirely different place now to the difficult postwar incarnation that formed the backdrop to Elena Ferrante's bestselling novel.
The complicated friendship between the two women is at the heart of pseudonymous author Elena Ferrante's four-book epic, which has been adapted as a TV miniseries by an international production team. First published in 2011 in Italy, My Brilliant Friend quickly connected with readers around the world, who read straight through the "Neapolitan Quartet" with feverish devotion. Readers meet the protagonists in their primary school classroom and follow them until they're in their sixties.
The stories are mostly set in Naples, beginning at a time when communists, fascists, the mafia and a devoted teacher with a strong feminist mindset are all forces that shape the girls' lives. Naples is also a strong character, with many landmarks and neighbourhoods clearly identified, while others are only discernible to people who know the city well.
Here's how to spend a day in Ferrante's Naples.
The neighbourhood that most closely matches the district where young Lenu and Lila meet is Rione Luzzatti, behind the main train station in Naples. Originally conceived as affordable housing for railway workers in the 1920s, it developed in the 1950s, a period which is described in the book when Lila marries Stefano, a local tyrant.
Explore this working class neighbourhood, now with a growing Chinese community, from Naples' Gianturco train station. Walk along the stradone (main road) of the novels, which is likely Via Taddeo da Sessa. The tunnel through which Lenu and Lila try to escape to the sea is an underpass at Via Emanuele Gianturco. A short walk from here is the Church of the Sacred Family (specifically named in the novels) at Via Bussola, 5.
Proof of the area's changing fortunes is the nearby Centro Direzionale, where the ponds and old cannery once were. It's now a cluster of glass office towers built in the 1980s, nicknamed Little Manhattan.
Waterfront Chiaia is the other district at the centre of the novels, specifically Piazza dei Martiri, where Lila opens her shoe salon. Then and now, this is an elegant neighbourhood for shopping, strolling and people-watching. Sit down outside at Gran Caffe La Caffettiera next to the carved lions for a caffé macchiato or Campari spritz. Or try the gelato at Fantasia Gelato, which Neapolitans will tell you is their favourite.
For shopping, wander away from the lion monument, arm in arm like Lila and Lenu, along Via Gaetano Filangieri to Argenio, a historic tailoring shop. For a special souvenir, Salvatore Argenio will make you a bespoke jumper made from pure cashmere in a choice of over 200 colours.
What lurks beneath the surface is a major theme throughout the Neapolitan Novels, starting when Lila and Lenu toss their dolls down a grate and then set off together to search the dirty ground below. Naples has a unique relationship with what lies underground, which you can experience on the Napoli Sotterranea tour. Groups explore Greek quarries that date back 5,000 years to Roman market stalls that mirror the shops above, where people wait in line for a table at restaurant Sorbillo. During the Second World War, these ancient portals were used as bomb shelters and during Lila and Lenu's lives, residents threw rubbish in them. They were recently excavated so this important underground network could be restored.
Finally explore Naples' historical centre, which has recently been pedestrianised, contributing to a steep rise in visitors to the city. Recently I overheard a gentleman, who would have come of age in Ferrante's Naples, explain to a young British couple that his usual benches were now always occupied by tourists. (They graciously offered their seat.)
Fortunately the shops here are still assertively Neapolitan, like the glittering workshop Neapolitan Sacred Art. Artisan Fabio Paolella carries on the traditions of Naples' golden period during the 1700s with decorative arts and jewellery. Ring the doorbell – Fabio and his wife might be deeply focused on repainting the eyelashes on a Virgin Mary, accompanied by jazz music and their English bulldog.
Have dinner at Trattoria da Carmela on Via Tribunali 376 and order gnocchi scarpariello, which means "of the shoemaker". It's a simple sauce of pureed tomatoes that can be put together quickly, even if you're working. I like to imagine Lila and her brother Rino eating it while making the signature Cerullo shoe.
Where to stay
Those on a budget should choose B&B Maria Mari, where hosts Enzo and Maria care for their guests like family. It's located next to the Pignasecca Market where the fish is so fresh it still has rigor mortis. A block away is Pizzeria da Attilio, where locals and tourists meet to devour the best expression of the Unesco-recognised Neapolitan ideals for pizza.
If you prefer an apartment with a kitchen, book Residenza Echia, adjacent to the waterfront, where a sunset stroll is mandatory.
For those who seeking a traditional hotel, consider the NH Ambassador. Though Neapolitans loathe the modern building's appearance, the location is an ideal base for a Ferrante-inspired itinerary. The guest rooms begin on the 16th floor so the views are eye-popping whether you face the port or the city.
'My Brilliant Friend' continues on Mondays and Tuesdays on Sky Atlantic
Register for free to continue reading
Registration is a free and easy way to support our truly independent journalism
By registering, you will also enjoy limited access to Premium articles, exclusive newsletters, commenting, and virtual events with our leading journalists
Already have an account? sign in
Register for free to continue reading
Registration is a free and easy way to support our truly independent journalism
By registering, you will also enjoy limited access to Premium articles, exclusive newsletters, commenting, and virtual events with our leading journalists
Already have an account? sign in
Join our new commenting forum
Join thought-provoking conversations, follow other Independent readers and see their replies