The Independent's journalism is supported by our readers. When you purchase through links on our site, we may earn commission.
Groningen city guide: Where to eat, drink, shop and stay in this under-the-radar Dutch gem
How to make the most of a trip to the largest city in the northern Netherlands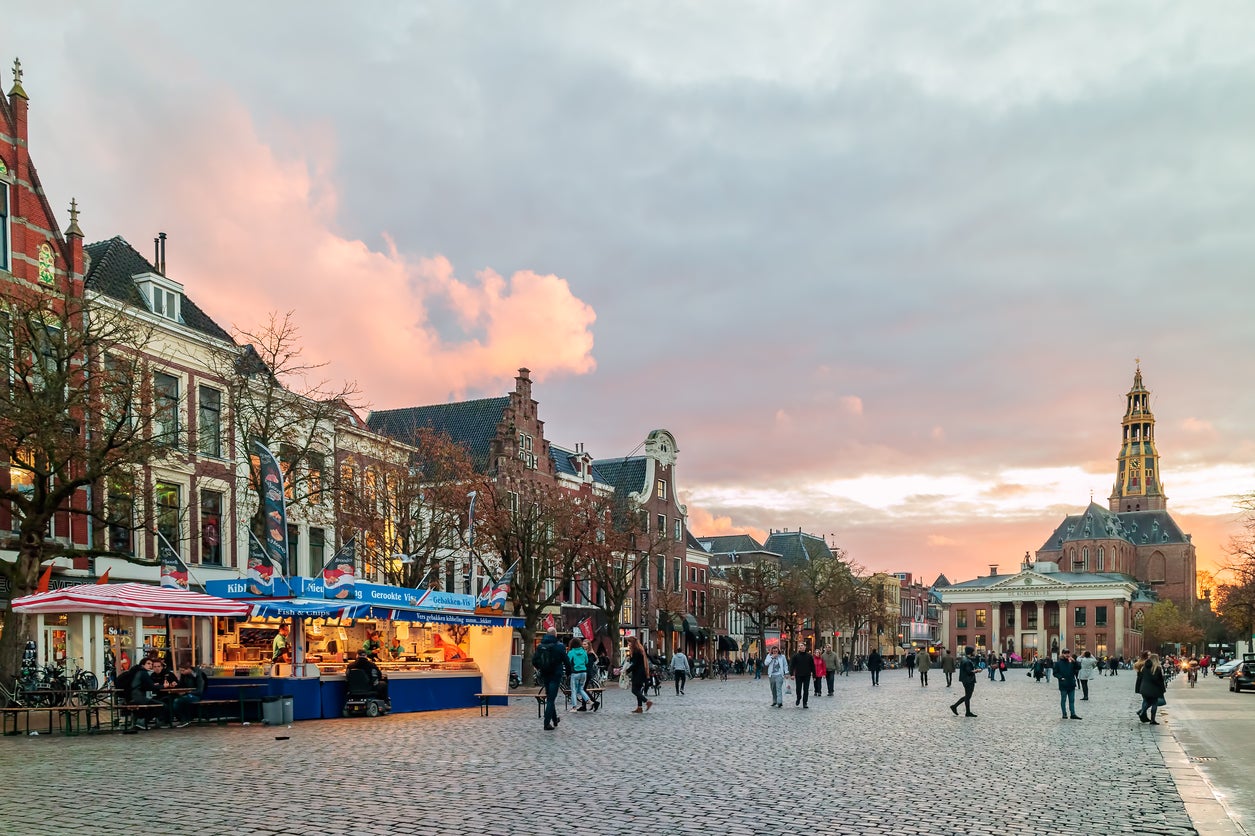 With Amsterdam becoming increasingly overwhelmed by a steady influx of tourists, more travellers are looking further afield for their Dutch city break – and Groningen is ready to step into the spotlight. The biggest city in the north of the Netherlands, it's most famous for its cycling culture, but this little university city also has beautiful canals, historic buildings and the youngest average population in the country. Here's how to get the best out of Groningen during a short break.
What to do
Explore the city by bike
Forty years ago, politicians implemented an ambitious plan to cut down car use in the city. At the time, it was revolutionary. Nowadays, the infrastructure which put Groningen on the map is no longer groundbreaking – it's worn in and scuffed around the edges – but the effects are still easy to see, as about 60 per cent of trips in the city are by bicycle. You can take an organised tour, or just rent a bike (from €10 a day) and set out to explore the wide, red-bricked streets on your own.
Visit the Prinsentuin
This lovely garden is incongruously placed just a few hundred metres from the central hustle and bustle of Groningen. There's some acoustic trick that means that it's surprisingly quiet in here, and entrance is free. It's small – a lazy stroll shouldn't take you more than 30 minutes – but perfectly formed, with a hedged labyrinth, a variety of roses and herbs, and a lush, vine-covered arched walkway.
Climb the Martini tower
The Martini tower, known as the "Old Grey One" in Dutch, and the church alongside it have existed in some form or another for over 500 years (there's been some bad luck with lightning along the way). You can climb the Gothic tower for the best views over Groningen; tickets are available at the tourism office for €3. Otherwise, entrance to the church is €1, where you can goggle at the vaulted ceilings and ancient organ pipes. The church also provides a public space for a variety of community projects, such as university art exhibitions, so check the calendar before you visit.
Wander through the Noordeplantsoen
A large shady park just outside the city centre, the Noordeplantsoen is about a kilometre long and lined with old beech and poplar trees. It's criss-crossed with cycle paths that weave around the ponds, and you'll find students and ducks enjoying the dappled shade with equal enthusiasm. In summer it plays host to all sorts of events, from food truck festivals to live music.
Where to stay
Hotel Miss Blanche has individually decorated rooms in Groningen's city centre, ranging from very small, standard rooms to sprawling apartment suites overlooking the canal. As always with city-centre spots, the plum location does mean you risk a bit of late-night noise, so request a quieter room if you're a light sleeper. Doubles from €109, room only.
On the more maximalist side of things is boutique Hotel Corps de Garde, which offers 19 rooms with bold colours and eccentric wallpaper. The shared spaces are particularly welcoming – there's a recently renovated barroom and library, with some artfully exposed sections of bare wall that date back to 1634. Doubles from €119, room only.
Right alongside the Prinsentuin gardens is the Prinsenhof Hotel. A historical building, it's been renovated in an original style that mixes up modernist art with antique furniture. The pricier rooms have some lovely details – some overlook the rose garden, or show off 100-year-old ceiling beams – but all come with free Acqua di Parma toiletries and wifi. Doubles from €144, room only.
Where to eat
If you've only ever had pre-packaged stroopwafels before, a warm, fresh one is likely going to be a religious experience. Stropiewafel is a food truck that can be found twice a week at the Vismarkt, and for €1.50 it'll make an XXL-sized sandwich of biscuit, caramel and delight right in front of you.
Bakkerij Blanche is an infinitely Instagrammable brunch option, full of hanging plants and black-and-white touches like a marble breakfast bar. The copper bathroom is almost as beautiful as the freshly baked bread.
Pannekoekschip is – what else? – a ship that serves pancakes. It's permanently docked, but the antique brass lamps and old engine parts give it a salty sea-dog aesthetic. It serves up a dizzying array of both sweet and savoury options, and the portions are massive. It's a very kid-friendly spot; for those who prefer to avoid kids' parties when possible, best to visit during the week.
Frietwinkel is usually buzzing in the evenings, and with good reason – its skin-on frites and generous sauce portions are a great option for tasty food on the cheap. Don't leave without an extra portion of goat's cheese croquettes.
Where to drink
At Mout, the bottom level of a traditional stepped-gable house has been renovated into a funky, olive-and-old-wood bar, which serves a variety of Dutch craft beer.
Groningen is certainly not short of coffee houses, but artisanal roastery Black and Bloom is the hippest of the bunch. Its house blend changes often – and it also serves a variety of freshly baked cookies and treats.
Where to shop
Zwanestraat is the natural place to begin a shopping spree – it was voted the most beautiful shopping street in the Netherlands in 2017, and features a variety of small boutiques, delis and restaurants with a clear view towards the Martini tower. If you can only visit one shop, it has to be De Kaaskop, which is moodily lit. Apart from a delightfully broad selection of cheeses from the Netherlands and elsewhere, it also stocks nuts and wines.
De Zwerver is a sweet travel bookshop on Oude Kijk in Het Jatstraat. Although the selection of English books is slim, you could easily lose an hour looking at the beautiful mugs, maps and notebooks.
Architectural highlight
The ornate main train station, with neo-Gothic details and intricate tilework inside.
Nuts and bolts
What currency do I need?
Euro.
What language do they speak?
Dutch – but English is widely spoken.
Should I tip?
Tipping 10 per cent is appreciated for good service, but not compulsory.
Time difference
Groningen is in CET, an hour ahead of the UK.
What's the average flight time from the UK?
Flybe flies direct from London Southend to Groningen in one hour and 15 minutes.
Public transport
The easiest way to get around is by bicycle. But if cycling or walking aren't convenient for you, trains and buses are frequent and reliable.
Insider tip
Many Dutch shops and restaurants don't accept foreign debit cards – it's best to carry cash as an alternative.
Join our commenting forum
Join thought-provoking conversations, follow other Independent readers and see their replies