Norway: The northern heights

Show all 5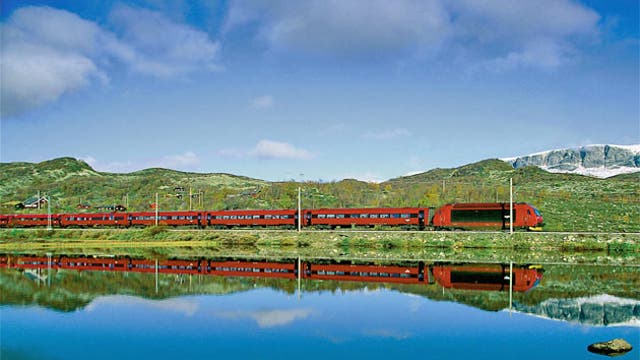 Norway: The northern heights
The rail route from Oslo to Bergen rises to 4,000ft and passes glaciers, lakes and fjords. It's one of Europe's most scenic journeys, says Gavin Bell
Wednesday 07 September 2011 00:00
Comments
They don't tell you at Oslo station that you can buy a train ticket to an icy planet in a distant galaxy, but you can. Plan ahead, and it will cost you as little as £21 (or NKr199). The planet lies in the Hoth system, which aficionados of Star Wars will tell you is where Luke Skywalker fought Darth Vader's gigantic war machines in The Empire Strikes Back.
Back on Earth the movie location is known more commonly as Hardangerjokulen, a glacier on a mountain plateau midway between Oslo and Bergen and conveniently located near what Norwegian State Railways claims is the highest station on the highest mainline railway in Europe.
I discovered this by chance when the rail operator sent me a brochure outlining the delights of a line that certainly lays fair claim to being among the most scenic in Europe. I also learnt that Jedi knights are not the only diverting characters to have visited the station at Finse over the years.
When the line was officially opened in 1909, King Haakon of the newly independent Norway hailed it as "our generation's masterpiece", and few disagreed. It is a rollercoaster of a railway, climbing almost as high as Ben Nevis as it twists and turns for 300 miles through forests and over a rocky wilderness between the country's two main cities.
Along the way it snakes through 182 tunnels, one of them more than six miles long, where sheer precipices defeated even the most daring engineers. The definition of "tunnel" does not include "snow sheds" – structures designed to protect the line from winter blizzards that regularly dump snowdrifts more than 15ft deep.
Happily, I am travelling in August, ensuring that neither snow nor even the wrong kind of leaves are on the line to disrupt services. There are, however, reminders of home in the form of engineering works around Oslo, which means I spend the first hour of the journey on a bus.
This turns out to be a bonus, because it gives me time for a break at Honefoss station, while waiting for my train to arrive; a chance for coffee and a stroll in sunshine to admire the waterfall that gave the town its name.
The shiny red coaches of the inter-city train are as comfortable as you'd expect in this well-to-do Nordic nation, with big picture-windows for admiring its natural splendours. Even more importantly, it is lunchtime, so the first thing I admire is the buffet car, which has seats in red upholstery and serves up meatballs with potatoes that quickly put the Ikea version to shame.
Thus fortified, I return to my seat to find that I am passing through several countries. First, the summer pastures of Alpine Switzerland, with cattle grazing in forest glades, then the Western Isles of Scotland, a treeless wilderness of moss and rocks and dark lochs. These highlands are the realm of Arctic foxes, reindeer, and Norwegians who like to spend holidays in log cabins with turf roofs that look like Hobbit houses. There is water everywhere: in lakes and fjords, and rushing down to the sea over countless cliffs and rapids in a tumult of spray.
The Oslo to Bergen line is not a commuter train, crammed with tired office workers. It has evolved into a major Norwegian tourist attraction, carrying half a million passengers a year who are more intent on gazing at the scenery and admiring Art Nouveau station buildings than burying themselves in newspapers. As a result, mobile phone conversations are mercifully rare.
The 15,000 workers who built the railway over a period of 15 years were a tough lot. Plagued by lice infestations in the construction camps, they found a novel repellent – carefully warming dynamite and rubbing it on their skin. Another engineering wonder they created was a single-track road to transport them and their equipment. It is known as the Rallarvegen, and is popular with hikers and bikers who get on and off the train to follow its meandering course over the Hardanger mountain plateau.
The higher the railway climbs, the wilder the scenery. From deep green forests it traverses a rocky plateau dominated in summer by bare hillsides and in winter by an all-enveloping blanket of snow and ice. The little station at Ustaoset faces a lake dotted with islands and wooden holiday cabins, for those who crave the silence and solitude of a true wilderness. Above them loom barren mountains streaked with snow even in high summer.
Many leave at the highest station, Finse (altitude 4,009ft), which is where the Jedi knights got off to battle the evil empire. Even in high summer the glacier that was the film set is visible in the distance, glinting in the sun.
It has also been a scene of real-life adventures, with both Scott and Amundsen choosing it to train for their rival polar expeditions. Other notable visitors have included some RAF bomber pilots, who attacked a German aircraft research facility at Finse during the Second World War (and in the process also blew a local ice rink to smithereens).
Beyond Finse there is an option of a spectacular side trip on a railway that drops almost 3,000ft in 12 miles from Myrdal to a fjord at Flam. It takes about an hour to go down and the same to come back up again, or you can cycle up from Flam and cycle back down on the old Rallarvegen. For its length, it is one of the world's great cycle trips, and it's downhill all the way.
Instead, the train begins the long descent to Bergen and plunges back into forests clinging precariously to abrupt mountains wreathed in mists, like scenes from a Viking saga.
Having left Oslo mid-morning, I arrive in time to stroll along the bustling wharves of the old Hanseatic capital before dinner, secure in the knowledge that Darth Vader's evil plans lie in ruins in a galaxy not so very far away.
Travel essentials
Getting there
Discover the World (01737 214 291, www.discover-the-world.co.uk) offers the Oslo-Bergen train journey as an extension to its Bergen City Break for £682 per person. The price includes flights from Gatwick to Oslo with Norwegian, one night in the capital, a one-way train journey from Oslo to Bergen, three nights in Bergen and flights from there back to Gatwick with Norwegian.
Getting around
Norwegian State Railways ( www.nsb.no) operates daily services between Oslo and Bergen starting at NOK199 (£21).
More information
Make tracks for Scandinavia
Scandinavia's railways offer some of Europe's most scenic journeys. Oslo to Bergen and the branch to Flam ( www.nsb.no) are undoubtedly the highlights, but head north from Oslo on the Dovre line towards Trondheim and other treats are in store. Here, the branch line from Dombas towards the coast at Andalsnes, known as the Rauma line, follows the Romsdalen valley, with plenty of mountain views.
Further north, the Nordlandsbanen from Trondheim to Bodo hugs the coast as it leaves Trondheim, with excellent views of the Trondheim fjord. At Fauske you can link with a scenic bus journey to take you to Norway's most northerly line at Narvik. Known as the Ofoten railway, the line soon crosses the Swedish border and heads through remote uplands on its long journey towards the Gulf of Bothnia.
For more gentle scenery, alight at Gällivare and head back towards civilisation on Sweden's Inlandsbanan ( www.inlandsbanan.se), a full day's journey to Ostersund, with charming remote towns and distant lake views. Diehard fans of Scandinavia's forests and lakes will also want to explore some of Finland's extensive rail network ( www.vr.fi).
Brendan Fox, Editor, Thomas Cook European Rail Timetable
Timetables for all of these lines are published in the monthly Thomas Cook European Rail Timetable (01733 416477; www.thomascookpublishing.com)
Register for free to continue reading
Registration is a free and easy way to support our truly independent journalism
By registering, you will also enjoy limited access to Premium articles, exclusive newsletters, commenting, and virtual events with our leading journalists
Already have an account? sign in
Register for free to continue reading
Registration is a free and easy way to support our truly independent journalism
By registering, you will also enjoy limited access to Premium articles, exclusive newsletters, commenting, and virtual events with our leading journalists
Already have an account? sign in
Join our new commenting forum
Join thought-provoking conversations, follow other Independent readers and see their replies