Off the eaten track in Venice
The cookbook that thinks it's a guidebook inspires Tim Walker to swap tourist traps for tiny trattorias on a culinary tour of the city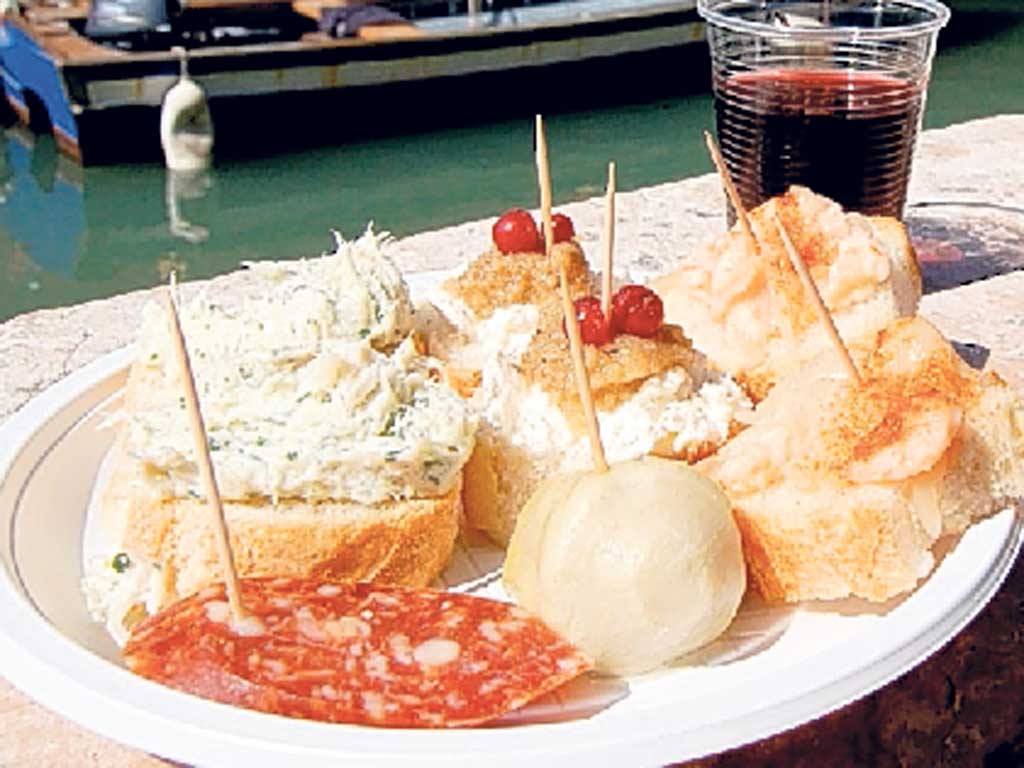 "The restaurants in Venice have an appalling reputation." So says London restaurateur Russell Norman, whose Venetian-style bacaro, Polpo, opened in 2009. It was so successful that he's opened four more restaurants since then and has another on the way.
When I interviewed him last year, he told me how he'd first fallen in love with Venice for its art and architecture. Only later, as a regular visitor, did he begin to notice "these little wine bars, or bacari, where the locals were sipping wine and eating snacks: cicchetti. It was daunting because there were no other tourists, but once I'd braved that unfamiliarity, I started to get a better idea of the city's hidden culinary places". He also told me he had a cookbook coming out this summer, with a chapter devoted to some of these "hidden culinary places". I'd better go and check them out, I thought. Just to be thorough.
Perversely, eating well in Venice is cheaper than eating badly. An awful pizza on the piazza could easily set you back €20 (£16), while two people can have a great lunch and a glass of wine each at a bacaro on a nearby backstreet for half that. Russell's first recommendation was a gourmand's guidebook, Michela Scibilia's Venice Osterie: a handbook for discriminating diners, which I picked up in a bookshop soon after the water-taxi dropped us at our hotel in San Marco. The slim red tome weighs less in your day bag than the Polpo cookbook and it details each restaurant's opening hours: the sign of a good Venetian restaurant is that it's closed on a Sunday and Monday – the markets aren't open on those days, which means no fresh produce.
I took my girlfriend with me, naturally, and our debut romantic dinner was down a side-street in Cannaregio, a 20-minute walk from the hotel. Few journeys in Venice are further than that. Alla Vedova is a big influence on Polpo – wooden tables, white curtains, relaxed atmosphere – and the first thing we ate were its tiny polpette: soft, warm veal meatballs covered in breadcrumbs. It was the best meal I'd eaten in months.
Between us we scoffed: spaghetti alla busara (tomato, chilli and shrimp, which is a Dalmatian favourite); calves' liver and polenta, a local speciality; bigoli in salsa (wholegrain pasta and anchovies, with slow-cooked, marmaladey onions); and squid cooked in its own ink. The owner, Mirella, and her friendly staff looked at us as if we'd ordered one course too many, but our plates were clean.
The following morning, a Tuesday, we took a walk to the markets in San Polo, just north-west of the Rialto Bridge. The fruit, vegetables and fish on show would soon be gracing tables at the city's better restaurants. A few winding streets back from the canal is the grand Frari basilica, home to Titian's tomb and at least two of his greatest works. We stroked our chins at those, and then circled back to Rialto with grumbling stomachs.
All'Arco is typical of the tiny bacari wine-and-snack bars that Russell told me about. "You must try the baccala mantecato," he said, "creamed salt cod spread onto warm toast." So we did. Twice. Along with a glass of vino blanco, sarde en saor (marinaded, Venetian-style sardine crostini) and a delicious panini the size of a commemorative postage stamp. All'Arco is a family business, run by Anna and Francesco Pinto and their son Matteo. Russell sent me, I told Anna. "Rustle?" she replied, puzzled. "Ah! Russell!" Then Matteo gave us each a glass of dessert wine and a buttery bussola biscuit from Burano, an island across the lagoon.
We weren't still hungry, exactly, but after taking a two-minute traghetto ride across the Grand Canal, we were so close to another spot on our list that we thought we ought to give it a whirl. Tom Oldroyd, the Polpo Group's head chef, spent time in the kitchen at La Cantina, researching dishes. The raw fish platter – tuna, seabass, gilt-head bream, local and Sicilian shrimp, all direct from the market – is moreish even on a half-full stomach. At this point, you ought to take it for granted that we exercised between meals by looking at a lot of world-renowned churches and art museums. Walking in Venice, as you must, is good for the appetite. And if you avoid the obvious pizza and pasta in favour of seafood and cicchetti, then you'll never feel bloated.
We still had room for dinner at the unprepossessing Corte Sconta in Castello, where the moeche, soft-shell crabs in batter, and the walnut-and-radicchio-stuffed squid with balsamic glaze were spectacular. The wine list was substantial, too, if you're into that sort of thing. Thankfully, Venice is free of oenophilic pretension; nobody will think less of you for ordering the house rosso.
Another lunchtime, another bacaro. Cantinone Gia Schiavi in Dorsoduro is a fine place to fill up after a morning at the Gallerie dell'Accademia. Just €10 got us a glass of wine, eight cicchetti and a spot by the canalside. And for dessert, two scoops of stracciatella and nocciola on the waterfront at Da Nico, Venice's premier gelaterie.
The best place to drink a spritz, the city's signature aperitif, is outdoors at the Caffè Rosso in the Campo Santa Margherita. You can tell that the square is close to the university, because it's full of noisy students. This, Russell says, is "where I downed gallons of spritz on my research trips; the spritz at Polpo is based exactly on their recipe. It's scruffy, studenty – the loos are disgusting. I love it".
We saved the best for last. You could walk past Alle Testiere, a blank shopfront in a Castello corridor, without even knowing it was there. But Russell insisted we try it.
"The chef is Bruno, but you should ask for his co-owner, Luca," he said. "And bag an evening table – they only have 23 seats. The food there is the best in Venice. In fact, it might be the best in Italy." At €180 for two, including wine and tip, it was the most expensive meal we ate all week: fresh, simple and worth every cent. Start with the razor clams.
'Polpo: A Venetian Cookbook (Of Sorts)' by Russell Norman is published by Bloomsbury (£25)
travel essentials
Getting there
British Airways (0844 493 0758; ba.com) flies from Gatwick and Heathrow to Venice's Marco Polo airport; Jet2 (0871 226 1737; jet2.com) flies from Edinburgh, Manchester and Leeds/Bradford; Monarch (08719 40 50 40; flymonarch.com) from Gatwick and Manchester; easyJet (0905 821 9000; easyJet.com) from Gatwick; and Bmibaby (0905 828 2828; bmibaby.com) from East Midlands. Ryanair (0871 246 0000; ryanair.com) flies to Treviso, with a bus link to Venice, from East Midlands, Leeds/Bradford, Stansted and Bristol.
Staying there
The writer travelled as a guest of Lastminute.com (0800 083 4000; lastminute.com), which offers four nights at the Locanda Art Deco (00 39 041 277 0558; locandaartdeco.com) from £149 per person, including breakfast and BA flights, from £79.
Click here to view Italian tours and Holidays, with Independent Holidays.
Join our commenting forum
Join thought-provoking conversations, follow other Independent readers and see their replies