The Independent's journalism is supported by our readers. When you purchase through links on our site, we may earn commission.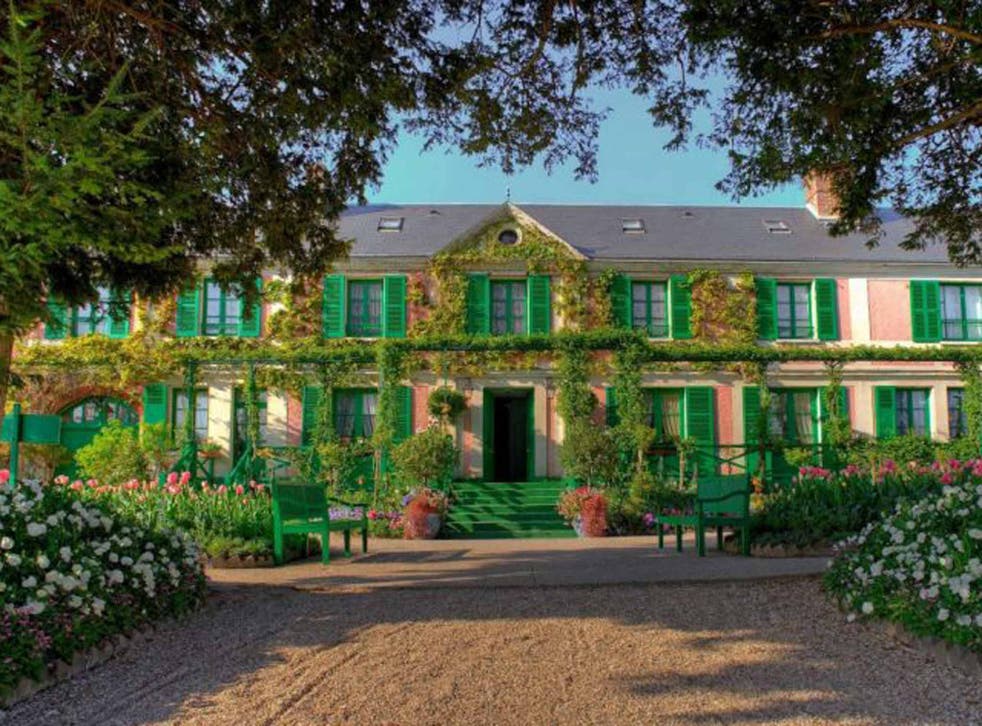 On the trail of Monet and the Impressionists in northern France
​Normandy is a region of artistic inspiration, as a new exhibition highlights
Andrew Eames
Friday 29 January 2016 11:34 Comments
This year is VisitEngland's year of the English garden, marking the 300th anniversary of the birth of Lancelot "Capability" Brown; it is also the year of the Impressionist Festival in Normandy. And today, an exhibition opening at London's Royal Academy brings the two together in "Painting the Modern Garden: Monet to Matisse".
The intersection of art and nature is integral to the Impressionist movement, and an excellent excuse for a mini odyssey – and not just to London's West End. For who needs a gallery when the real thing is just across the water? That's why I find myself on an off-season ferry, nosing into Le Havre.
Claude Monet painted his first definitively "Impressionist" canvas – Impression, Soleil Levant – in the Normandy port in 1872. When the painting was initially shown, the art world was distinctly unimpressed. One sarcastic critic jibed: "I had merely the impression of a painting," suggesting that it was a flimsy thing. The name stuck.
Rolling off the ferry in Le Havre, I don't attempt to find the painting's setting; the city is not what it was in Monet's era, largely thanks to the Second World War. Instead I head south, and soon find myself in more inspirational surroundings. Back in the 1870s, when Impressionism was gathering steam, Normandy, as a place of intense light and naturalistic subject matter, was the painters' resort of choice. Paris-based artists used to catch the train out from Gare St-Lazare (itself sublimely painted by Manet), and head along the Seine. I've come at it from the other direction.
As soon as I cross from Le Havre to the river's south bank, I find a landscape of low hills daubed with oak and beech, and hung with mist. For anyone used to the open skies and mechanised straight lines of French agriculture, this is a real surprise: it feels low-tech, handmade, a mix of orchards and cattle fields, dotted with candy-striped half-timbered farmhouses. Perfect painterly material.
I have lunch in the P'tit Beaumont, a busy country restaurant in the hilltop village of Beaumont en Auge. Tripe is on the menu and locals drink cider from wine glasses. From here, I head up to Honfleur, a beautifully preserved harbour town which is credited as the birthplace of Impressionism. Certainly it is very picturesque. At Honfleur's heart is the inner harbour, so sheltered as to be glassy calm, stuffed with masts and surrounded by cafe terraces and slim, tall quayside houses. Narrow streets wind away from the water, lined with shingle- or tile-fronted houses; there are no fewer than 100 restaurants, and 80 art galleries here, so it is no surprise that Honfleur will feature in the summer's Impressionist Festival.
The 18-year-old Claude Monet came here to meet Eugène Boudin, Honfleur's most famous son and one of the first landscape artists to paint outdoors, from reality. Despite nearly a 20-year age gap, the two became close friends, meeting regularly at Honfleur's Auberge Saint Siméon. Monet, who was at that stage primarily an urban caricaturist, later acknowledged Boudin as the person who persuaded him to paint.
Walking around the town today it is clear most of the galleries are maximising the Impressionist link, with picturesque harbour scenes painted (and photographed) from every angle. I find my most striking visual experience a little out of town, while walking along the sandy shore of the estuary by Honfleur's Manoir des Impressionnistes, where I stay overnight. The tide is low and the water lies across the estuary in stripes which are gradually coloured in by different combinations of the setting sun and the filtering effects of moving clouds. There's an emotional component to witnessing such conditions, and it is moments of emotion like these that the Impressionists tried to capture on canvas.
It's a 90-minute drive inland along the Seine to the village of Giverny, the source of so many of Impressionism's most famous garden-related images. This is where Monet came to live and where he created his garden and lily ponds. Giverny is just across the river from the small town of Vernon, a pleasant enough place which has its own small museum, one which will also be marking the festival with an exhibition devoted to women artists such as Marie Bracquemond and Eva Gonzalès.
What of Giverny itself? Well, there are no actual Monet originals here, but his house is unchanged and his garden is very faithful to his plans, and truly spectacular. Corridors of brilliant orange, carpets of mauve, shimmering water and hanging curtains of willow. You can see why he grew content just to stay here.
Monet's garden at Giverny doesn't reopen again until March. But if you want a splash of impressionistic colour to animate winter's darkest months, then there's always the Royal Academy exhibition.
'Painting the Modern Garden: Monet to Matisse', opens at the Royal Academy this weekend (royalacademy.org.uk)
Travel essentials
Andrew Eames travelled from Portsmouth to Le Havre with Brittany Ferries (0330 159 7000; brittany-ferries.co.uk).
Staying there
Manoir des Impressionnistes, Honfleur (00 33 2 31 81 63 00; en.manoirdesimpressionnistes.com). Doubles start at €190, room only.
Visiting there
Fondation Claude Monet (fondation-monet.com). Reopens 25 March.
More information
Register for free to continue reading
Registration is a free and easy way to support our truly independent journalism
By registering, you will also enjoy limited access to Premium articles, exclusive newsletters, commenting, and virtual events with our leading journalists
Already have an account? sign in
Join our new commenting forum
Join thought-provoking conversations, follow other Independent readers and see their replies