The Independent's journalism is supported by our readers. When you purchase through links on our site, we may earn commission.
Ostrava: How the industrial Czech city is using its heritage to attract tourists
Don't go to Ostrava, they told Ronan O'Shea. So he went to Ostrava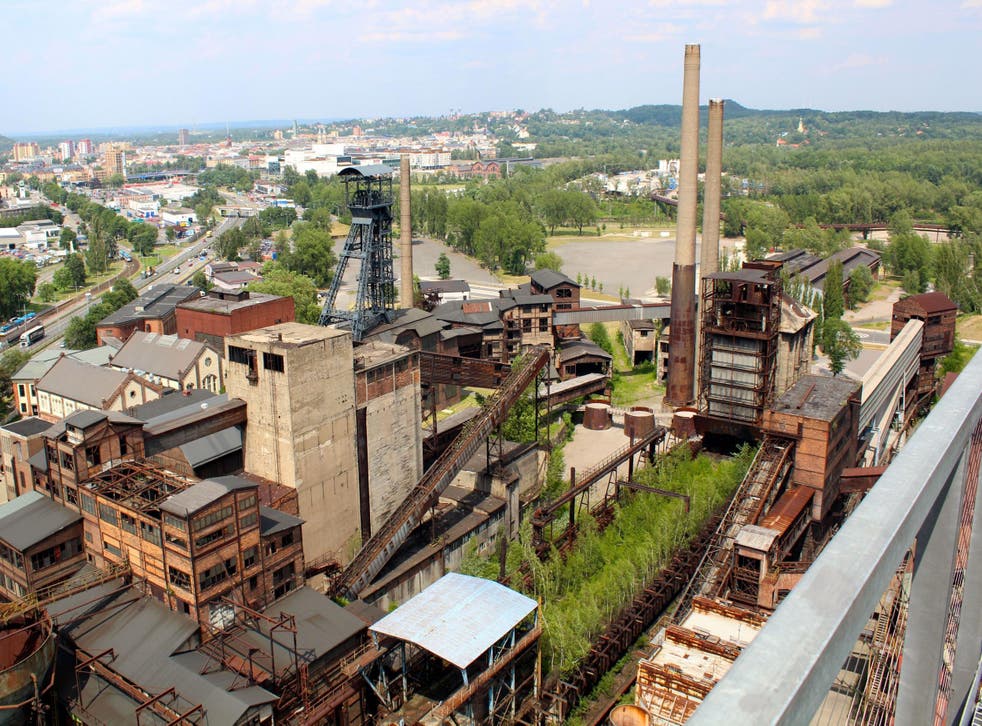 ​"Don't go to Ostrava," they said – "they" being many of the students I taught while living in the Czech Republic a few years ago. A bad reputation can be a powerful thing – because, if you asked them, it turned out no one had ever been.
Why shouldn't you visit Ostrava? Near the Polish and Slovak borders, the Czech Republic's third largest city is known for being unattractively industrial – it was historically associated with the production of pig-iron and coal. The Colours of Ostrava music festival takes place at a former mine that has now been repurposed as a museum and events space.
It's at Lower Vitkovice, the aforementioned mine-turned-museum, that I spend my first full afternoon, having climbed a hill called Ema in the morning. Scaling a slag heap may not sound all that glamorous, but this artificial hill made of mining waste provides outstanding views of the city and surrounding mountains from its position 315m above sea level.
Still more spectacular views can be enjoyed from Bolt Tower. Believed by many to have been named after the famous Jamaican sprinter, a regular competitor at Ostrava's annual Golden Spike athletics event, in fact its design is meant to evoke the image of a bolt. But, serendipitously, Usain is a regular visitor and has endorsed it with his signature and a few typically posed photo ops.
Ostrava, where Czech charm meets industrial chic

Show all 13
Standing atop the tower, trying not to look down through the metal grating below, I take in the landscape. It may be industrial – this isn't Venice, after all – but there's something rather charming about the way Ostrava wears its history on its sleeve.
Locals seem proud of how their city has developed: of the way old miners' buildings are being reimagined as events and sports centres, of the methane vents scattered around which safely disperse gases and serve as a reminder of the city's industrial legacy.
For all that civic pride, the city centre thankfully has much in common with Prague. There are bistros, bars and cafes aplenty, from Cerstvy Boby, where I drink one of the best coffees I've ever had, to Hogo Fogo, a small restaurant serving up a mix of delicious Czech and internationally inspired cuisine.
Other gems include Minikino, a cinema which doubles up as a craft-beer bar, and Radegastovna, which is a great place to people watch while enjoying a locally brewed beer in the central square. Stodolni, meanwhile, is a 350m stretch of road famous throughout the country for its bars, restaurants and vibrant atmosphere, particularly when Colours takes place and the city is in full party mode.
The following morning I rise early and make my way to Landek Park on the outskirts of the city. Also a former mine, which closed in 1991 and quickly reopened as a museum, it's a top place to take kids – and adults in their thirties who've yet to fully grow up.
Taking a lift down into the bowels of the mine, my guide Daniel and I explore the cavernous shafts as he describes the hard work the miners would have done to extract coal from the earth. The valuable coal seams provided much work for men in the region, though it was clearly a tough life; hours spent in cramped spaces at stiflingly hot temperatures, the sound of machinery constantly whirring in the background. The experience is followed by a visit to the rescue centre, a secondary museum which provides emotional accounts of the efforts of rescue workers to save trapped miners throughout the years.
The tour finishes on a lighter note, with a recreation of the assault course rescue workers still use today to keep fit in between the – thankfully rarer – occasions when they are called into service in one of the region's few remaining active mines. Daniel insists I have a go, though admittedly I don't take much persuading, bounding up the narrow tunnels and stairwells like a child, emerging two or three minutes later with a beaming smile on my face.
"Don't go to Ostrava," they said. What do they know? I blame the teachers.
Travel essentials
Getting there
Ryanair flies direct from London Stansted to Ostrava from £41 return.
Staying there
Hotel Maria is a short walk to the city centre; doubles from CZK1590 (£55), B&B.
More information
Click here to find hotels in Ostrava
Register for free to continue reading
Registration is a free and easy way to support our truly independent journalism
By registering, you will also enjoy limited access to Premium articles, exclusive newsletters, commenting, and virtual events with our leading journalists
Already have an account? sign in
Register for free to continue reading
Registration is a free and easy way to support our truly independent journalism
By registering, you will also enjoy limited access to Premium articles, exclusive newsletters, commenting, and virtual events with our leading journalists
Already have an account? sign in
Join our new commenting forum
Join thought-provoking conversations, follow other Independent readers and see their replies