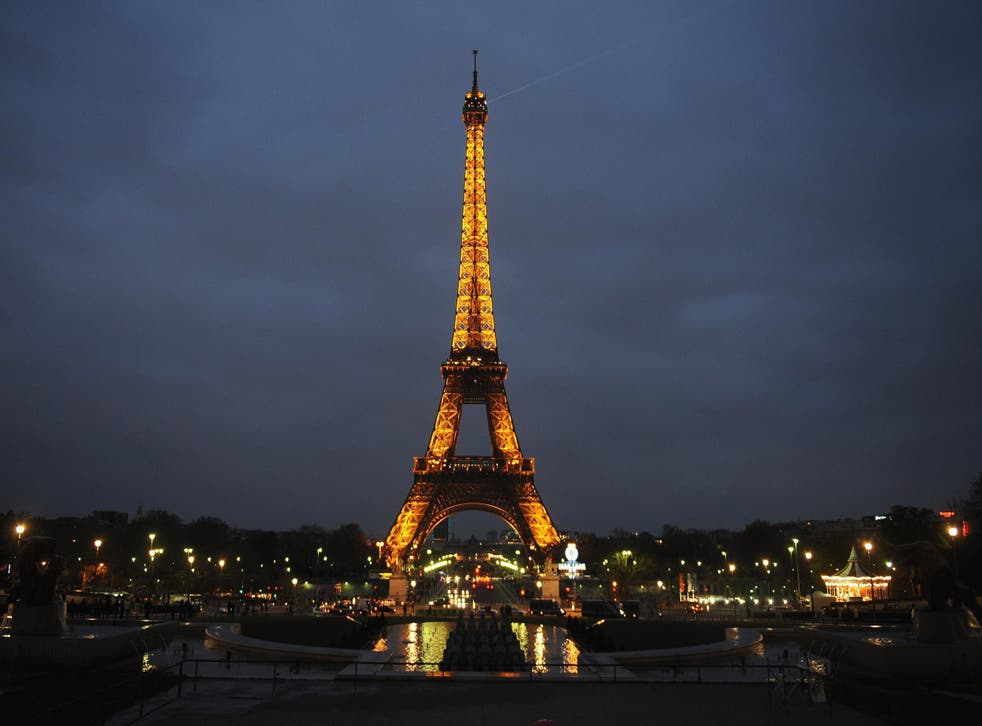 Swingers' spas and saucy hotels: Exploring the kinky side of Paris
If you'd like your Valentine's Day to be more raunchy than romantic, the French capital can deliver
Tempted to gaze longingly into your partner's eyes atop the Eiffel Tower this Valentine's? Oh, please. To truly embrace the city of love, you need to do it French style. Forget canoodling by candlelight, here's what I learned exploring Paris's kinky side. Mon dieu.
There's a hotel with a horny Mickey Mouse
Look away Disney! Step into Hotel Grand Amour and you'll be greeted with a shiny Mickey Mouse statue boasting a 12-inch appendage. And that's just the beginning: this 42-bedroom boutique hotel located on Rue de la Fidélité is upscale kink to the max, and each individually designed room has its own little quirk – think mirrored ceilings above the beds, a library of arousing bedtime reading (entire walls of some bedrooms are dedicated to bookshelves of 1970s erotic paperbacks) and bedside tables dedicated to women in raunchy magazines.
It's not just moodily lit bedrooms either: flamingo-pink hallways are drenched in modern art from legends including Helmut Newton and Guy Bourdin. Classy, arousing black-and-white photography features curvy, slim and very naked women, while erotic carpets lining the corridors are festooned with abstract genitalia.
You can see erotic dancing that is actually erotic
Nothing can quite prepare you for a night at Crazy Horse. The high-end burlesque show is a nipple tassel, Louboutin-heel extravaganza of sassy, sexy erotic dancing by some or Paris's most pert and polished women. Book ahead and settle into a plush velvet arm chair – champers in hand – and take in a multi-song session of highly seductive nude moves. Music ranges from plinky-plonky 1920s jazz to a powerful rendition of Alice Cooper's "Poison" (complete with sequin red knickers and a swing – do try this at home). The pièce de résistance, however, has to be the arousing smooth-skin finale to INXS's "Need You Tonight".
You can booze in an ex-brothel
The clue's in the name. Head to Dirty Dick in So-Pi (that's South Pigalle), and you'll be boozing in a dimly lit bar that first opened in 1934 – as a brothel, that is, in this formerly seedy red-light district. It was particularly popular with American and English soldiers during the Second World War, and through the decades the space continued to operate as a sex club filled with cabins for lap dances and more intimate services.
New owners put a stop to these illicit shenanigans in 2013, gave the bar a bleach-heavy deep clean, and created a hipster-cool tiki bar with well-stocked shelves, tattooed barmen parading Hawaiian shirts and spiky plants lining the walls and floors. Try the signature cocktail, the Polynesian Remedy, a heady, medicinal elixir with ginger, honey and rum.
The locals love this aphrodisiac-peddling bar
Fuel your evening with a wicked combination of oysters and plonk. Le Baron Rouge is a local bar crammed with big barrels of the region's best red and white, shelves lined with even more of the stuff and walls covered in old-school, black-and-white prints. While the red-ceilinged, brightly lit and loud room doesn't scream 'come get me', the oysters – which are prepped on the bar outside – are on point, and if the aphrodisiac rumours are true, you'll be highly razzed up by the time you stumble out. Load 'em with sours and spice, and knock them back with the day's wine recommendation.
There's a spa where you can upgrade your partner
Facials, massages and mani-pedis are a bit blah: if you're feeling really risqué, do it Paris style and swing by a partner-swapping spa instead. The concept at Eclipse Love Spa is exactly as it sounds: take a seat at the bar, naked of course, and peruse your options, waiting to see who takes your fancy. Couples are welcomed, single women are even better, but sorry guys – single men are not allowed in this space. Once you've, er, enjoyed the sauna with your new friends, head back to the common areas and make the most of the free buffet – which comes with a side plate of free condoms. It's the little things...
Travel essentials
Getting there
Eurostar (03432 186 186; eurostar.com) operates up to 19 daily services from London St Pancras International to Paris Gare Du Nord with one-way fares starting from £29.
More information
Join our new commenting forum
Join thought-provoking conversations, follow other Independent readers and see their replies