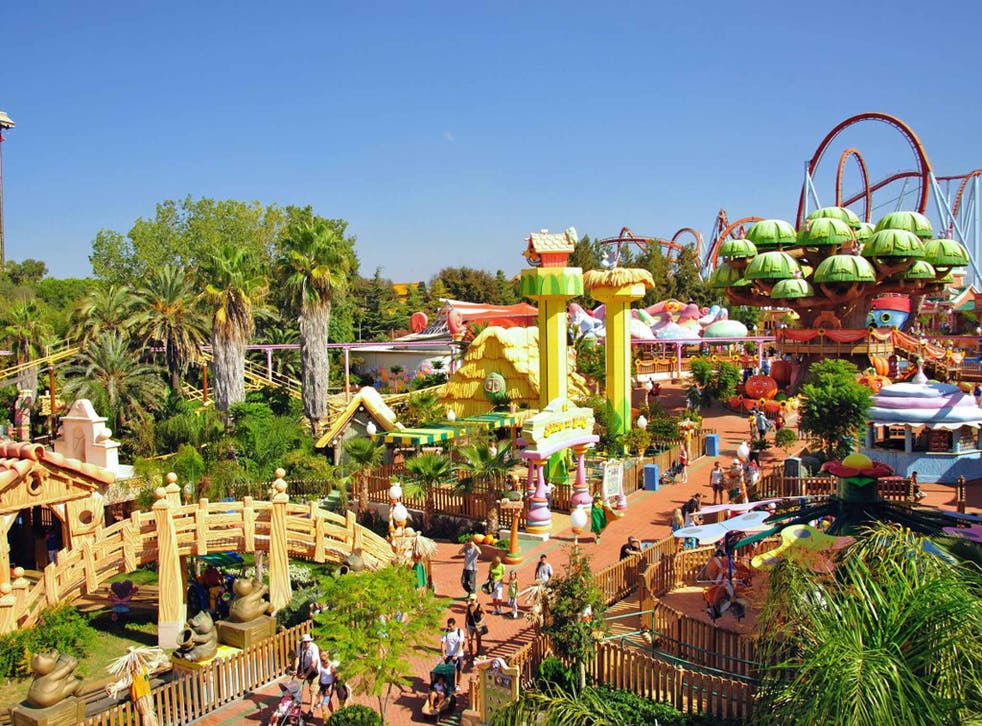 PortAventura, Costa Dorada: A homely theme park for the whole family
The circular design, imaginative landscaping and overall cleanliness create a relaxed family atmosphere which carries through to the fantastic Costa Caribe water park
I make no bones about it: I was not blessed with the thrill-seeking gene. This quirk of nature became immediately apparent while watching the screaming, adrenalin-fuelled victims of Shambhala slowly, slowly creeping up a Himalayan cliff side, pause then plunge, at 134kmph, down a 78m drop.
Much to my oldest's displeasure, I was not alone in my cowardice – neither of her two siblings was prepared to test their mettle on Europe's highest roller coaster, or on Dragon Khan, its equally terrifying, neighbour, the showpiece rides in Spain's PortAventura theme park.
"Maybe, later, in the dark," I mumbled. I may even have meant it at the time – because our first full day in the Costa Dorada park coincided with one of its occasional White Nights, when many of the rides stay open until 3am, so there was plenty of time to gird my loins.
Fortunately for us all, there was more than enough to keep everyone happy in the six zones – Mediterranea, Far West, Mexico, China, Polynesia and the young children's area SesamoAventura – that make up the 300 acre site. The various water rides are aligned to their "zone" – the Silver River Flume and the Grand Canyon Rapids in the Wild West; the Tutuki Splash in Polynesia – and were our biggest success. Ah, the joy of getting wet through and, instead of having to schlep around with clinging sodden clothes for the rest of the day, being dried in minutes by the Spanish sun.
Despite its size, the scores of rides and its four million visitors a year, PortAventura feels homely. The circular design, imaginative landscaping and overall cleanliness create a relaxed family atmosphere, which carries through to the fantastic Costa Caribe water park. This aquatic pleasure garden is overseen by the 37m King Khajuna, one of Europe's tallest free fall slides – another that your not-so-intrepid correspondent declined to sample. But, yet again, there was so much else to keep us all entertained, from the gentle fun of the wave pool to the stomach-dropping flumes.
As with the main park, Costa Caribe comes with a selection of themed cafés and restaurants (Reggae Cafe's fish and barbecued ribs, sandwiches and salads at Focacceria and so on) – there's certainly no excuse ever to be hungry at the resort. And unlike many of its competitors, in our three days there wasn't a meal that didn't rate highly with us all. From the abundant buffet breakfasts and evening dinners in our hotel, to the fajitas in the Hacienda El Charro, and the tapas at the Raco de Mar, the food was top quality, and with main courses starting around €10, much better value than my previous theme-park experience had led me to expect.
We ate those breakfasts and evening meals, both grand spreads of fresh fruits and cooked-in-front-of-you dishes, at the Hotel Callaghan. This is a recent addition to the Gold River hotel complex, one of the four- and five-star hotels that all have direct access to the parks. Adjacent to the Wild West zone, Gold River also comes with three swimming pools.
Even having to wear one of the most unattractive uniforms ever foisted on a receptionist, apparently inspired by a half-full bag of corn, to fit the Wild West theme, the welcome at the Callaghan was warm and helpful. There was not even a raised eyebrow, when not five minutes after having claimed our lovely, cool, large room, child number three managed to drop a glass bottle on the tiled floor.
We had arrived by train, stopping at the resort's own station, after spending the previous night an hour away in Barcelona. We had all become accustomed to track life, having spent 14 hours in a variety of carriages from London to Paris and then onwards to Barcelona the day before.
I'd hesitate to recommend the route to families with active toddlers, but for my teenagers and me it was a great start to our week-long break. Having bought a metro carnet from the Eurostar buffet, getting from Gare du Nord to Gare de Lyon was straightforward – and those of you fortunate to have a functioning wheeled suitcase will no doubt find it easier still.
Here was where the holiday really started. The top deck of the duplex carriage was like a decompression chamber. The stresses of work, uni, and just being a teenager melted away as we cruised through France at speeds approaching 480kmph, watching the scenery change from the graffiti-strewn capital to our first sight of the Med at Sète, with views of the central Massif, the French Alps and – passing into Spain – the Pyrenees. A bottle of cava, a home-packed picnic, and a pack of cards completed the circle of contentment.
The calm and small pleasures of the train journey contrasted hugely with the other high octane highlights of the theme park. And the highest, literally, of these, was the two hours spent in the Cirque du Soleil big top watching, awestruck, Amaluna, the impressive, narrative-led spectacle that had been wooing audiences all summer.
The world-renowned Canadian troupe's show is part of a five-year deal with PortAventura. Each August it sets up a small town of camper vans next door to the park and performs to audiences drawn both from adjacent hotels and across the region, the acrobats and clowns adding their own distinct gloss to the theme park's package.
Next year, Cirque's popularity could well be eclipsed by a new addition to the park: FerrariLand, in association with the Formula One marque. Along with a new hotel, Italian themed rides, shows and restaurants, this zone will feature Europe's tallest vertical accelerator roller coaster. At 112m high and reaching 180kmph in just five seconds, that is one, failing gene therapy, I will definitely be giving a miss.
Getting there
Alison Shepherd travelled to PortAventura by Eurostar and Renfe/TVG with Voyages SNCF (0844 848 5848; voyages-sncf.com). Fares from London to Paris start at £58 return per adult and £56 for four-11 year olds, with a journey times from two hours 16 minutes. Fares from Paris to Barcelona start at £62 per adult and £23 for four to 13 year-olds. Journey time from six hours 27 minutes.
By air, the closest airport is Reus; Barcelona El Prat Airport is around an hour's drive.
Staying and visiting there
PortAventura, Vila-seca, Tarragona, Catalonia (0808 234 3399; portaventura.co.uk). Three days at the four-star Callaghan Hotel costs £500pp, based on four sharing a family room, including park passes but not food.
More information
Register for free to continue reading
Registration is a free and easy way to support our truly independent journalism
By registering, you will also enjoy limited access to Premium articles, exclusive newsletters, commenting, and virtual events with our leading journalists
Already have an account? sign in
Register for free to continue reading
Registration is a free and easy way to support our truly independent journalism
By registering, you will also enjoy limited access to Premium articles, exclusive newsletters, commenting, and virtual events with our leading journalists
Already have an account? sign in
Join our new commenting forum
Join thought-provoking conversations, follow other Independent readers and see their replies