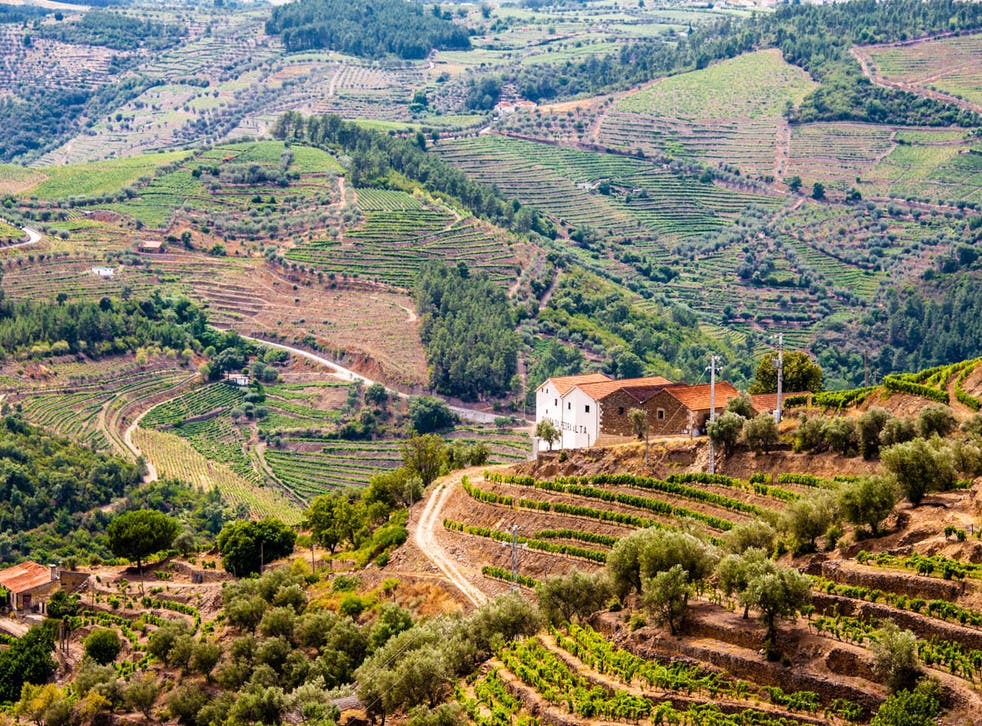 The other Portugal: beyond the Algarve and Lisbon by train
Forget the sunbathers and city-breakers. Time to see another side to the country, on a scenic – and cheap – train journey along its west coast
At Portugal's prestigious Coimbra university, there is a radical history of respecting intellect. In the 18th century, damaging a borrowed book would see the unlucky student punished with solitary confinement in one of the bare, cramped prison cells that still sit under the university library. That is even worse than the withering tut I'm treated to when I submit a late return at my local.
Finished in 1728, Coimbra's Joanina Library is a baroque, underlit temple of literature that remains one of the country's cultural jewels. Its high walls are still lined with frescoes, gilded carvings and about 60,000 academic tomes. When you step inside the dark, woody interior – reportedly patrolled by termite-eating bats each night – the space contrasts vividly with the hot, sun-swamped university courtyard outside. With prior arrangement you can even study some of the priceless old books. Just be careful you don't scuff the covers.
I was in this riverfront city, about half-way down Portugal's west coast, as part of a longer rail tour of the country, tracing a new self-guided Inntravel itinerary that gives two nights apiece in Porto, the Douro Valley, Coimbra, Lisbon and Sintra. A thin strip of a country, being manageable in size, lends Portugal well to multi-centre travel. The hilly old city of Coimbra, where some 20,000 students still ensure the streets are abuzz with cafés and music, formed the mid-way point of my trip. The journey so far had been one of art galleries, riverside views gliding past my carriage window and warm egg tarts. Oh, and plenty of opportunities for port.
"Too many people think of port as a drink for old people," said the barman at the Taylor, Fladgate & Yeatman winery in Porto, handing me a vintage tawny. I'd arrived in the country just a few hours earlier. For the next half-hour I sat on the terrace outside, gazing across the water at the city's high-piled jumble of pastel-coloured houses and, it has to be said, not feeling especially geriatric.
Despite being little more than a two-hour flight away, Porto feels gloriously far-flung. Draped over improbably steep hills, it is full of dipping alleyways, rattling trams and soaring, 50-metre-high bridges. It is a great place for rambling, on-foot exploration. Be careful of the food, though. I was obliged to take a lengthy recess after ordering the local francesinha sandwich: a doorstep of ham, sausage, steak and melted cheese smothered in a spicy tomato and beer sauce.
Many of Porto's older buildings are still clad in glazed blue-and-white azulejo tiles, a design touch introduced during the Moorish era and now synonymous with Portugal. The most striking example I came across was in the entrance hall at Sao Bento railway station, where no less than 20,000 painted tiles covered the walls, depicting scenes of royal gatherings and old-world rural life.
I was at the station for a train east into the Douro Valley, the first of four rail journeys I would be making during the next week. It was a remarkable two-and-a-half hour ride. The line ran alongside the swollen waters of the Rio Douro itself, with huge terraced slopes rearing up on both sides in an ever-unfolding amphitheatre of vineyards and citrus groves. A €10 (£8.30) train ticket buys you a lot in Portugal.
Once in the valley, I spent a couple of nights in the hilltop retreat of Casa do Visconde de Chanceleiros, where alternate periods of warming sunshine and pelting rain saw the scenery vanish and reappear on an almost hourly basis. There was time to wander downhill to a nearby port wine quinta (estate), but aside from this the days drifted by in an agreeable haze of panoramic garden strolls, home-cooked meals and damp umbrellas. My worry before the trip was that fitting five different hotels and destinations into a 10-night itinerary would be exhausting. The Douro Valley provided the downtime.
As to a certain extent did Coimbra, where the railway took me next. The historical university city is no metropolis, and once I had seen the main sights, it was a matter of enjoying the green, town-like feel of what was, prior to handing its duties over to Lisbon in 1255, once the Portuguese capital.
If Porto is Portugal's handsome second city and Coimbra one of its under-visited heritage attractions, Lisbon remains very much at the top of the bill. The traveller-friendly blend of golden-age architecture, low costs and fizzing nightlife has long seen it established as one of Europe's most popular urban breaks. I greedily busied myself with the highlights – an afternoon in the Museu Gulbenkian, a Benfica match, a tram-ride out to the magnificent Jeronimos Monastery – and let serendipity do the rest, wandering in Bica and Bairro Alto and getting waylaid by cafés, live music and craft beer bars. (Is there anywhere left that doesn't have a craft beer scene?)
A quick half-hour rail transfer the next day carried me out to the one-time royal retreat of Sintra, famously noted by Byron as a "glorious Eden". A five-centre trip like this is all about linking places in some sort of logical way, and Sintra's eye-popping assortment of pastel palaces and flowing green hills are as much a part of Portugal's story as Porto's wine lodges, Coimbra's university and Lisbon's colourful melee of streets and slopes.
By the 1700s, Portugal's kings and queens were regularly using Sintra as a resort town to escape the city, and it remains a high-class getaway: nearby Tivoli Palácio de Seteais is now a hotel with the likes of Mel Gibson and Brad Pitt in its guestbook, its gardens full of lemon groves and giving views to the distant Atlantic. The still-standing Palácio Nacional – Portugal's best preserved medieval royal palace – was as extravagant as I had imagined, with painted swans covering the ceilings and two vast white chimneys tapering over the complex like ivory tusks.
So does it work as an itinerary? Yes, I'd say. There aren't many places that suit this kind of travel without the whole thing seeming rushed, but Portugal is one of them. Naturally, the trip left me with a recurrent nightmare about spilling port onto invaluable old library books – but that's a small price to pay.
Travel essentials
Getting there
Ben took the self-guided Cities, Palaces & Wines journey by rail with Inntravel (inntravel.co.uk; 01653 617 000), which costs from £1,160pp based on two sharing, including 10 nights in four- and five-star accommodation on a B&B basis, two dinners, daily city walking notes, Porto-Coimbra-Lisbon by rail, plus wine lodge visit and tasting. Flights are not included. Departures are available any day between 28 March and 31 October.
easyJet, Ryanair, TAP Portugal and British Airways all fly from UK airports to Porto.
More information
Join our new commenting forum
Join thought-provoking conversations, follow other Independent readers and see their replies