Room Service: Serenity and style in the Algarve

Show all 2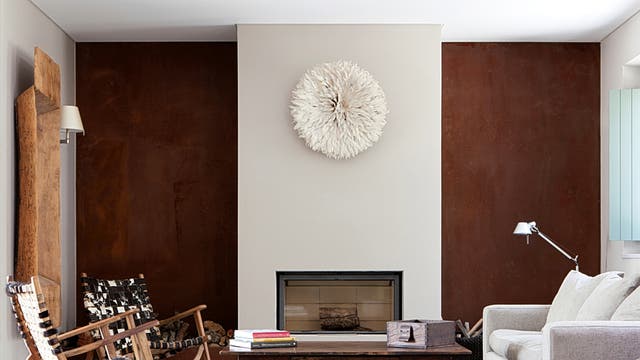 Room Service: Serenity and style in the Algarve
Fazenda Nova, Portugal
Sophie Lam
Friday 19 July 2013 15:53 Comments
"It was going to be a simple, rustic guesthouse – wooden chairs, cotton curtains, whitewashed walls ..." Hallie Robinson told me as I ran my hand over cool polished concrete, coveting every design accent on display: Bamileke feather headdresses, woven cowhide armchairs, framed vintage Portuguese food labels, little antique tin robots and battered straw hats. "But an earthquake changed that," she finished. The seismic event one night in 2010 meant that the early 19th-century farmhouse that she and her husband, Tim, had recently bought (on sandy foundations, it turned out), had to be almost completely rebuilt. It was no longer just a lick-of-paint job – the walls and roofs had to be reconstructed and the family had to move out.
That set in motion a comprehensive restoration that has seen the old farmhouse transformed into a small, stylish country house hotel that opened last September. Fallen shutters were re-purposed as headboards and cupboards, trees were brought back to life as outdoor tables and chairs, terracotta floor tiles were commissioned to match the 1959 originals still intact and flea markets were scoured for quirky treasures. The phrase "labour of love" could be bandied about here, but Hallie and Tim have been fastidious in every detail of the project, from the height of skirting boards to the dining room tables, which were assembled using salvaged wood from Biggin Hill Airport in Kent.
A keen eye for aesthetics isn't surprising, given Hallie's background in fashion PR. The Londoner at first found it hard to uproot to this sleepy corner of Portugal, but childhood summers spent with her parents at their holiday home in the Algarve, and then years later a minor heart attack suffered by Tim meant the decision was made.
However, they haven't come here for a quiet life. Even now the hotel is up and running, Tim and Hallie are unremittingly enthusiastic about the future of Fazenda Nova: bottling their second olive-oil harvest this autumn, then perhaps adding geodesic rooms to the grounds or finding a beach house on one of the nearby islands for guests to use during the summer.
A septuagenarian lady, tending to a luxuriant rosemary bush, waved to us. "Ola Giuliana!" Hallie waved, then explained: "She lived here from the age of six to 54. She was so pleased to find out the house was being restored that she came back; now she helps us with the gardens." She also bakes mean pasteis de nata, which are delivered still warm to the breakfast table. Later in the day the small kitchen, complete with its 200-year-old bread oven, offers a concise menu that might feature battered salt cod and chips, cataplana (a local fish stew) or salad with José sardines.
Tim, Hallie and their three children are now firmly rooted in the Algarve, living in one half of the farmhouse with their four dogs and they make Fazenda Nova feel as much your home as theirs.
Location
The house is half an hour's drive from Faro on an olive grove surrounded by implausibly pretty countryside that will challenge your preconceptions of the hurly-burly of the Algarve. The nearest town is sleepy Moncarapacho, around 10 minutes' drive. The coastal hamlets of Olhao and Fuseta are about 15 minutes south, and the Roman city of Tavira, with its Moorish architecture, is around 20 minutes east. Hallie and Tim are enthusiastic about sharing their love of the rural eastern Algarve – each day Tim would draw us a map directing us to another idyllic spot. Our favourite was Ilha Armona, an unspoilt island that's part of the Ria Formosa nature reserve.
Comfort
There are 10 suites, arranged in the main farmhouse and outbuildings, including two suites with kitchenettes in the old olive press. We were in room 6, which opens on to a private garden with a huge carob tree. The rooms are painted a pale shade of olive, with terracotta brick floors and sleek dark wood furniture created by ex-Lombok designers. Rustic touches include rattan stools, salvaged-wood tables and oversize hide rugs, but that's where the uniformity ends.
As with the rest of the house, each room has its own collection of flea-market finds, vintage posters and antique mirrors, and most have their own garden; one with a marmalade orange and lemon tree, another with the original water cistern re-fashioned as a seating area with a fire pit. There's a cool infinity pool at the heart of the fragrant gardens.
Travel Essentials
Fazenda Nova, Estiramantens, Tavira, Algarve, Portugal (00 351 281 961 913; fazendanova.eu).
Rooms *****
Value *****
Service ****
Doubles start at €155, including breakfast.
Register for free to continue reading
Registration is a free and easy way to support our truly independent journalism
By registering, you will also enjoy limited access to Premium articles, exclusive newsletters, commenting, and virtual events with our leading journalists
Already have an account? sign in
Register for free to continue reading
Registration is a free and easy way to support our truly independent journalism
By registering, you will also enjoy limited access to Premium articles, exclusive newsletters, commenting, and virtual events with our leading journalists
Already have an account? sign in
Join our new commenting forum
Join thought-provoking conversations, follow other Independent readers and see their replies