Schengen: Luxembourg's sleepy town that banished the borders
Free travel was born 30 years ago in Schengen, yet so few people go there, says Andrew Eames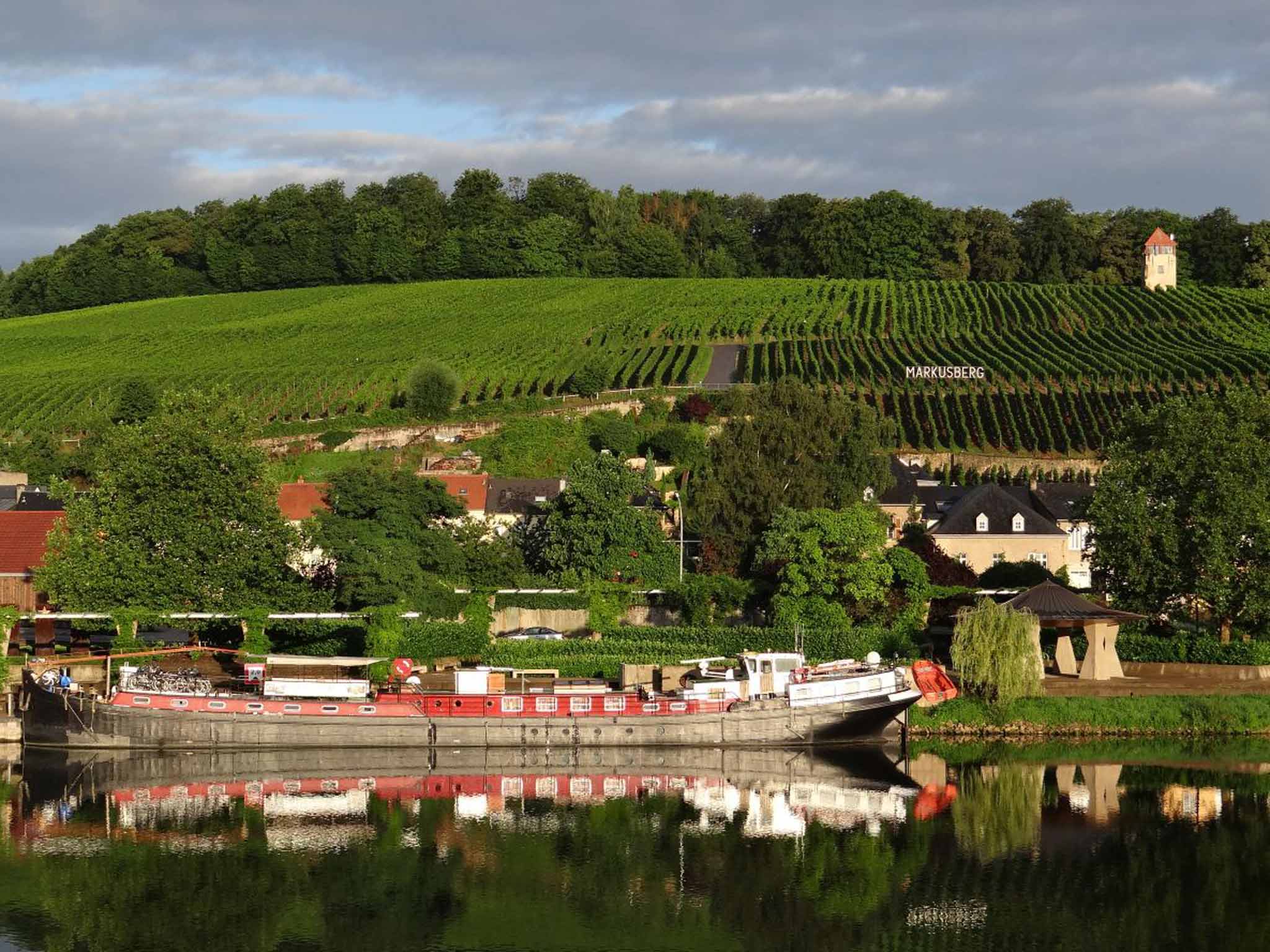 It's a place that everyone has heard of, but very few have seen. A golden triangle at the heart of Europe, sitting on the edge of three countries. A typical slice of picture-postcard Europe: green, vineyard-lined, on the banks of a lazy river, with a bakery, a grocery, a Chinese restaurant, and a 14th-century chateau – plus a discreet, modern-looking museum.
It is undeniably pretty, and uncompromisingly well kept, and yet, in comparison to the worldwide reach of its name, hardly anyone ever goes there. The lovely looking chateau, now a hotel where Victor Hugo once stayed, is up for sale because it can't attract enough custom.
This is Schengen. A village in Luxembourg, but only just. Facing it across the Moselle river is Germany; adjacent, just down-river, is France.
Out in mid-river there's a place where the three countries meet, and 30 years ago tomorrow a treaty was signed here, on a boat, which kick-started the huge (and sometimes controversial) liberation of cross-border European travel. The Schengen Agreement.
Like the signatories, we too slipped into Schengen on a boat – a converted Dutch barge with a French name, Belle Fleur – as the dusk was dusting its riverside vineyards in evening mist. Thirty years ago this kind of surreptitious arrival would have had the border police all over us, but now only the swans marked our appearance, waggling their tail feathers angrily as we forced them to move.
We too were fairly cosmopolitan. There were Dutch, Germans, Australian, and British on board, travelling downriver on one of the many cycle-cruise operations now working the waterways of Europe. Secured on deck was our fleet of bicycles, and the idea was that we would set out on two wheels to explore the river banks and villages each morning, then rendezvous every evening with our floating home, Belle Fleur, complete with hot food and en suite facilities.
Our journey had started two days earlier, up in the German part of the Moselle, where the steep banks were corduroyed with vineyards, and the ledges of riverside land were tessellated with villages. Here we had parked our bikes at a local wine festival, where scrumptious Elbling wine was cheaper than water at just €1 (73p) a glass, and a brass band slaughtered its way through an arrangement of Michael Jackson's "Thriller".
So, now we'd come to the Franco-German concoction that is Luxembourg, and were hotly anticipating one of its most famous places. But as Belle Fleur snuggled up alongside the quay at Schengen, there was no fanfare. No other boats. No police. No customs. For us, it could have been just another riverside mooring were it not for the slice of the Berlin Wall (placed here in 2010 to celebrate a quarter-century of the Agreement) and a significant set of metal stars by the water's edge.
In days gone by, the red tape of three countries would have made a dog's dinner out of the multi-border crossing we were about to do. My Australian companion, for example, would have had to have multiple visas ready to show; now he and I just went for a cycle that took in three countries, in the space of just 10 minutes or so.
As we cycled, we discussed what we'd expected of Schengen. Certainly a big conference hall of some sort, and maybe some eurocrats strutting about in suits. But instead it was a sleepy riverine village sheltered by vineyards. Back at the boat we sat on the deck with a glass of Riesling from the local hills, savouring what was a very still moment in the centre of Europe.
Next morning we all piled into the small European Museum as soon as it opened. Inside, the exhibits charted some of the key dates, and key personalities, behind the agreement, and described how representatives of Germany, France, Belgium, the Netherlands, and Luxembourg had floated out to the middle of the river on the Princesse Marie-Astrid on 14 June 1985, brandishing pens.
And that was all there was to it; Schengen was done, then and now. Belle Fleur's breakfast table was barely cleared, and already we'd seen everything there was to see. Moreover, our mobile home was ready to emulate the Princesse Marie-Astrid, and slip away from the quay. The time had come for us to saddle up for France.
This is when we realised that borders still exist, culturally anyway. Because quite suddenly, and without warning, everything changed. The roads became cracked and bumpy, the villages were brown and fetchingly dilapidated, our fellow cyclists on the towpath became beret-wearing fishermen. Even the vineyards, which are supposedly so French, disappeared, to be replaced by corridors of maize.
Initially it was something of an anti-climax, this place called France, but as we progressed further, we encountered some fascinating former frontiers from different eras. There was Rodemack, a sleepy place of sun-drenched squares, totally encircled by 13th-century walls like a mini Carcassonne.
A few miles later was the Maginot Line, an Angkor Wat of pointless fortifications swallowed up by forest, originally constructed at huge expense in the 1930s to keep the Germans from ever even thinking about stepping over the border as they'd done in the invasion of 1914. Fat lot of good that did. And there was Thionville, a city which in its time had been owned by Luxembourg, Spain, France and Germany, but which today just seemed French.
Through all this our modern-day phalanx of cycle-cruisers progressed blithely on, unhindered by any issues of nationality. By the time we reached our final destination, the city of Nancy, we hadn't had to show our passports once, nor make any hotel bookings, or go searching for restaurants, despite moving through three countries.
La Belle Fleur, and the Schengen Agreement, had taken care of all that.
Getting there
The Belle Fleur goes back and forth between Wasserbillig, in Luxembourg, and Toul, in France (near Nancy) from May till October, with one overnight stop in Schengen. The six-night journey costs €849 (£620)pp, with bicycle hire, breakfast, packed lunch, dinner, and the services of a guide (00 877 462 2423; biketours.com).
Join our commenting forum
Join thought-provoking conversations, follow other Independent readers and see their replies