The Independent's journalism is supported by our readers. When you purchase through links on our site, we may earn commission.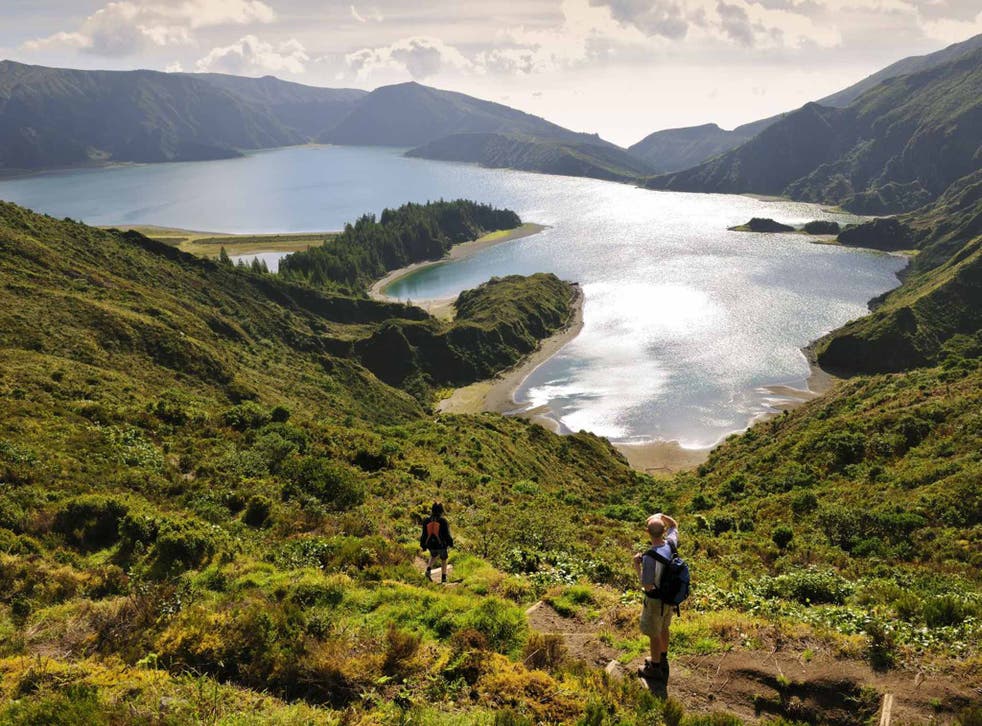 Secrets of the Azores
With new low-cost flights from London, the Atlantic archipelago is getting easier to explore
Abigail Aked
Wednesday 20 May 2015 12:05 Comments
The Azores archipelago comprises nine mysterious, volcanic islands cast away 600 miles from the nearest landmass in the middle of the Atlantic. Most people I told about my trip responded with a puzzled look, while even I had little idea of what to expect.
I was on one of Ryanair's first flights to Ponta Delgada on Sao Miguel, the biggest of the islands. With a mild temperate climate the weather here can be dramatically capricious, adding to the island's charm and mystery - sunny one moment, stormy the next.
It all adds to the verdant scenery though. Well fed cows wander around, grazing happily all over the undulating green landscape, while brown miradouro signs highlight particularly scenic viewpoints. I drove from one to the next, planning my next stop: visiting a hot spring, waterfall or black sand beach. Here are five highlights...
Terra Nostra Botanical Garden
Tucked in the thermal valley of Furnas, Terra Nostra Hotel's simple, white exterior gives no hint of the surprise that lies within its grounds. Founded in 1775 by an American, Terra Nostra Botanical Garden was restored in the 1930s. For a €6 entrance fee, non-guests get access to the avenues of lush flora, hidden grottoes and romantic canals. However the ultimate attraction is the large circular thermal bathing pool with its mineral rich warm water and stunningly tropical surroundings (parqueterranostra.com).
Faial da Terra – Salto do Prego waterfall trail
Following a winding and exceedingly steep path to the charming village of Sanguinho, abandoned in the 1970s and now gradually being restored - you come to a rocky, weathered path. Follow it through dense vegetation, past babbling waterfalls and woods of acacia. The path can be tricky but the rewards become obvious when you reach the waterfall of Salto Do Prego, a thundering flow of water that bursts through the trees and forms an icy-cold pool below. It's a the perfect place for a refreshing dip after working up a sweat. The trail is 4km starting and ending in Faial da Terra, taking approximately two hours to walk (trails.visitazores.com).
Termas Da Ferraria
Just outside the village of Ginetes and beneath a sheer face of dramatic black rock, two springs of volcanic thermal water meet the Atlantic Ocean, offering a place to swim in a small naturally formed inlet. It combines the therapeutic benefits of volcanic water with the white knuckle adventure of big saltwater waves. Due to its location on island's western extremity, there is a great sense of wonder as you look out at the endless horizon. Check the ocean's conditions before your visit, as it is impossible to swim if the water is too rough (termasferraria).
Caloura
This little harbour and pretty fishing village is on the south coast of the island. This charming little cove is encased by a tall cliff on one side and a fortress of large black basalt on the other. Protruding into the centre is a harbour arm, built with bathing and leisure in mind: there a various steps and ropes so you can lower yourself into the water for a swim. There is also a small tidal pool built into the rocks. When tired of sun bathing and swimming you can fill up on the local catch of the day at Bar Caloura, a fish restaurant overlooking the harbour, while watching the sun set into the waves.
A Tasca Restaurant
There is not a great deal to do in Ponta Delgada. At one point, I found myself watching 4,000 mostly American tourists pour from a cruise ship into the port and its surrounding souvenir shops. However, there is at least one reason to spend an evening there - the excellent tapas restaurant A Tasca. The offering includes large portions of utterly delicious food in relaxed surroundings. Fish dishes include seared tuna steak coated in sesame seeds and grilled boca negra rockfish with potatoes and grilled peppers. Wash it down with a bottle of vino verde, the slightly sweet semi-sparkling wine Portuguese wine. As with just about everywhere in Sao Miguel the service was brilliant and the prices reasonable (facebook.com).
Register for free to continue reading
Registration is a free and easy way to support our truly independent journalism
By registering, you will also enjoy limited access to Premium articles, exclusive newsletters, commenting, and virtual events with our leading journalists
Already have an account? sign in
Join our new commenting forum
Join thought-provoking conversations, follow other Independent readers and see their replies