The Independent's journalism is supported by our readers. When you purchase through links on our site, we may earn commission.
Belgrade guide: Where to stay and what to do in Serbia's capital
Here's how to get the most out of a Belgrade city break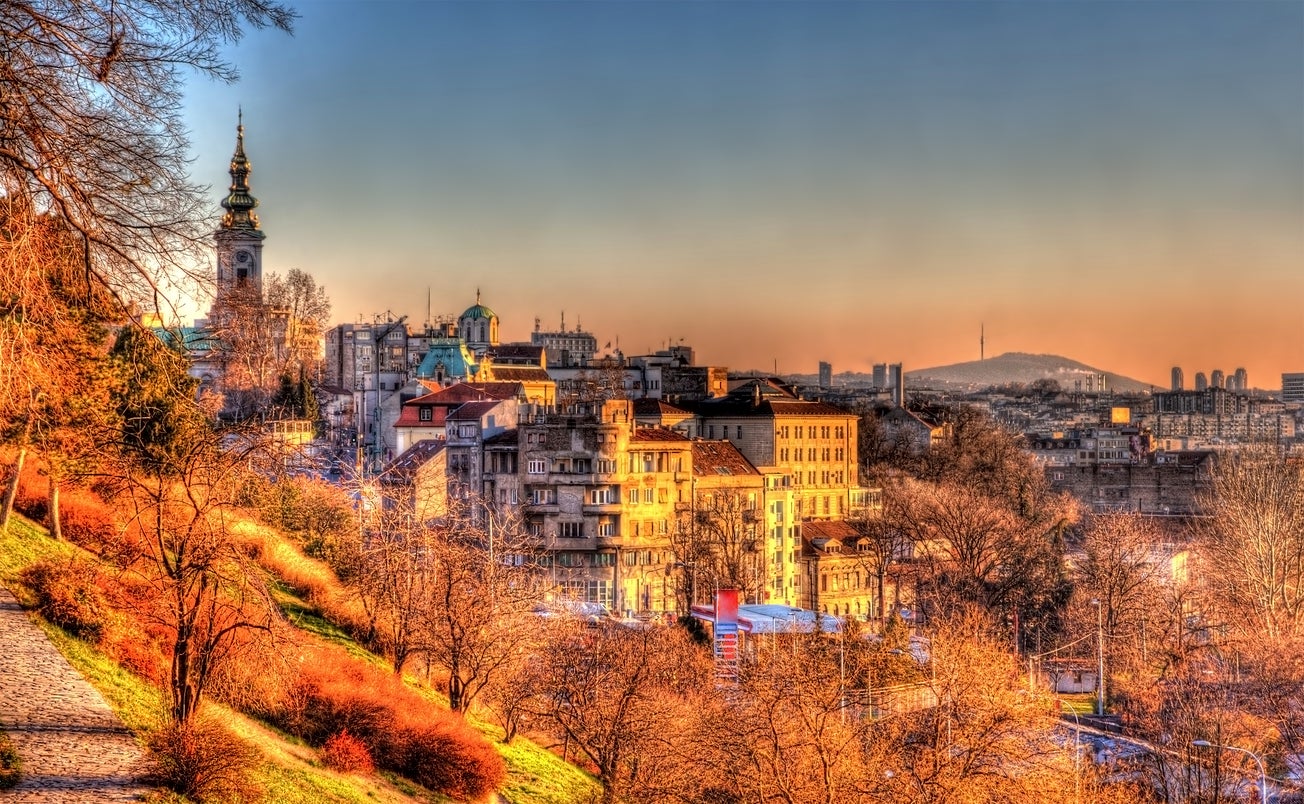 Serbia's capital makes for a worthwhile city break at any time of year, with its unique blend of Ottoman relics, art nouveau architecture, Habsburg influence and, of course, socialist blocks. Despite the old world charm, there's a lot going on, including a vibrant nightlife scene.
What to do
Stari Grad (Old Town)
Start in Knez Mihailova, Belgrade's pedestrianised thoroughfare in the heart of Stari Grad. Its handsome 19th-century buildings are filled with shops and cafés, and buskers and stalls add to the lively atmosphere. Nip down its little lanes to find more café terraces.
Kalemegdan fortress and park
Belgrade's biggest park hugs the confluence of the Danube and Sava rivers. Its shaded paths take you past medieval fortifications, museums, a zoo, gardens, churches and some wonderful views of both rivers.
Savamala
Explore the Sava's newly revamped riverside by the buzzing Savamala district. Lining both the Sava and Danube riverbanks are the floating nightclubs and restaurants – splavovi – that help to give Belgrade its well-deserved reputation for having some of the most raucous nightlife in Eastern Europe. Some, such as Splav Play (playsplav.com), are open all year round.
Museums
After being closed for renovations that dragged on for 10 years, the Museum of Contemporary Art (eng.msub.org.rs) finally reopened in October 2017.
Set in a fabulous modernist building in the park-filled Usce district in New Belgrade, the museum has an extensive collection of Yugoslav modern art from 1900 onwards, including works by Marina Abramovic. Open daily 10am-6pm (open till 8pm on Thursdays and closed Tuesdays); 300 dinars (£2.25) entry.
In Knez Mihailova, look out for the stately entrance to Zepter Museum (zeptermuzej.rs) – another compelling and large collection of Serbian modern and contemporary art. Open 10am-8pm Tuesdays, Wednesdays, Fridays and Sundays and 12-10pm Thursdays and Saturdays; 200 dinars (£1.50) entry.
Where to stay
Belgrade hotels are incredibly affordable in comparison with other European capitals. The new five-star Saint Ten (saintten.com) in a 1929 townhouse in the Vracar district near Sveti Sava has classy, understated rooms and an outstanding restaurant. Doubles from €159, B&B.
Just steps away from the main Republic Square in Stari Grad is the four-star Courtyard Marriott (marriott.co.uk), where standard rooms are on the small side but the location makes up for it. Doubles from €77.50, room only.
There's a touch of the Hamptons in Smokvica's eight rooms (smokvica.rs), set in a 1919 villa in Vracar – all rustic-chic scrubbed wood with marine accents. The colourful garden restaurant serves excellent pan-Mediterranean dishes. Doubles from €39, room only.
Where to eat
The choice of restaurants in Belgrade is mind boggling, with new ones opening all the time. Enso (enso.rs) offers a sophisticated menu featuring foie gras parfait and succulent lamb shanks. Or try the five-course tasting menu with a craft beer for each course; 3,500 dinars (£26). Open daily 1pm-1am.
For old-school Serbian classics, try Kalenic (00381 112 450 666) by Kalenic market, where meat and produce from the market end up on the plate. You'll find a feast of grilled meats, including roast suckling pig and Balkan-style burgers, along with gorgeous delicacies such as slow-cooked calf's head. Infinitely more delicious than it sounds. Open daily 8am-midnight.
Cross the River Sava to the old Austro-Hungarian village of Zemun, now a suburb of Belgrade. Along its Danube waterfront is the funky Supermarket Talas (supermarkettalas.com), which fuses Mediterranean and Serbian flavours. Try the deep-fried whitebait and homemade spicy sausages. Open daily 9-1am.
Where to drink
Belgrade does love its ramshackle garden bars squeezed into all sorts of unlikely places, rather like Budapest's ruin bars. Ljutic (facebook.com/ljuticj), not far from the Botanical Gardens, has the obligatory shabby-chic garden behind an Art Nouveau building.
In the winter, everyone crowds into a cosy vaulted cellar to keep warm. Open 4pm-midnight Sunday to Thursday and 5pm-1am Fridays and Saturdays.
In the attractive Dorcol district, look out for the giant bright animal murals that adorn the front garden of Blaznavac (facebook.com/blaznavac). Try the absurdly cheap cocktails while sitting in one of the most endearingly cluttered and wacky interiors in the city. Open daily 9-1am.
A few steps away from the touristy restaurants and folklore musicians of the 19th-century Skadarlija district is Bar Bajloni and Beyond (bajloni.com). This laidback bar is in old brewery and features live music and a good selection of Serbian wine. Open daily 8.30am-midnight (1am on weekends).
Where to shop
You'll find plenty of international brands in the boutiques along Knez Mihailova. For something more Serbian, walk down nearby Kosancicev venac to Makadam (makadam.rs), a concept store attached to a little bistro. It's full of modern takes on traditional Serbian homeware as well as clothes, jewellery, gifts and wine – all done by small-scale producers and artisans. Open daily 12-6pm; closed Mondays.
Belgrade has many food markets, but the best is south of Stari Grad in the Vracar district. Kalenic market has a dizzying number of stalls selling local produce as well as butchers and fishmongers. Although it's open daily from 6am-8pm (8am-4pm in the winter), it's at its best before lunchtime.
Architectural highlight
The neo-Byzantine dome of Sveti Sava temple, one of the largest Orthodox churches in the world, is visible from most parts of Belgrade. One day the enormous interior will finally be finished.
Belgrade nuts and bolts
What currency do I need?
The currency in Belgrade is the Serbian dinar, roughly 135 to the pound.
What language do they speak?
The language in Belgrade is Serbian.
Should I tip?
Tipping in restaurants is voluntary, and usually about 10 per cent.
What's the time difference?
Belgrade is one hour ahead of the UK and flight times average three hours.
Public transport
Belgrade's Stari Grad is compact enough to explore on foot, although you might want to use the very cheap trams and buses to go further afield.
Best view
Climb to the top of Gardos Tower in Zemun for views of terracotta rooftops, the Danube and Belgrade's Stari Grad in the distance.
Insider tip
When you arrive at the airport, order an official (and reasonably priced) taxi from the desk in the baggage hall and ignore the taxi touts outside.
Join our commenting forum
Join thought-provoking conversations, follow other Independent readers and see their replies