The Independent's journalism is supported by our readers. When you purchase through links on our site, we may earn commission.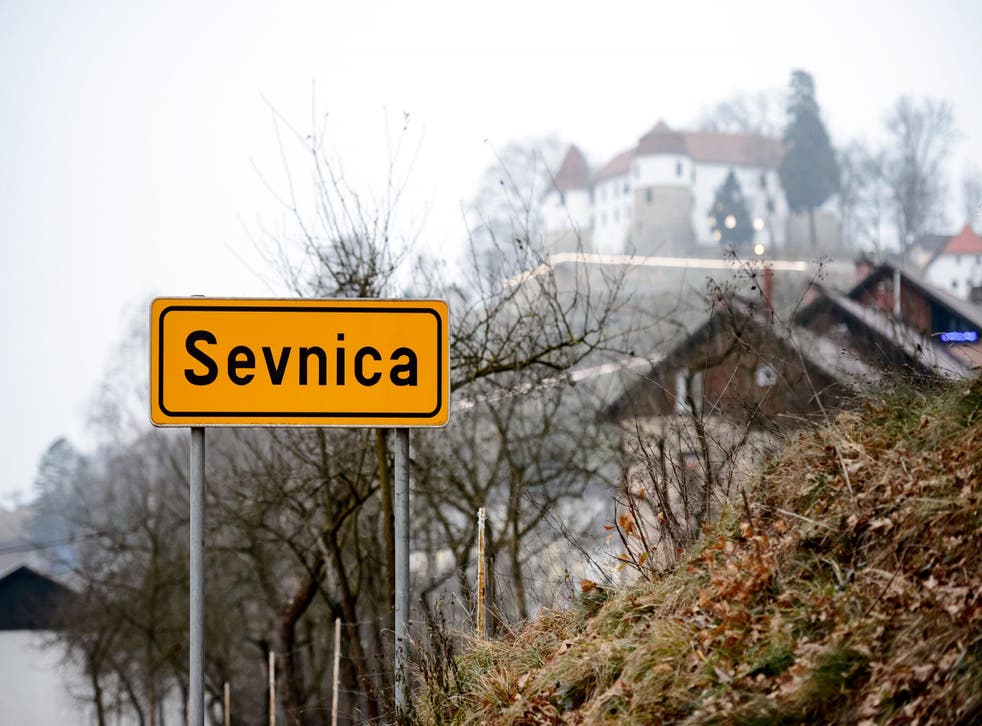 Sevnica: Melania Trump's Slovenian hometown hosts men-only sausage festival and sells US First Lady cakes
Until November, Sevnica was just like any other small town in Slovenia. But when a local girl became First Lady of the United States, a tourist town was born. Nick Redmayne spent the night
It was 10.30pm and Sevnica was slumbering. The town's 5,000-strong population had called it a day; the streets were silent. Only one bar remained open. As I headed in, a sozzled customer made a noisy exit, supported by his girlfriend.
The décor was surprising, a retro homage to Gustav Klimt; the beer was brown and gassy. `'You know this 'First Lady', she is from here," said Gregor, the only other customer, as I sat down. "We had a party for the election, but nobody really cares." He was wrong, though: I cared. I wanted to know how this nondescript Slovenian town had influenced the First Lady of the United States.
Sevnica: Melania Trump's home town

Show all 18
Melanija Knavs, as she was called before she became Melania Trump, grew up in Sevnica when Slovenia was part of Tito's Yugoslavia. Her parents, Viktor and Amalija, were a car dealer and textile factory pattern cutter respectively. Mr and Mrs Knavs still own a house in Sevnica, as it happens; but these days, like their daughter, they live in America.
Gregor was more interested in what was going on in Sevnica the following day: the Salamiada, an annual festival of salami (of which Sevnica produces over 150 kinds). Excitingly, only men are allowed to attend. "Go there," he urged me. "It's near the church. Eat salami, drink much." Later, I would realise that Melania has infiltrated even this bastion of testosterone: this year, a new variety of salami was being debuted. Its name: First Lady.
Sevnica's one hotel was closed. I disturbed a police van loitering in the darkness and followed the railway tracks towards the youth hostel. It was located on the top floor of the secondary school, access via the fire escape. Inside, Valerija and her mum – the school's cleaning lady – showed me a bed.
The morning arrived with bright sunshine and a crescendo of children's chatter. From the fire escape, Valerija pointed out Sevnica's main sights: the twinkling River Sava, Grad Sevnica (a 12th-century castle), the genuinely pretty old town, and the not so pretty new. It may not be the next must do city break but Sevnica has plenty to engage visitors on a day trip from Ljubljana.
"I live in Melanija's old apartment," said Valerija – the First Lady's childhood home. "It's three small bedrooms. Very normal. Are you are going to Salamiada? Women are banned. It's just men. They drink, eat salami, then end up with a striptease in the bar. At least, that's what usually happens."
At Grad Sevnica, manager Rok Petancic met me in the gift shop. Wine and chocolate were arrayed with tea and face cream, resplendent in florid, gold-on-black, 'First Lady' branding. In the next room, a catwalk was being prepared for a fashion show. "It's for the local shoe company," said Rok. "Their new 'White House' line." Fluffy silver slippers were displayed nearby.
"There are 'First Lady' tours now," he went on. "Sometimes it's a little bit bothering. Too many people in a bus to see the house." What do people here think about President Trump, I asked. "We all have our opinion. Melanija is making things happen. It's public relations." Talking of public relations, around town there were no Melania photographs. The First Lady's lawyers, apparently, have instructed businesses to cease commercialising her image or name.
Down in the old town I hooked up with Tanja and Jurij Gruden, who were producing a documentary for Slovenian TV with their crew. "They've just had this thing happen to them," said Tanja about Sevnica. "They didn't ask for it." We drove to Naselje Haroja Maroka, a working class area where Valerija's family now occupies Melania's old apartment.
"They say she always pushed herself," said Tanja. "Always going out, But never part of the crowd." We surveyed the brutal multi-storey Communist-era blocks. "Shall we see where she moved to?" said Jurij.
On a nearby estate of detached villas, one property was marked out by an impressive array of CCTV cameras. The lawn was neatly mown, paintwork freshly done – but the only sign of life was a black cat trotting furtively by. "The family own this but they moved to the US," said Tanja. "They visit sometimes."
Later we called at patisserie Julija, home of the 'Torte Melanija' cake. "I was lying awake after the election result, and thought we must do something," owner Nusa Vidmar told me. "We were surprised. Everybody buys it. The family has tried it and liked it." I asked Nusa whether she had plans for a Donald cake? "Oh no," she said, seriously. "It's about her – her success. She was one of us."
Elsewhere in town at the Kruhek café, we sampled the competition in the form of 'Prva Dama' pies made with local apples, dusted with an icing sugar 'M' and emblazoned with a stars and stripes flag. '"We sell more than fifty a day," said Sergeja Gorenjec, behind the counter. "For this place, that's a lot of pies." I asked whether people were happy for Melania? "Not happy enough," came the reply.
I'd seen the sights of Sevnica and eaten all the pies. There was only one thing left to do. A big bloke controlled the entrance to the Salamiada, gatekeeper to a wonderland of cured pork. He let us in, even the distinctly uncomfortable Tanja. Platters of salami circulated. Short, stout men with sharp knives carved legs of ham. Huddles of grinning butchers were up to their elbows, arms stained red, in raw minced pork and spices.
The elderly Master of Ceremonies read out "A letter from Melanija" describing how flattered she was to have a new salami named after her. I assume it was fake news, but there was no way of telling. Then he launched a competition to guess the weight of a monster salami; 'Melanjika', or Little Melanija', a sausage 6ft long and willowy as a supermodel. Then the band launched full tilt into their first number, accordions and trumpets blaring wildly.
I looked around. Tanja had given up trying to look macho and retreated to the entrance. Amongst a sea of male faces reddened by wine, the only other woman was serving drinks. Powerful male harmonies surged from the beer tent. On the stage, Melanijka hung limply from a mike stand, swinging in time to the beat.
Amongst the crowd I met Srecko Ocvirk, Mayor of Sevnica. I asked him: will Melania make Sevnica great again? He was dismissive. "It's true, she is a hook. But we prefer to build sustainable tourism like walking and biking." He has a point – green Slovenia lends itself to outdoor holidays. I asked whether he remembered Melania. "I never knew her. I know her parents by sight in the street. That's all."
There was a shout behind us – an 'illegal' woman was being expelled from the Salamiada, Sevnica's own mini travel ban. I minded my own business, asked Jurij about his documentary's production schedule. "We want to be quick. We want to be first," he said. "Who knows? She may not be First Lady for long."
Essentials
Getting there
Wizzair has four weekly flights from London Luton to Ljubljana with fares starting at £21.99.
Trains run regularly from Ljubljana to Sevnica, taking around one-and-a-half hours. Standard tickets cost around €9 one way.
Staying there
Sevnica Youth Hostel offers beds from €15 per night.
More information
Register for free to continue reading
Registration is a free and easy way to support our truly independent journalism
By registering, you will also enjoy limited access to Premium articles, exclusive newsletters, commenting, and virtual events with our leading journalists
Already have an account? sign in
Register for free to continue reading
Registration is a free and easy way to support our truly independent journalism
By registering, you will also enjoy limited access to Premium articles, exclusive newsletters, commenting, and virtual events with our leading journalists
Already have an account? sign in
Join our new commenting forum
Join thought-provoking conversations, follow other Independent readers and see their replies