Stay the Night: Pasha!Place, Istanbul, Turkey

Show all 3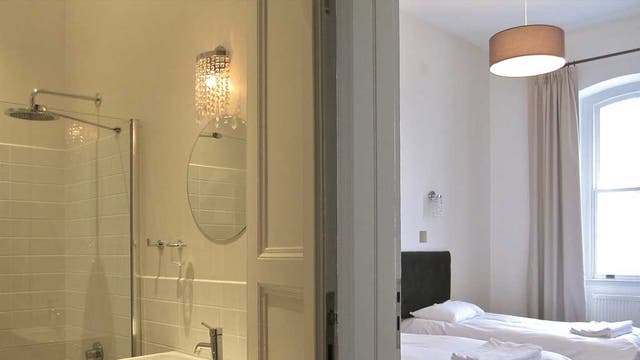 Stay the Night: Pasha!Place, Istanbul, Turkey
Reflecting its location, this 19th-century apartment marries Ottoman heritage with modern flourishes
Arifa Akbar
Saturday 09 June 2012 17:51 Comments
It makes you want to stay in and look at it forever. The dramatic view, that is, which stretches across the skyline as you enter the living room of pasha!place, a renovated late 19th-century apartment building on the European side of Istanbul. It is quite a feat given that you're in the heart of a city whose sights and sounds do all they can to draw you out.
We clamber up the sweeping spiral staircase – my mother climbing breathlessly behind me – to reach the spine-tingling third-floor view, just as the mosques sound their call for sunset prayer. It's a heady concoction of East-meets-West: Ottoman architectural history bristles beside brick-and-cement modernity; fishing boats streak across the Bosphorus; illuminated bridges sparkle against gold-bellied domes and cloud-covered minarets. There's a bottle of complimentary wine waiting at a viewing table by the window to invite us to watch the sun switch off and the city-lights switch on. In our three days in the bohemian district of Beyoglu – the Soho of Istanbul – we see this majestic panorama from many vantage points, but to have it at such close quarters is quite something.
Happily, pasha!place is right in the heart of things and there's lots to tempt you outside. Beyoglu is an up-and-coming area which is earning its name in cutting-edge fashion and design. The building that houses pasha!place is set on a side street surrounded by steep, labyrinthine alleys filled with artsy, music and ceramics stores, and vintage and upmarket fashion boutiques. You're also minutes away from bustling Istiklal Street, a mile-long pedestrianised artery leading to the central throb of Taksim Square.
The Rooms
The period three-bedroom apartment was restored by husband-and-wife business partners, Tarkan Cetindamar and Julia Bayne, who have run the istanbul!place collection for over five years. They have seven 19th-century apartments, each of which has its own original features: a gilded, wooden, oil-painted ceiling in pera!place, and floral frescos in sahkulu!place. "We've tried hard to be sensitive to the building and the original architecture," says Julia. To that end, pasha!place has a boutique hotel's spare white minimalism with all the mod-cons, set against elegant smatterings of antique furniture, original wooden floorboards, high ceilings and original window frames.
Flick through the welcome folder and you'll find personal recommendation cards of restaurants and bars off the beaten track (with maps drawn on the back). Smaller domestic details have been thought out too – there are umbrellas, washing powder and anti-mosquito plugs. The kitchen is immaculate: well-lit, large and luxurious.
Out and About
The 14th-century Galata Tower (00 90 212 293 8180; galatatower.net) – a circular Genoese landmark with a spectacular 360-degree view – is a stone's throw from the apartment. You can sip Turkish coffee in its top-floor restaurant or boogie in its turret nightclub. Five minutes' walk from the apartment is the revamped Galata Mevlevihanesi, a whirling dervish hall (00 90 212 252 0773) while Turkish author Orhan Pamuk's recently-opened Museum of Innocence (masumiyetmuzesi.org) devoted to everyday objects, is 15 minutes' walk away.
Istiklal Street offers a barrage of patisseries, bookshops, cafés, bars, clubs and high-street fashion. A charmingly antiquated tram chugs back and forth along the street.
A visit to the Istanbul Modern (00 90 212 334 7300; istanbulmodern.org) in nearby Karakoy Port is an absorbing way to spend the afternoon. Browse through the Burhan Dogancay urban art retrospective (50 Years of Urban Walls), and an exhibition of Turkish photography from the Ottoman era to the present day (After Yesterday); from its outdoor café-restaurant you can see the Asian side of the city glittering across the water.
Sultanahmet, the historic centre of Istanbul – home to the Blue Mosque, Topkapi Palace and Hagia Sophia – is about 25 minutes' walk from pasha!place, on the south side of the Golden Horn estuary. This is also the location of the magnificently-domed Turkish baths, Cemberlitas Hamam (cemberlitashamami.com.tr) – prepare to be taken in hand by women brandishing a flannel and olive soap for a very memorable spa experience.
Food and Drink
Istiklal Street is a hotch-potch of high-class eateries and average kebab restaurants. Among the most impressive is a glass-encased sixth-floor restaurant, Leb-i-Derya (0090 212 243 4375; lebiderya.com), whose Michelin-star quality dishes include parmesan-encrusted sea bass, spiced steak and scallop ravioli. Opposite, Markiz Patisserie (0090 212 244 9039) serves anything from cheesecake to grilled meat and borek (sweet or savoury stuffed pastries), and is worth a visit for its exquisite, tiled interior. For baklava, head to the Galata Tower, where Galata Kiva (00 90 212 292 9898; galatakivahan.com) serves the sticky-sweet pastries in a cavernous, exposed brick interior.
If pasha!place's views really do keep you inside the apartment, there's a grocery van that comes tooting along the side-streets of Beyoglu most mornings, selling seasonal fruits and vegetables and a great fish market – Balik Pazari – off Istiklal Street.
The Essentials
pasha!place, Serdar-i Ekrem Caddesi 20, Galata–Beyoglu, Istanbul, Turkey (01905 570877; istanbulplace.com). One night's rental starts at €234 (£188) for up to four people. Children welcome.
Register for free to continue reading
Registration is a free and easy way to support our truly independent journalism
By registering, you will also enjoy limited access to Premium articles, exclusive newsletters, commenting, and virtual events with our leading journalists
Already have an account? sign in
Join our new commenting forum
Join thought-provoking conversations, follow other Independent readers and see their replies