Summit special: Mont Blanc by mountain bike
The 'Mont Blanc Three Countries Tour' takes in France, Switzerland and Italy. Chris Moran found it arduous – but his bike found it even tougher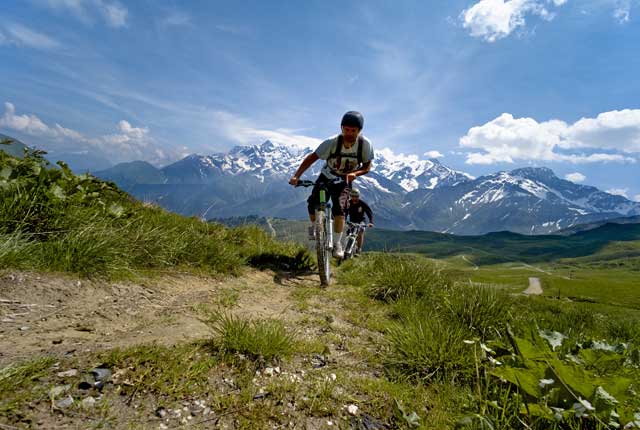 On paper, the figures were meaningless to me. I knew I was about to ride a total of 166km, that the company I'd booked the trip through divided the route into 35km sections over five days, and that it would take us up and over mountain peaks and troughs equalling 9,400 vertical metres of ascent. But I hadn't really worked out what this would amount to in terms of exercise.
That was until I arrived in France and met Phil Hennem, owner of Mont Blanc Mountain Biking Holidays (MBMB) and my guide for the Mont Blanc Three Countries Tour. Phil put it succinctly: "We're about to ride the equivalent of sea level to the top of Ben Nevis and back every day for the next five days," he said, gleefully slapping me on the back. "You ready?" I laughed nervously. I was anything but ready.
In contrast, the 14 other guests looked well up for the challenge. Mark Wilson, 40, from Cumbria, had come to use the week as a training session before taking on the public stage of the Tour de France, and was built like a butcher's whippet. Heulyn Evans, 50, one of a trio of riders from Cardiff, was equally confident. "I know it is going to be hard, but we ride about three times a week at Afan or Cwmcarn. We should be OK."
Our intended route has several names. Most hikers know it as the Tour du Mont Blanc (or "TMB" for short), but Phil sells it as the Three Countries Tour. From the starting point of Chamonix in France, it heads north to Switzerland before looping back into Italy's Courmayeur valley. From there, more mountain passes and secret valleys lead back to Chamonix. Three ski lifts are used as ascent aids (a chairlift and gondola on the way to Switzerland, and a funicular railway on the last day back to France), but otherwise it's pedal power all the way. "I like to think of it as the mountain biking 'Haute Route'," says Phil as we pedal along, referring to one of Europe's best-known ski tours, "but with better food."
As if the sheer length of the trail isn't enough, the technical, off-road riding is equally fearsome, as we discover on the first day when Adam Lee Potter, 40, from London, is stabbed by a wayward branch kicked up by his front wheel. "It's not too bad," he says as the blood trickles through mud on his leg. "I can't feel any muscle damage, anyway."
Adam is part of a five-strong 40th-birthday group. "We've got some good guys on this trip," he says, cleaning the wound with a stream-soaked napkin. "A doctor and a dentist too, if things get nasty." I ride the next section unable to stop imagining a crash that might need both professions. It makes for some uneasy, uphill mind games.
Ah yes – the climbs. They're tough and long. In the late-June heat, I watch sweat drip from my nose with such metronomic precision that I synchronise my pedalling to it. "Rock climbers always say you shouldn't look down," says Johno Verity, 34, my accomplice on the trip. "But I guess for mountain bikers, it should be: 'Don't look uphill'." I agree. A glance upwards sucks the morale from your legs, but we wheeze on regardless.
And what sweet, sweet summits they are. We stop, shake the lactic acid from our bodies, drink water that never tasted better and take in the Alps' finest vistas. Most of the time we're too close to Mont Blanc to get a view of the peak itself, but the empty valleys, lakes and glaciers that fan out from western Europe's highest mountain are a spectacular second best.
After the views comes the best bit, as we enjoy full suspension mountain bike descents. "This is what I've been waiting for," says Adrian Bacon, 38, another of the Cumbria crew, as he zips off in a trail of dust at the top of the Col du Joly. After hours of punishing descent, my poor bike starts to squeak and complain, but I can't wipe the smile from my face.
The trick is to read the terrain ahead and anticipate the drops, roots and rocks. It's hypnotic fun with a mesmerising view over the front wheel – grass, flowers, gurgling streams and deep forest trails to weave and duck through. We see and hear marmots (they whistle), alpine cattle (their cow bells chime) and even the odd chamois – a timid Alpine goat-antelope that makes little noise but is often accompanied by the loud, high-pitched scream of "Look! Chamois!" (mostly by me).
At the Rifugio Monte Bianco – one of our four mountain hostels that serve showers, beds and awesome views – we watch a serac fall from a nearby glacier, a huge tumbling of ice, the slow-motion break-up of which gives a clue to the immense mass contained in the fall. Next to the glacier is the "Devil's Armchair", an enormous chunk of granite that flanks Mont Blanc and can only be seen if you get up to this particular refuge.
Charlie Doherty drives the luggage from hostel to hostel in the MBMB minibus. "They're so funky, these places," he laughs as the Italian hostel owner shouts for her daughters to help serve some beers. "Tomorrow's hostel has even better views over the Lac de Roseland. It's awesome."
"These are the trails you see in magazines and in videos," says MBMB's 27-year-old second guide Fraser McNeil, as we reach the top of the Col de la Seigne at 2,512m. "You never see trails this empty and beautiful on the lifted runs."
"I knew it was going to be hard," pants Cumbrian Pete Wilson, 40, following close behind. "But the views from the top more than make up for it."
It is this that makes the tour so appealing for mountain bikers. While the TMB offers 21st-century comforts and relative safety, it still contains all the ingredients for genuine adventure: a multi-day task with gruelling ascents, few passers-by, sparse phone coverage and difficult terrain. There are superb, dangerous (and potentially dentist- and doctor-requiring) downhill thrills, and the spectacular backdrop of Mont Blanc massif, the embodiment of Alpine history.
On the final day, we descend towards Chamonix town, covered in dust, mud, sweat, and the odd beer stain after a well-earned celebratory stop in Les Houches, just as the heavens open and the only rain cloud of the trip unburdens itself. As giant-sized raindrops explode, I feel a beautiful sense of relief. My back aches, I'm sunburnt – and the least said about the seat area the better. But I feel great. I feel alive.
Shame I can't say the same for my bike. It is creaking and wheezing like a condemned mule. As the rain washes off the mud, oil and tree scrapings (don't ask), I make a solemn vow that if I ever take on the Three Countries Tour again, I'll give it a good service beforehand. Then again, maybe once round is enough for us both.
Travel essentials
Getting there
* The writer travelled to France with SeaFrance (0871 423 7119; seafrance.com ), which operates 14 daily crossings on the Dover-Calais route, starting from £29 each way.
Biking there
* Mont Blanc Mountain Biking Holidays (023 9223 3520; mbmb.co.uk ) is a British-run company based in Chamonix which runs a Three Countries Tour taking in much of the Tour du Mont Blanc, plus some extra mountain biking trails. The five-day trips, run in blocks from early June through to mid-September, cost £575 per person including meals, guiding and mountain refuge stays, but excluding lift passes. The next tours start on 7 August, 21 August, and 4 September 2010.
* Zero G bike shop in Chamonix (00 33 4 50 53 01 01; zerogchx.com ) hires out full-suspension Specialized mountain bikes for €240 per week.
More information
Chamonix Tourism: 00 33 4 50 53 00 24; chamonix.com
Peak paths... the TMB
Using mountain passes and walking trails that were well worn by Roman times, the Tour du Mont Blanc is a signposted pathway that encircles the Mont Blanc massif. The route starts and finishes in Chamonix and crosses the borders of France, Italy and Switzerland. Known to outdoor types as the TMB, it has become one of Europe's "must-do" walking routes, with several climbs up to 2,665m above sea level, and plenty of descents down to 1,000m.
Hikers are advised to leave eight days or more to complete the loop, stopping off at the many mountain refuges and hotels dotted along the pathway. Mountain bikers can do it in five days or less, breaking the tour into manageable rides of between 30-40km per day.
For the truly fit, the route is also home to an ultra-marathon running race organised by Les Trailers du Mont Blanc. The inaugural Ultra Trail du Mont Blanc race was won in 2003 by Dachhiri Dawa Sherpa, a Nepali cross-country skier, who ran the 166 kilometres in 20 hours and five minutes.
Video credit: acmwriting.com
Join our commenting forum
Join thought-provoking conversations, follow other Independent readers and see their replies