Surfing: Silver Coast, golden breaks

Show all 3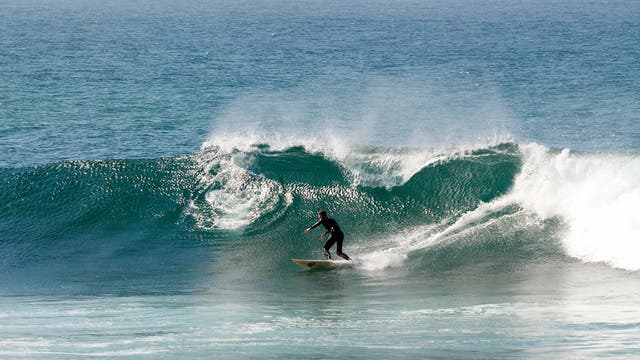 Surfing: Silver Coast, golden breaks
The waves off Ericeira in Portugal are so good they've been designated a World Surf Reserve, so it's time to pack up your board and find out what all the fuss is about
James Stewart
Friday 06 July 2012 12:40 Comments
Ah, the delights of surfing abroad in summer: warm water instead of a Neoprene bodywrap, strong southern European sunshine – and ocean waves that have travelled 3,000 miles solely to dent British bravado. It won't be big, a twentysomething shop assistant assured me when I called into his surf shop. I'd asked about a new swell due on the Silver Coast midway along the Portuguese coastline. Paddle out first thing tomorrow morning, he advised – no crowds, no wind, no problem, not even for a so-so surfer on the wrong side of 40. Well, that was the theory.
In practice, Coxos near Ericeira, an hour's drive west from Lisbon, is demonstrating why it is the celebrity break round here. "Not big" in the currency of Portuguese wave-riding turns out to mean waves that are easily "double overhead" (double the height of your average surfer), and which occasionally spike even higher. In surfers' slang, it is going off. And I, not the bravest of big-wave riders, am slightly going off the whole idea of being there.
A chorus of whoops from the 20 or so surfers strung out behind the point announces another monster wave. It has swung wide and looms as a wall of water, prompting the pack in the take-off zone to scramble over its back for safety. With a stab of panic I realise I am caught inside. The wave detonates on the reef and there's just time to see it unfurl magnificently before my world is obliterated by foam. Thank you and good morning.
For a century or so, holidaymakers came to Ericeira for its cobbled lanes above the harbour and fishermen's houses framed in cobalt blue. However, more and more now visit to surf. Sure, Portuguese families still dawdle over coffee and custard tarts on the lovely town square, but there are also surfers and skatekids at the largest Quiksilver store in Europe.
Glance at a map and you'll understand why. Within sight of the western tip of continental Europe, Ericeira is subject to whatever is hurled at it by the Atlantic. Couple consistency with ideal geology – rivers that sculpt the sandbars on beaches, slabby reefs that jut from cliffs – and you have surf nirvana. There are 22 breaks around Ericeira alone; probably more if the locals ever revealed some secret spots. Whatever your ability, at sometime somewhere, your dream wave will break hereabouts.
Small wonder that, last October, three miles of coast north of Ericeira were formally accredited a World Surf Reserve (WSR) – a sort of World Heritage site of surfing. Dreamt up in 2009 by the Save the Waves Coalition, a global group of surfers, scientists and activists, the scheme was created to safeguard prime surfing coastlines. The idea was that reserve status would inspire communities to recognise the value of surfing coasts rather than festoon them with waterside condos.
Ericeira is the second World Surf Reserve to be accredited after Malibu, California. Its surf culture stems from an older connection to the sea, believes Jorge Cardoso, president of the surf club that applied for reserve status. "People here are used to living by and from the sea. Fishing is no longer our core business, but the sea connection has evolved from that to surfing."
Admittedly, three miles of coastline doesn't sound much. But beneath crumbling cliffs fuzzed with silver agave lie seven world-class breaks which peel in flawless walls given the right alchemy of swell, wind and tide. There are breaks such as Pedra Branca, a kamikaze tube ride that guns across Empa bay at the town's outskirts, or Ribeira d'Ilhas over the next headland. There are powerful shortboard waves such as Coxos and its mirror-image Crazy Left in a scruffy bay that only a surfer could love. And there are mellow longboard waves that peel before beautiful white sands at Sao Lourenco.
This is truly a magical place, said Will Henry, founder of the Save the Waves Coalition that established the reserve scheme to protect important surfing coastlines. "I fell in love with this area when I first came here in the 1980s, and I hope that this designation will provide a great conservation tool to better protect it, as it has at Malibu."
Surprised that a modest Portuguese resort is mentioned in the same breath as a cradle of world surfing? Don't be, says American surfer Nick Uricchio. We meet at Semente Surfboards, the oldest board manufacturer in Ericeira, founded by Nick after he discovered Portugal as a backpacker in 1978. He arrives in a van covered in images of surfers in boardshorts on glassy, flawless waves – the surfing dream. "Ah, the early days," he sighs. "Ericeira was a little fishing village. There was uncrowded surf. It was like the early days of California."
As in California, surf is a serious business in Ericeira nowadays. New surf-themed accommodation springs up each year, and more than 30 surf schools baptise holidaymakers. The Portuguese president himself backed the local surf clubs when they applied for reserve status.
"The reserve is good politically – it's a prestige thing – but it's good for us surfers too," says Nick. "It means we can protect something that is sacred to us. And because it has always been stated that this can also be lost everybody keeps on their toes. Stuff just happens here – buildings just pop up. That won't be so easy any more." Protection is not set down in statute, but given the cachet of reserve status, town planners now consult local surfers before they rubber-stamp new development.
Clean waves wrap around the terrace as I breakfast at Vila Gale hotel the next day. It is a perfect morning; the sunshine warm, the air as crisp and effervescent as champagne. It is the sort of morning on which you would be happy to take a deep breath and sit back with a smile on your face as you plan a leisurely day. A half-hour drive south-east could take me to Sintra, summer stomping ground of Portuguese royalty. Go the same distance again and I could be browsing boutiques in Lisbon.
But no one looks at waves like a surfer.
Thirty minutes later I am pulling on a wetsuit by the beach at Ribeira d'Ilhas. Peeling into a nick in the cliffs, its reef break was the birthplace of surf culture in Ericeira in the mid-Seventies. Last August surfing's elite picked off its long walling rights at the Quiksilver Pro event. Now it's my turn.
I paddle out to the end of the line-up – the bottom of the pile in surfing hierarchy – and wait as one surfer after another picks off waves that break almost mechanically along the reef. Finally a peak approaches; a tiddler by local standards at shoulder-high but mine. I spin the board and paddle hard as the wave steepens. Then I'm up and skimming across a face that unfurls lazily right.
My first ride on a World Surf Reserve wave. Only six more to go.
Getting there
The writer travelled with TAP Portugal (0845 601 0932; flytap.com), which flies from Heathrow or Gatwick to Lisbon from £124 return. Alternatives are BA and easyJet.
Staying there
The Vila Gale hotel in Ericeira has B&B doubles from €65, (00 351 261 869 900; vilagale.pt).
Surfing there
SurfHolidays.com (020-8144 9950; surfholidays.com) offers a week at the Helios Bungalows at Foz do Lizandro for £184pp, based on four sharing (flights extra).
More information
www.visitlisboa.com
worldsurfing reserves.org
Register for free to continue reading
Registration is a free and easy way to support our truly independent journalism
By registering, you will also enjoy limited access to Premium articles, exclusive newsletters, commenting, and virtual events with our leading journalists
Already have an account? sign in
Join our new commenting forum
Join thought-provoking conversations, follow other Independent readers and see their replies