The Independent's journalism is supported by our readers. When you purchase through links on our site, we may earn commission.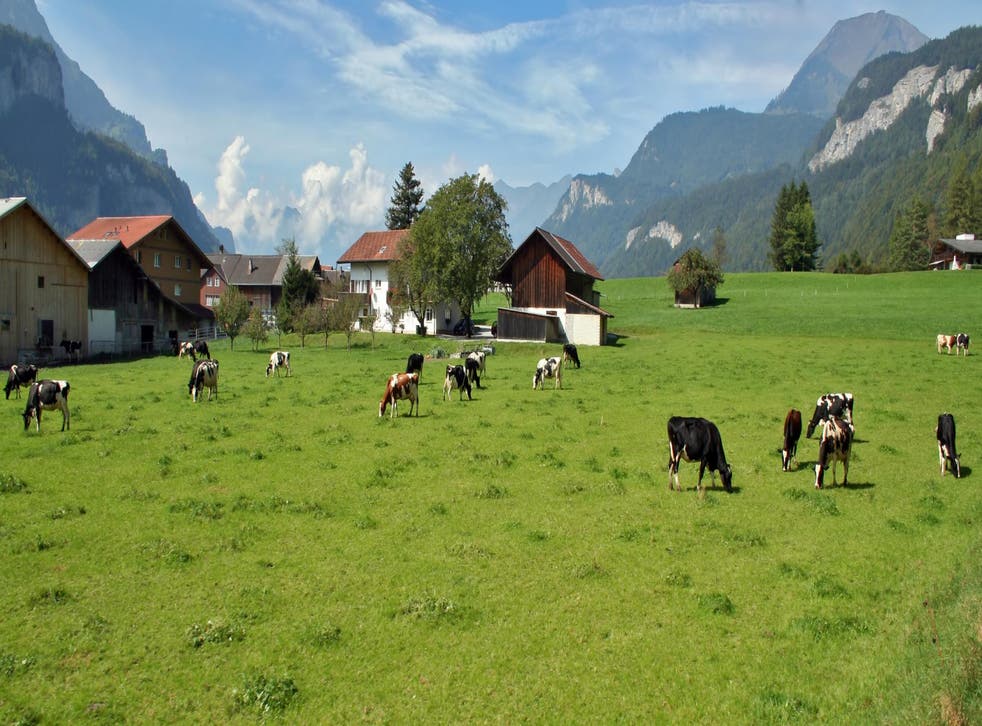 Get a taste for Switzerland around the table of its farmers
Based in the capital city Bern, Andrew Eames sets out to indulge in the nation's regional specialities in the surrounding mountains
Andrew Eames
Tuesday 12 April 2016 11:29 Comments
Is there anything more typically Swiss than a wooden farmstead set in glossy meadowland half-way up a forest-topped hill? Just picture the scene: the distant mountains; the grazing cattle; the huge beams of the old farm barn. The neat log piles and wildflower window boxes.
And, in the foreground, the smiling farmer's wife, wearing a traditional embroidered apron and serving me a dinner that had almost entirely been raised, reared or otherwise cultivated within a yodelay-heehoo of where I am sitting.
The only typically Swiss things that were missing were chocolate and watches, and actually, I had access to those, too. Because despite all appearances to the contrary I'd come out to Switzerland on a city break. That meant I had downtown shopping and a city centre hotel to return to, once I'd done justice to Frau Ramser's homemade ice-cream.
For this unusual mix-and-match weekend I'd chosen to come to Bern, the Swiss capital, both because it is compact and antique, but also because its setting, among fertile, rolling farmland makes it very easy to leave. So by day I could wear out my feet exploring the city's medieval and baroque streets, and in the evenings fill my belly in its glorious surrounding countryside, thanks to a marketing initiative called Swiss Tavolata, which arranges dinners of typical food in rural settings.
But before talking about what I ate, why, where and with who, it is worth spending a moment or two on Bern.
The Swiss capital is far from its biggest city. A population of 158,000 places it fifth, behind Zurich, Geneva, Basel and Lausanne. That's fine by me, because it has no huge suburbs, no traffic jams and no canyons of glass and steel. Much of it is pedestrianised, and more than half the residents don't own cars.
The World Heritage-protected Old district, is a tongue of land in a loop of river where the medieval city originated, and where most of the sandstone buildings still date back to the early 15th century. Immaculate cobbled streets studded with fountains (all proffering drinking water) are lined with boutiques in arcades and little restaurants and bars.
My August visit coincided with the annual Busking Festival, so the streets were full of buskers and puppeteers. There were also lots of food and drink stalls: pulled pork hot dogs and Thai stir fry, but I couldn't find anything Swiss. I ended up having a typical regional dish of Kalbsgeschnetzeltes, sliced veal, with Rösti potatoes, in the Kornhauskeller restaurant. The setting, among soaring painted arches, was fine, and the food good, but it cost me the equivalent of £26 for one dish, and I was in and out within 45 minutes. Not much of a cultural experience.
My first Tavolata was completely different. After a day in town, I took a 20-minute suburban train ride to the village of Wichtracht, to be met by farmer's wife Stephanie Jaberg. Stephanie, with her husband Matthias, runs the family cattle farm Schweikhof, in the Aare river valley south of Bern. Most of their revenue comes from their beef herd, and I got to meet Monty the bull before settling down for a glass of homemade apple juice on the decking overlooking the orchard. There was a bit of time before other guests arrived, so Stephanie explained how she'd heard about Swiss Tavolata while attending "farmer's wife school", which sounded terrifyingly organised. Being energetic, she'd already started baking bread in the farm's old wood-fired oven, and retailing that, plus meat, juice and jam, to passing trade. Hosting Tavolata dinners was a natural extension.
At around 6.30pm, other guests arrived. A wine exporter, a teacher, and Stephanie's farmer husband Matthias, who had been out playing hornussen, a traditional game of farmer tennis which involves lots of running around with big paddles in a field.
We sat down to hors d'oeuvres of Stephanie's own salami, local cheese and handmade biscuits. There followed a ragout made with Matthias' beef, so much tastier for having been grown, prepared and eaten at source. Eventually, after a jolly evening, I made my way back across the fields to the station, nodding a respectful goodbye to Monty the bull.
The following day, once I had finished sightseeing (and river swimming) in town, I hopped on another local train, then changed to an even more local bus, followed by a short walk up a hill to Horbermatt, the Ramsers' typically Swiss farmstead in its rolling setting on the edge of the Gantrisch nature park.
Like Stefanie and Matthias, the Ramsers are cattle farmers, although Philip is also a part-time policeman to make ends meet. I was early, so I was given a tour of the property plus a horse and carriage ride through surrounding woodland.
Dinner was served in the farm's 18th-century grain store, a three-storey wooden building with handpainted scrollwork above the entrance. The menu included an aperitif of Melanie's plum schnapps. A beautifully presented hors d'oeuvre of garden salad with edible flowers, a main dish of organic meatballs and duchesse potatoes, that aforementioned homemade ice-cream, and a table shared with key personnel from Tavolata itself.
We talked of access, and of suitability for tourists. Of how many venues (currently 36), of where and why. And of course of prices. At £71 per head, including wine, Tavolata is not cheap. But if I'd upped my meal at the Kornhauskeller to three courses, with wine, it would probably have ended up being more – and I wouldn't have been able to have seconds. Or been treated like a VIP. On a farm. With Swiss Tavolata, the flavour of Switzerland is more than just in the food.
Travel essentials
Getting there
Andrew Eames travelled with Swiss (0845 601 0956; swiss.com), which operates up to 200 flights a week between the UK and Switzerland. The easiest access to Bern is a flight into Zurich, from £73 one way, and then a 75-minute train ride from the airport to Bern (sbb.ch).
Eating there
For Swiss Tavolata you need to both book and pay in advance (£71 per person with wine, £56 without). Venue descriptions, calendars of availability, typical menus and details such as languages spoken are available on swisstavolata.ch.
More information
Register for free to continue reading
Registration is a free and easy way to support our truly independent journalism
By registering, you will also enjoy limited access to Premium articles, exclusive newsletters, commenting, and virtual events with our leading journalists
Already have an account? sign in
Join our new commenting forum
Join thought-provoking conversations, follow other Independent readers and see their replies