Bern: Where to eat, drink, shop and stay in Switzerland's capital city
How to make the most of your time in this laid-back Swiss city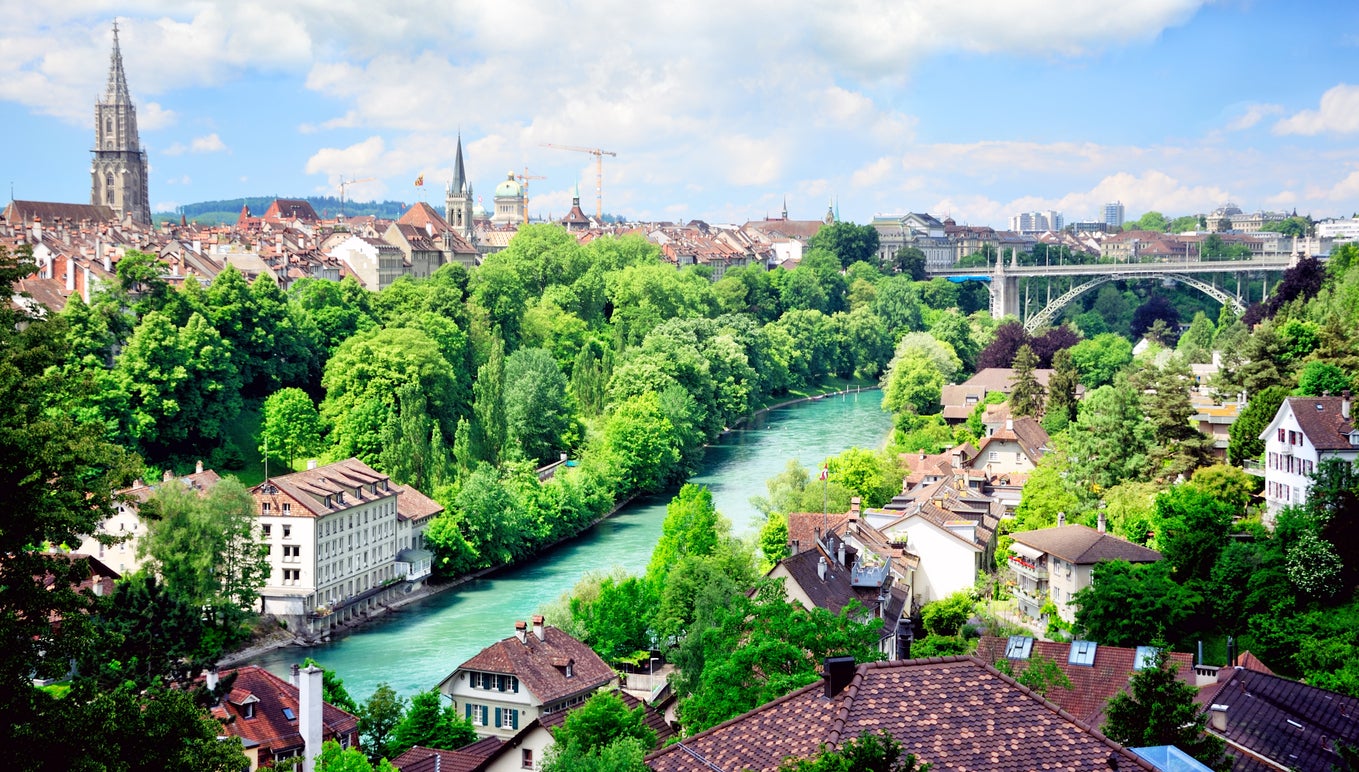 With a beautifully preserved Old Town, a view of the snow-covered Alps, world-class museums, great restaurants offering more than just chocolates and cheese, and a river which invites a leisurely swim, it's no wonder Bernese people have a reputation for being the most relaxed among their countrymen. After all, experiencing these pleasures in full takes time.
What to do in Bern
Take a walk
Thanks to its well-preserved medieval townscape, the Old Town of Bern was declared a Unesco World Heritage Site in 1983. Discover sheltered arcades, narrow streets, well-kept sandstone facades, impressive buildings and the Zytglogge, a medieval tower with a large astronomical clock.
Bear encounter
As legend has it, Bern was named after the first animal the city's founder was able to hunt down in the woods. From 1513, bears have lived in pits around the city and since 2009, several of them are housed more ethically in the BearPark, where they have nearly 6000 square metres of space to explore and play; free entry.
Time is relative
Follow in the footsteps of Albert Einstein who wrote his Theory of Relativity in Bern. The Einstein Museum documents the physicist's life with original memorabilia, written records and film; entry CHF18 (£14). Meanwhile the Einstein Haus is the restored second floor apartment where the Nobel Prize winner lived from 1903 to 1905; entry CHF6 (£5).
Cultural attractions
The Zentrum Paul Klee presents the world's most important collection of works by the Swiss painter who was born just outside Bern in 1879; entry CHF20 (£15). The Museum of Fine Arts Bern became the sole recipient of the Gurlitt estate in 2014, deemed undesirable "degenerate" art by the Nazi regime. A selection from the collection comprising of more than 1,500 artworks are on display for the first time; entry CHF24 (£18).
Where to stay
Located just across the river, the four-star Hotel Allegro Bern charms with sweeping views of the Old Town and distant Bernese Alps from the rooms on the higher floors. Doubles from CHF150 (£113), room only.
Guests have been staying in The Bristol since 1920, though the theme in the stately stone building has now evolved into minimalist-chic after a relaunch in January 2018. Doubles from CHF180 (£136), B&B.
Attracting a varied crowd from backpackers to young families, the small Hotel Landhaus offers basic but comfortable dorms, family rooms and doubles as well as a buzzing ground-floor cafe. Family room from CHF200 (£151), B&B.
The refurbished Youth Hostel Bern will open in late March 2018. Situated in a listed building and with a view of the Aare River loop, the hostel will boast modern design and a garden seating area. Six-bed dorms from CHF35 (£26) per person.
Where to eat
Wartsaal Kaffee Bar in the former working class neighbourhood Lorraine is a local's favourite for brunch. Breakfast choices include "On the go", "Missed the train sweet/salty", or "Hung over". Patrons can borrow books and read them seated in vintage furniture while waiting.
With hearty lunches and locally made beer, Altes Tramdepot attracts young and old. Four to six times a week, the Tram-beer is brewed in the middle of the restaurant, which serves both international and regional dishes.
Dinner at Kornhauskeller, Bern's most luxurious cellar restaurant, is a must. Sitting underneath high sandstone arches and striking ceiling frescoes, focusing on traditional specialities like the Bernese Platter might prove a difficult task.
"Going out means coming home" is the motto at Casa Novo, a family-run tapas bar and vinoteca with a terrace next to the Aare River. The menu of market-fresh, seasonal Mediterranean cuisine is small but excellent.
Where to drink
Whether serving wine by candlelight, local beers or ginger tea in winter, Burgunder Bar close to the Fine Arts Museum Bern trumps with Gemütlichkeit.
A great place for after-work-drinks, Turnhalle is also a venue for cultural productions and performances. The unusual furniture gives a clue as to its origins: Turnhalle is located in a former school gymnasium.
The best coffee is sold at Adriano's Bar & Café, an art deco establishment which roasts its own coffee blend daily. The cappuccino is as good as it gets and the cold brews from roasts cold-pressed overnight are also worth trying.
No matter the season, it's always cool at Abflugbar. Located underground in a vaulted cellar, this cocktail bar serves drinks from around the world in a space that has the air of an airport lounge.
Where to shop
Some 6km of historic arcades make Bern's Old Town one of the longest covered shopping promenades in Europe. The most beautiful boutiques are located in the lower streets.
In the market for something made in Switzerland? Heimatwerk sells products designed and produced by local artisans. Many ceramics, wood carvings, toys, glasses and bags are hand-crafted, unique pieces.
A paradise for collectors of buttons is Bazaar 58 where more than 10,000 of them can be found. The store also stocks jewellery, postcards and other trinkets.
Every Tuesday and Saturday on Bundesplatz and also in Münstergasse a farmers market selling fruit, vegetables and flowers is held in a tradition which goes back more than a century.
Architectural highlight
Zentrum Paul Klee, an extravaganza in steel and glass, by Italian architect Renzo Piano.
Nuts and bolts
What currency do I need?
Swiss Franc; roughly CHF1.30 to the pound.
What language do they speak?
Swiss German.
Should I tip?
Even though a service charge is added into your bill, it's common to reward friendly service with an extra tip.
What's the time difference?
Bern is one hour ahead of the UK (GMT+1).
What's the flight time from the UK?
Flights take around one hour and 45 minutes.
When's best to go?
Every season has its charms but summer is best, with swimming in the Aare River, relaxed meals in outdoor cafes and cultural highlights like the Buskers Street Music Festival (every August).
Public transport
Walk around, or use the Bern Ticket for free travel on public transport (supplied by accommodation providers).
Best view
Across the Aare River loop to the Old Town from the rose garden and Restaurant Rosengarten.
Insider tip
Discover Bern along the Aare River. A stroll makes for great views of the city and passes outdoor cafés, hidden green spaces and trendy public swimming pools (free entry). Stop at Gelateria di Berna for self-made ice cream and don't worry about the queue. Just remember to take it slow in Bern.
Join our commenting forum
Join thought-provoking conversations, follow other Independent readers and see their replies