Thrills and spills in Châtel
This French resort in the Portes du Soleil is enticing visitors with strange new sports, says Mary Novakovich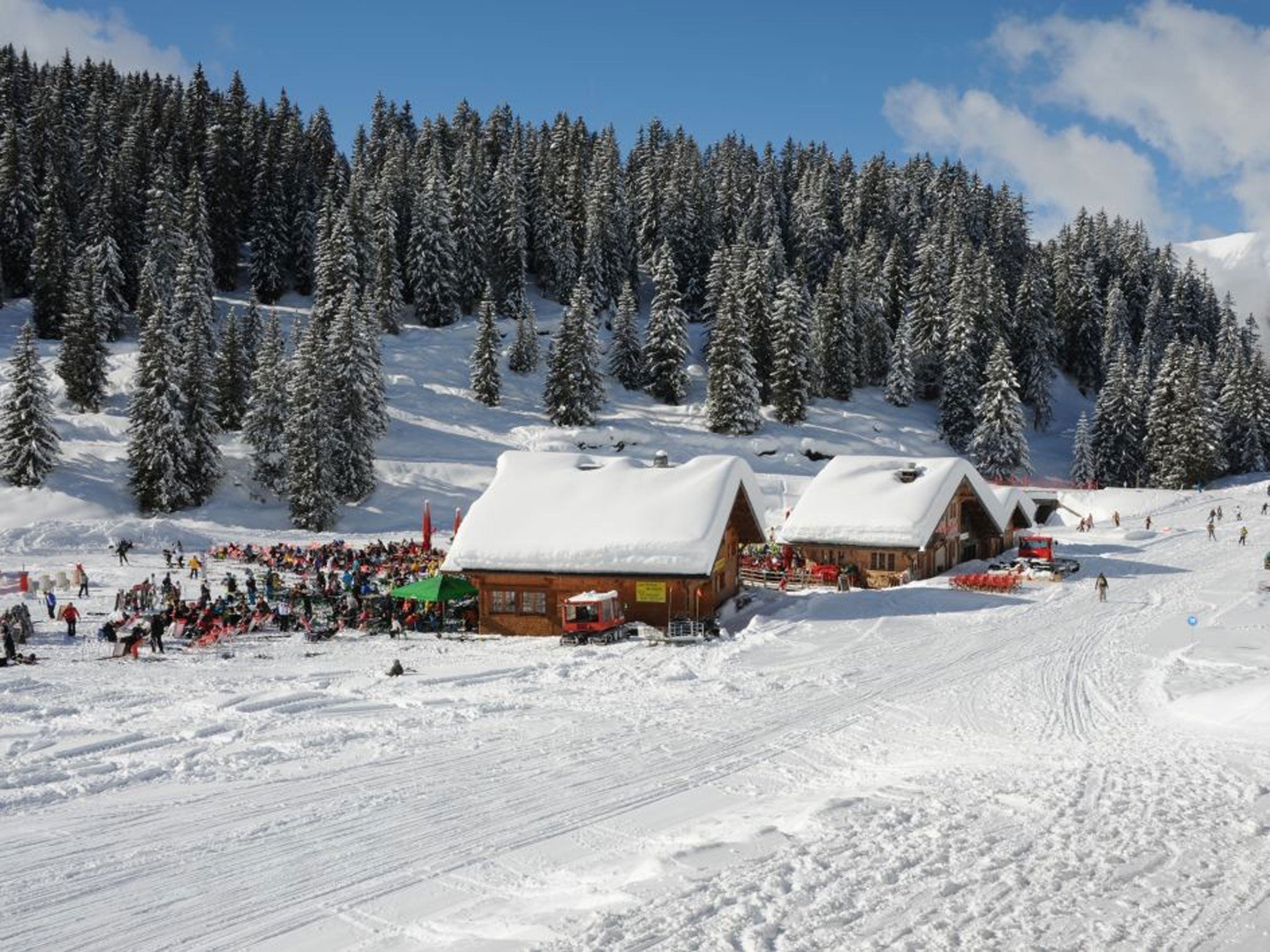 The wind was getting worse as the chairlift lurched its way upwards, the snow hitting my cheeks in tiny spikes. My chairlift companion, under whose helmet and goggles lurked a glamorous Parisian TV presenter, was trying to calm my nerves. Whereas she was excited at the prospect of airboarding for the first time, I was bricking it.
Whose idea was it to hurtle head first down a red run on an inflatable board with no means of braking apart from the knees and feet? Oh, mine. I was in Châtel in France's Portes du Soleil domain, where they've been coming up with more and more ingenious ways of zooming down a mountain. There's snake-glisse, in which small toboggans are attached to each other and you swing down the mountain, with your family or friends in tow, like the flick of a serpent's tail. (The further back you are, the wilder the ride.) Then there's yooning, a throwback to the old-fashioned sledge, but with only one runner, making it that much faster and a little bit more furious.
But the one that gets the extreme-sports fans excited (and frightens those who have only watched it on YouTube) is airboarding, which takes place in the Pré la Joux ski area. Once the skiers have made their final descent of the day, it's time for the airboarders to fling themselves down the 6km run on an inflatable body board less than a metre long.
"Lean left or right to steer," we were told. "And how do we stop?" we asked. "Use your legs. Or just roll off." Which I did, repeatedly, as I tried to plough through the powder, swearing profusely. Snow got everywhere, making me wish for the first and only time in my adult life that I had a one-piece ski suit.
Then something clicked. I found myself flying down the piste without falling off the board, without feeling out of control, my legs up in the air, the swearing turning into yells of delight. Even the bumps that sent me airborne were exhilarating rather than scary. Unlike some snow activities I've tried over the years, this was one I could get used to – I was actively enjoying a sense of speed, rather immediately trying to apply the brakes.
I'd spent the day trying other new things, too. One was a bit on the sedate side (visiting a cheese farm), another was quite a lot faster (dog-sledding). As I was in the Abondance valley near France's eastern border with Switzerland, I could watch abondance cheese being made at Emmanuel and Corinne David's farm, Gaec Barbossine. They make eight large rounds of the nutty comté-like cheese every day without fail. Melted slowly with white wine and garlic, it becomes a sublime dish called berthoud, which I could savour over lunch at Le Clos Savoyard in the nearby village of La Chapelle-d'Abondance.
Before lunch I'd made the acquaintance of six excitable huskies that were desperately keen to take me for a ride in La Chapelle-d'Abondance's large expanse of trails. While their owner, Vincent, did the real work of calling out cryptic commands, I clung on to the back of the sled trying not to lose my footing on the narrow runner.
A fresh snowfall had covered everything in a blanket of white, turning an already enjoyable ride along wide tracks and snow-covered pines into something magical. Every once in a while, Vincent would pause to let the dogs roll about in the snow to cool off, while he cuddled them and gave them loving encouragement. His dedication to his adoring animals was touching to watch.
Dogs, cheese and airboards aside, I was here to do some skiing too. Although the Portes du Soleil domain isn't quite as big as its glitzy Trois Vallées rival, it does allow you to ski easily into Switzerland. After a few hours of pootling about the lovely wide runs at Super Châtel, my ESF guide, Jérôme, and I took the long draglift over the Swiss border towards Morgins. The lunar landscape, nearly completely devoid of trees, was blinding in the bright sunlight. Just beyond the old Swiss customs house (still occasionally in use, said Jérôme) was the terrace at Chalet Neuf, where hot chocolate and sunloungers were waiting. After a couple of cloudy days, the sun on my face was heavenly.
Earlier in the week, I got a glimpse into just how big the Portes du Soleil is, with its 12 resorts and 650km of pistes. Starting at Pré la Joux, I followed the pistes up and over the ridge that separates Châtel from its better-known neighbours Avoriaz and Morzine. A quick dip into the valley from Les Lindarets and back up again and I was looking at the Modernist architecture of Avoriaz. Turning right brought me into Morzine, a village about double the size of Châtel and just as attractive with its traditional Savoyard architecture.
Another set of animals was waiting for me here; this time two horses driven by Christine, who cheerfully held up traffic as she gave me a leisurely tour of the village in her carriage. It was a gentle prelude to the evening's considerably more strenuous activity: night-time sledging. Guided by my head torch, I tried to manoeuvre my sledge along a wooded blue piste while the lights of Morzine started to twinkle below. Maybe I was missing my airboard, but I just couldn't get the hang of the sledge, which seemed to develop a mind of its own. It didn't like to brake in the soft fresh snow and had an annoying way of veering towards the edge of the piste and the deep drop beyond.
Mollified by a superb dinner of prawns and hearty sausages in La Chamade in Morzine, I headed back to Châtel in a taxi to the supremely comfortable Chalets d'Angèle, the newest property in the MGM collection of luxury residences. Here I could stop impersonating a Blue Peter presenter and just wallow in the spa, Jacuzzi and swimming pool. After the thrills and spills of the past few days, an hour-long full-body massage reminded me that life in the mountains doesn't always have to go at full tilt.
Travel Essentials
Getting there
The writer travelled with Peak Retreats (0844 576 0123; peakretreats.co.uk): seven nights' self-catering at Les Chalets d'Angèle starts at £232pp, including Eurotunnel crossing. The nearest airport is Geneva. Magic Transfers (magic-transfers .com) offers transfers to Châtel from £67pp.
Activities there
Sport 2000 (germain sports.sport2000.fr) has seven days' ski hire from €64pp.
Ecole Ski Academy (ecoleskiacademy.com) offers yooning, airboarding and snake-glisse for €20.
Chippewa Loisirs Nature (Chippewa-loisirsnature.com) has dogsled runs for €55pp. Gaec Barbossine offers free farm visits (00 33 6 50 73 27 05; barbossine@orange.fr).
More information
Chatel.com; Portesdusoleil.com; Morzine-avoriaz.com; Savoie-mont-blanc.com
Join our commenting forum
Join thought-provoking conversations, follow other Independent readers and see their replies