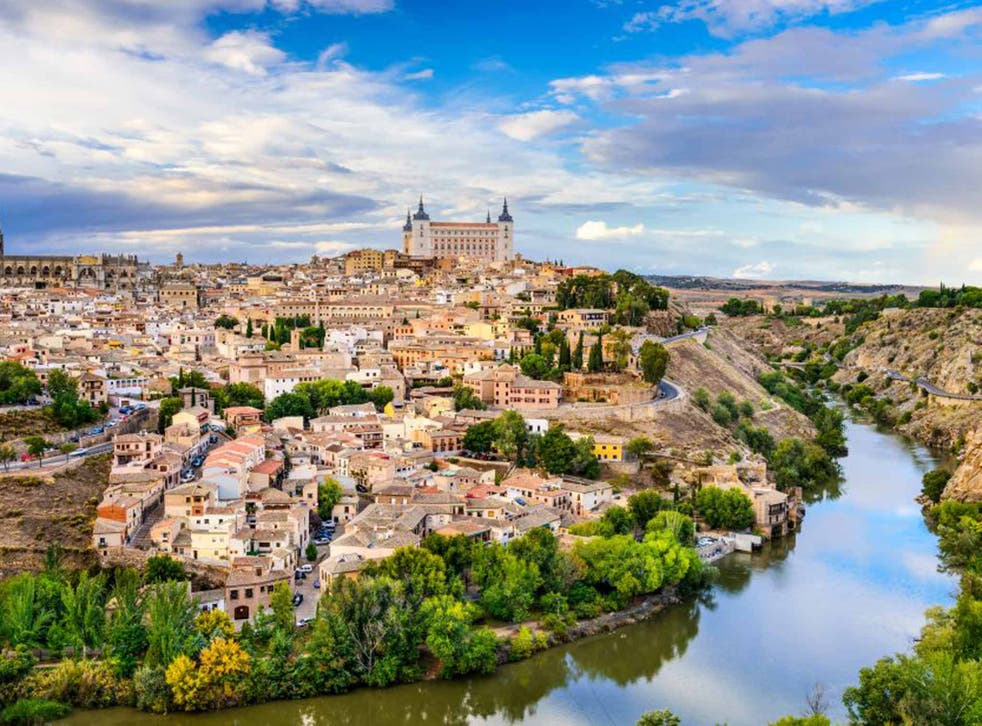 Toledo travel tips: From mosques to gastrobars
Richard Mellor explores the clash of cultures that make Spain's ancient capital so alluring
Richard Mellor
Monday 29 February 2016 10:05 Comments
Not many mosques open onto a Christian chapel. But then not many cities are like Toledo. Three past empires have left their marks in this central Spanish hilltown – and nowhere more so than at the Cristo de la Luz Mosque.
The Moors erected this mezquita (00 34 925 254 191) atop existing Visigoth columns; when the Christians took over, they retained the horseshoe arches while adding an apse. Such real-estate efficiency wouldn't disgrace Grand Designs.
My excellent guide, Almudena Cencerrado, tells me all this before we return to the curling, cobbled alleys. Most places have an old town, but tiny Toledo is all old town: a fairytale havoc of stone buildings crammed high above a hook of the Tagus River.
Almudena and I are out early, and for good reason. A stellar, Unesco-recognised bounty of synagogues, churches, monasteries and museums has made Spain's ancient capital a staple day-trip from its 21st-century replacement, Madrid. During afternoons, and particularly in the spring and autumn peak seasons, Toledo palpably swells with tourists. Selfie sticks and audio guides are everywhere; English is heard more often than Spanish.
The trick is to stay a few nights in town, and visit cultural treasures such as the restored Museo del Greco (00 34 925 223 665; museodelgreco.mcu.es) – full of works by the painter, who spent much of his life in Toledo, plus a recreation of his old house – before everyone else arrives. At 10am, Almudena and I have an Apostle series entirely to ourselves.
Following a long, lazy lunch, we visit the Alcázar castle's rather one-dimensional army museum (00 34 925 238 800; museo.ejercito.es) as Toledo is emptying, reverting to snoozy normal, breathing again.
Almudena leaves me with a host of restaurant recommendations, and handily so: Toledo is Spain's Capital of Gastronomy 2016, the nod honouring a cuisine that employs game, grains, fruit, vegetables and Manchego cheese from the surrounding La Mancha plateau.
New "gastrobars" are already subverting the local small plates and partridge stews, mixing in unusual ingredients and foreign styles, while special Tapas Trails and local-produce markets will launch in April.
Later, I enjoy Toledo's single greatest pleasure: strolling. The city is transformed at night: still and mysterious. Every last lane has interest, be it beautiful mudejar tiles or a feisty alley cat. The cathedral, now hauntingly spotlit, is constantly visible. Its bells ring, softly. Eventually, I end up in Alfileritos 24 (00 34 925 239 625; alfileritos24.com), sipping tempranillo in a former Roman cistern. Only in Toledo...
UNPACK
Open two years, Antidoto (00 34 925 228 851; antidotorooms.com) is a brazen alternative to Toledo's dowdy classical residences. Funky furniture and pop-art spice up its 10 rooms, with the green décor a reference to Toledo's riotous Corpus Christi festival. Doubles from €63, room only.
Prefer something traditional? Located in the Jewish Quarter by Museo el Greco, the four-star Hotel Pintor el Greco (00 34 925 285 191; hotelpintorelgreco.com) has 60 spacious rooms. Doubles from €68, B&B. Prices are cheapest in summer.
THINK LOCAL
Desperate for greenery? You'll only meet locals on the Senda Ecologica, a three-mile footpath opened in 2013. Cool and shady, it provides fine views across the river gorge and birdwatching opportunities – I saw cormorants and rook. Start from the Puente de Alcántara; the final section, through high reeds and past fisherman to Puente San Martín, is the prettiest.
EAT
Daring new gastrobar Nuevo Almacen (00 34 925 283 937; nuevoalmacen.es), opened in industrial-chic digs last May. Stand-outs include milhojas, terrine-like bites of quince, mango, liver paté and cheese, and ox carpaccio.
Across town, Adolfo Muñoz once cooked for the King of Spain. His Restaurante Adolfo (00 34 639 938 140; grupoadolfo.com) looks traditional, but its food is modern: venison chunks with strawberries and puréed apple, or migas, a regional breadcrumb and garlic dish, with paprika ice cream.
DRINK
Avoid the main hub, Plaza de Zocodover, and head instead to the Mercado de San Agustin (00 34 925 215 898; mercadodesanagustin.com), an indoor gourmet-food market which arrived in 2014. For all its seafood and burgers, the most popular draw is a terraced, top-floor cocteleria serving its potions beside street art and a vertical garden.
If Toledo's trendies aren't there, they'll be at the Círculo de Arte (00 34 925 256 653; circuloartetoledo.org), a repurposed church with nightly live music and local Domus dark beer.
SPEND
Another Toledano produce is marzipan, supposedly invented here. Fans of the confectionery are directed to Confitería Santo Tomé (00 34 925 223 763; mazapan.com) for fine examples. For Manchego cheese or meats, try La Encina de Ortega (00 34 925 102 072; laencinadeortega.com). Eat them on a third speciality, Damascene plates made from famously strong steel; try Oroyacero Artesanía (00 34 925 222 236).
DON'T MISS
None of Toledo's sights top the 13th-century gothic Catedral Primada (00 34 925 222 241; catedralprimada.es) for splendour. I admired its rocket-like belltower from across the plaza before exploring the vast interior. Circular stained-glass windows positioned to channel the sun and massive gold reliefs impress, but only the Sacristy earns a full-blown gasp. In this de-facto gallery, Goya, Raphael and Titian are the support acts to an El Greco masterpiece, The Disrobing of Christ.
GETTING THERE
Richard Mellor flew from Heathrow to Madrid with British Airways (0344 493 0787; ba.com; from £97 return), BA also flies from London City. Trains from Madrid's Atocha station to Toledo run hourly or so and take 33 minutes, for €12.90 each way through renfe.com.
STAYING THERE
Kirker Holidays (020 7593 2283; kirkerholidays.com) has three nights' B&B at the Eugenia de Montijo from £568pp, with flights, car hire, guide notes and concierge.
VISITING THERE
Almudena Cencerrado offers three-hour tours from £116, admissions extra (almuzen@hotmail.com).
MORE INFORMATION
Register for free to continue reading
Registration is a free and easy way to support our truly independent journalism
By registering, you will also enjoy limited access to Premium articles, exclusive newsletters, commenting, and virtual events with our leading journalists
Already have an account? sign in
Join our new commenting forum
Join thought-provoking conversations, follow other Independent readers and see their replies