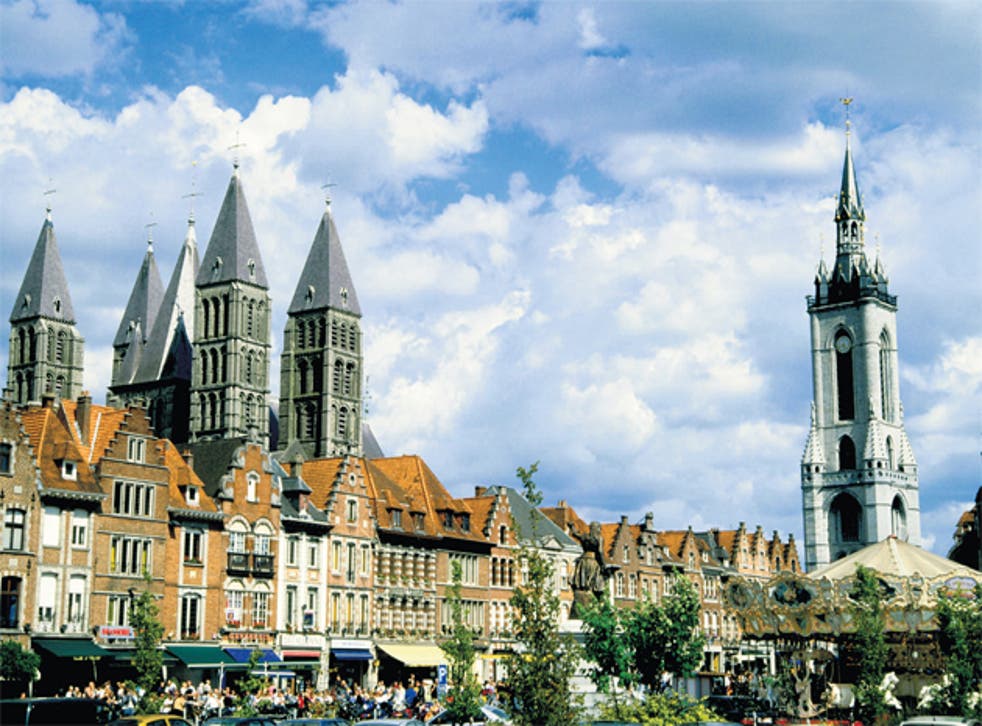 Tournai: Belgium's treasure trove
Wonderful vistas and artworks give Tournai a real charm, says Harriet O'Brien
Saturday 03 September 2011 00:00
Comments
A magnificent triangle
A place of great cultural significance, Tournai developed along the banks of the River Escaut (also known as the Scheldt) which today is still used as a route for cargo transport.
In the course of its long and rich history, this neat little town has been ruled by the Romans, the Franks, the French, the English and the Austrians. During the 15th century it was recognised as one of the great art centres of Europe. In the 19th century it became closely associated with the textile, tanning and printing industries. Although badly damaged during the Second World War, it was beautifully restored during the 1940s and 50s, particularly around its glorious Grand-Place.
This wide plaza is where to begin a visit. The reason for its strange, triangular shape remains a mystery. The most plausible explanation is that the site was at the convergence of two ancient ways where an important Gallo-Roman burial place was established. You'll see some of the town's finest architecture here: the Cloth Hall, with its columned gables; the great church of St Quentin with its rounded turrets and the 17thcentury bailiff's court.
Glorious landmarks
With its five towers piercing the skyline, Tournai's gigantic cathedral is an iconic landmark. Its oldest elements date back to the 12th century, however for hundreds of year it was a work in progress, with a 14th-century porch, 17th-century stained glass and more. Its dimensions alone make it worthy of a visit – although ongoing conservation work may mean that some parts of the church are not accessible.
Step inside (admission is free to the main part of the building) to see the long nave, the glorious transept and, best of all, the treasury which is now a museum (closed Mondays; adults €2). The highlights here are two finely worked reliquaries from the 13th century. Contact the Tournai tourist office (see below) to book a guided tour of the conservation works.
Earn a fabulous view
Adjacent to the cathedral is the 72m-high belfry (see tourist office details below; closed Mondays; adults €2). The earliest such structure here was built in 1217.
After fire damage it was reconstructed in its current form in 1391. It's one of the few bell towers in Belgium in which you can climb almost to the top – if you have the energy. Take the 257 steps to the viewing platform passing an old prison area (the belfry was used as a jail in the 18th century), an exhibition chamber, and a 43 bell-carillon on the way.
Walk along the water
Take a stroll along the newly renovated quayside of the River Escaut. This runs between Pont a Pont, the oldest bridge in Tournai, and Pont des Trous, or "bridge of holes", a magnificent 13th-century water gate perforated with arrow slits – hence the name. In its newly reconditioned form the ancient walkway is dotted with cafés and restaurants, and has a long section shaded by plane trees and lined with benches.
Ancient houses
Head to Rue Barre Saint-Brice to marvel at the oldest houses in town, two Romanesque-style properties built in 1175. Teetering with age, they sport gables and narrow windows supported by stone columns.
Take in two towers
Tournai was briefly a British possession during Henry VIII's reign. It was held by English troops for five years (1513-18), and a citadel was constructed to accommodate these foreign soldiers. Standing tall off Avenue du Rempart in the north of the town, a watchtower with 6m-thick walls remains from this structure. Further south, off Rue Perdue near the Grand- Place, there's another striking piece of military architecture.
The Fort Rouge – so called because of its red roof – was built in the 12th century and was beautifully restored in the 1990s. The interior of this defensive tower now serves as a multimedia theatre.
Art Nouveau wonders
To reflect Tournai's industrial wealth in the early years of the 20th century, a bold museum of art was commissioned in 1913. The Musée des Beaux-Arts (00 32 69 33 24 31; tournai.be/museebeaux-arts; closed Tuesdays; adults €5) stands adjacent to the town hall. Designed by Victor Horta, Belgium's master of Art Nouveau, it is a splendid building that makes a great play of curves, light and space.
The central hall is a captivating area showing classical-style sculpture, wonderfully offset by the addition of pink flying hippo by Tom Frantzen. The permanent collection includes work by Monet, Manet and Van Gogh.
Celebration of stitches
For an insight into the inventive, go-ahead spirit of Tournai, visit the Musée de la Tapisserie et des Arts du Tissu (00 32 69 84 20 73; tournai.be/musee-tapisserie; closed Tuesdays; adults €5) at the neo-classical Place Reine Astrid.
Tapestry making developed into an important craft here in the 14th century, declined 200 years later, and was revived around the time of the Second World War with commissions for Forces murals. This museum offers a pageant of tapestries old and new, setting 15th-century works of kings and knights alongside modern, avant-garde creations.
Contemporary cuisine
Among the new restaurants in town is Le Lacet Bleu (00 32 69 21 56 79; lacetbleu.be) at 18 Rue Dorez. The menu at this stylish establishment offers traditional dishes based on seasonal ingredients and makes a great play of textures and spices with a number of exotic options. The three course set menu costs €35. Along the revived quayside of the River Escaut, Bistro des Traboules (00 32 69 22 80 74) at 33 Quai Notre Dame offers brasserie fare with a twist, like of duck hamburgers with cep capuccino. Expect to pay around €25 for two courses.
Seek a quiet retreat
Hotel d'Alcantara (00 32 69 21 26 48; hotelalcantara.be) at 2 Rue des Bouchers St Jacques is a charming place created from two historic townhouses. It offers 17 rooms (doubles from €97 including breakfast). For a more rural option, head to the village of Willemeau just a few kilometres south of Tournai. La Framboisine (00 32 69 64 87 03; laframboisine.net) at 733 Chaussée de Douai is a chic chambres d'hotes with a big garden and two double rooms (€65 including breakfast).
More information
Tournai Office du Tourisme (00 32 69 22 20 45; tournai.be) is at 14 Vieux Marché aux Poteries; open weekdays 8am to 6pm, weekends 10am to noon and 2pm to 5pm.
Register for free to continue reading
Registration is a free and easy way to support our truly independent journalism
By registering, you will also enjoy limited access to Premium articles, exclusive newsletters, commenting, and virtual events with our leading journalists
Already have an account? sign in
Register for free to continue reading
Registration is a free and easy way to support our truly independent journalism
By registering, you will also enjoy limited access to Premium articles, exclusive newsletters, commenting, and virtual events with our leading journalists
Already have an account? sign in
Join our new commenting forum
Join thought-provoking conversations, follow other Independent readers and see their replies