Traveller's Guide: Calabria

Show all 6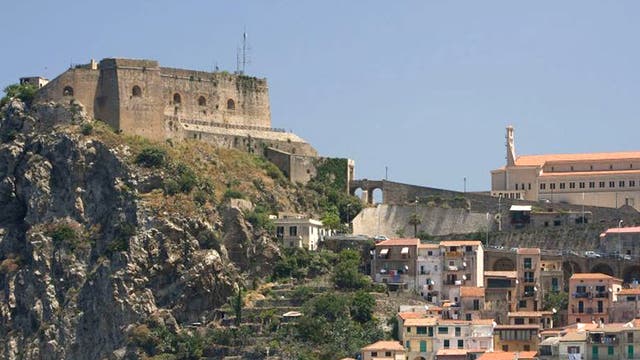 Traveller's Guide: Calabria
Dip a toe into Italy's far south to discover a region of unhurried beauty, dazzling coastlines and mouthwatering local cuisine, says Aoife O'Riordain.
Italy's toe is one of the country's most under-appreciated regions. Bordered by Basilicata to the north and the Mediterranean on three sides, the province of Calabria is a landscape of breathtaking beaches and soaring mountains that form its rocky, rugged heart and account for almost half of its terrain. With about 780km of coastline, you can forget the cheek-by-jowl sun bathing experience common in other Italian seaside resorts.
Set at a crossroads of the Mediterranean, Calabria's landscape and culture have been shaped by several different civilisations. First settled in Paleolithic times, Calabria was an important and strategic fragment of the Greek empire with cities such as Sibari, Crotone, Reggio Calabria and Locri founded in the 8th and 7th centuries BC. The Greeks were followed by the Romans, and after that an array of colonisers took up residence including the Byzantines, Lombards, Normans and later, the French, Spanish and the Kingdom of Naples.
Despite this rich heritage, more recently mass migration has taken its toll on Calabria, with residents moving north – it remains one of Italy's poorest and underdeveloped regions. Its economic woes are not helped by the presence of the powerful organised crime ring, known as the 'Ndrangheta, which is reputedly now more dominant than the Sicilian mafia or the Neapolitan Camorra.
But those who do venture to the heart of Italy's Mezzogiorno (south) are rewarded by a dramatic landscape peppered with almost tourist-free hilltop villages and a spectacular and varied coastline lapped by some fantastically clear water.
Calabria's lowlands are a mosaic of bergamot plantations and lemon groves, while its three impressive national parks, the Aspromonte, Pollino and Sila, offer spectacular isolation on an epic scale. Throughout the summer, Calabria's towns and villages burst into life, hosting an array of festivals and events, such as the sausage festival held in Spilinga in August, where you can tuck into the spicy, soft sausage known as 'nduja.
For visitors, Calabria is a nostalgic window on the simpler, slower pace of life in Italy's seductive south, where days are ruled by the passage of the sun through the cerulean blue skies. It is easy to understand Virgil's epitaph, which includes the phrase Calabri rapuere – Calabria stole me away. But the region's charms can sometimes take a bit of unearthing. While there are plenty of pretty towns and villages, many others have been blemished by unauthorised developments and an apparent lack of town planning. If you expect the picturesque perfection of Tuscany, you may be disappointed.
Calabria remains off the beaten track for only the most ardent British Italophiles, although several UK-based tour operators offer holidays there. Southern Italian specialist Long Travel (01694 722193; long-travel.co.uk) has extended its programme in Calabria and offers a selection of different properties including agriturismos, self-catering accommodation, B&Bs and hotels. A seven-night holiday at the family-owned Costa Azzura near the popular seaside resort of Capo Vaticano starts at £659 per person including flights, half-board accommodation and transfers.
Real Holidays (020-7359 3938; realholidays.co.uk) also offers a small selection of properties in Calabria. At La Conchiglia, for example, you can stay at the hotel or one of its simple, self-catering villas scattered throughout its garden, all with direct access to a powdery white beach near Capo Vaticano. A week in September costs £2,129 for up to four, including flights from Gatwick and car hire. The Italian Connection (01424 728900; www.italian-connection.co.uk) can also arrange holidays and itineraries within Calabria on a variety of different themes and special interests.
For further information about Calabria see www.turiscalabria.it and contact the Italian Tourist Board (020-7408 1254; italia.it).
Call of the wild
Calabria's mountain wilderness has three national parks: the sparsely populated Pollino National Park, (00 39 0973 669 311; parco pollino.it), that crosses into Basilicata; the Sila (00 39 0984 537 109; parcosila.it) close to Catanzaro; and the Aspromonte (00 39 0965 743 060; parco aspromonte.gov.it) in the southern tip. Sila is a sprawling upland with valleys laced by rivers. Don't miss the "Forest of Giants", a collection of larch trees, some more than 350 years old. At the park's heart is the Torre Camigliati (00 39 0984 578 206; torrecamigliati .it), a former hunting lodge with rooms in the old house and converted outbuildings (from €90, B&B).
Where to stay
There are plenty of seaside hotels and self-catering apartments, but a shortage of more charming properties such as the Palazzo del Capo (00 39 0982 956 74; palazzodelcapo.it) on the spectacular Capo Bonifati. The family-owned castle has doubles B&B from €230. Panta Rei (00 39 0963 600 000; hotelpantarei.com), is set amid parasol pines on the coast just north of Tropea. Doubles start at €400, half-board.
Cala di Volpe (00 39 0963 669 222; caladivolpe.it) near Capo Vaticano offers apartments from €350 per week.
Villa La Buntessa (beachvillacalabria.com) is near Capo Spartivento and sleeps 16. Rental from £2,000 per week.
Southern cooking
Calabrian cuisine is deeply rooted in its locale and is a highlight of any visit. Aubergines are omnipresent. Don't miss the chance to sample a Calabrian-style "parmigiana" of layered aubergine, tomato and mozzarella or pecorino. The seaside town of Diamante on the Tyrrhenian coast is renowned for its chillies, festooned from houses to dry in the sun and celebrated in its an annual Peperoncino Festival (peperoncino.org; 5-9 Sept). Chillies are also used in a number of specialities such as 'nduja sausages.
Swordfish or pesce spada is landed all along the coast. In the town of Scilla, some fishermen still use traditional boats called passerelle, with a very tall mast used for spotting the fish. Sample the catch of the day at Alla Pescatora (00 39 0965 754 147; €28 per person) on the seafront.
Tropea-based In Italy Tours (00 39 096 361 952; initalytours.com) offers a range of gourmet-themed day trips and itineraries in Calabria, from €150.
Window on history
Calabria's most celebrated artefacts are the Riace Bronzes, pictured. Scholars are still puzzled how these two 5th century BC Greek statues, discovered in 1972 at Capo Riace, came to be lying off the coast of Calabria. See them at Palazzo Campanella (00 39 0965 880 111; bronzidiriace.org).
Sibari was one of the most significant Greek colonies. Excavations have revealed a huge necropolis (00 39 0965 898 272; archeocalabria.beniculturali.it).
Life's a beach
Beaches are one of Calabria's star attractions. The Tyrrhenian coast's fragrant Riviera dei Cedri, so called thanks to its profusion of citrus trees, has several stand-out beaches and resort towns, such as Praia a Mare. Its neighbouring Isola di Dino is reputedly where Odysseus landed in Homer's epic poem. Further down the coast is the pebble-flecked perfection of Amantea. The resorts of Pizzo, Tropea and Capo Vaticano are three of Calabria's most celebrated seaside resorts. The town of Tropea (prolocotropea.eu) is particularly spellbinding, teetering on a cliff edge. Further south, the Costa Viola is named after the deep hue of its waters .
The Ionian coast is even more unspoilt. A historic Spanish tower guards the northerly reaches of the Capo Rizzuto Marine Park (www.ampcaporiz zuto.it) where you might spot barracudas and dolphins.
Travel Essentials
Getting there
High summer is when Calabria's most popular seaside resorts are packed to capacity and the heat can also be oppressive. June and September offer more tolerable temperatures and fewer people.
Ryanair (0871 246 0000; ryanair.com) flies from Stansted to Lamezia on the west coast. Avro (0871 423 8550; avro.co.uk) also offers a weekly charter flight on Monarch Airlines to Lamezia from Gatwick from May to October. You can also fly with Alitalia (08714 241 424; Alitalia.com) to Reggio Calabria in the far south from Heathrow or Gatwick via Milan or Rome. Another option is to fly to Naples with easyJet (0843 104 5000; easyjet.com) from Bristol, Gatwick or Stansted, or BA (0844 493 0787; ba.com) from Gatwick. From there it's a scenic three- to four-hour train journey down the coast (trenitalia.it).
Most of the larger towns and cities are connected by reliable bus services. To venture inland, car hire is essential.
Click here to view Italian tours and holidays, with Independent Holidays.
Join our new commenting forum
Join thought-provoking conversations, follow other Independent readers and see their replies