Traveller's Guide: French Ardennes

Show all 5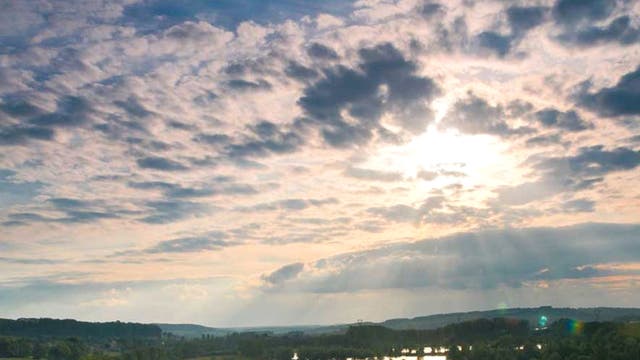 Traveller's Guide: French Ardennes
The autumnal treasures of this wooded region are often overlooked by British visitors. It's time that changed, says Kate Simon
Travel the quiet rural lanes of the French Ardennes and you'll find it hard to believe that this benign landscape of wooded hills, looped by the Meuse and Semoy rivers, has seen so many bloody battles down the centuries. Yet, since Roman times, these borderlands have been a place of conflict, a coveted stronghold on the European continent; the thick forests were once a hiding place for soldiers, the meadows a battleground for the bloodiest wars.
Today, the French Ardennes, the département that rises north-east from the Champagne region up to the Belgian border, wiggling a finger of land into its northern neighbour, is a peaceful backwater, its landscape roamed not by invading armies but visitors in search of a holiday in a beautiful rural setting.
But they don't just come to behold bucolic scenes; this terrain has been shaped over the millennia by the swift-flowing Meuse and Semoy into a natural playground, a place to engage with the great outdoors on land and water, its hills and valleys beckoning kayakers, climbers, hikers, horse-riders and mountain bikers.
The natural assets of the French Ardennes have been formally recognised this year with the award of national park status (00 33 3 24 42 90 57; parc-naturel-ardennes.fr) to a great swathe of its northern countryside. It's a good excuse to make a trip this autumn, something done by too few British holidaymakers despite the region being just a couple of hundred miles from our shores.
Amid the greenery, there are 2,000 years of history to explore, too. The landscape is littered with evidence of empires past, from the Romans to the medieval princes and the German occupation in the Second World War. The remains of a Roman encampment can be found at Vireux-Molhain, dating from the third century. The French Ardennes is also the location of Europe's largest castle fortress at Sedan (00 33 3 24 29 98 80; chateau-fort-sedan.fr; €7.90). Memories of more recent conflicts are recorded at museums such as the Musée de la Bataille Mai-Juin 40 (00 33 3 24 71 23 16; museedesemuy.e-monsite.com; €4) at Semuy, which tells the story of the French and German soldiers who fought in the Ardennes during the Second World War.
The population here is sparse – the main towns of Charleville-Mézières, Sedan, Rethel and Vouziers are called home by barely more than 50,000 souls a piece. Yet there is a quaint network of communities to explore, all blessed with a historic castle, mill or church, and diverting sights in larger towns, such as the region's capital, Charleville-Mézières. Here, two communities on opposite sides of the banks of the Meuse have been united. Explore Mézières' medieval origins at its impressive 15th-century basilica, Notre-Dame d'Espérance (00 33 3 24 55 69 90; free), with its stained-glass windows created in the second half of the 20th century by René Dürrback, a friend of Picasso.
Twenty minutes' walk across the river, the younger community of Charleville reveals its story of 17th-century grand designs in the Place Ducale, a vast square lined with 27 Louis XIII-style pavilions, fashioned after the Place des Vosges in Paris, a delightful display of symmetry.
Stop for a while at one of the cafés that spill out of its graceful arcades; this is just the place to reflect upon the natural and cultural treasures offered by this quietest corner of France.
Natural highs
Take a closer look at France's latest Parc Naturel Régional, to the north of Charleville-Mézières, on the newly completed Trans-Ardennes Greenway (voiesvertes.com). This 80km route follows an old towpath and is open to walkers, cyclists and riders.
Thrills and spills among the treetops are on offer in Fumay at Parc Terraltitude (00 33 3 24 57 57 59; terraltitude.com; from €18 per activity), which has set up a zipwire ride that swoops from 255m above sea level, more than 100m over the river below.
For wildlife fans, eight new cubs have just extended the family of wolves at the Argonne Discovery Park (00 33 3 24 710 738; parc-argonne-decouverte.fr; €10) at Olizy-Primat. Walkers can take in 600km of trails in the Crêtes Préardennaises (bit.ly/Cretes Map), which have been waymarked with scan-able codes. Local tourist offices (00 33 3 24 56 06 08; ardennes.com), offer free maps and guides.
Eat, drink and be merry
The French Ardennes may be but a step away from the vineyards of Champagne, but beer is the real tipple here. Brewing has been making a comeback, with notable breweries including the award-winning Ardwen (00 33 3 24 35 46 50; ardwen.fr; guided tours €3), at Launois-sur-Vence. Sample the brews alongside local dishes in the restaurant. Try the Abbey Tripel Woinic, a pale ale named after Eric Sleziak's giant iron sculpture of a wild boar, the region's symbol, that stands by the A34 outside the town of Rethel.
Auberge de l'Abbaye (00 33 3 24 52 81 27; auberge-de-labbaye.com) in Signy l'Abbaye, champions local produce, rearing and growing meat and vegetables at its own organic farm. Try the carpaccio of beef with basil (€8), from its Blonde d'Aquitaine herd.
Local specialities to tick off your gastronomic list as you tour the Ardennes include boudin blanc, or white sausage, from Rethel, and tarte au sucre, a cake that tastes as sweet as it sounds.
On the warpath
Chart the region's turbulent history along the Fortifications Route, a 180km signposted journey from the Meuse to Chiers valleys that reveals the crucial role of the Ardennes in shaping world affairs over the past 2,000 years.
The main attraction is the fortress at Sedan, one of the largest in Europe, a leaky hulk of limestone that has seen off every marauding would-be invader since the Middle Ages. A new audio trail (€3) guides visitors around the fort's seven levels.
Don't miss Rocroi, the star-shaped town whose fortifications date back to the time of Henry II. Walk the grassy pentagon of bastions built to protect the community from attack.
Poets and puppets
The Ardennes was the birthplace of Arthur Rimbaud. The 19th-century poet wrote many of his works in his home town of Charleville-Mézières before abandoning writing at the age of 20 to roam the world, until his death at just 37 in 1891. He is celebrated at the Musée Rimbaud (00 33 3 24 32 44 65; rimbaud-arthur.fr; €4), in an old watermill, opposite the house where he was born.
Charleville-Mézières is also the venue for the world's premier marionette festival. What started as a small gathering of puppeteers from the Low Countries in 1961 has grown into a showcase for more than 600 artists from around the world. The Festival Mondial des Théâtres de Marionnettes (00 33 3 24 59 94 94; festival-marion nette.com) is held every two years: the next takes place in September 2013, with a smaller festival held on alternative years, this year from 20-23 September.
Seek out the Grand Puppeteer Clock on the façade of the Institut International de la Marionnette, 7 Place Winston Churchill. It enacts episodes from a local legend on the hour daily, 10am to 9pm.
Where to stay
Le Domaine Château du Faucon (00 33 3 24 41 87 83; domaine-chateaufaucon.com) at Donchery has just undergone a major refurbishment. Set in a 17th-century mansion amid parkland and woods, its grand façade, with its crenellated towers, is impressive. There's a fine restaurant and an equestrian centre. Doubles from €85, room only.
Two B&Bs in the area include Gîte du Domaine de l'Aviette (hebergement-givet.com) near Rancennes, with double rooms €65 from and a cottage; and Le Clos Belle Rose in Haybes (00 33 6 30 48 44 51; le-clos-belle-rose.com), from €75 per room.
Luxury camping options include La Fosse aux Chevaux (00 33 3 24 53 27 76; lafosseauxchevaux.com), at Eteignières, from €85 per night, and tree houses at Le Chêne Perché (00 33 3 24 53 35 62; lecheneperche.com), near Signy l'Abbaye, from €95 per night.
Travel essentials
Getting there and around
The writer travelled as a guest of Tourisme des Ardennes (ardennes.com) and stayed at Le Domaine Château du Faucon. (See "Where to Stay"). She travelled courtesy of Railbookers (020-3327 0869; railbookers.com), which has two nights' B&B in Charleville-Mézières at the Best Western Premier Le Dormeur du Val, from £269 pp, including train travel.
By train, the fastest journey is from London St Pancras to Lille, then to Charleville-Mézières. These trains are infrequent, so at other times take the Eurostar (08432 186 186; eurostar.com) via Paris.
The nearest airport is Charleroi in Belgium, served from Manchester by Ryanair (0871 246 0000; ryanair.com).
Public transport is limited. For train information contact TER Champagne-Ardennes (00 33 0891 671 008; ter-sncf.com); for buses contact TEC (infotec.be). Bike hire is available in Charleville-Mézières from Cyclarden (00 33 3 24 33 38 50; cyclarden.com) for €17 per day.
Click here to view French tours and breaks, with Independent Holidays.
Join our new commenting forum
Join thought-provoking conversations, follow other Independent readers and see their replies