Traveller's Guide: Menorca

Show all 4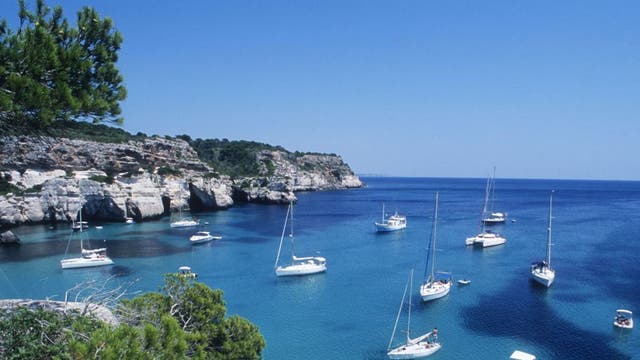 Traveller's Guide: Menorca
Spain's easternmost island entices with culture, nature and fine cuisine, especially in summer, says Simon Calder
Simon Calder
Friday 26 July 2013 17:17 Comments
Spain is full of great locations for sunset, but for the nation's original and greatest sunrise there's only one place to be: the Balearic island of Menorca. This unspoilt isle is the size of Anglesey and one-fifth the size of its big sister, Mallorca.
Dawn today will reach the rocks on the eastern shore at 6.36am – a good 45 minutes before the westernmost parts of the country. Sunlight ripples across the island to reveal a spectacular shore, gentle meadows and pretty villages.
To get your bearings, visit El Toro – Menorca's highest point, more than 1,000ft above the Mediterranean. From here, you can see right around this attractive arc of land, 10 miles across at its widest and 35 miles long. It is green and glorious and has a small and attractive city at either end. Mahón (Maó in the local dialect), the island's capital, is in the far east. It drapes itself prettily across the hills then crumbles down to a magnificent harbour. An excellent way to survey the city is to take an hour-long boat trip; they depart from the quayside hourly during the day (00 34 971 350 778; rutasmaritimasdelacruz.com; €11).
Back on dry land, you can wander up to the appealing jumble of old lanes, modern shops, bars and restaurants in the city centre. The cloisters of an old monastery, Claustre del Carme, have been reinvented as the municipal market (8am-9pm daily, except Sunday). You can learn more about the city – and the 4,500-year history of man's occupation of the island – at Mahón's Museo de Menorca (bit.ly/MenMus), also in an old convent. Between April and October, it opens from 10am to 2pm and 6pm to 9pm daily, except Sunday evening and all day Monday (mornings only in winter).
At the western end of the island stands Ciutadella, which is similarly well located on a fabulous natural harbour. Many visitors believe it is even more attractive than Mahón. Ciutadella bears the imprint of all the peoples who have passed through over millennia – Phoenicians, Carthaginians, Romans, Moors, Spanish, British, French and, finally, the tourists.
The ancient streets straggle prettily through the old town which, at its heart, has the handsome 14th-century cathedral. Gravity and appetite tend to take you back to the waterside, which is lined by bars and restaurants.
Superb coastline wraps around the rest of the island. It's tricky to count the many beaches along Menorca's seductive shore – but a good guess is one for every day of summer. They have been well looked after, with none of the excessive development that scars some other Mediterranean islands.
You will search in vain for mass-market developments. While the big tour operators have busy programmes to Menorca, they tend to use small, family-run properties. For example, Thomson (0871 231 4691; thomson.co.uk) is selling a week's half-board at the Hotel Xuroy at Cala Alcaufar, south of Mahón, for £675 per person based on two adults or a family of four travelling together; this price applies for flights from Doncaster on 16 August, but other dates and departure points are available at similar prices.
Thomas Cook (0844 879 8400; thomascook .com) has a self-catering week at the Tirant Playa Aparthotel on Playa De Fornells, on the north coast, departing Manchester with Monarch on Tuesday 30 July for £512 per person.
At the other end of the island, easyJet Holidays (0843 104 1000; easyjetholidays.com) has a comfortable self-catering room for two at the Los Lentiscos apartments near Ciutadella for £607 per person, departing from Gatwick on 6 August. All prices include transfers and at least 15kg baggage per person.
Family options, besides paddling from the tranquil beaches, are fairly modest; the closest you will find to a "fun park" is Castillo Menorca, just off the island's main highway, ME1. It includes a water park, go-karting and a shopping centre (castillomenorca.com; 10am-7pm daily except Sunday).
Partly because of Menorca's good husbandry, it is recognised by Unesco as one of 400 Biosphere Reserves around the world – which means that the rich natural resources and cultural heritage are conserved for future generations.
Since Menorca is the first place to see the sunrise, it's also the first place where you can legitimately sip a sundowner. Choose your favourite spot beside the harbour in Ciutadella, Mahón or the harbourside village of Es Castell (for example, at the Hobbit-hole like Chespir, 00 34 971 363 841). Let the scents of a warm day waft past on the breeze and enjoy a mañana moment as you plan your adventures for the next day. But if you prefer to dream in advance, call the helpful tourist people on: 00 34 902 929 015 or visit menorca.es.
Water world
The best beaches, at least in August, are those are accessible only on foot: Cala Macarella and Cala Macaralleta (pictured), on the south coast, repay the half-mile hike from the car park. But even Sa Caleta, the closest the island gets to a big resort, is hardly overwhelming.
If you want to be alone with the water, go north-east. Menorca's excellent natural preservation was recognised 20 years ago by Unesco, which designated it as a Biosphere Reserve. The centrepiece is the lagoon of S'Albufera des Grau. A network of paths leads you through the natural park, full of scampering lizards, birds and flora from tenacious shrubs to wild olive trees. Delve deep into the reserve for a sense of raw wilderness and coastline that is off-limits to most visitors.
The Bay of Fornells has a range of sailing and windsurfing to make the most of steady sea breezes. Wind Fornells Sailing & Windsurfing Centre (00 34 664 335 801; windfornells.com/en) runs three two-hour windsurfing courses a day in August, with at least two (€159) recommended for learning the basics.
Ancient and Georgian
Menorca is one of the finest locations for Bronze Age settlements, symbolised by the giant taula – pillars of stone topped by a horizontal block to form a T-shape. You'll find one just a mile south of Mahón.
A few miles from Ciutadella is the oldest roofed building in Europe, the Naveta des Tudons (pictured) – built more than 3,000 years ago in the shape of an upturned boat. The construction is remarkable, using carefully matched stones without cement. These monuments are looked after by Xarxa Menorca Monumental.
The British were lured by the natural harbour of Mahón and in 1708 the Royal Navy took control for nearly a century. The best place to explore their lives and legacy is Fort Marlborough (00 34 971 360 362; 10am-1pm and 5pm-8pm, closed Sunday afternoons and Monday).
Open circuit
Even in August, there's sufficient shade in Menorca for activity. The ancient Camí de Cavalls bridle path runs around the island and is well-signposted (at least for a Spanish path). You can cover it on horseback, on a bike or on foot (cami decavalls360.com).
The "Path of the Horses", as the name translates, is sprinkled with interest: a gate made from the olive trees that grow wild across Menorca is just one example of the way the track has been developed for sustainable tourism.
You can spend two hours beach-hopping or two weeks hiking on the island. Inntravel (01653 617001; inntravel.co.uk) has a three-night "Taste of the Mediterranean" self-guided walk for a range of dates through the summer and autumn. The departure on 22 September should find the island at its finest. The price of £295 includes accommodation in Alcaufar Vell, car rental, breakfast and route maps; flights extra.
Food & drink
The island has a feast of specialities, starting with sobrasada – a pork sausage seasoned with paprika. Sample it in the rustic surrounds of Sa Parareta d'en Doro (00 971 150 353; sapareretadendoro.com), south of Mahón.
The Café Balear in Ciutadella (00 971 38 00 05; cafe-balear.com), has arroz caldoso – the richest rice soup with seafood you'll ever eat.
And to drink? The gin distillery, Xoriguer (xoriguer.co.uk) on Mahón's harbour, makes alcohol from wine, infused with herbs.
Where to stay
Besides good-value seaside hotels and apartments, Menorca has some exceptional sites inland. Son Granot is a Georgian treasure close to Mahón harbour – one of the first creations of the British occupation (00 34 971 355 555; songranot.com). Some rooms are in the original house, others in elegantly converted farm buildings. A room-only double in August costs €255, but by September the rate falls to €185 – and to €124 in November.
The year's big opening is the Torralbenc (pictured), a magically transformed farm surrounded by vineyards outside Alaior near the southern shore at Cala en Porter (00 34 971 377 211; torralbenc .com). Summer rates start at around €248, excluding breakfast.
Ciutadella has a good youth hostel – Alberg Juvenil Sa Vinyeta – with berths in four- or six-bed rooms for €18 in summer, including buffet breakfast (00 34 971 365 073).
Travel essentials
Monarch (0871 940 5040; monarch.co .uk) is the only year-round airline, with a weekly service from Gatwick right through the winter. In summer, services are much more frequent and available from many more airports.
Monarch also links Birmingham, Gatwick and Leeds/Bradford. The main competing scheduled operators are British Airways (0844 493 0787; ba.com) from London City, easyJet (0843 104 5000; easyjet.com) from Bristol, Gatwick, Liverpool and Luton; Jet2 (0871 226 1737; jet2.com) from Belfast, East Midlands, Edinburgh, Glasgow, Leeds/Bradford and Manchester; and Ryanair (0871 246 0000; ryanair.com) from East Midlands.
Charter flights are available as part of a package or as seat-only – Thomson and Thomas Cook are the main operators.
All flights serve the airport three miles south-west of the centre of Mahón. Bus No 10 runs every half-hour to Mahón's bus station for a fare of €2.60. The bus station is the hub of services across the island, run by TMSA (00 34 971 360 475; transportes menorca.net).
Weekday buses run between Mahón and Ciutadella at least every hour (two-hourly at weekends), less often to other destinations.
You can survive happily without a car during the summer, but at other times of the year public transport is patchy. Hiper Rent-a-Car, close to the airport (00 34 902 200 488; hiperrentacar.com) is a reliable operator.
Click here to view Spanish tours and holidays, with Independent Holidays.
Register for free to continue reading
Registration is a free and easy way to support our truly independent journalism
By registering, you will also enjoy limited access to Premium articles, exclusive newsletters, commenting, and virtual events with our leading journalists
Already have an account? sign in
Join our new commenting forum
Join thought-provoking conversations, follow other Independent readers and see their replies