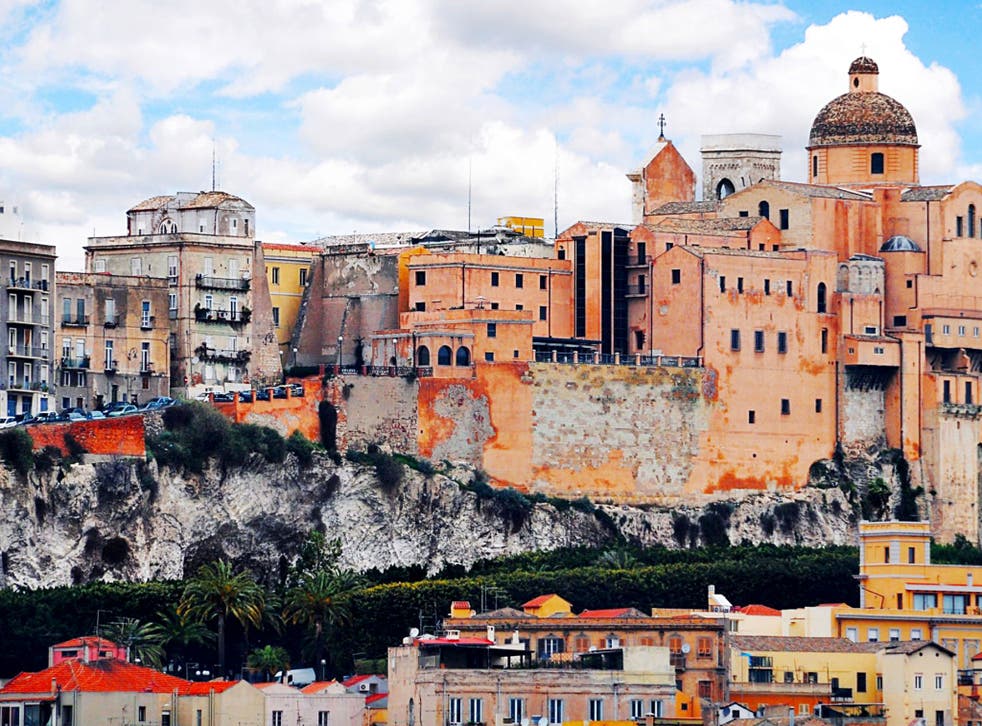 Traveller's Guide: Sardinia
There's so much to explore on this Italian island – white beaches, wild interiors, ancient villages and a complex history
As close to North Africa as it is to the Italian mainland, Sardinia is one of Italy's top summer destinations. Its beaches are glorious and every August its coastal resorts heave with holidaying Italians as the world's super-rich live it up on the Costa Smeralda. However, you don't have to be a billionaire to enjoy it, or even bound for the beach.
The island is gorgeous in spring. The countryside is ablaze with colour and the warm, sunny weather is ideal for touring. Accommodation prices are also very reasonable and, outside of the main centres, there are few tourists around.
The Med's largest island after Sicily, Sardinia is about the same size as Wales. And, like Wales, it is blessed with stunning natural scenery. The coastline, which extends for about 1,850 kilometres, is one of Italy's most spectacular, with everything from dreamy bays and golden sands to stretches of wild, windswept dunes and plunging white cliffs.
Inland, the spectacle is no less dramatic, especially in the north and east, where forbidding peaks look down on endless expanses of aromatic macchia (maquis) and ancient cork forests strewn with weird, wind-blasted boulders. In the west, the lagoons and wetlands of the Sinis Peninsula provide an important habitat for many birds, including colonies of pink flamingos.
But while nature has blessed the island, history has been hard on it and centuries of foreign domination have left an indelible mark. Ancient ruins at Tharros and in Cagliari tell of the island's past as a Phoenician trading post and Roman colony; Alghero's Iberian-inspired architecture testifies to its time under the Spanish Aragonese; while stripy Tuscan-style Romanesque churches recall the presence of the medieval Pisans.
Sardinia's prize relics, however, are the prehistoric villages and stone towers that litter the landscape. Known as nuraghi, these crumbling structures are one of the few visible traces of the mysterious Nuragic civilisation, which flourished on the island between 1800BC and 500BC.
The island's cultural heritage also finds form in its many exuberant festivals. Headline events include S'Ardia, a fearsome, no-holds-barred horse race held in Sedilo on 6 and 7 July; Sa Sartiglia, a medieval joust staged in Oristano on Shrove Tuesday and the preceding Sunday; Easter's solemn processions and passion plays in Alghero, Castelsardo, Cagliari and Iglesias; and Cagliari's Festa di Sant'Efisio, a four-day costumed bash starting on 1 May.
These celebrations reflect the islanders' deep-seated reverence for tradition. A history of isolation, particularly inland, has led many communities to develop their own customs, which are still widely respected. Isolation has also contributed to the islanders' extraordinary longevity. Sardinia has an unusually high number of centenarians and although researchers have yet to crack the secret to their long life, studies have focused on their genetic make-up as well as environmental and dietary factors. The locally produced Cannonau red wine is often cited as a determinant.
Sardinia is not one of Italy's top wine-producing regions but it does have some fine local tipples, most notably vermentino, a light aromatic white that thrives in the north of the island. For a taste, head to Sella&Mosca (00 39 079 997 700; sellaemosca.com), the island's top wine producer, near Alghero.
Gourmets will find plenty to whet their appetite. Specialities include porceddu, pork spit-roasted over juniper- and myrtle-wood fires, tangy pecorino cheese and pane carasau, a crisp, wafer-thin bread that was created for shepherds to carry with them. Seafood also features: look out for aragosta alla catalana (lobster with tomato and onion) in Alghero and tuna dishes on the tiny island of San Pietro.
Sardinia in pictures

Show all 6
Hiking in the Gennargentu
Encompassing 460sq km of granite mountain country, Gennargentu National Park (parcogennargentu.it) offers superb hiking, as well as cycling, climbing, kayaking and boating.
For amateur hikers, a popular route leads to the Gola di Gorropu (gorropu.info), a spectacular limestone gorge, and one of Europe's deepest, in the Supramonte mountains south of Dorgali. Admission to the ravine, dubbed "Europe's Grand Canyon", is €5.
Also in the area, the prehistoric village of Tiscali is another favourite destination. Dating to the 6th century BC, the ruined village makes for a haunting sight as it lies huddled in a mountain cave in the Valle di Lanaittu. Admission is €5.
You can walk to both places on your own – allow about two hours – but for a guide, contact the Coop Ghivine (00 39 0784 96721; ghivine.com). Reckon on about €40 to Tiscali or the Gola.
For hardcore hikers, the area's ultimate challenge is the Selvaggio Blu, a seven-day 72km trek along the Golfo di Orosei's daunting coast.
Inntravel (01653 617001; inntravel.co.uk) offers walking holidays in Sardinia, including a 12-night trip that takes in the north and south of the island, including Tiscali, from £1,350pp B&B, with some meals, walking notes and car hire, but not flights.
Prehistoric centre
Of the 7,000 or so nuraghi that pepper Sardinia's landscape, the most famous is the Nuraghe Su Nuraxi near the village of Barumini. The island's sole Unesco World Heritage Site, the nuraghe is centred on a tower dating to 1500BC, around which a series of circular buildings cascade down the hillside. Admission is €10.
Further archaeological treasures await 20km away in Villanovaforru. Here, you can bone up on the area's ancient past at the Museo Civico Archeologico (00 39 070 930 0050; gennamaria.it) at Piazza Costituzione 4, before visiting the Complesso Nuragico di Genna Maria. Admission, which covers both the museum and nuraghe, is €5.
Historic cities
Sardinia's capital, Cagliari, is a vibrant, unpretentious city with its own beach, some wonderful restaurants and lively cafés. Up in the medieval Castello district, the Museo Archeologico Nazionale (00 39 070 655911) on Piazza Arsenale, is Sardinia's premier museum. Of its archaeological artefacts, the stars are a series of 2m-high nuraghic figures that are currently on display after being painstakingly rebuilt from pieces found near Cabras. Admission is €3.
Nearby there are memorable views from the Bastione San Remy, a Neo-Classical terrace overlooking the city.
Some 100km northwest of Cagliari, the medieval city of Oristano makes a good base for exploring the ancient ruins of Tharros and the beaches of the Sinis Peninsula.
Alghero, the main tourist town in the northwest, is an attractive port of call with a centre that's a warren of medieval lanes, piazzas and Spanish-style palazzi that buzz with life, while its sand-coloured sea walls are ideal for drinks and relaxing sea views. For a change of scene, head up the coast to the Grotta di Nettuno cave complex. Returns on the Navisarda ferry (00 39 079 978961; navisarda.it) cost €15; cave entry is €13.
South of Alghero, a scenic coastal road leads to Bosa, a colourful riverside town capped by a 12th-century castle.
Top beaches
In the far northeast, the Arcipelago della Maddalena provides some amazing seascapes. On Isola Budelli, the Spiaggia di Cavalieri is a vision of perfection with fine, white sands and crystalline waters. Costa Tours (00 39 339 3877196; giteinbarca.it) is one of several operators running boat excursions out of Palau. A tour on its Lady Luna boat is €35-40pp.
South of Olbia, the vibrant resort town of San Teodoro is surrounded by superb beaches, including Cala Brandinchi, known locally as Tahiti for its limpid waters.
The Golfo di Orosei, Sardinia's most breathtaking stretch of coastline, harbours some unforgettable swimming spots such as Cala Mariolu and Cala Goloritze, two gorgeous inlets cut into the plunging white cliffs. Both are accessible by boat from Cala Gonone.
On the western Costa Verde, the Spiaggia della Piscinas is a magnificent stretch of untamed sand backed by 30m dunes. To the north, on the Sinis Peninsula, Aruttas is famous for its pearly-white quartz sand.
Other top picks include Chia's beaches on the south coast and Spiaggia della Pelosa in the far northwest. For memorable views over the Pelosa's Caribbean-coloured waters, La Pelosetta Residence & Hotel (00 39 079 527188; lapelosetta.it) has a range of sea-facing rooms and modest self-catering apartments, as well as a smart beachfront restaurant. Doubles start at €80; apartments from €46, plus a cleaning fee of €55.
Getting there and around
Sardinia has three airports. Cagliari Elmas is served by easyJet (0843 104 5000; easyjet.com) from Stansted and, between June and September, by Meridiana (0871 222 9319; meridiana.it) from Gatwick.
Alghero Fertilia is served by Ryanair (0871 246 0000; ryanair.com) from Stansted and Luton. From May to September, Thomson (0844 871 0878; thomsonfly.com) flies from Gatwick.
For the east coast, Olbia is served by easyJet from Gatwick year-round, and from Bristol and Luton between May and October. Jet2 (0800 408 1350; jet2.com) has flights from Leeds/Bradford between May and September.
To get around the island, you'll really need to hire a car. You'll find agencies at all the airports.
Specialists offering packages include Sardinian Places (0845 330 2049; sardinianplaces.co.uk), Just Sardinia (01202 484858; justsardinia.co.uk) and Citalia (0843 249 8825; citalia.com). Sardinian Places is currently offering seven nights in a three-bedroom villa near Alghero, including flights to Olbia and car hire, for £479pp based on six people sharing.
Where to stay
Despite a reputation for being expensive, Sardinia's accommodation caters to all budgets.
In Cagliari, Il Cagliarese (00 39 339 654 4083; ilcagliarese.it) at Via Vittorio Porcile 19 offers a warm welcome, three homely rooms and sweet-laden breakfasts in the city's seafront Marina district. Double rooms start at €60, including breakfast.
At the other end of the island in Alghero, the Angedras Hotel (above; 00 39 079 973 50 34; angedras.it) at Via Frank 2 is away from the seafront action but compensates with stylish white rooms and sunny patios. Doubles from €65, B&B.
The Agriturismo Guthiddai (00 39 078 428 6017; agriturismoguthiddai.com) is a lovely farm stay surrounded by olive groves and orchards at the foot of the Supramonte massif. With its rustic rooms and farmhouse food, it's an ideal base for exploring Gennargentu National Park. Doubles from €82, B&B.
Charming Sardinia (00 39 070 513 489; charmingsardinia.com) lists scores more places to stay, from family resorts, like the Forte Village in Cagliari, to Faro Capo Spartivento, a 19th-century lighthouse.
Find hotels and resorts in Sardinia and book your holiday today!
Join our new commenting forum
Join thought-provoking conversations, follow other Independent readers and see their replies