Traveller's Guide: Turkish shores

Show all 7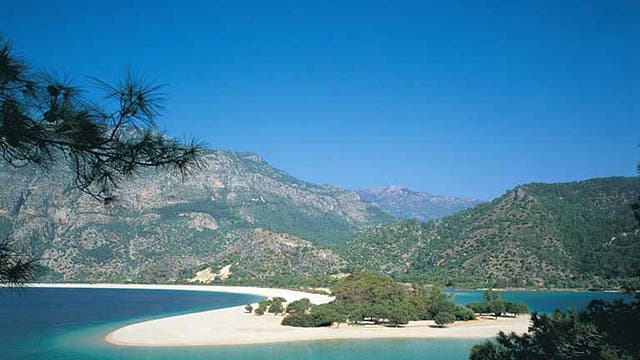 Traveller's Guide: Turkish shores
The crowds are dwindling, so seize the chance to enjoy sunshine, culture and history at your own pace, from the Mediterranean to the Black Sea, says Simon Calder.
Clear, blue water laps soft white sand in a safe, shallow bay. A benign afternoon sun gently toasts the forest-clad mountains above the shore, while the local wildlife wakes noisily from a collective siesta. A few miles along the coast, the atmospheric ruins of an ancient city or medieval castle are ripe for exploration. At the nearby port, the fishermen are returning with a fresh catch that will soon be grilled and served up at a convivial local restaurant.
This appealing picture recurs along the beautiful, serrated coast of Turkey – especially on the quadrant of shore most visited by Brits. This is the south-west coastline of Anatolia (Asian Turkey) from Alanya, about halfway along the southern coast, around to the Dardanelles guarding the maritime access to the Sea of Marmara, Istanbul and the Black Sea. Even busy (and sometimes brash) resorts such Fethiye, Bodrum and Kusadasi provide easy access to secluded coves, serene islands and a rich history.
September and October are the best of times to visit. The crowds are dwindling along with the strong summer sun (the average high at the key airport of Dalaman drops from 33C in July and August to 31C in September, 26C in October and a still-pleasant 21C (70F in old money) in November, leaving the shores ripe for exploration – or sheer indulgence.
Prices fall, too, at the start of September. Thomas Cook (0871 895 0038; thomascook.com) has a week in a two-star hotel in Icmeler (near Marmaris) for £324 from Manchester on 3 September, including flights to Dalaman and transfers, but no meals. Spend a little more, and you can have your meals and drinks included. The "all-inclusive" model is extremely popular in resorts along the Turkish coast. Thomson (0871 231 4691; thomson.co.uk) offers a fortnight at the Lara Beach hotel near Antalya, departing 4 December, for £405. This works out at less than £29 per person per night, including daytime flights from Gatwick and transfers, for a venue that the company says has "enough swimming pools to rival a waterpark and a restaurant for every day of the week". For a more exclusive all-inclusive, the Hillside Beach Club (hillsidebeachclub.com), outside Fethiye, has yoga, meditation and an art workshop. In October, the typical rate for a room for two is €332, which works out at about £400 per person for the minimum three-night stay.
Turkey's 4,500-mile coast (longer than Spain's and Portugal's combined) has so much to offer. You can hike the Lycian Way – 300 miles of coastal and inland paths between Antalya and Fethiye – or go mountain biking along the Turquoise Coast between Dalaman and Kas. Exodus (0845 287 7411; exodus.co.uk) has an eight-day bike trip, departing Gatwick on 10 September and 22 October, of around 25 miles a day for £949 including flights, transfers, guiding and breakfast.
Metropolitan sophistication on the waterfront is at hand in Izmir, Antalya and (especially) Istanbul. Coastal towns and cities reveal layers of Byzantine, Genoese and Ottoman influence, while tragic tales of heroism and despair are revealed in the cemeteries of Gallipoli. And that is just the Aegean/Mediterranean shore. Another 1,000 miles of Black Sea coast, between the Bulgarian border and the Georgian frontier, provide escapes from the crowds and a much more Turkish experience. The south-eastern corner of the country's coast is a riskier prospect: the proximity of Syria's largest city, Aleppo, and the activities of the Kurdish separatists, the PKK, combine to make this a hard-core destination. Elsewhere in Turkey, as the shadows lengthen and the scent from the pine forest and bougainvillea intensifies, such problems seem a world away.
Splashing out
Club Mark Warner (0844 273 5576; markwarner.co.uk) has a week at the secluded Sea Garden Beach Resort in Bodrum for £695pp including BA charter flights from Heathrow, transfers, full-board, local drinks and a range of activities. Departure is on 1 September. Neilson Beach Clubs (0844 879 8155; neilson.co.uk) has active breaks to Adakoy, Teos, Ortakent and Foca with sailing, windsurfing, kayaking, tennis, mountain biking, daytime kids' clubs and evening childcare. With flights from Gatwick to Izmir on 28 October, transfers and "Club Board" (breakfast, lunch and four evening meals), a family of four pays £785pp. Or cruise on a gulet – the two-masted schooners built in Bodrum. Exclusive Escapes (020-8605 3500; exclusiveescapes.co.uk) has crewed gulets that sleep 10 to 16, departing Gocek for the Lycian coast on 1 or 15 Sept; cabins are £1,200pp for a week, with full board and flights on Titan from the Private Jet Terminal at Stansted (though you return to the main terminal).
Ephesus without the effort
Even close to modern resorts there's a remarkable range of Greco-Roman ruins and evidence of even older civilisations. Ephesus, the capital of the Roman province of Asia and an important Greek city, is a sprawling site. The most crucial aspect of any visit is timing: the site is less than 10 miles from the port of Kusadasi and thousands of cruise passengers are bussed in daily. Get there at opening time, 8am, and they will still be having breakfast. The alternative is to turn up at around 5pm to enjoy the last two hours at the site. (Last admission is 5pm from November to March, but this also coincides with an absence of cruise ships.) Entry is €12.
Wild Turkey
South-west Anatolia has remarkable sea life. At Iztuzu beach, outside Dalyan, loggerhead turtles lay eggs and hatchlings venture into the sea from May to October. Travel Republic (020-8974 7200; travelrepublic.co.uk) has a week's B&B at the two-star Donmez Hotel with easyJet flights from Stansted for £514 (excluding luggage or transfers), departs 1 Sept. On the Nature Trek (01962 733051; naturetrek.co.uk), which departs next April, you can expect to see flamingos, pelicans and terns on the Gediz Delta. The three-centre holiday includes flights from Heathrow via Munich to Izmir on Lufthansa, transport, guides, and half-board, all for £1,395.
The Black Sea
Trabzon is a fascinating destination with echoes of the Byzantine era. (The Great Komnenoi ruled here back then.) Markets and villas have a strong eastern flavour. Take an overnight ferry to Sochi in Russia or focus on the Black Sea's western shores. Less than three hours by bus from Istanbul is Kiyikoy, where the Endorfina boutique hotel (00 90 288 388 63 64 hotelendorfina.com) has doubles with half-board for YTL160-240 (£60-£90).
Continental collusion
For city lovers, Istanbul offers the best in Turkish shores, where the mighty Bosphorus connects to the Black Sea. The Golden Horn has plenty of cafés from where you can watch ferries shuttle across this global crossroad. By 2015, when the Marmaray rail tunnel is due, vessel numbers may dwindle – so make the most of it by going to the Eminonu ferry quay near the railway station where Orient Express passengers used to transfer. Expedia (020-3027 8682; expedia.co.uk) has two nights at the W Istanbul, near the Besiktas ferry pier, for £752 for next weekend, with Turkish Airlines flights from Heathrow (returning to Gatwick) and including breakfast.
Travel essentials
Getting there and getting around
The gateway to coastal Turkey is Istanbul. Turkish Airlines (020-7471 6666; turkishairlines.com) flies from Heathrow, Stansted, Birmingham and Manchester to Istanbul Ataturk, and from Stansted to the secondary airport, Sabiha Gokcen. BA (0844 493 0787; ba.com) flies from Heathrow to Ataturk, while easyJet (0843 104 5000; easyjet.com) flies from Luton and Gatwick to Sabiha Gokcen. Pegasus (0845 084 8980; flypgs.com) flies from Stansted to Sabiha Gokcen. Turkish Airlines and Pegasus connect to many coastal destinations, including Izmir, Antalya and Trabzon.
To avoid the need to change planes, you can take advantage of a range of non-stop flights from the UK to Turkish coastal airports. The main targets, going anticlockwise from Istanbul, are Izmir, Bodrum, Dalaman and Antalya. They are served by BA, easyJet, Jet2 (0871 226 1737; jet2.com) and Monarch (08719 40 50 40; monarch.co.uk). Reckon on a fare of £300 return for September and October. Given the ready availability of package holidays, it may be better value to book a hotel-inclusive trip via Thomson or Thomas Cook.
On arrival in Turkey, Britons must pay £10 (in cash) for a "visa" – a stamp in your passport.
Turkey has several high-quality bus companies, which offer frequent and reliable services between towns and cities. Just turn up at the local otogar (bus station) and buy a ticket. The 15-hour overnight luxury bus operated by Kamil Koc from Istanbul to Alanya costs YTL75 (£27). Local bus services are mostly operated by the dolmus (which translates as "stuffed"): minibuses that connect resorts with outlying beaches.
Join our new commenting forum
Join thought-provoking conversations, follow other Independent readers and see their replies