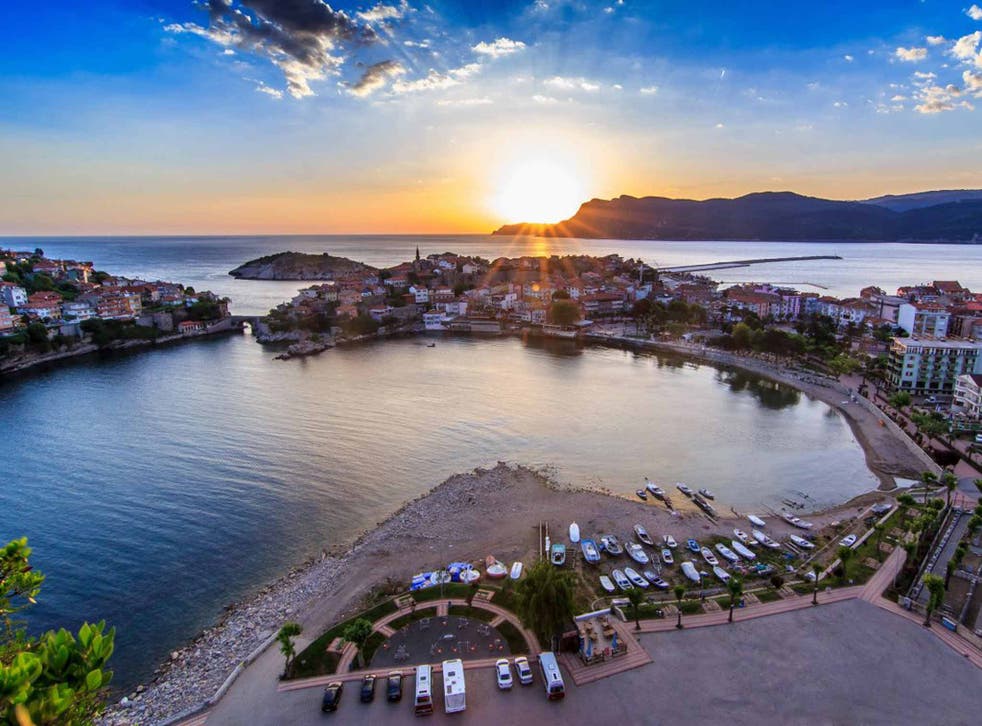 Turkey's Black Sea coast: The road to Sinop is paved with good intentions
An ambitious project to complete a major new highway persuaded Adrian Mourby to turn his wheel away from the Med
Adrian Mourby
Tuesday 26 May 2015 11:33 Comments
At the top of the hill, my car stalled as I hit the brakes. Cicadas buzzed in the sudden silence as I tried to work out where the road went next. I was alone, my GPS had taken a sabbatical and it was almost impossible to tell which of the two tracks ahead of me was a lane that would soon dwindle to nothing in the pine forest and which was the brave new road along Turkey's Black Sea coast.
At Istanbul airport my family had gone south. They were eager to hit the sun-blistered beaches of Bodrum and Kalkan. I perversely went north for the week on a driving holiday that's encouraging Turkey's more adventurous visitors to explore a very different coastline, driving east from Istanbul towards Amasya.
The Black Sea is still a remote area. Roads, such as they are, tumble eastwards towards Georgia. Sometimes I found myself gunning down a six-lane motorway carved through mountains, only to discover as I crested the next pine ridge that it had shrunk abruptly, as now, into a single-lane track with loose chippings and pot-holes.
It was Recep Tayyip Erdogan, when prime minister, who inaugurated a great east-west coastal highway along the Black Sea (he was born in the Rize in the east of the region), but until it's fully completed, much of this area remains remote and inaccessible. The Black Sea is the least visited part of Turkey except by non-cosmopolitan Turks who want a more conservative holiday. In Black Sea resorts such as Karasu and Akcakoca, beachwear tends towards the full-body swimsuit. Here if you ask for wine with dinner, your hotel thinks it has a bottle somewhere in the kitchen if you don't mind waiting, and there are fewer pictures of Ataturk, founder of modern secular Turkey, on display than in the fleshpots of Istanbul or Ankara.
Six hours' drive out from Istanbul in Amasra, I'd stayed in a hotel that was a giant log cabin 1,000ft above the sea, looking down on this pretty little, formerly Greek port. The town was named after Amastris, the niece of Darius III, last King of Persia. Its castle was built by the Romans and its city walls by the Byzantines. Genoese traders based in the city provided gates in the 14th century and the Ottoman Turks took over in the 15th, just after they'd conquered Istanbul. Here I parked in a side-street and strolled around in the late afternoon sun. Amasra's streets were full and so were its restaurants. I managed to squeeze into the Canli Balik Restorani, which served a decent catch of the day as the sun went down. I think I was the only non-Turk in the restaurant. Certainly I was the only one with a glass of wine, and when I asked for a second to go with my main course, the waiter had to go and check with his boss.
The next day I was driving on to Sinop, but the man fixing the electrics at my log cabin's reception desk warned me against the old coast road. It could easily take me eight hours. So, I drove inland as far as Safranbolu and then picked up the more modern trunk road east. It was a beautiful day of exceptionally colourful landscapes. My route was lined by old ladies gossiping in the shade, thin dogs up to mischief, and young women squatting with huge bags of produce as they waited for the dolmus (public transport minivan) to arrive.
Safranbolu proved to be beautiful, a 13th-century trading town hidden below the surrounding plateau. For hundreds of years this was a major caravan station on the East–West trade routes. It has a sweet little coffee shop in the Arasta Bazaar where vines have been trained overhead to provide a canopy between the shops. Here I paid five lire (£1.25) for Turkish coffee to be prepared in front of me.
The town also has several Ottoman-era hammams, three caravanserai where traders would have stayed, many mosques, eight historic fountains and several old konaks (traditional wooden houses) that are either shops or museums now.
I resumed my journey two hours later, passing many makeshift roadside stalls where women – dressed from head to foot in black – sold strings of garlic in the ferociously bright sun.
East of Kas, my route began to weave between big hills dotted with cows. Repeatedly I was surprised when the road would suddenly expand from contraflow to motorway and then shrivel back down to a single track all within the space of a kilometre. There were very few cars coming the other way, but far too many construction lorries to get stuck behind.
I passed storks' nests poised on top of electric pylons and minarets. At one roadworks I saw a huge articulated lorry transporting tons of rubble cleared to widen the road. Trotting alongside it was the driver's dog with a stone in its mouth, helping out.
Between Hanonu and Boyabat, makeshift factories lined the road, churning out grey bricks from conveyor belts. Pallets of bricks were deposited along the road at intervals, awaiting construction. I was travelling through wide open valleys that reminded me of Wyoming, but change was clearly coming to the Black Sea coast and coming fast.
The turn-off to Sinop took me quickly up to a mountain pass that engineers had recently chiselled out, forming a wide road. These days newly-affluent Turkish tourists are heading in droves towards Sinop, the home of Diogenes the Greek philosopher, which also happens to have the best sandy beaches on the Black Sea.
Then my route briefly abandoned me without even a warning sign and I stalled, cursing. Why couldn't the road-widening be done systematically from east to west or vice versa? Now as I edged forward following a supremely confident lorry, I got my first glimpse of Sinop, sparkling like a resort island in the distance. It is in fact a peninsula, a natural defensive position on the Black Sea that was once the capital of the ancient kingdom of Pontus.
The Romans came here conquering in 70BC and Sinop – as I was about to discover – remained Roman and then Byzantine until the 15th century when first the Seljuk Turks and then the Ottomans seized it. In 1853 the Crimean War started here when the Russians, without warning, sank an Ottoman squadron in Sinop's harbour. Even at a distance this looked like a city worth getting to know.
Its walls are mainly intact, its archaeological museum contains Greek and Roman statuary, its old gaol, built by the Ottomans, is often used as a set by Turkey's young film directors and its old Nato listening post on the highest hill facing across the Black Sea to Russia is now a beauty spot where newlyweds go to be photographed at sunset. Just outside town, the Zinos Country Hotel caters to the smart set with sleek rooms in an old Ottoman House and Vira Hotel has a gorgeous roof terrace restaurant overlooking the Black Sea.
Sadly there are plans to build a nuclear reactor nearby on a local beauty spot known as the Fjord. Clearly the time to discover this under-visited coastline is now, before it changes too much.
Getting there
Travel the Unknown (020 7183 6371; traveltheunknown.com) offers a nine-day Black Sea motoring package including car hire and accommodation with breakfast for £795, but not flights to Turkey. Istanbul is served from the UK by a wide range of airlines, with Turkish Airlines (0844 800 66 66; thy.com) flying from Birmingham, Edinburgh, Gatwick, Heathrow and Manchester. More information Turkish Tourism Office (020 7839 7778; gototurkey.com).
The Foreign Office (bit.ly/TurkTrav) warns: "Take care when travelling by road throughout Turkey, particularly at night. Roads between the major cities are generally in excellent condition, but can be poor in remote, rural areas. Accidents are common and mainly due to poor or reckless driving. If you drive in Turkey, you must have either an International Driving Permit or a notarised copy (in Turkish) of your UK driving licence."
Register for free to continue reading
Registration is a free and easy way to support our truly independent journalism
By registering, you will also enjoy limited access to Premium articles, exclusive newsletters, commenting, and virtual events with our leading journalists
Already have an account? sign in
Join our new commenting forum
Join thought-provoking conversations, follow other Independent readers and see their replies