Turn the journey south into a busman's holiday
A motorhome offers an affordable and fun way for families to travel from the UK to the south of France, as Jason Burt discovered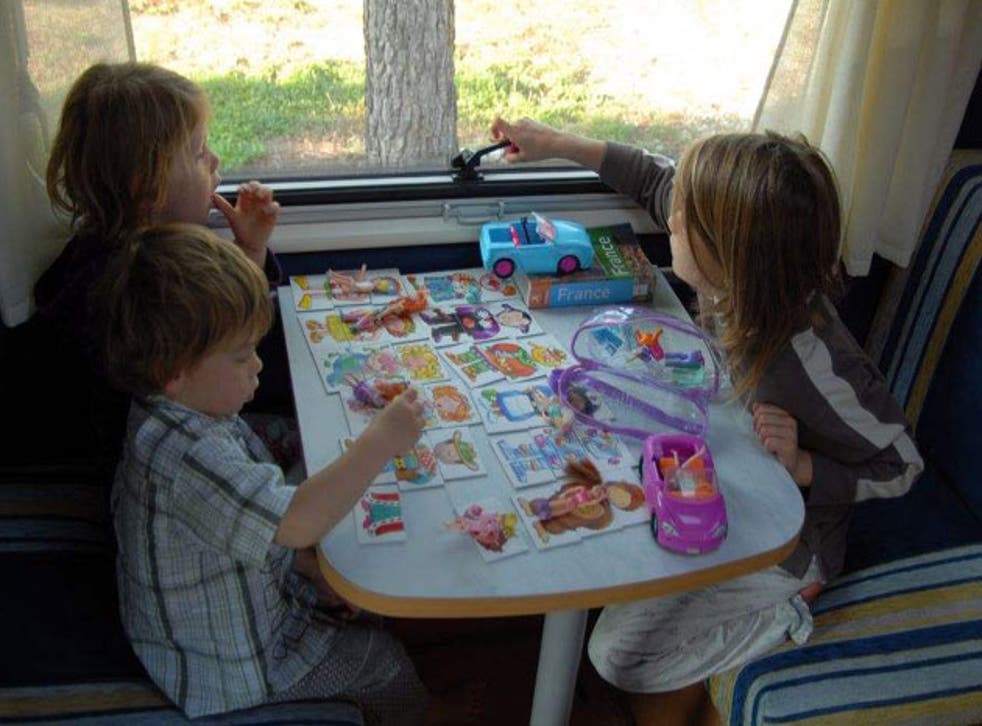 'It's just like buying a new house," declared my five-year-old daughter Olivia as we walked excitedly across the forecourt to collect our home for the week – the Elnagh Baron 48. And, at times, it was almost as stressful.
If the Elnagh were a house it wouldn't be your shoe-horned two-up, two-down. This is a big beast; the motorhome equivalent of moving into a detached, five-bed with a windy, gravel drive. My wife Laura even joked the kitchen was better equipped than ours back at home. The Burtie Bus, she called it.
It was also nimble to drive, although, not surprisingly, daunting to get used to as we gingerly made our way round the vagaries of the M25 to catch our ferry from Dover to Calais. This was, for us, and our three children – Ella, eight, and Liam, three, made up the rest of our party – a full-blown adventure. Our own week-long road trip.
The purpose of our journey was clear. We had to be in Avignon, in southern France, for a wedding, and flying the five of us plus hotels was proving tricky and rather pricey. Given the credit crunch – or le credit crunch due to our destination – we'd tried to take a more imaginative approach to squeeze in a holiday.
So we decided to drive. Almost 2,000 miles – as it proved to be – there and back. And rather than take our own car, and find accommodation, we decided to take a motorhome and see as many sights as possible along the way.
Soon we were eating up the kilometres between the péages – which proved quite expensive, along with the fuel – although the smoothness of the uncluttered French roads was a contrast to the bone-shaker the motorhome became on British motorways.
We had a tight timetable. Destinations – our first stop, Le Vivier aux Carpes, was near St Quentin in Picardy – had to be reached in good time, especially as many of the sites locked their gates early and we didn't fancy pulling over into a lay-by for the night.
But driving in an almost straight line down through France provided a fascinating history lesson. The country unfolded before our eyes and, as it did so, there was clear evidence of how the centuries had affected the landscape and developed a nation, which fired Ella's imagination. Liam was more interested in watching the lorries go by. Olivia preferred Abba on the iPod. But you can't have it all.
The journey divided neatly into regions – from Picardy and the evocative reminders of the First World War, through the feudal wine areas of Burgundy and beautiful towns such as Beaune, with its superb wine, the mercantile and foody hub of Lyon and then on to the medieval, religious legacy of the wonderfully preserved Avignon itself.
There was also something liberating about the experience. Picking your way through the trees of a secluded campsite such as Les Bouleaux south of Dijon, and then parking up, hooking up the electricity and relaxing, came as a daily relief. Tea tasted that bit sweeter, as did the vin rouge, while all the sites we chose had clean, well-equipped facilities and good, efficient shower blocks.
Naturally, the children loved it and while Ella learnt to knit and Liam used the seven berths as a kind of climbing frame, it wasn't, joking aside, too stressful. After being cooped up for hours inside the motorhome – despite its comforts – they needed a bit of time to run around, although the wet weather was a bit prohibitive. Still, at least we weren't under canvas, we gratefully told ourselves each evening.
You do need to be organised. Gas, water, chemical toilet – all have to be monitored. There are dials and switches to regulate and although we couldn't quite work the service battery – the device that makes you independent from outside power – we managed to get just about everything else up and running, which was good news for a technophobe like me.
We'd also planned it so we didn't drive every day, which helped. Two days in Avignon and two near Paris and Fontainebleau, with a trip to Parc Astérix as a reward for the kids, were a bonus.
Would we do it again? Certainly. Sure it was a relief to get back home, but next time we wouldn't go as far, and would take a more relaxed approach. It was taxing but also enjoyable and gave us a curious sense of achievement.
Compact facts
How to get there
An Elnagh Baron 48 motorhome can be hired through Marquis Motorhomes (01635 248888; www.marquismotorhomes.co.uk) from £450 per week. Channel crossings with SeaFrance start at £25 each way through Carefree (0845 130 7701; www.campingandcaravanningclub.co.uk), the travel service of the Camping & Caravanning Club, which can also arrange pitches at sites across Europe. Insurance was arranged by Safeguard (0800 116 4283; www.safeguard.co.uk), specialists in motorhome and caravan insurance.
Further information
Motorhome Information Service (01444 458 889; www.motorhome. info.co.uk).
Register for free to continue reading
Registration is a free and easy way to support our truly independent journalism
By registering, you will also enjoy limited access to Premium articles, exclusive newsletters, commenting, and virtual events with our leading journalists
Already have an account? sign in
Register for free to continue reading
Registration is a free and easy way to support our truly independent journalism
By registering, you will also enjoy limited access to Premium articles, exclusive newsletters, commenting, and virtual events with our leading journalists
Already have an account? sign in
Join our new commenting forum
Join thought-provoking conversations, follow other Independent readers and see their replies