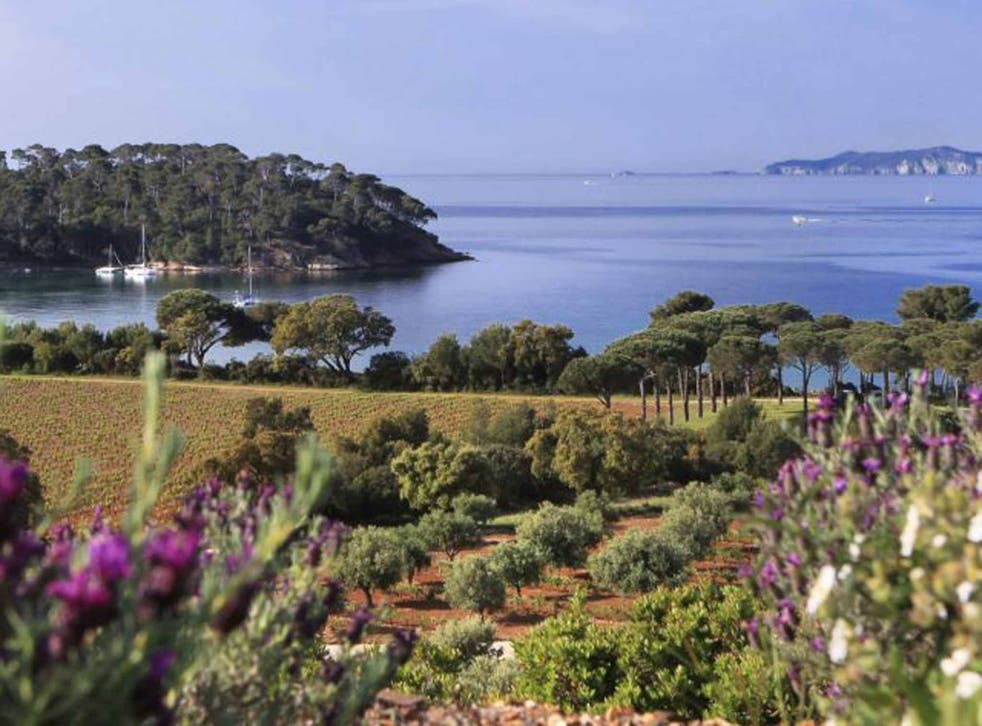 Var, France: It's Provence, but where are the crowds?
Tucked between Marseille and Cannes, the Var is both secluded and serene, says Andrew Tong
Andrew Tong
Tuesday 26 May 2015 16:30 Comments
In Provence, they like to keep secrets. Some things you only tell your family, handing down through the generations. Like where your private beach is, where to gather mushrooms or find a haul of sea urchins for "le jour des orsillades". It all goes back to the days of Marcel Pagnol's Jean de Florette and the hidden sources of spring water during the long, dry summers.
You might think that the south of France would be among the most well-known holiday destinations in Europe. But heading west from St-Tropez, the long swathe of coastline and its Var hinterland are full of delightful surprises and hidden gems. We stayed in the village of Rayol, about 40 minutes from St-Tropez along the meandering coast road. The houses cling to the hillside as it plunges down to the sea, and at the bottom lies a cove split into two small but charming beaches. The four-star Hotel Bailli de Suffren has a superb restaurant overlooking the Mediterranean where you can indulge in exquisite provençal lamb.
If you climb back up 100 or so steps you reach the village's only other hotel, Terrasses du Bailli, run by the charming Dutch owner Caroline Thetiot. The new rooms have large balconies overlooking the bay and the three Golden Islands – Porquerolles, Port-Cros and Levant. Next to the hotel runs a disused railway line that proves popular with joggers and cyclists and affords a view of the precipitous cliffs and hidden bays.
The centre of the village is Maurin des Maures, a restaurant that doubles as the village bar. It's always lively, a great place from which to watch the world go by. Presiding over his fiefdom is chef Dédé, a local character with flowing white hair and bushy moustache renowned for his fresh fish dishes – try the squid stuffed with pork and the sea bass, as well as the apple tart with cinnamon ice cream.
Dédé, aka André del Monte, is also president of the gardens at the Domaine du Rayol, where the 2013 film Renoir was shot. The climate here has long proved ideal for plantsmen to introduce all manner of flora to Europe, and the Mediterranean gardens were used to develop stock before the plants were taken up to Paris.
Tucked in the Maures mountains lies another horticultural hotspot, the hilltop village of Bormes-les-Mimosas, which, as the name suggests, is festooned with flowers. And not just mimosas – there are more than 700 different varieties bedecking the charming alleyways, full of galleries and craft shops that abruptly give way to dramatic views of forests and the bay of Lavandou.
The garden theme continues on the broad, tranquil boulevards of Hyères, lined with palms and lemon and orange trees. The city vies with Amsterdam as the Continent's biggest supplier of cut flowers, and there's actually a law forbidding the public from throwing oranges at each other. This 19th-century obsession reflects the kind climate which brings 300 days of sunshine a year and led to Hyères becoming the first proper resort in the south of France.
Monaco was still a fishing village when the term Côte d'Azur was coined in Hyères. The wide streets are adorned with mansions designed by Pierre Chapoulart – his own hôtel particulier, the North African-influenced Palais Lutétia, is a beautiful example.
But this is also a city of contrasts; the grandiose style is threaded with narrow medieval passageways leading up to the hilltop citadel and medieval fortifications, while where Hyères meets the sea there's a fishing port, salt marshes with flamingos, a world championship kite-surfing beach and the three islands, all within the city limits. It's an intoxicating blend which can be enjoyed in a relaxed, small-town atmosphere that you wouldn't find in Cannes or Marseille.
In the upper reaches you turn a corner and come across another twist, Villa Noailles, which was a haven for artists such as Dalí, Giacometti, Buñuel and Brecht in the inter-war years. It still looks a very modern construction, a working art installation that bizarrely featured a compulsory sports programme, a painstaking attempt to unleash creativity in the most sympathetic environment.
No visit to the region should be attempted without sampling the local rosé, the tipple of choice even for the locals. The time-honoured traditions of Var viticulture have been given a fresh, organic impetus at Château Léoube, a state-of-the-art facility built around an ancient castle. It's much more of an experience than your average vineyard, featuring an alfresco café located next to its own excellent private beach.
There's also a hidden gem of a beach alongside Fort de Brégançon. This 16th-century castle is perched on a rock in the sea and can only be accessed by a guarded causeway because it has been the official holiday residence of French presidents since the 1960s. It was closed to the public until last year and you must make an appointment to visit. Don't try to sneak in by swimming to it from the beach, though – there's a €10m (£7m) fine if you breach the 200-metre exclusion zone in the water.
Brégançon is just one of the places that are revealing their long-held secrets in the Var. If the Brits thought they knew all about Provence, it's time to think again.
Getting there
Andrew Tong flew with easyJet (0843 104 5000; easyJet.com), which flies to both Nice and Marseille. Toulon is also a gateway to the Var region; the airport, located in Hyères, is served by Cityjet (0871 221 2452; cityjet.com) from London City in July and August and by Flybe (0871 700 2000; flybe.com) from Bournemouth until 27 September. Eurostar trains run from London St Pancras and Ashford to Marseille (eurostar.com).
Staying there
Les Terrasses du Bailli, Rayol (00 33 4 98 04 47 00; lebaillidesuffren.com/hotel-terrasses-var). Doubles from €125 room only.
Visiting there
Domaine du Rayol – Jardin des Méditerranées (00 33 4 98 04 44 00; domainedurayol.org).
Château Léoube, Bormes les Mimosas (00 33 4 94 64 80 03; chateauleoube.com).
Villa Noailles, Hyères (00 33 4 98 08 01 98; villanoailles-hyeres.com).
Fort de Bregançon (bregancon.monuments-nationaux.fr/en). Admission €10.
More information
Register for free to continue reading
Registration is a free and easy way to support our truly independent journalism
By registering, you will also enjoy limited access to Premium articles, exclusive newsletters, commenting, and virtual events with our leading journalists
Already have an account? sign in
Join our new commenting forum
Join thought-provoking conversations, follow other Independent readers and see their replies