The Independent's journalism is supported by our readers. When you purchase through links on our site, we may earn commission.
Vienna's Neubau district: Venture out into Seventh heaven
An outlying district of the Austrian capital has drawn comparisons to Berlin's edgier neighbourhoods, says Rob Hastings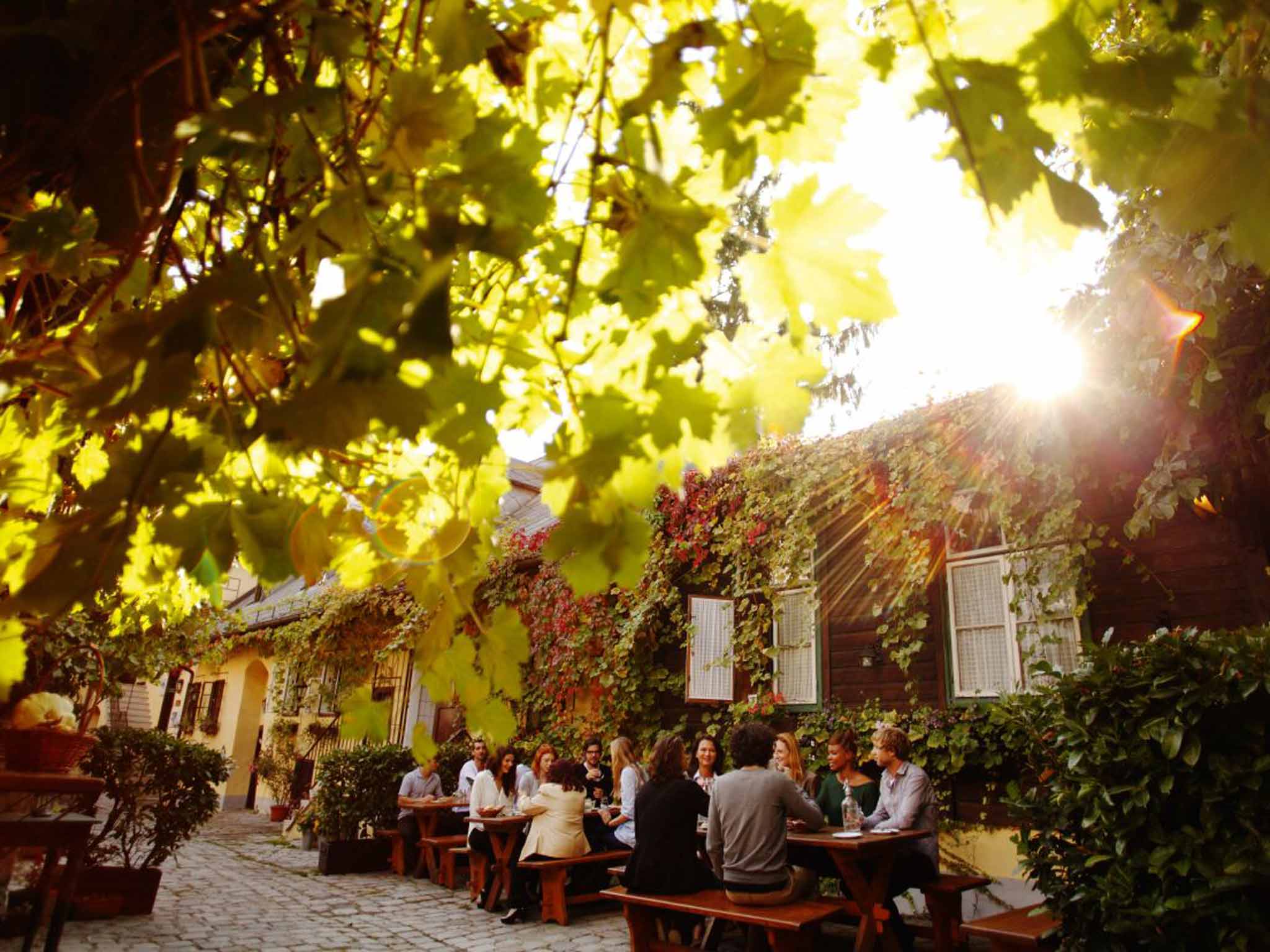 'Why have you come to Neubau?" asks Petra. With her sharp Austrian accent and her punky, bright orange hair, she seems aggressive for a moment until she smiles and I realise she is just inquisitive. Stopping to chat while we browse the bold artworks hanging on the wall in Printa, a minimalist shop selling pictures, clothes and nick-nacks, she explains why.
Here, on the unassuming backstreets of Neubau – Vienna's Seventh district – cool, independent boutiques such as this have sprouted for several years now. They offer designer fashions, quirky homewares and alternative arts and don't take long to draw in hipster tourists and their euros. Yet locals still seem pleasantly surprised when they show up. Though we're only a few minutes from the Ringstrasse boulevard that encircles the city centre, most travellers seldom venture outside that hub. But they're missing out. Printa is typical – there's Finnshop full of boldly patterned crockery, Aurin Spaceland with its wacky wares, and dozens of others.
Many here compare Vienna's Seventh to Berlin's trendy Friedrichshain district. A decade or so ago it attracted a bohemian crowd of artists and designers. Now, most have settled down, got married and had kids (hence the presence of Babyzeit, an eco-childcare store for organic parenting, or something like that). And as the area has gentrified, it's become more attractive for up-coming fashion talent. Here, you'll find the Gutenberggasse store of the young and highly rated Lena Hoschek, bringing traditional Hungarian and Russian patterns from the 1950s back en vogue.
The Viennese qualify their own comparisons to Berlin, however – acknowledging that their capital does not have the same nightlife, but equally asserting that its art heritage is richer. Heading on to the Museum Quarter and back towards the middle of town neatly shows you why. The Neo-Renaissance Vienna State Opera house, the Neoclassical Austrian Parliament, the Baroque Rathaus town hall – a compendium of Europe's architecture is on view.
The Ringstrasse was built along the route of the old city walls when they were taken down so the capital could expand – allowing for the creation and integration of places such as Neubau. A season of exhibitions and celebrations ,starting next spring, will show how a bold step in urban design changed Vienna, but for proof head to the Seventh.
UNPACK
It doesn't come more luxurious than the Vienna Park Hyatt (00 43 1 22740 1234; vienna.park.hyatt.com), located in the Art Nouveau walls of a converted bank in the middle of the city's Innere Stadt. The spa, complete with a gold-lined swimming pool, is just as impressive as the restaurant in the old cashier hall, and the rooms are as functional as they are attractive. For something cheaper and more contemporary in Neubau, there is Kaiser 23 (00 43 1 523 41 81, kaiser23.at), a bright, friendly hostel-cum-hotel in a converted convent.
EAT
Famed for its strudel and sachertorte, Vienna will not leave you hungry for sweet delights. But for a healthier lunch, Labstelle (00 43 1 236 2122; labstelle.at) should be your destination. Its salads are fresh and juicy, but it was the plate bearing several varieties of fine artisan bread with a home-made dip that really held my attention. The owners aren't afraid to show off their collection of gnomes in the courtyard, where you can eat if the weather is fair.
DRINK
Vienna is reputedly the only major city in the world to include vineyards within its boundaries. The places to sample it are the drinking taverns, known as heurigen. I visited Werner Welser (00 43 1 318 9797, werner-welser.at), where the grüner veltliner comes highly recommended and can be drunk beneath a layer of leaves that stretches romantically across a courtyard where musicians often play. It is in the north of the city, so you may need a taxi to get there.
SPEND
For ease in navigating the backroads of Neubau, check out the 7tm.at website which includes an extensive English-language map directory of the many boutiques in the area. Among the others I visited were Fjordlys (00 43 1 524 84 83 83; fjordlys.at) for modern textiles and decor and Tiberius (00 43 1 522 04 74; tiberius.at), a cosmopolitan fashion store with more than a touch of, erm, fetishism about it. There are also the leafy cobbled street of Spittelberggasse, where you can browse stalls selling jewellery between drinks at the quiet bars.
THINK LOCAL
The Austrian capital is a hotbed for vintage and second-hand clothing, with Burggasse 24 (00 43 699 1147 8004, facebook.com/burggasse24) among the best. Many of the clothes are sold as unisex – especially the large shirts and denim jackets, which could bring the good out of even the baddest and ugliest of us. There are plenty of retro frocks too, of course.
DON'T MISS
The Belvedere palace and garden complex (00 43 1 795 57134; belvedere.at/en) is one of the world's most famous art galleries, largely thanks to Klimt's The Kiss being among its collection. The 18th-century buildings, based on Versailles, are a sight in themselves. A new exhibition looking at Monet's influence on Austrian art begins on Friday 24 October and runs until 8 February 2015. From July 2015, the gallery will also host exhibitions of Klimt and the Ringstrasse.
GETTING THERE
British Airways (0844 493 0787; ba.com/Vienna) flies fivetimes daily from Heathrow to Vienna. Hand-baggage-only fares start at £120 return; £150 with checked luggage. Austrian Airlines (0870 1 24 26 25; uk.austrian.com) also flies from Heathrow; easyJet (0843 104 5000; easyjet.com) flies from Gatwick; and Jet2 (0871 226 1737; jet2.com) flies from Leeds/Bradford and Manchester airports. Staying there Vienna Park Hyatt (00 43 1 22740 1234; vienna.park.hyatt.com) has doubles from €460.
MORE INFORMATION
Click here to view Tours and Holidays to Vienna, with Independent Holidays.
Join our commenting forum
Join thought-provoking conversations, follow other Independent readers and see their replies